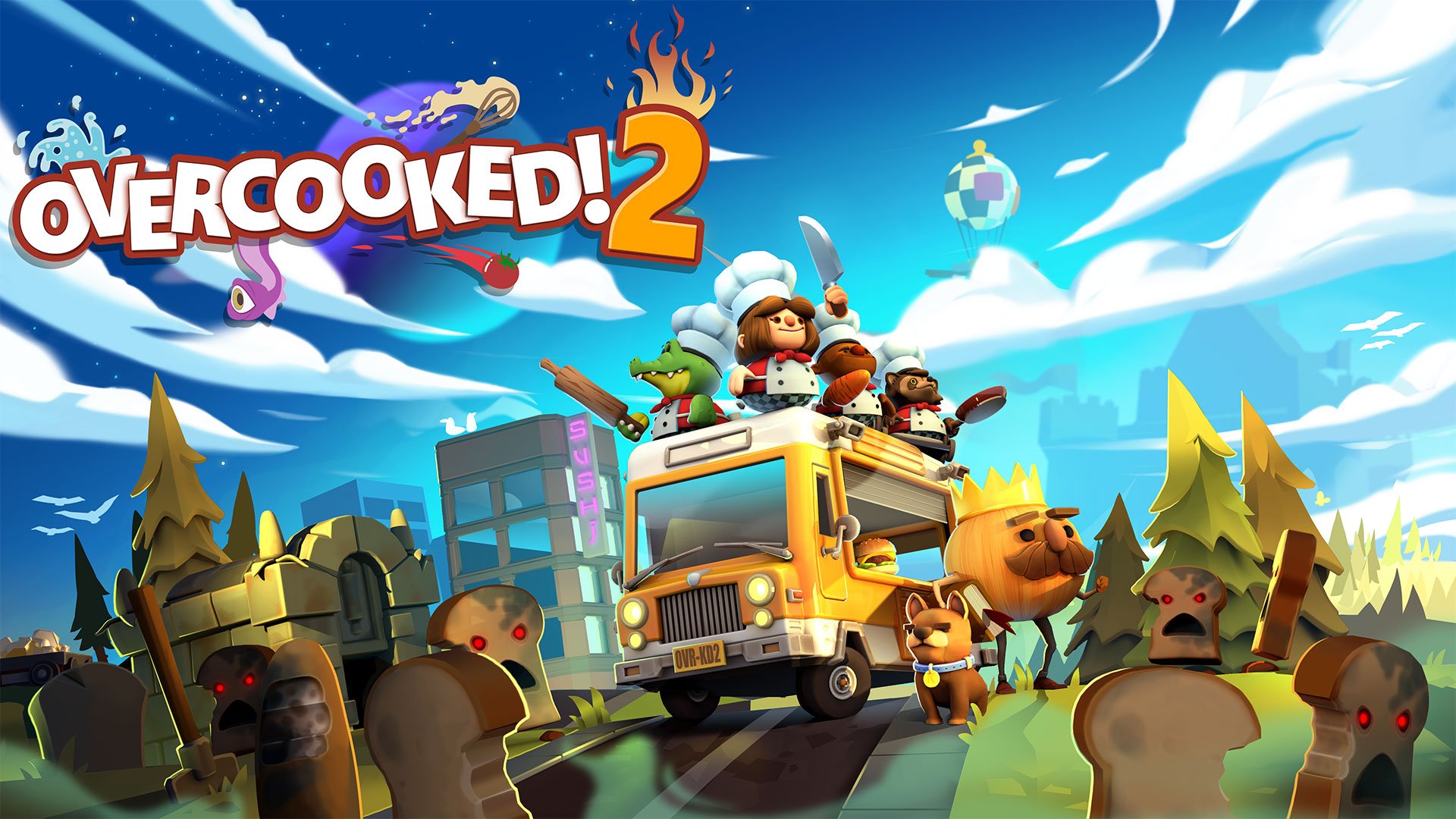 Developer: Ghost Town Games
Publisher: Team 17
Platforms:  PlayStation 4, Switch (Reviewed), Xbox One, PC
Release Date: 07/08/2018
Price: $24.99 – Available Here
Overview
Time for another round of risking your friendship or relationship with Overcooked 2! With the announcement of the sequel I got definitely reminded of my first playthrough of Overcooked together with my girlfriend. It was an emotional rollercoaster and even if we were fighting and swearing at each other most of the time , there were magical moments  inbetween and in the end we found our peace. So I couldn't  wait to dive into this kitchen chaos again and check out the new features as expectations were really high.
Story
We find ourselves back in the Onion Kingdom and this time the Onion King made a horrible mistake. While reading from the Necronomnomicon he summoned a dangerous army of undead bread and they name themselves The Unbread! So once again he has to gather the best cooks together to save the kingdom and this is where you and your friends or partners come in.  While heading from kitchen to kitchen you'll always report to Onion King and he's always good for some funny lines. This might also lighten up the mood in front of your TV from time to time!
Gameplay
The developers from Ghost Town Games decided to add some new features in the sequel to Overcooked while the idea remains the same. You meet up in a kitchen and prepare a variety of recipes for a bunch of customers. The game is for 1-4 players and Overcooked 2 also offers an online mode for the first time. This is a great addition, although I have to admit that most fun definitely comes up playing this together with your buddies on the couch. Before we talk about the new features I'd also like to mention that there's some delicious new food on the menu. You'll have to cook sushi, pasta, burgers and burgers for the hungry clients. One of the new mechanics introduces the throwing of ingredients and allows you to place ingredients into the arms of your partners or even directly into the pan. In some levels this is necessary because the developers created a series of unconventional kitchens. You'll find yourself cooking on rafts on a river or even in a hot air balloon. As this didn't seem crazy enough, the kitchens will change around you in the new dynamic levels.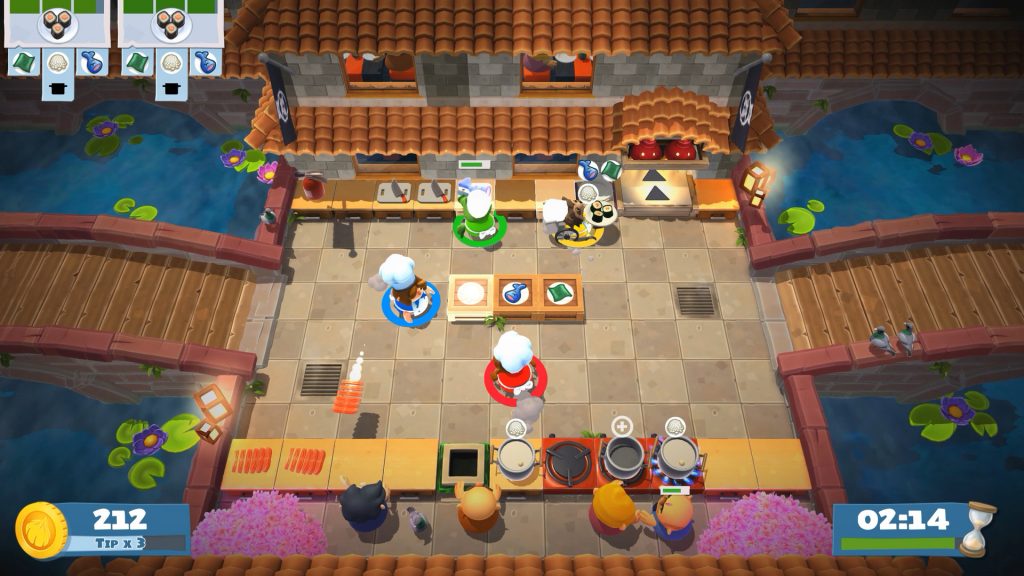 Overcooked 2 shows no mercy and is really a difficult game to get into as a beginner. You'll fail, your kitchen will catch fire and you even might get a bit frustrated. The good thing though is, that the more you play the more satisfying is the game experience. If you suddenly prepare 10 dishes compared to just 2 during your first try, you'll definitely want to continue playing. When you finished a level you can use the air bus to move around on the world map, which is  a bit more interactive now. You have to drive around and activate hidden buttons to get access to new areas. I found this a bit annoying at some point, because it felt like a waste of time to start the next level where all the fun is happening.
With the addition of new food and additional cooks there's definitely some new content but as far as the mechanics go, the only great thing about Overcooked 2 is the throwing mechanic. It just makes so much sense compared to those mentioned buttons on the world map. This is also the reason why I found myself a bit disappointed later on. The team added some minor features, but at the same time it looked like they weren't ready  to take any risks. I doubt that they had more ideas as they basically came up with this whole thing in the first place. Yes it's great that my cook can be a platypus or beaver, but is it important? Do players really buy those additional cosmetic costumes?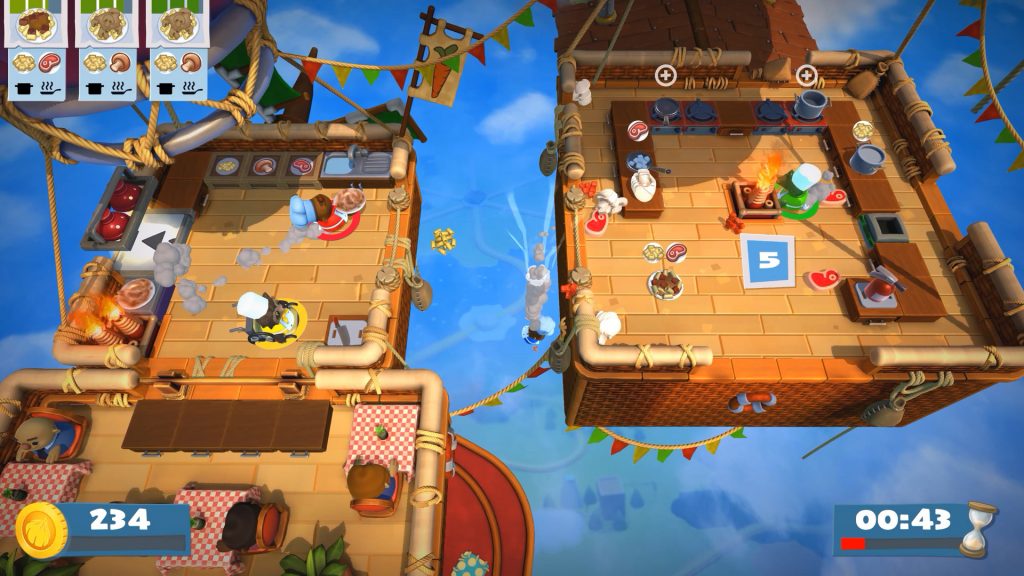 Overcooked 2 shows improvements at the right places and is better than the first game. This is not always the case so personally I'm very happy about this sequel. I still think there's more potential in the franchise and it can grow into a bigger game with more content. Let's expand the story, travel the world, meet new cultures and get to know regional food. Anyway, I had once again a lot of fun playing and can definitely recommend Overcooked 2 to everyone that is looking for a great coop-game.
Visuals & Audio
Expect a colorful mix from the visual side and also a lot of explosions this time. The effects create even more chaos on the screen than you already have to deal with in the kitchen. The music and sounds are fun and match the gameplay well. The mighty Onion King sticks to his fantasy language and it just never gets old.
Overall
If you liked Overcooked, you have to get Overcooked 2. It's a better game and the throwing mechanic is already worth checking it out. Ghost Town Games delivered a sequel that can be described as "never change a winning system".