Our Home's Fox Deity Volume 2
Produced by: Zexcs, Kadokawa Pictures
Licensed by: NIS America
Contents: 2 DVDs containing episodes 13-24, Bonus Feature DVD, Premium Edition Box and Art Book
Language: Japanese with English subtitles
Official Website: Our Home's Fox Deity
Price: $44.99-47.99
Available for purchase at: NIS America's Online Store, Anime Castle, Right Stuf, and The Anime Corner Store
Overview:
It is hard enough to be a normal high school and middle school student in the world, but what if you have something different about you that cause different yōkai to attack you randomly? Plus the fact that you are being protected by an yōkai fox named Kūgen. Brought to you from overseas by the good folks at NIS America we have the conclusion to Our Home's Fox Deity with Volume 2. Does Our Home's Fox Deity Volume 2 provide a satisfying conclusion to this slice of life comedy/action?
Graphics:
Viewers are greeted with very vibrant and rich colors the moment the opening for the anime plays. This continues throughout the entirety of the anime and every episode contains this vibrant color palette which is certainly a nice touch for the fighting scenes. During these fighting scenes I also noticed that the quality of animation does suffer occasionally due to the amount of action that was occurring on the screen at some points in time.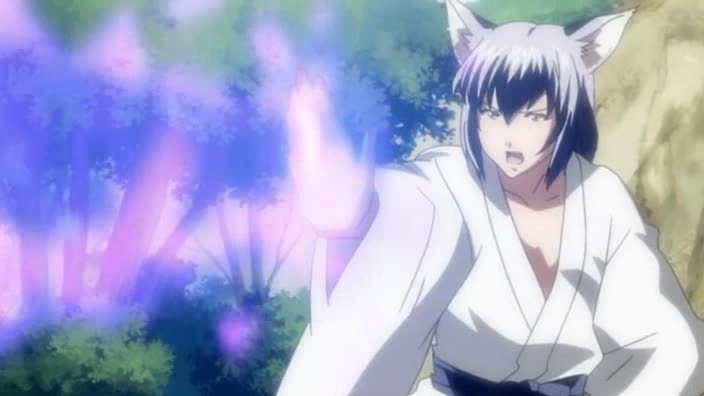 The characters themselves, barring Kuu (Kūgen) herself, fall into your standard character design archetypes and you may find yourself thinking that you have seen these exact same characters before. Sure they all look great but they also fall into your stereotypical slice of life style. Thankfully Kuu and her antics help to break up the relatively standard character designs as she flips between her male and female form quite often depending on the situation.
The opening and ending for Our Home's Fox Deity are quite nice to look at as well. The opening sequence does exactly what you would expect an opening sequence to do, show every character in the anime, but it does so with a very unique method of introduction which is hard to do considering many anime openings re-use the same sequences again and again. The first ending that you are shown is rather plain as it shows Kō standing in a field and seeing mirages of the Takagami brothers and Kuu in the sky, while the second ending takes an entirely different approach. At the beginning it uses a darker color palette and more serious looking art but quickly reverts back into a brightly colored chibi-character ending that is quite enjoyable to see.
Audio & Subtitles:
The voicework done by the voice actors in Our Home's Fox Deity brings the characters to life and definitely helps make evident their personalities, whether it be Kuu's gender swapping voice actors matching her/his reckless personality or Tōru's gentle personality being further evidenced thanks to the great work done by his voice actor which is ironically a woman. I also found that the ease in which the voice actors blended the gender change from Kuu's female form to male form and vice versa was extremely well done given the uniqueness of the situation.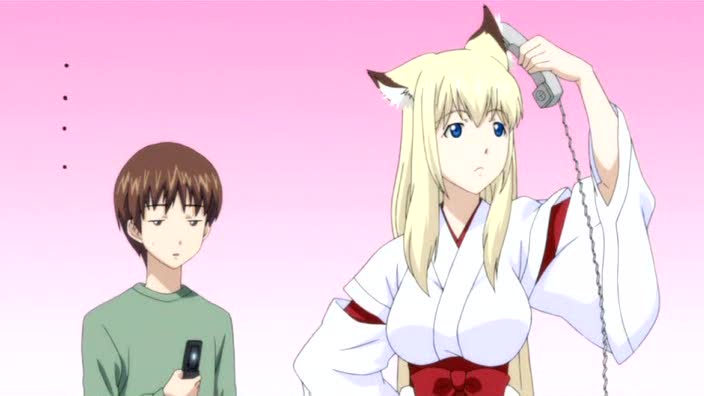 The music that is played throughout the anime is some of the best that you can find. Or at least it is because of the way that it blends so well with the events happening on screen that it sounds as good as it does. There are a number of times that the background music helps draw out and emphasize the emotions occurring in a scene.
As for the subtitles they are your standard white text and will appear on the bottom of the screen in the black area on widescreen televisions. The coloration is unobtrusive and easy to read and I experienced no translation errors or spelling errors despite the large amount of dialogue that is spoken in the series. The opening and ending are also fully translated and subbed with the same care as the rest of the anime.
Story:
Our Home's Fox Deity Volume 2 helps avoid a transitionary problem between Volume 1 and Volume 2 by having the first episode by having episode 13 feature mostly comedic moments at Noboru's high school. At the end of this episode however we are introduced to an unknown woman who appears in a box that was shipped to Toru. The delivery "man" was very unusual which already means that strange things are in store for the Takagami brothers. Shiro, is wrapped head to toe in magical white bindings and it appears that a lesser demon clan of Oni have set their sights on the girl and her powers. Even if it means putting the Takagami brothers in life threatening danger. This story arc is a very serious introduction and can be very heart wrenching due to the fact that Shiro and Toru form a very strong bond with one another, only to have them separated by the Oni.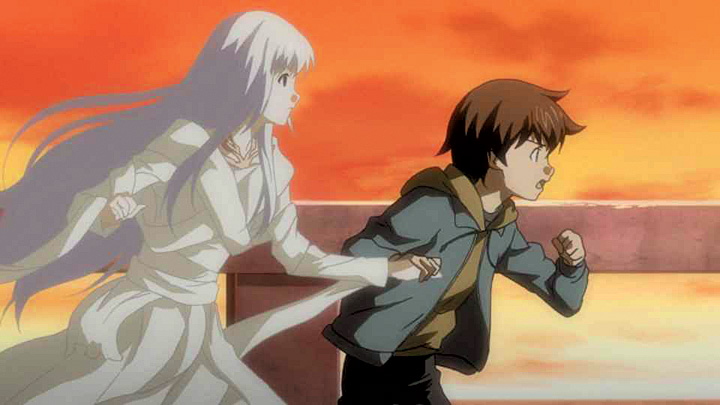 After the Shiro arc we are introduced to the story arc involving Werewolves. After Noboru stumbles upon what he believes to be a trail of clothes he is knocked unconscious by a large shining beat. Shortly afterwards rumors circulate around his school that there could be werewolves running around. While everyone may dismiss this as fantasy, Noboru and Kuu know otherwise and this is proven after Noboru is blatantly attacked by one. The werewolf arc itself is unfortunately quite short and only lasts for two episodes and feels rushed without as much action as one would expect in a fight against a fox yōkai and werewolves. On the other hand the ending to the arc does wrap everything up nicely and provide a happy ending for all involved, especially the shining beast in the beginning.
The rest cannot be said however with the overall ending to the anime. There are numerous plot threads that were left to fall by the wayside such as Gyokuyo and problems involving Noboru and his friend Misaki. On the other hand there are plenty of standalone episodes that don't carry any continuing storyline other than the troubles of living in a household with a sentinel who only knows about combat and a mischievous ancient fox yōkai. Despite the lack of a continuing story, these standalone episodes provided the most laughs of the series and signified what Our Home's Fox Deity is best at, slice of life comedy with some action and magic thrown in on the side.
Premium Edition:
Our Home's Fox Deity comes in a hard oversized pink collector's box that on one side shows Kuu and Gyokuyo in their female forms wearing a school uniform and a shrine outfit respectively while the other side features the majority of the cast. This includes both Takagami brothers, Kuu and Gyokuyo still in female form, Kō, Mubyou and a tiny fox kit. Unfortunately there was a printing issue according to NIS America and the pictures on the box are slightly blurred and pixelated which means that the quality of the picture is low. NIS America has recognized this issue and is willing to send out proper hardcover boxes with the clear crisp art they are known for which you can fill out for here.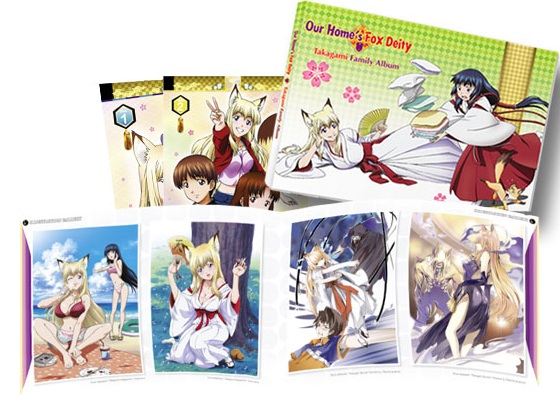 Inside the collector's box are two slim DVD cases and the hardcover art book that is the same size as the box itself. On the second disc contains four commercials for the anime that were aired on Japanese TV as well as a clean non-credit scrolling version of the second ending theme to the series. There is a third DVD included in the second case that contains all of the other bonus content that was included with Our Home's Fox Deity Volume 2.  This third disc contains twelve separate bits of live footage involving the voice actors and actresses from Japan. It is a very nice addition to the Premium Edition and will certainly keep you entertained once you've finished watching the end of the series.
Finally the coup de grâce of the Premium Edition, the hardcover art book. The book itself is titled the Takagami Family Album and this is for good reason considering the fact that the latter half of the book features nine or more different screenshots from every episode in the series and they are placed on the page as if someone took photos and pasted them into their own scrapbook which provides a unique touch. Other than that the art book also contains different pieces of artwork from various publications in Japan and introductions to new characters that will be appearing in this volume.
Overall:
Our Home's Fox Deity Volume 2 provides all of the laughs and slice of life style that fans of those genres will love and even some action thrown in the middle. Despite a great set up, there are many different plot threads that are left unsolved but this can be somewhat remedied by the knowledge that the Light Novels that the story is based off of is still being written today. With a relatively affordable price tag and plenty of extra bonuses this can easily be a nice addition to your anime collection and help round out your Fox Deity series.
I give Our Home's Fox Deity Volume 2 Premium Edition: