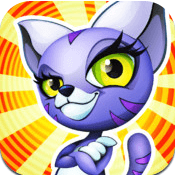 Nutty Fluffies
Developer: Redlynx
Publisher: Ubisoft
Platforms: iPad (Reviewed), iPhone, iPod Touch
Release Date: November 6th, 2012
Price: $0.99 Get it Here
Overview
Developed by Redlynx, the studio behind Trials Evolution, DrawRace 2 and MotoHeroz, Nutty Fluffies is a physics based action game featuring a motley crew of adorable stuffed animals riding the roller coasters of an amusement park that has been shuttered for the year. The simple one touch controls make it easy for anyone to pick up and play. The game features some adorable graphics and challenging levels.
Story
Nutty Fluffies does not have a story, it has a premise. A bunch of stuffed animals that are sold at the souvenir stand come to life after the amusement park closes for the season. They start riding the roller coaster to keep themselves occupied while the park is closed. I suppose it is a good enough reason than any to watch small stuffed animals careen down roller coasters.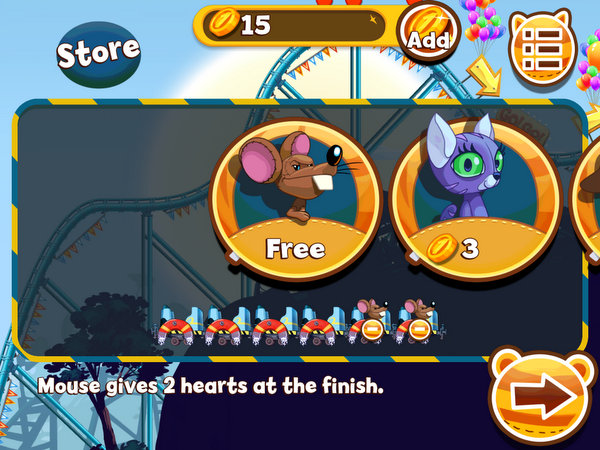 Gameplay
The game is an extremely simple game to learn, swipe forward to get the engineer to lean forward and speed up the rollercoaster cars, swipe backwards to lean backwards and slow down. Tap the bottom left button to activate the special ability that runs on a short cooldown. The controls are responsive and the physics is extremely consistent.
There are currently four chapters with six to eight coasters each to master. Each of the four chapters has a distinct theme. I am a little disappointed there is only one chapter full of wooden rollercoasters, but unfortunately steel rollercoasters make for a more challenging game with their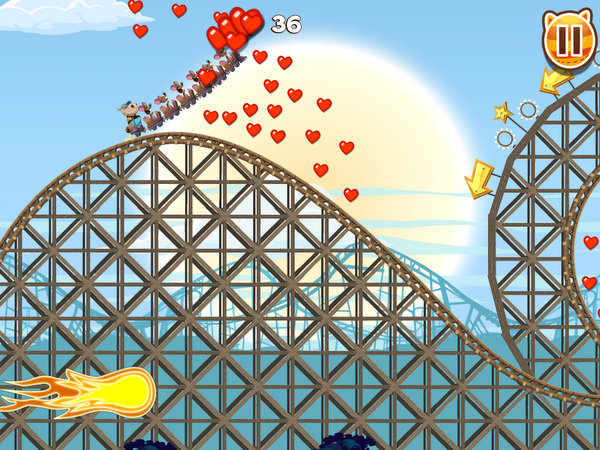 Unlocking the next coaster requires coins so replaying previous levels are encouraged. The first run will have four rollercoaster carts to load up with stuffed animals with an extra cart added for each successful run up to a total of ten carts. There are three power ups that are available depending on the level, jump jets, rocket boosts, and magnets. There are five stuffed animals with a variety of bonuses to choose from. The basic stuffed animal is the mouse which costs nothing to load into the carts but has no special bonuses and provides only two extra hearts for bringing the mouse into the unloading zone. Each of the four stuffed animals that come after the mouse will cost a certain amount of coins to load into the cart but provides a larger completion bonus and special bonuses for things like navigating through loops and jumps. I found using these special animals was a poor idea unless I had completely mastered the track as making a hard landing or crashing out and failing to complete the track wasted my hard earned coins.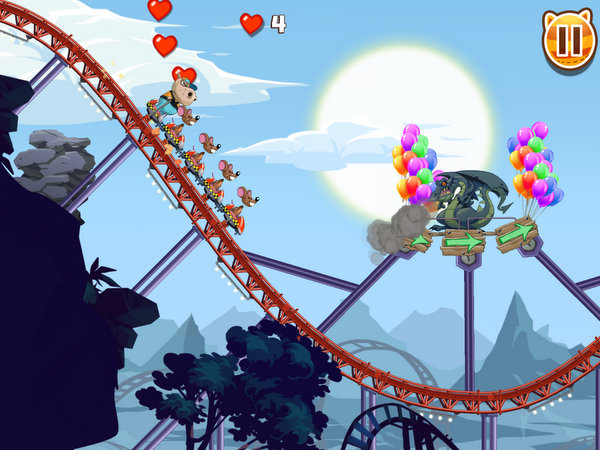 I will admit to a morbid satisfaction out of the gameplay. I was one of those obsessed with creating the perfect theme park in Rollercoaster Tycoon. I never spent massive amounts of time fussing over rollercoasters to create the ultimate death machine and I never really understood the appeal. After playing Nutty Fluffies, I have come to realize the game is just plain fun no matter if I guide my fluffies to the unloading zone or crash them in a horrible manner. Maybe the comical blood-free bouncing of stuffed animals in a terrible crash relieves me of the guilt I would feel watching people crash on Rollercoaster Tycoon, but no matter what, Nutty Fluffies is just darn fun.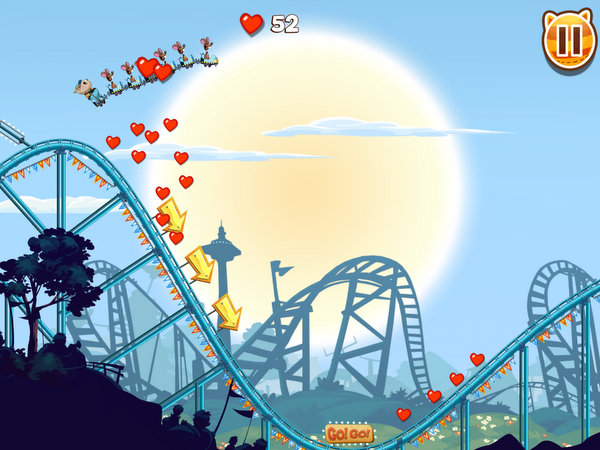 Visuals
Nutty Fluffies is a colourful cartoony game. It is very child friendly with bright, eye catching colours and big eyed animals. The graphics never skipped a beat or suffered from any slow-downs. The camera zoomed out at the right times to provide a good view of the action. The game translates well to the smaller iPhone screen and is optimized for the iPhone 5 widescreen and the iPad Retina displays.
Audio
The soundtrack and sound effects are spot on, creating a wonderful amusement park atmosphere. There is a wide variety of sound effects to keep things interesting. Nutty Fluffies is definitely a game you can enjoy with the sound on. It isn't necessary to plug in headphones to enjoy the game, the speakers will suffice.
Overall
It could be extremely easy to write off Nutty Fluffies for its silly and simple idea and presentation. But as they always say, don't judge a book by its cover. Nutty Fluffies masterfully combines cartoony graphics, simple controls, a brilliant idea, and great sound into one excellent package. For $0.99, there are plenty of levels with tons of replayability built into the game. The nag screens to make an in app purchase of coins is relatively low, only showing up once every several rounds, however I would have preferred no nag screens at all. There are enough levels to take up hours of your time and Redlynx is promising more level packs in future updates. I highly recommend purchasing Nutty Fluffies for a family friendly game everyone can enjoy.
Capsule Computers review guidelines can be found here.