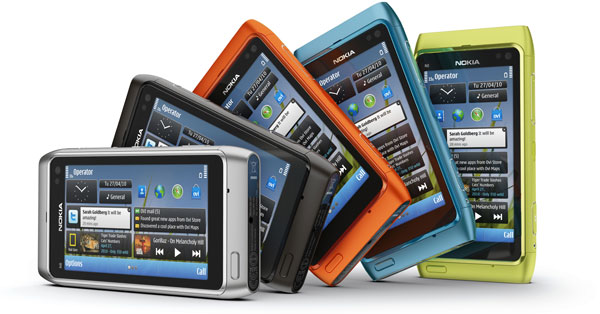 Nokia N8
Developer: Nokia
Specifications :
Anodised Aluminium Casing, Scratchproof Gorilla glass
Symbian 3 platform with 680MHz processor and 256Mb Ram
3.5″, 640×360 AMOLED screen with 16.7 million colours
1200 mAh battery, 720 mins talktime, 920 hours standby
Wi-Fi, Bluetooth, HDMI and MicroUsb slots
12MP Camera, Carl Zeiss lens, Zenon flash, digital zoom
When I read a review I want to hear about the products use in daily life and the main features and benefits it can provide me for the money I'm going to spend on it. All I want to know is what differentiates it and why it deserves my attention in the sea of competition beckoning me forth. If you want to be bamboozled with every spec and detail I suggest you read the manual it's all in there. What I hope to provide is a detailed but easy to understand review on Nokias relatively new N8 Smartphone from my limited time and experience in using it over a 2 week period.
Design and Feel
As soon as I opened the box and saw the N8 I was impressed by its sturdy yet classy elegant look. Originally I thought the design might severely reduce Nokias target market as the phone has an initial air of masculinity to it, be it a labourer requiring a strong external casing or a suit wanting that prestigious look.  Saying that, the more time I spent with it and the more people I spoke to, I began to see how the rugged, strong scratch proof anodised aluminium casing captured its masculine side while the sleek elegant casing complete with soft round corners would appeal to females alike.
A very noticeable feature is the rather large camera compartment that protrudes from the top back part of the phone. While it was not annoying in the least it was a constant worry when putting the phone down and I always found myself picking it back up to see that I hadn't damaged the camera or flash.  Saying that I never saw a scratch after leaving it on any surface, a testament to the strength and quality of the material. This is a very minute price to pay for the unsurpassed quality of the 12MP camera and Xenon flash that we shall get to later on.  One slight complaint was the position of the actual camera lens which lined up perfectly with the users fingers when they were making a call or playing games with the phone on its side. Not a major issue especially since almost every feature is touch screen and only requires holding by one hand but a slight relocation of the lens would have been nice.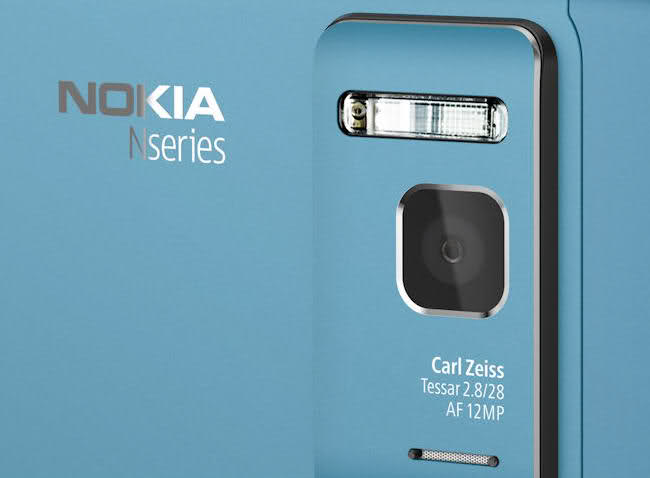 The slots for the sim and extra memory are nestled nice and flush with the body and although they are quite difficult to get open (women with long fingernails may disagree), they are very sturdy, and well supported by small flexible and durable rubber hinges. This also has the added bonus of preventing unwanted opening of the slots during use or through light touch. The sim is on a spring based system so the user knows that it has been placed in correctly.
The top of the phone has the power (and profile change) button, HDMI input to stream directly to a television or other device as well as the AV connector. The bottom of the phone features the charging connector as well as the wrist strap hole, allowing users to continue USB streaming while charging the phone, a very useful feature in itself.
The right hand side of the N8 houses the volume control which is nicely raised allowing for blind use, as well the camera button which features 2 levels of resistance, half pressed for auto-focus and full press for quick access to the camera as well as taking pictures. I'd have to say that many times I went to use the camera quickly and thought it was faulty but wasn't pressing hard enough to activate it. In between these 2 buttons sits the lock slider which essentially performs the same function as double tapping the screen. The slider was not quite resistant to touch which was essential in preventing accidental unlocking of the phone in the pocket. The left hand side is a little less busy, housing only the aforementioned Usb/memory and the MicroUSB slot which is surprisingly uncovered.
My only complaint was the position of the command button on the bottom of the phone in the left hand corner instead of in the middle or right where it would be easier to access.
Included in the box was a nice set of goodies including a HDMI to mini HDMI adapter, very good quality inline earbuds, a very (I can't stress this enough) practical VERTICAL power adapter that doesn't take up more than one slot and a USB adapter to directly save data on usb based storage media should you not be able to access a computer. Direct USB connection to a PC required additional cords.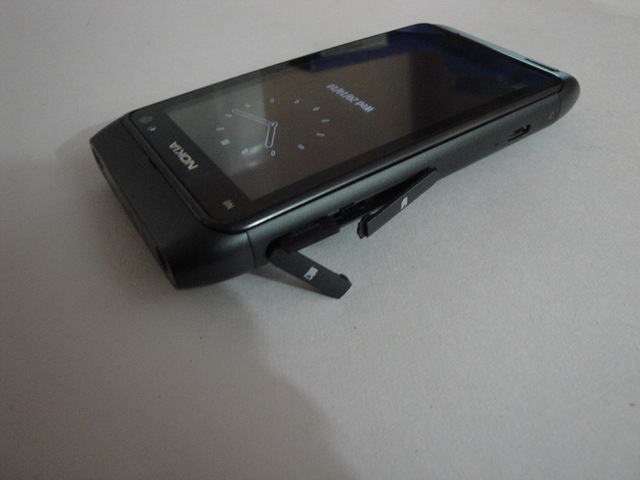 Display
The N8 features a crisp 3.5" AMOLED screen with 640 x 320 pixel resolution. While I found the screen to be of ample size even for watching movies, the resolution let the phone down during certain games such as Fifa 11 as well as on certain websites that had small links and banners which became quite blocky and very hard to read. This could be quite easily fixed when web browsing through the zoom function though. Also saying this, the resolution during general use such as menus and apps was superb with rich saturated colours and sharp defined icons. The quality of movies was quite astounding and there was very little loss of quality when games were played on a large plasma screen through the HDMI adapter.
The screen is made from a material called Gorilla Glass which according to their website, "Gorilla Glass is an environmentally friendly alkali-aluminosilicate thin-sheet glass. Elegant and lightweight, Gorilla Glass is durable enough to resist many real-world events that commonly cause glass failure, enabling exciting new applications in technology and design." This is pretty strong stuff renowned to be able to take quite a beating.
Performance
Even though the N8 has an older software platform and is lacking the same CPU and Memory specs of the current Iphones and other Smartphones, there was no difference in performance in daily tasks or functions that required high end power. The 680MHz processor combined with separate Broadcom GPU and efficiency of the Symbian 3 platform results in more than enough power to perform any task on the N8. From playback of 720p movies to multi-tasking, I rarely noticed any lag or hint that the processors were struggling despite also only having 256Mb Ram, half the industry standard.
Also packed into the N8 is GPS, which worked flawlessly in both real and assisted mode, as well as Wi-Fi, Blue-tooth and a 12oomAh battery that seemed to go on forever, although I will say that the camera, especially when used with the flash had a heavy drain on the battery.  There is 16Gb of internal memory, and while this may not seem like a lot in today's current market of 200+Gb music players it is more than enough to hold 4000 songs or 10000 photos especially when combined with an external 32Gb optional card. Also included is an FM transmitter which I haven't even thought about since the days of the old itrips. It is a cool feature but not something I would imagine most people have much of a use for anymore especially considering the amount of songs that can be stored internally on the unit. Saying that some of us do still have older model cars with low connectivity and this feature could provide you with many hours of music on those long boring car rides.
While the debate between Symbian 3, Android IOS and Windows will go on into the next millennia, it really comes down to personal preference and what the manufacturers do with the technology they possess. Nokia have utilised the Symbian platform very efficiently, creating a phone that will never lack the power it needs for any low or high end task.
The Home page was very easy to navigate and could be readily customised to the user's personal tastes. Despite much criticism from some people wanting to spend half their lives setting up a homepage I enjoyed the simplicity of the N8's widget function which although limited to one size was easy to use and implement. Simple does not mean ineffective and via the Symbian platform, Nokia have included up to 3 fully customisable homepages displaying different user information.  Again it all comes down to personal preference as I prefer to have nothing on the homepage and to access apps and other functions through the menu.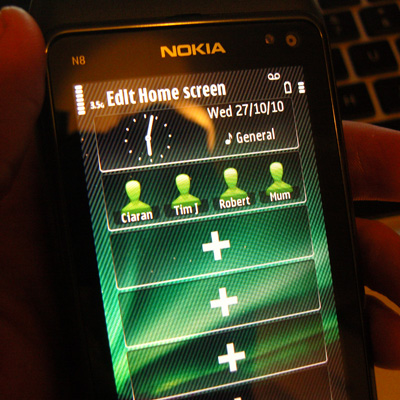 Without going into too much detail, simple calling and messaging on the N8 came with zero issues. Once the phone locked up and wouldn't allow connection until it had been reset but I can't say what the problem was. In a few instances the phone couldn't keep up with the speed of number entry but it was only a very brief pause and it did correctly register what had been typed. The conversation mode while messaging was also a welcome addition. Call quality was fantastic, with the speaker phone showing no hints of ghosting or echoing. Voices were very natural in tone and lacked the empty plastic feel of many other Smartphones.
Many users have reported slight slowing as when switching between apps, they all remain open in the background. I didn't notice any congestion or slowing in respect to performance.
Multimedia and the Internet
The music and video player applications are simple enough but have nothing that set them apart from any others; in fact I found the music player a bit archaic and not very user friendly. Thankfully songs can be directly and simply used as a ringtone. All of this does nothing to take away from the unsurpassed sound quality of the speaker on the N8. While it's not going to keep a party going (unless you connect it to the TV through its HDMI output), the sound is rich and full doing justice to all styles of music from classical to hip-hop. For its size the speaker really packs a punch and is a joy to listen to. Although missing codec's for such lossless formats as FLAC and Ogg, all the other common formats are included including MP3, WMA and AAC. Personally I think the N8 delivers a more natural sound than its competitors but can vary depending on the source and type of music.
Its outstanding video playback has already been noted. The N8 is capable of playing mkv files, a popular format for high quality Blu Ray and HD content to be ripped in. This is a very welcome feature which emphasises the 720p playback and is something even the PS3 doesn't offer. Nokia have also included a DivX codec much to the pleasure of many users.
The Ovi store had plenty to offer with over 40000 different apps to choose from. Nokia are getting more and more third party developers on board and are currently adding 1000 applications per day, getting around 5 million downloads per day through the service. The service seems to be becoming much more integrted into Nokias service seemingly giving the likes of Apple and Microsoft something to think about in the phone internet market.
My internet experience with the N8, although offering speed and reliability was not overly enjoyable and a little time consuming. The stretch and zoom features worked well although the size of the screen did require very accurate pressing of small links and text boxes. There was a noticeable lack of a back button which was very annoying although additional browsers can be purchased. In landscape mode the QWERTY keyboard was simple and easy to use while in portrait mode the standard touch phone keyboard lacked functionality and prevented fast browsing.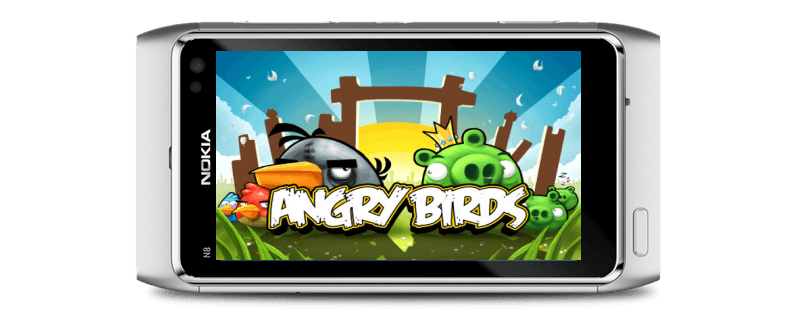 Camera
The Camera function on the N8 is so astonishing that during my time with it my own digital camera of exceptional quality didn't see the light of day. Everybody that I showed it to agreed it was the best quality camera phone they had witnessed with rich saturated natural colours and lighting. There are many options to play around with such as white balance, contrast and sharpness and due to the quality and amount of information captured even on lower resolution settings; there was room for ample post-processing and editing. The shutter speed was extremely fast allowing for those photos of kids and pets that just don't seem to want to stay still. The digital zoom was exceptional and even when fully extended resulted in very little noise. The auto-focus was like lightning compared to most other Smartphones and was controlled by a 2 touch camera button rather than an onscreen touch icon. While it did increase the shakiness when taking a picture it is no different to the design of every digital camera on the market and presented no issues in relation to picture quality. Night pictures were of no concern to the Xenon flash which provided more than enough illumination for clean, bright crisp pictures. Sometimes the photo gallery took a little while longer than expected to load but was of little concern and not really a function of the camera.
For shooting video, the N8 was a pleasure to use, delivering 25fps in 720p. While some may argue the Iphone 4 and some other Smartphones are recording at 30fps I honestly couldn't see a difference between the two in terms of sharpness or smoothness of playback. I didn't encounter any stuttering or freezing whilst either recording or playing back any type of video or media.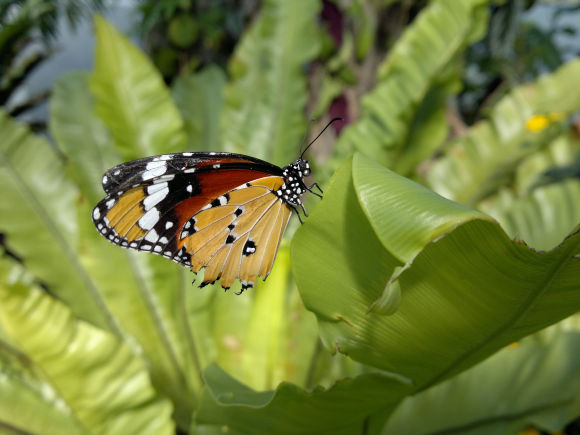 Conclusion
The Nokia N8 is a fantastic piece of hardware that all in all will provide the user with every bit of functionality offered by any other Smartphone. The design is flawless and something that puts it apart from Apple and Samsung who are even involved in law suits regarding the similarities between their products. Not only does it feel powerful but the CPU combined with the GPU and Symbian 3 technology provides ample horsepower for the modern person's daily tasks. To say the Iphone and Android based phones have more power on paper is like owning a Ferrari in the city; if the physical constraints of the environment restrict the devices power then the argument is irrelevant. Sure a Ferrari looks better but then hey, so does the Nokia N8 compared to the competition.
No items found.