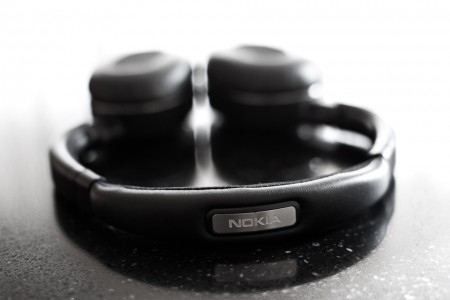 Today, I am reviewing the Nokia BH-905 Bluetooth stereo headset. Big thanks to Nokia for providing the headset for review. Nokia BH-905 is a flagship headphone accessory from Nokia with bluetooth wireless connectivity, 10 microphones and active noise cancellation being some of its key features. But to make it even more special, it can even be used wired by using the provided cable to hook it up to a non-bluetooth device. Now I'm very much into good music listening on the go and never really took bluetooth wireless headsets nor active noice cancelling heaphones that seriously. But after trying out the BH-905, I now can see that a good bluetooth headset can sound as good as wired ones!
To get you into the right mood about this headphone, I recommend you to watch this excellent Nokia promo video for the BH-905 before reading this review.
Full Specification can be seen HERE.
– She looks much prettier than me so I had to use this photo. (Photo Source: Nokia)

GOOD
+ Light weight and comfortable to wear
+ Superb sound quality
+ Great looking design
+ Non-intrusive noise cancellation that works
+ Wireless and wired connectivity options
+ Built-in mic for handsfree phone calls
+ Plenty of bundled adapters and cables
BAD
– Price is a bit steep
– Open-style allows others to hear your music in quiet environments
– Looks a bit awkward when worn due to protruding side headband
– Does not block out all types of noise
– The box that it came in.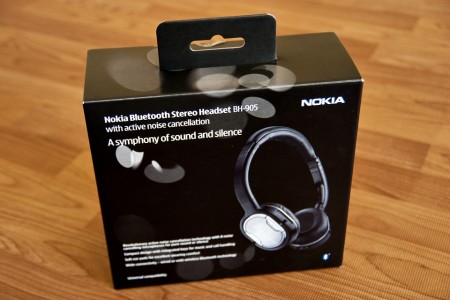 The BH-905 comes in a nice big black box. Once opened, you will find the following contents:
Nokia Bluetooth Stereo Headset BH-905
Nokia Carrying Case CP-298
Nokia Audio Cable CA-143U with 3,5mm Nokia AV connector (~1.2m)
Nokia Extension Audio Cable CA-144U (~1.7m)
Nokia AV Adapter AD-52 for 2.5 mm Nokia AV
Nokia Audio Adapter AD-63 for standard 3.5 mm jack
Nokia Adapter AD-71 for airplane
Nokia Adapter AD-70 for 6.3 mm home stereo
Nokia Travel Charger AC-5 (same as most other Nokia phones)
User guide
– Forgot to take the pic of the user guide. But here are all the important bits.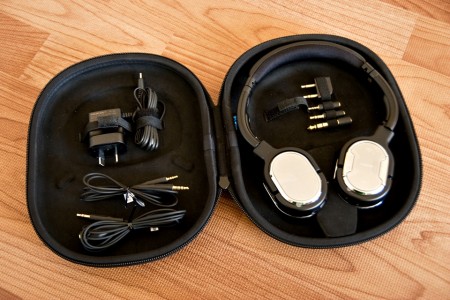 The carrying case has a leather-like feel to the exterior and a full round zipper to open and close. It has a wrist strap attached as well which can easily be taken off if desired. Inside, you get to see what you paid for, the BH-905 headset. There are also little elastic loop holders for the plug adapters, AC charger and cables. The headphone has a snug fit with moulded sections and side walls for the headset. No rattling in here when closed which is what you want. However, the case is quite hefty in size. So you'll need a decent sized bag to fit it in if you want to have it with you all the time. But this is same for most other headphones of this size.
Design & Build
First thing which popped up in my mind when I opened the case and saw the BH-905 headset was "wow, looks very classy!". It definitely looks the money. All my friends who saw it said it looks really nice with its chrome accents and the simple lines. The headset does not feel flimsy or weak when held. The headband has enough cushioning in the top middle portion and the side part of the headband bends outwards to minimize the damage to your hairstyle. The headband is also nice and thick so it's not going to snap or break anytime soon either.  Overall, it's very well built and has the looks as well. It would have been great if there were more various color options such as a full white version or army/camo version. That would have appealed to the fashion conscious.
The earpad is very well cushioned and quite soft. So your ears do not feel any hard object or pressure whatsoever. One concern was the material used. It is a  faux-leather like outer area with a meshed material for center. There may be a chance that the material will get worn down or get ripped over time although in my experience with similar headphones, this still takes a couple of years at least.
– Other than the switch for ANC, rest of the buttons are all on the right side. (Photo Source: Nokia)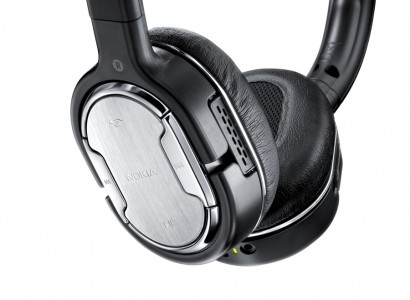 Usability
There really isn't much to the headset in terms of buttons / functions. This is a good thing. Hold the power button on the right ear piece to turn the bluetooth on. Then search for the headset from your mobile phone via bluetooth. Select BH-905 and pair. Done. Now whenever you switch on the headset, it will auto-pair with the last device it paired with which would most likely be your mobile phone. Works flawlessly and without hassle. In terms of wireless distance, I was able to hear the music cleanly up to about 10 meters before it started to disconnect. Even through quite a few concrete walls in-between myself and the phone.
Most of the headset's buttons are on the right ear piece. Power/Multi-Function, previous, next, play/pause, volume up and down. On the left ear piece, there is only one switch to activate the Active Noise Cancellation (ANC). The buttons are intelligently places and sized so that you can easily figure out which button is where while it is still placed on your head. They have a nice solid click feel to them and also give an audible "blip" sound feeback through the headphones when depressed.
– Headband can be extended on both sides. It holds its position firmly but looks like it can get a bit loose over time.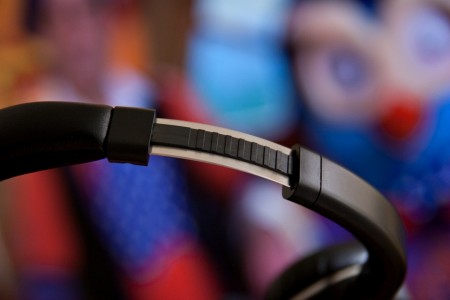 One great feature of this headset is the fact that it can be used with a cable to be able to listen to virtually any audio device. So you are not stuck to just bluetooth capable devices. I've noticed that even when the BH-905 is paired wirelessly to my Nokia N900, if I plug in the cable to the headset, BH-905 immediately turns off its bluetooth signal and goes into a standard headphone mode. However, the active noise cancellation can still be enabled which means you still get to enjoy the music noise free.
In terms of battery life, the headset is able to pull off some great runtime. According to the specs, it will last 24 hours over bluetooth wireless when listening to music or making a phone call. With noice cancellation turned on, it'll last around 15 hours. That is impressive. However, this headset has the benefit of being able to use it wired. This means that it can be used as both a stereo music headset as well as a wired handsfree for phone calls even when it has no juice left. Just plug the cable in and voila! In the plane where you may use it wired, you can still enable the Active noise cancellation for up to 40 hours. So you never have to worry about it running out of battery even in the longest flights around the globe. It takes less than 2 hours to fully charge using a common 2mm Nokia charger and has said to be able to standby in bluetooth mode for up to 600 hours. That's an amazing 25 days of standby with bluetooth left on. Over the past 2 weeks I've had the headset, I've never been in a situation where it ran out of battery. I doubt I ever will. My phone/mp3 player/laptop will run out of battery much before this headset will that's for sure.
– Very soft and plushy cushioning on the ear cups. No, they are not leather.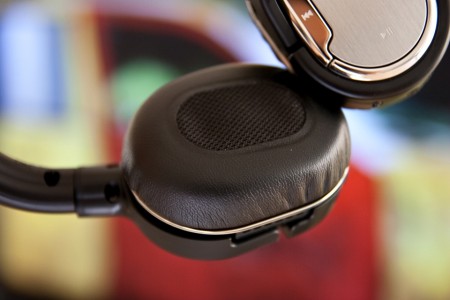 Comfort
The BH-905 headset is very comfortable to wear. The ear cups have a thick but very soft padding that just lightly sits on your ear and does not exhibit any acute pressure points. The top part of the head band also has a plushy padding which ensures that you don't feel the headband wrapping around your head. It should accomodate for most head sizes as the headband length can be extended on both sides. The left and right side of the headband also protrudes outwards which actually creates quite a gap between your head and the headband. This gives you a feeling that it's not really sitting on top of your head. In saying that, it does look slightly awkward when worn. But my friends told me it looks fine so I guess it's not that bad. The pressure of the headset pushing in on the ear is about just right although I personally prefer something slightly tighter.
It is very comfortable even when worn for extended periods and everyone else who i got to try the BH-905 out all agreed that it is extremely comfortable. For light jogging, it has no problems staying put and not falling off. But if you shake your head a lot for whatever reason, the headset does move about and become insecure. Overall, this is one super comfortable headset that is sure to please most.
– Thick and soft head band support. It's definitely one of the most comfortable headsets out there.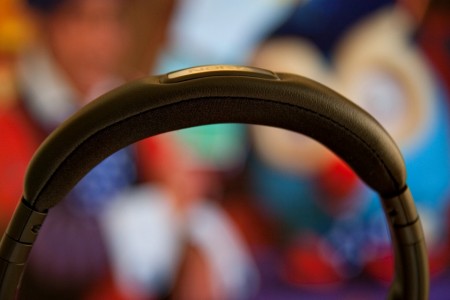 Active Noise Cancellation (ANC)
This is a big feature of the BH-905 and it sure doesn't disappoint. The technology behind it is called the Wolfson AudioPlus Ambient Noise Cancellation and it offsets the ambient frequencies heard through its 8 microphones and in turn reduces the level of noise heard by your ear. As with most active noise cancelling headphones, it works best with a consistent low to mid frequencies such as airplane noise, fan/air-conditioning noise, road noise while in freeways etc. In such environments, when you switch it on, you will be amazed at the difference it makes. The best way to experience this immediately is to turn the ANC feature on while playing no music through the headset.
Just flick the switch on the left ear cup and enable the noise cancellation. It takes about 1 second for it to activate but when it does, you'll suddenly feel like you have disconnected yourself from the world as it eliminates nearly all constant ambient noise. However, you will still be able to hear the people talking next to you and any accute sounds. The specs say it will reduce 99% of the noise. I think their definitition of noise is a bit different to mine as it definitely doesn't seem that much in real life environments. But still, it was good enough to impress all my work teammates. So it does not lock you out silent but at least it removes most of the head-ache inducing constant frequency noise in the background. This also allows you to listen to the music at a lower volume than what you would normally do as you don't have to fight with the ambient noise.
One other great thing about the active noise cancellation of the BH-905 is that it does not affect the sound quality of the input source that is being played whatsoever. So the music does not get processed by the DSP and is totally untouched even when enabled. This ensures that the music sound quality is always the same. However, it does generate some hiss when the ANC is enabled. It's very little so it does not actually affect you while listening to music at any significant volume. But if you have no music playing, then you can hear the hiss. In saying that, the hiss is much quieter than the ambient noise that you hear when ANC is disabled. It just shows how well the ANC actually is performing in terms of eliminating the ambient noise around you for you to be able to hear such low volume hiss.
– I really like how the switch for ANC is not just a button but a proper switch. (Photo Source: Nokia)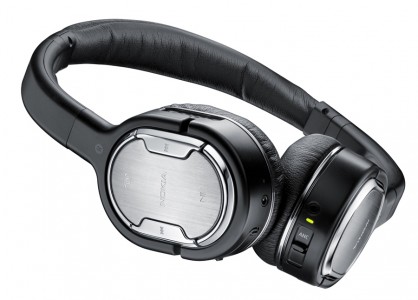 Sound Quality
When pairing it up to my N900 via Bluetooth and playing some music for the first time, I was a bit disappointed with its sound quality. A bit hollow and not dynamic enough in all the frequencies. Felt a bit like it was holding back the sound. But after I ran it in for a couple of hours of various music, it started to show what it really is capable of. As with most headphones, it just needed to be loosened up a little. Now it is well balanced, slightly warm sounding and much more dynamic. There is no audible distortion at the loudest volume, no ear piercing treble and no over blown bass. I didn't hear much noise/hiss over bluetooth either. I got various people to try it out at my work and most were very impressed at its performance and sound quality. Simply brilliant considering it's over bluetooth wireless.
Volume also was aplenty and the built-in amplifier seems to be able to pump out some serious sound level while over bluetooth. Defiintely loud enough to annoy everyone around you in the train/bus/plane considering that it is an open-style headphone that leaks out some sound. This to me is a problem. I would have much preferred a closed-type headphone design for this as it cups your ear and isolates the music more for yourself and not affect others around you. But that's me. I commute via public transport often. For those who don't, open style headphones gives you a more airy sounding experience and overall, better quality sound.
– Those grills are not where the microphones are. Not sure what they are actually.

Listening to some up beat hip hop music, it showed that it can handle the beats with no problem as the bass was tight and loud, mids were not lost and highs remained clear and distinct. Tried some pop opera and the clarity was superb. It's about accurate rendition of music here. If you are used to bass heavy closed headphones, BH-905 may sound a bit weak in the very low frequencies. But all in all, I don't think you will find any better bluetooth wireless headset that sounds this good. Yes, it's that good.
Using the provided cable instead of bluetooth wireless, it will not sound as loud in volume when coupled with most mobile phones. This is due to the fact that the input sound is amplified by the portable device (ie. mobile phone) instead of the built-in amplifier in the headset. However, attaching the BH-905 with my Nokia N900 via the cable, it was still plenty loud. So it seems the BH-905 is quite easy to drive and has decent sensitivity. (I couldn't find the exact sensitivity value in the official specs) The sound quality doesn't deviate greatly from when used over bluetooth although theoretically, it should sound a little better due to it being wired. It's also great that you can still turn on the noise cancellation while using cable. Perfect for plane trips where you can plug the BH-905 into the plane seat with the provided adapter and enjoy the extra silence that it can offer.
Finally, I need to comment about the voice call quality. It's a bluetooth headset for a mobile phone afterall. I expected great things and it didn't fail. While I have the headset on, if the phone call comes in, I just press the power/multifunction button on the right earpiece to pick up.
– Ear pieces supports a wide range of movements to cater for everyone.  It tilts an swivels. (not 180 degrees)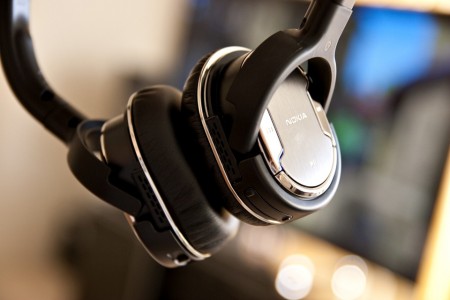 Conclusion
This is one heck of a bluetooth headset. The sound quality when listening to music rivals that of a good open-style pair of headphones even over bluetooth wireless! Active Noise Cancellation works and isn't just a gimmick. Fact that it doesn't degrade the audio quality one bit is a huge plus. As a handsfree headset for phone calls, it works as expected and people don't have any problems hearing my voice nor myself hearing them. It's light, comfortable and well built. It does what it is designed to do and it does it better than expected. Only downside is the AUD$399 RRP price tag.
EDITOR RATING: 8.5 / 10