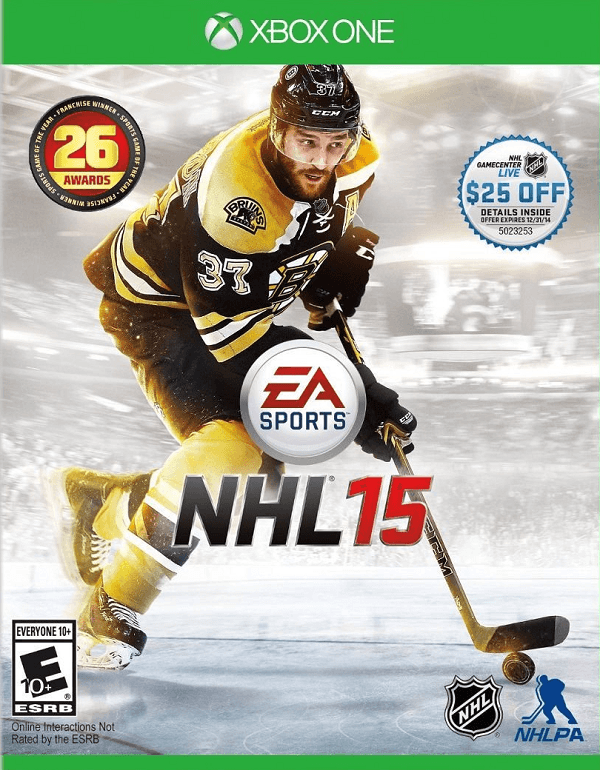 NHL 15
Developer: EA Canada
Publisher: EA Sports
Platforms: Xbox 360, PlayStation 3, PlayStation 4, Xbox One (Reviewed)
Install Size: 20.86 GB
Release Date: September 9, 2014
Price: $59.99 USD – Available Here $99.95 AUD – Available Here
Overview
Almost every sport in EA Sports' line-up made the jump to next-gen consoles last year except for one glaring omission… hockey. Considering the NHL game series has always been a stellar and consistently impressive series of titles, this lack of a next-gen version was quite strange. Now a year late to the party, EA Sports has released NHL 15 onto next-gen platforms with what they are saying is a major upgrade. However was everything spent on making the game look good while sacrificing everything else?
Gameplay
It is clear what EA Canada prioritized when it came to NHL 15 and that is making sure the actual hockey gameplay is the highlight. The biggest changes this year come in the way that the company has revamped the physics of nearly everything in the game. The puck now acts like an actual puck would rather than a tiny ball, meaning that there can be just as many random events happening in the game as they would in real life, such as rebounds, strange bounces, and hopping.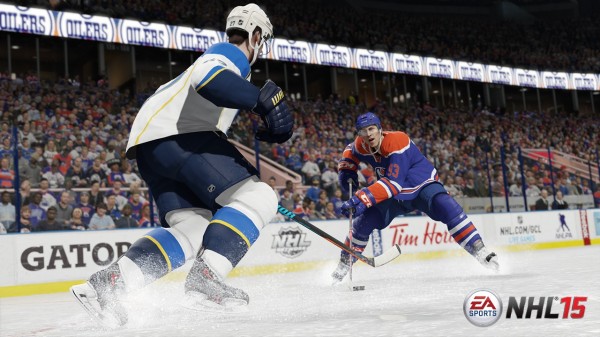 The players have also been given a physics revamp to glorious effect. All twelve players on the ice can now react to various situations which makes for some amazing looking scenes. Nothing I have seen in the NHL game series can top seeing two of my team mates smash headlong into one another in the slot and sprawl out while trying to screen the goalie, forcing the goalie to nearly stand on his head to make a save from a slapshot. Even though it prevented me from scoring, the fact that something like this is possible now is outstanding.
It also helps that the skill stick has also been refined to go along with the new puck physics. Players can now make use of a number of new deking and skating mechanics to get past the defense and fake out the goalie, but be careful. Thanks to the new physics it is entirely possible for the puck to simply roll off of your stick if you're too careless. Then again, don't expect your AI team-mates to pull off any of these fancy new tricks.
Now while the action on the ice has been improved, the actual content of the game has suffered immensely. While the game still sports some standard modes such as Be a Pro, Be a GM, HUT (Hockey Ultimate Team), and Exhibition matches, not only are a few more familiar modes missing but so are a number of secondary features within these modes.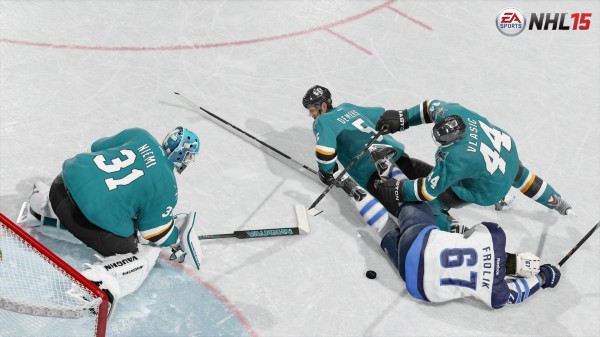 Be a Pro has been stripped down to the bare essentials. Players no longer are able to start in the AHL, CHL or any other minor league before advancing to the NHL, they simply have to choose to be drafted by a random team or pick their team. Once you do enter the game, customizing and making your player unique has also been stunted into the stone-age as the barebones offerings and details are almost insulting after last year's offering.
On the ice, only recently has EA patched coach feedback back into the game where it was missing before, and when you are on the bench or in the penalty box, the option to sim to the next shift has also been removed. This glaring omission makes the fighting penalties that still spring up too often a chore, as you will be forced to sit in the penalty box for five minutes straight, giving the player a chance to go use the bathroom or something. Of course the game could always glitch and leave you inside of the penalty box for the entire match which makes for a great time…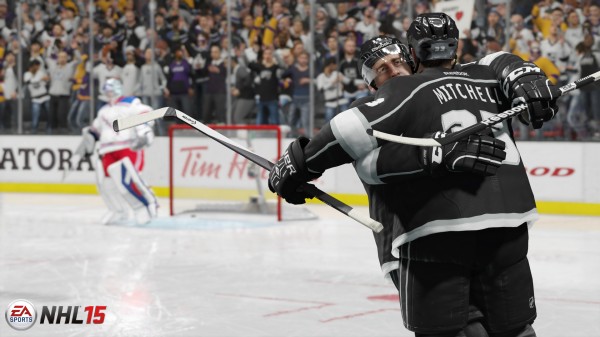 In fact, the "3 Stars of the Game" something so expected given its place in the league, wasn't even included until the most recent patch and even now it simply has been shoved into an end-game statistic with no detail. The Be a GM mode has also returned but it too has been completely stripped of features. Modes such as the Winter Classic and many others have been entirely removed from the game, leaving only Hockey Ultimate Team the mode that seems to have been left untouched, even if it is still a hassle to navigate at times.
Visuals & Audio
Although this should be expected, the biggest improvement in NHL 15 comes in the graphical department. Team uniforms now move accurately and look amazing on the extremely detailed ice, allowing for some truly spectacular looking moments thanks to the new physics. Although player faces still need some work, especially since their faces are prominently featured compared to other sports titles, their facial expressions and goal celebrations are better looking than ever.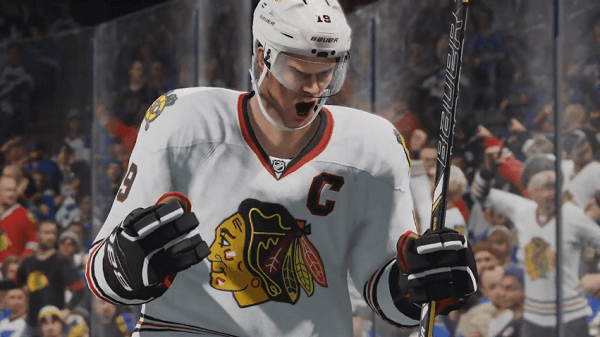 It also helps that the arenas in NHL 15 have been given a complete revamp. While there are still certain details missing in some arenas and unique features that some teams, such as the Blackhawks, have every arena has been given a major overhaul to provide an authentic looking experience. One of these big changes comes from giving the crowd actually having detail and some personality. Fans will hold up signs for their favorite players, wear jerseys and headgear, boo and cheer, and even if you are playing an away game you can still catch one or two die-hard fans who made the trip to cheer on their team. Heck, even vendors and ushers can be seen moving around the arena during replays.
What really gives NHL 15 a real game feel however is the way it is commentated and how every game is introduced. Using real footage of the city and stadium, each game is introduced by NBC Sports' Doc Emerick and Eddie Olczyk using video footage of the two placed over the stadium in the background. The familiar voice of Olczyk and Doc Emerick's addition has given the commentary some desperately needed life and detail.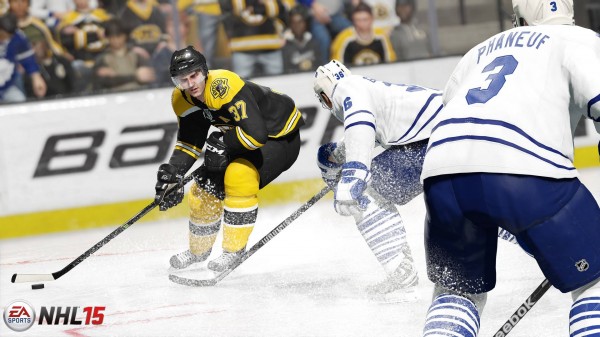 Every time that the teams are introduced, these two will discuss various aspects of the game and what to expect, highlight specific players from each team and give us background information from their lives. Even Ray Ferraro gives some ice level commentary highlighting specific players who are having an outstanding performance as they replay some of their biggest hits, saves, or shots.
Overall
For everything that NHL 15 does right it loses its edge elsewhere. While on-ice puck and player physics have been revamped for the better, simple features and mechanics have been completely abandoned for no reason. Authentic looking visuals and commentary give NHL 15 a real life feel, unfortunately the stripped modes and lack of other gameplay modes make this feel like a half-hearted effort that in many ways.


Capsule Computers review guidelines can be found here.