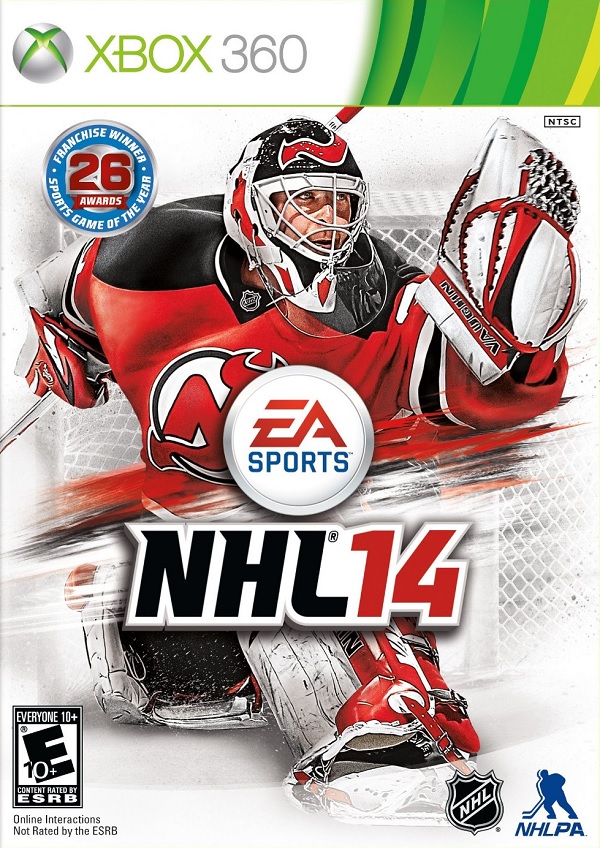 NHL 14
Developer: EA Canada
Publisher: EA
Platforms: PlayStation 3, Xbox 360 (Reviewed)
Release Date: September 10, 2013
Price: $59.99 – Available Here
Overview
Creating a yearly sports game is a difficult task. Change too much and you may ruin what made the last iteration of the series enjoyable. Change too little and fans will be distraught that the game is too similar to last year's, except with an updated roster. While sports fans are generally hard to please, EA's NHL series has consistently delivered impressive titles over the last few years, and now that NHL 14 has been released with a few new improvements, does it manage to improve on what was found in NHL 13 without going overboard?
Gameplay
In many ways, NHL 14 feels like the same game as NHL 13 but not in a bad way. The various skating mechanics and new physics engine introduced in last year's game have been improved and tuned up for this year's release with a number of improvements across the board, including some more intelligent AI for the opposing teams' members which allows them to react more realistically to the player's attempts to skate past them and score goals.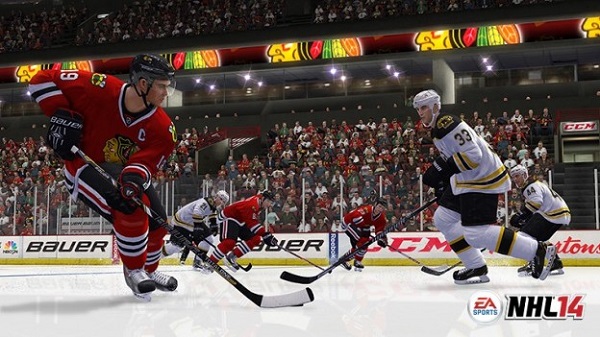 Right when players begin the game they are given a 'hospitality setting' system to choose from where they can select their style of play and what they expect from the game, which adjust various meters within the game ahead of time and can be adjusted at any time. These settings can make the game anything from a hardcore simulator for real life hockey or something with huge hits, amazing saves and shots and more, giving new players an easy way to adjust the game's settings to match their style with only a few presses of the button.
Outside of some new stick handling tricks, such as a one button deke system that makes for easier deking when trying to pass a defender or trick a goalie out of his skates, most of the gameplay changes in NHL 14 are focused around the checking and fighting systems. Taking advantage of the addition of physics from last year, NHL 14 now has a new way to check other players. While they can still use the hit stick to level an opposing player, they can also do so simply by skating right into them.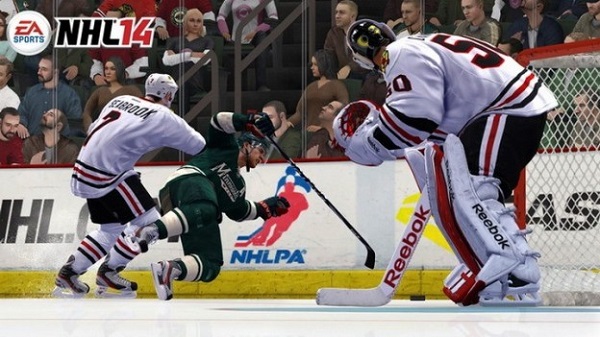 This means that there are times you can line a player up just right and absolutely level him, leaving the commentators remarking about how you nearly took his head off with that hit. Of course thanks to the physics system, big hits require proper timing and proper players, a small bump or a smaller player may even send your player to the ground instead. It also is worth noting that it is entirely possible to simply just miss entirely with a hit, leaving you skating into the boards or leaving the player a wide open passing lane.
With the new checking system also comes a new aggression system where big hits will result in some big fights. Over the past few years, every NHL fight has been portrayed in some terrible first person mode and fights often happened randomly. Now if you manage to deliver a huge check to a star player, slash at the goalie after a play or pretty much anything that might tick off a real life enforcer in hockey, you will have a fight on your hands.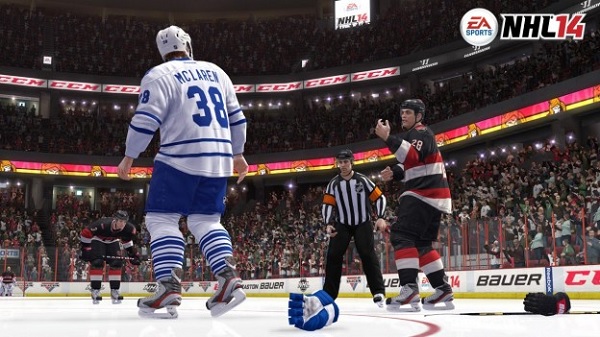 Fights happen more organically than before, sometimes happening at the drop of a hat… well gloves to be precise. An opposing player will skate up to your player, or even a teammate, and begin shoving or instigating a fight that, when accepted, backs the camera out and gives the players free reign of a third person fight. The actual fighting remains a bit clunky, as players simply throw jabs and uppercuts with the right stick, dodge with triggers and pull their opponent with the left stick.
If you don't happen to be in the fight you can simply stand there and watch, or scuffle with another player on the ice and tussle with each other, not actually fight however, as the main fight plays out. It is also worth noting that it is also easier than ever to instigate a fight, as a prompt will appear if one of your teammates happened to take a major hit, got injured or something else happened and you can pressing the prompt will send your player skating over, gloves off and ready to fight.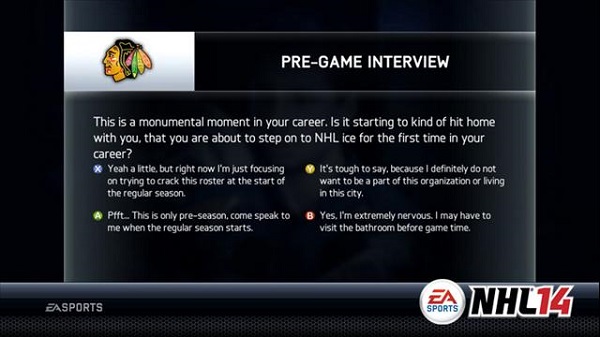 The fighting system, while nice, seems to trigger fights a bit too often. At the default setting, fights will often happen once or twice a period with even the smallest of things causing the gloves to come off and there are many times, you may not even be able to avoid the fight. Other times however it simply ends with one player shoving the other or sticking their glove in the other's face.
Outside of the gameplay itself, a new mode has been added and another, while touted as brand new, is a revamped version of Be a Player. Now called 'Live the Life' players will take on the role of a hockey player that can either immediately be part of the team, or work their way up from the CHL and be drafted into the AHL/NHL. While this is all the same as before, it is now expanded a bit thanks to various off-ice events where you must answer interview questions, interact with fans, teammates and management, all trying to find a balance between being popular and successful without pissing off your team and family. Doing so can see various rewards, such as higher stats, more time on the ice, less chances of being bumped down to the AHL or traded and other things. It still is a bit bare bones compared to other Be a Pro modes found from EA, but it is certainly a nice improvement.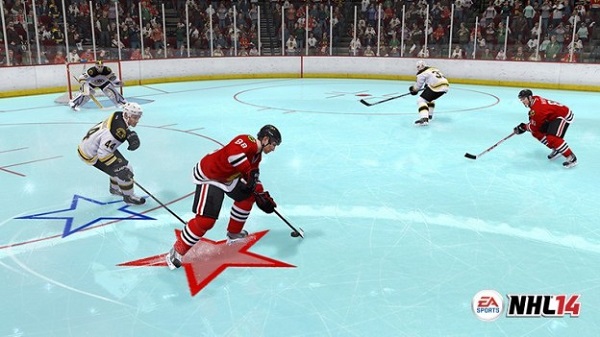 Also included this time around is an NHL '94 mode which gives the players fast paced and rule free hockey similar to what was found back when NHL '94 was released twenty years ago. It is a nice way to spend time and enjoy the game, and a great way to have fun in local co-op. It is unfortunate that EA did not give '94 an online component, as the online remains as impressive as ever with only a little bit of lag here and there and this is clearly a missed opportunity.
Visuals
The attention to detail in NHL 14 remains as impressive as what was found in NHL 13, with many players looking close to their real life counterparts. Thanks to the fighting refinements it is also entirely possible to end up with black eyes, broken looking noses and swelling in various spots of the face after a fight, sometimes even after a big hit is enough to leave a player looking ragged.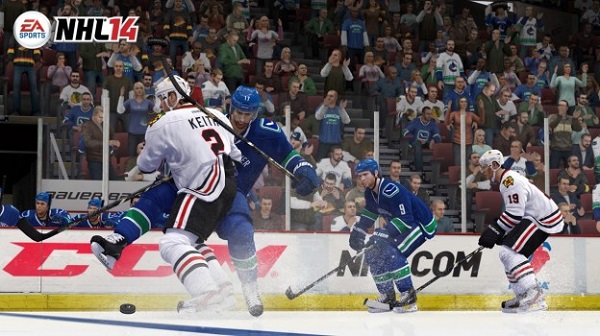 Ice degradation and the stadiums continue to impress and some of the hits players can lay on each other is absolutely devastating at times thanks to the fine tuning of the physics engine and the way that checking has been refined this time around.
Audio
The commentary found in NHL 14 remains some of the best in the sports genre as the commentators will almost always accurately call action as it happens and are capable of even giving play by play with the actual names of the players, and I don't mean only stars like Patrick Kane, but all of them even a few in the CHL.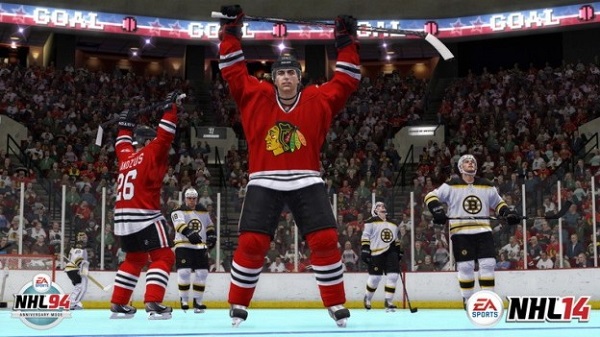 The game comes with a number of new songs this year and all of which fit the atmosphere of hockey nicely as they play between puck drops and at the menu screens. Add this to the atmospheric sounds found in any hockey rink in the nation and NHL 14 continues to sound like a realistic arena.
Overall
EA Sports has found some nice ice to skate on with NHL 14 as it continues to improve and refine what was found in NHL 13 while also expanding on its gameplay options. Checking and fights have been revamped, although fights do seem to happen far too often and can drag on at times and outside of the slightly upgraded Be a Pro and '94 mode, little else has been added. While not a major jump from last year's game, NHL 14 does offer a better, more physical experience, though that tends not to be for everyone.
Capsule Computers review guidelines can be found here.