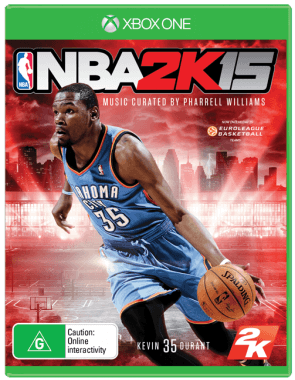 NBA 2K15
Developer: Visual Concepts
Publisher: 2K Sports
Platforms: Xbox One (Reviewed), Xbox 360, PlayStation 4, PlayStation 3, PC, Android, iOS
Install Size: 46.1GB
Release Date: Out Now
Price: AU$99.95 – Available Here
Overview
2K Sports goes another year virtually uncontested on the court with NBA 2K15. In this iteration on Xbox One, there are many changes, positive and negative, the most notable of which are the introductions of Face Scan technology, an exclusive in-game broadcast called 2KTV, adjustments made to MyCAREER based on player feedback and extended depth in MyGM. MyPARK also makes its return, along with the regular, stalwart NBA Today and MyTEAM modes. With Kevin Durant getting his due as the cover-athlete, and Pharrell curating a pretty killer soundtrack, NBA 2K15 sounds like the perfect package for basketball fans. But, that's about as rare an occurrence as Lebron being attributed a less than 98 point rating (poor Durant at 95…he's the poster boy damn it!).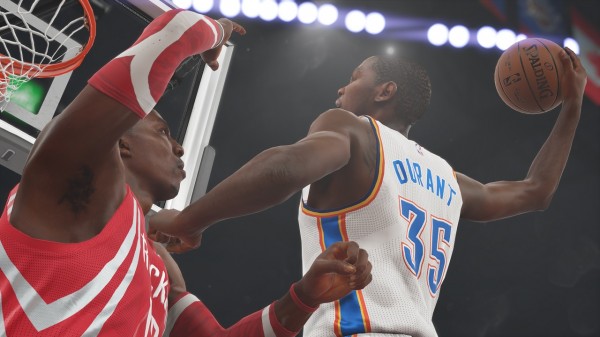 Gameplay
As a preface, I must state that, while I explored each mode, I spent the majority of my time reviewing NBA 2K15 playing MyCAREER. And with that said, let's get the smaller, less involved modes out of the way first. Well, that might not be an accurate description, as every mode included is more fully-fledged than in the past. NBA Today, however, is still NBA Today as you know it; play exhibition games here and get the latest updates on NBA happenings. MyTEAM is also largely untouched, except for the Auction House, which now allows you to auction off unwanted cards to other players. Lastly for this group, MyPARK is the successor to The Park, and now allows you to join either of three communities – Rivet City, Old Town and Sunset Beach – and then play in 2-on-2, 3-on-3, or 5-on-5 games, rank up, earn special boosts and represent your community proudly. Each of the communities plays their own unique brand of b-ball thanks to specific boosts. Playing with friends is so much easier this year, as communicating/organising sessions with them can be achieved through the MyNBA2K15 mobile app (don't forget to download the app and get your daily bonus VC…it helps a lot!)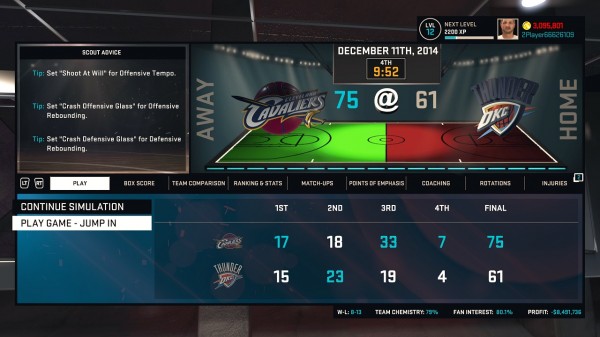 MyLEAGUE is a new mode that is basically MyGM taken to a whole 'nother level of micro-management. As the designated franchise mode, MyLEAGUE will definitely appeal to those who want to get into the nitty-gritty of managing, not just a team, but a whole league! For me, MyGM is daunting enough. For some reason, this year, I found myself less motivated to tackle MyGM mode. The presentation has changed, with Visual Concepts attempting to streamline parts of the experience, adding tabs for the more important elements on the main page within, but things like body-part damage for every player and cry-baby players who argue on the intensity level of training after every change you make is utterly annoying and overpowering. On a nit-picking note, text seems smaller now, which is actually something I noticed across the board. It forces me to get closer to the screen…although I could just need new lenses for my glasses! A good improvement is the SimCast function, which allows you to simulate a match on the Calendar whilst keeping an eye on the stats, live. You can stop the simulation to make changes to your offensive/defensive strategy on the fly, as well as player minutes, rotation and more. The head trainer gives tips on how to proceed, but it's rarely reactive or adaptive, and is more based on your play-book and play chosen beforehand. Finally, there's MyCAREER…
I wish I could have progressed through as a splitting image of myself, but, alas, the Face Scan technology is finicky as hell. Whether it was in natural, broad daylight (optimal conditions) or not, the results were petrifying. Monstrosities of nature stared back at me upon the scan's conclusion. I might not be Brad Pitt, but I know my eyes are where they should be…so, going in with a manually created character, I was immediately disappointed at the familiarly stereotypical characterisation and dialogue of my legend-to-be. He's arrogant and brash, possibly more-so than last year's central figure. But, a notable difference between the two editions is that 2K15 embraces this attitude and exploits it for some funny moments, particularly during the intermittent press conferences. Your agent nets you endorsements which earn VC to be spent on upgrading your abilities. Badges are also unlocked as you hit milestones during play; some of these can also be upgraded from Bronze to Gold. The draft is nowhere to be found as you inhabit an undrafted player this time. Alongside team chemistry, coach satisfaction is tracked, improved by following mid-match directives. New transitional cutscenes show the assistant coach giving criticisms or praise to the player as he is subbed out and the locker room half-time pep-talks. All-in-all, the on-court rituals and minutia are captured in much more detail. And, your player actually talks and engages in court-side interviews with ESPN sideline reporter Doris Burke, whose model is inexplicably worse this year.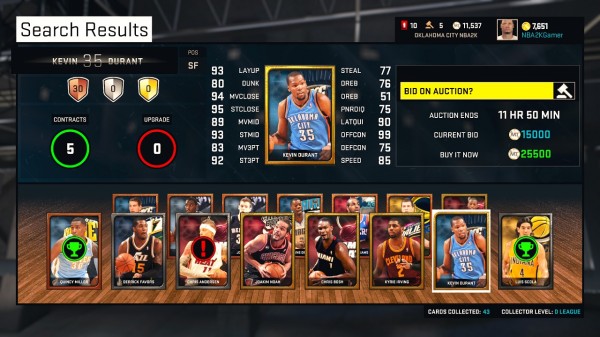 Visuals & Audio
When NBA 2K14 was released in 2014, it was one of the first sports titles on the then 'next-gen' consoles, but it was also, visually, leaps and bounds beyond anything we'd ever seen (other than Ryse: Son of Rome). The impact its stunning visuals had was immense; this was the showcase title to display and show people "this is what next-gen is capable of". It blew us away! This year, not so much. Why is that? The graphics surely couldn't have gotten worse, so I've come to the conclusion that sense of wonder has already fallen to the feel of familiarity. I mean, look at the screenshot below – Kobe looks amazingly realistic! But, that impact is gone…how easily jaded we become. Nonetheless, NBA 2K15 is a great-looking game. No real advancements in the graphics department have been made, although the presentation has certainly been revised. Whether that's a good or bad thing is really up to personal tastes, while navigation is another subject entirely, as already discussed.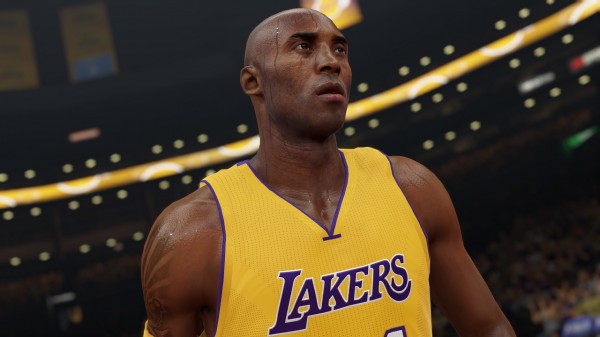 Outside of the soundtrack, a big plus in the audio department is the more frequent and higher-coverage implementation of 'Real Voice'. Previously, certain characters wouldn't actually speak, with their dialogue purely through subtitles. Now, I have yet to come across another character with whom I interact with as MyPLAYER who isn't voiced. Channing Frye, Udonis Haslem and legendary coach Doc Rivers, just to name a few, have all leant their voices to the game, and it makes a big difference in the immersion of the story. Music-wise, I was a fan of Lebron's choices in NBA 2K14. And while Pharrell is guilty of blatantly selecting songs of his own and his friends here, his curation is equally fitting, if not better. The soundtrack is comprised of almost completely pre-2006 tracks, with most released back in the 90's and even the late 80's: 'Dangerous' by Busta Rhymes, 'Scenario' by A Tribe Called Quest, 'Planet Rock' by Afrika Bambaataa & Soul Sonic Force and 'Doo-Wop' by Lauryn Hill just t name a few. Listening as these songs I remember from my childhood came up was extremely nostalgic. What a surprisingly welcome flashback!
Overall
NBA 2K15 is packed with modes and features, even more-so than last year's entry (as you'd hope), but it's almost like Visual Concepts takes two steps forward with these additions, and then a half a step backwards with the presentation changes and smaller tweaks/omissions. MyCAREER is the biggest beneficiary of the alterations made, however the developers excised the draft process completely, which was one of my favourite aspects of the mode prior. Although it makes more sense for this year's story, I still missed its inclusion as it's an integral part of the NBA. Summarizing the significant negatives: Face Scan is seemingly a bust, the game suffers from crashing, and MyGM is so in-depth it's now overwhelming. Overall, NBA 2K15 is still miles ahead of EA's offering; now it's just about perfecting what's there for the next iteration. Adding anything more will just be considered feature-creeping.

Capsule Computers review guidelines can be found here.