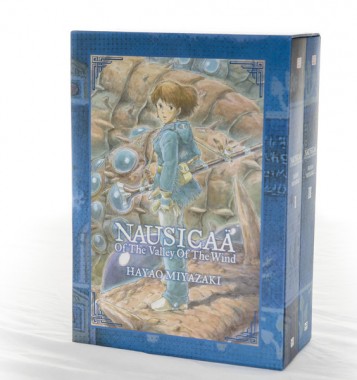 Nausicaa of the Valley of the Wind Box-Set
Author: Hayao Miyazaki
Illustrator: Hayao Miyazaki
Publisher: Viz Media/Madman
Release Date: December 10, 2012
Price: $55.95 – Available Here

Overview
Nausicaa of the Valley of the Wind is arguably one of the most important anime films of all time. It is the film that started it all for legendary anime studio, Studio Ghibli. Nausicaa has gone on the inspire countless anime, manga and all manner of entertainment since its release. But this isn't about the film, this is about the manga that inspired it.
In 1982, Hayao Miyazaki began drawing the Nausicaa of the Valley of the Wind manga series. He mentions in the author's notes of this deluxe box-set release that he didn't have much faith in his ability as a mangaka. However after experiencing Nausicaa of the Valley of the Wind, I can say without a shadow of doubt that Miyazaki is a humble man. Nausicaa of the Valley of the Wind is a manga epic.
Story
It goes without saying that Nausicaa of the Valley of the Wind is unforgettable. It is a tale so immense that Miyazaki himself concludes it by saying that although our journey with Nausicaa is over, there is still so much that will go left untold. It is a benchmark of great story-telling. It is the sense that even though there are no more pages left to turn, the characters and their world lives on, in our hearts and in our minds.
Nausicaa of the Valley of the Wind is well known for its epic environmental tale that questions the affects we have on the world around us. Many Studio Ghibli fans in the West are likely to have first acquainted themselves to the film before the manga, despite the manga being released first. There are a number of differences between the two works, some big, some small. But at their core, both works are instilled with a deep-seeded love for the environment and the wonders of the world around us.
It is very clear that Miyazaki has an agenda behind Nausicaa of the Valley of the Wind and he has a message that he wants to get across. He manages to get that point across without ever being overly preachy and with a deep emotional impact to boot. This may very well be his magnum opus as far as manga goes.
If you are a fan of the film, you will no doubt find yourself salivating over the rich amount of detail and exploration given to the world of Nausicaa and it's cast of characters. The manga goes deeper than the film ever could, providing greater insight and more colour to the world and characters we have come to love over all these years. This is definitely a must-read for fans of Nausicaa, it is undoubtedly the full-picture that Miyazaki envisioned for this story and one that must be experienced.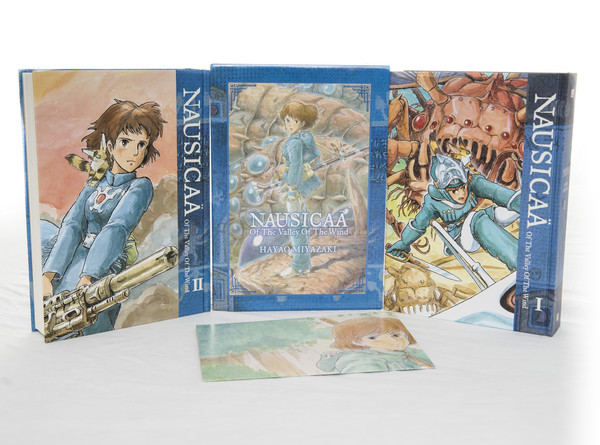 Artwork
Miyazaki is nothing if not a beautiful artist. The worlds and character that he imagines are perfectly conveyed through his richly detailed artwork that is both gritty and surreal in its conception. The fantasy world of Nausicaa is fully-realised with every little detail bursting with life. On top of his artwork, Miyazaki has a great sense for framing his scenes, with great panel-work and angles that show definite traces of his work in animation. There is also a real hint of influence from Osamu Tezuka, with a art structure and direction not unlike Tezuka works such as Apollo's Song.
Extra Content
This deluxe edition box-set release from Madman Entertainment and Viz Media is absolutely remarkable. It comes bundled with a plethora of bonus content, that makes it definitely pack a nice big bang for your buck. The box-set is housed in a lovely hard-cover box, while the books themselves are also hard-covered. Inside each book is a number of colour pages and art from Miyazaki himself that are utterly gorgeous in ever regard. On top of all of that is a lovely double-sided poster that comes inside the box. It is all in all a great package and the greatest release the manga has seen to date.
Overall
What more can be said about Nausicaa of the Valley of the Wind that hasn't been said? The praises of Miyazaki have been sung for decades now and his legacy of work honestly speaks for itself. Nausicaa is a masterpiece in every regard and this is the perfect release for what is one of the greatest manga epics the medium has ever seen.
Miyazaki believes that we are at the starting point of an incomprehensible world. We may not understand it, it may scare us, but in spite of it, we must live. It's a lovely notion that. If you have never experienced the magic and wonder of Nausicaa of the Valley of the Wind, now is the time. It's time to let the wind sweep you off your feet and take you on a journey you'll never forget.

Capsule Computers review guidelines can be found here.