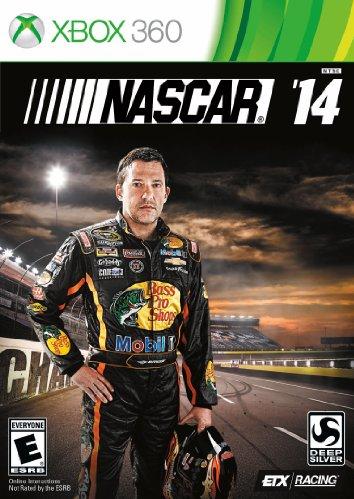 Nascar '14
Developer: Deep Silver
Publisher: Eutechnyx
Platform: Xbox 360 (Reviewed), Playstation 3, PC
Release Date: February 18, 2014
Price: $49.99 Available Here

Overview
Nascar in many ways is like wrestling. You either get it, or you don't. You can watch it for the injuries or the competition, and it of course has its own loyal fanbase that spend a heavy amount of time and money to celebrate the high-octane energy that the drivers bring to the sport. The video game adaptations over the years have been hit or miss, but fans still manage to see further installments due to the demand in the market. Nascar '14 is Deep Silver and Eutechnyx next iteration of the franchise for home consoles, and one that brings a lot of tools to make the player feel as if they were behind the wheel. How does it fare? Let's find out.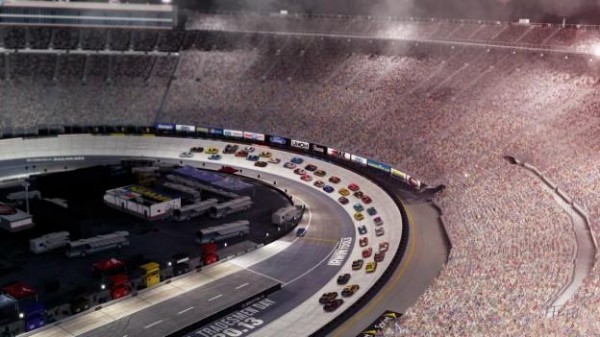 Gameplay
To understand Nascar races, you have to understand the sport – as this title is not going to go out of its way to treat newcomers with kid gloves. Players start their races out in a line and have to pass others using a very strict strategy that mixes both patience and intelligence in order to come in first when that checkered flag is waved. Go past the line? You are forced to watch a cutscene as you pay the price for the penalty. Wrecking is a hallmark tradition at Nascar, but one task you do not want to partake in as it just shows your own shortcomings – which will almost always cost you the race. Eutechnyx really fine tuned the mechanics behind Nascar '14, and treating the fans like they are not the stereotypical beer swigging, buy anything schmucks we see outside of the sport is exactly why this game is a step above previous entries.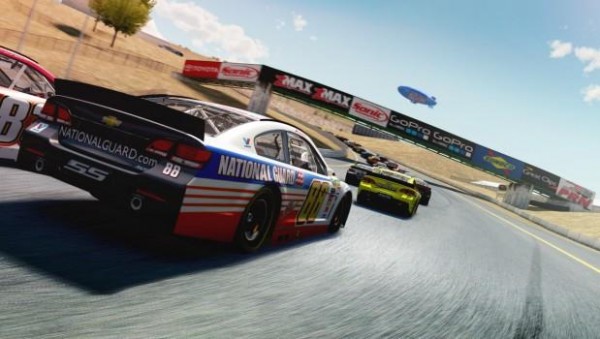 Controls are easy enough to learn, and fully customizable to provide a comfortable layout to anyone picking up the controller. Use the analog to move, right trigger to accelerate, left trigger for brakes and reverse. The simplistic setup comes off as very polished and shines when having to pull off tough maneuvers on the track such as drafting and tightly pulling through other racers on the track. In my opinion, drafting may be the finest attribute of the game, as even in the real deal – getting your head behind the aerodynamics of boosting off the air stream behind another vehicle can be daunting. Luckily, with patience and precision one can execute this with ease here, where they are rewarded for their efforts with great momentum that can decide the fate of an event. The AI can be a tad out of place when on the track – but keep it together for the most part to give a formidable challenge, pitting and actually attempting to win (which was an element missing in similar titles that came before this one).
Career mode is the true heart of the game, as it allows players to go through a great number of events by starting from the bottom and working their way up to legend status. Now, I am not a huge enthusiast of Nascar to be honest, but the customization and constant stream of upgrades make this mode immersive and quite fulfilling to even the lightest of followers. Each week, the player can use their stream of cash to upgrade their vehicle. These upgrades allow you to shift the weight of your car so it is more in tune with the track, get proper tires and parts, and literally control the difficulty level to balance out the AI's intelligence. The customization also comes in while setting up each race, as players can utilize sliders for damage, gas levels, and other options to provide a little relief or up the volume of the intensity, based on the selections chosen. Once everything is in line, it is off to practice before the big event to make sure that the options selected actually show on the track. No good? Then a slight reshuffle will do some good, and with multiple practices before each race, there are plenty of opportunities for improvement and further immersion.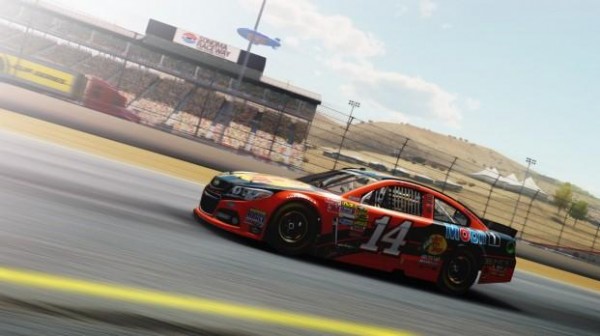 Online mode is detailed, but lacking a lot of other users at this moment to truly enjoy due to how early we are into Nascar '14's release. Online leagues have been added which allows a player to host a league and have their stats tracked for them. Up to 16 players can partake, which adds a lot of replay after one has had their fill of Career and the other modes within the game. Matchmaking has been overhauled as well, now allowing for a more skill-based session. I am not the best driver, so not being thrown to the wolves was a pleasant change of pace compared to the random online sessions seen previously.
Visuals
The visuals were truly one of the most impressive parts of Nascar '14, as much like the gameplay mechanics, they too can be tuned to ones liking. Yeah, the tracks look authentic and the tire tread on the track adds to the experience, but turning visual damage on does a lot to bring this track full circle so to speak, with cars displaying their war wounds as they occur. Each vehicle also looks highly realistic as well, with small details magnified by shading and color, where the polish is truly evident through and through. Though it doesn't have much to do with visuals, being able to change the camera angle to several different perspectives also lets this world be seen in new ways – just adding more comfort and customization to an already broad line-up of rich options.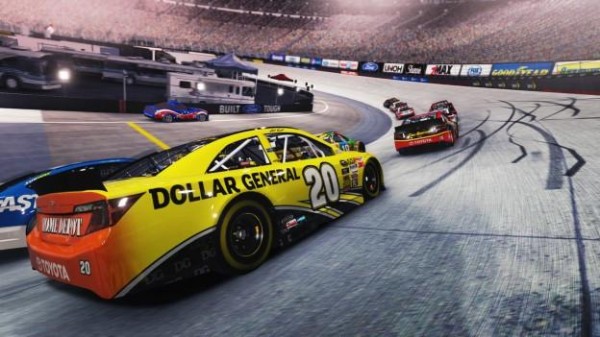 Audio
The sound is the only thing I truly had an issue with during my experience – though some of that is based on taste. Having an audible assistant of sorts is perfectly fine, but during a race his constant tips and babbling about how to race can prove to be a distracting to an otherwise exhilarating session. On a brighter note, these cars sound fantastic and differ as upgrades are added. The soundtrack is where the preference comes in. I know Nascar fans are mainly from the south, but the "redneck rock" is just not my cup of tea, and these tunes are offered during every single menu – so be ready to get the volume switch out, depending on your own liking of the music.
Overall
Nascar '14 is a polished gift to the fans, and one that will go down as one of the finest adaptions of the sport due to the level of customization alone. Sure, the gameplay has been improved and the visuals look fantastic, but its catering to the player's needs that sends Nascar '14 through the checkered flag, and on to a full victory for both Eutechnyx and the consumer alike. While it has a ways to go to being absolutely perfect, Nascar '14 is the best choice for fans wanting to continue to celebrate the legacy of Nascar.

Capsule Computers review guidelines can be found here.