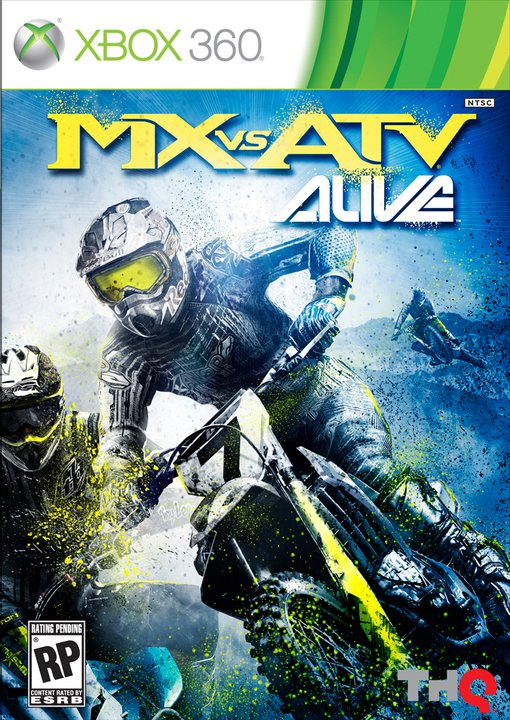 Game: Mx Vs Atv Alive
Publisher: THQ
Developer: THQ
Genre: Racing
Platform: PS3 (Reviewed), XBox360
Release date: 10th May 2011
Price: $39.99 – Here

Overview
For any of you unfamiliar with the franchise, MX Vs Atv Alive is the fourth instalments for consoles in the series and while it looks and plays better than the previous titles is severely limited in content. In what seems to be a pretty big gamble on behalf of THQ they have decided to release Alive with what is known as a "Hybrid pricing system". Basically this translates to limited content on the retail disc, with an emphasis on DLC, and in this case the content is very limited. This could go either way with some gamers preferring to pay a small price and then choose the DLC that interests them. It could also have a negative effect on those who feel it doesn't offer enough variety out of the box. Saying that, Alive has some amazing features and a realistic feel to it that surpasses almost every other vehicle based game I have played.
Game Modes
Career mode: By far the most enjoyable part of the game, the career mode is set across 12 tracks, which need to be unlocked as you progress through the game. Unfortunately herein lies the most fundamental flaw in the game and something which more than likely will cause many to give up. There are only two levels of track unlocking, occurring at level 10 and again at level 25. Unfortunately what is required to get to these levels (aside from buying new tracks) is repetitively doing the same two only available tracks until you have gained the sufficient XP to unlock new races. It is simply too tedious and becomes a little nonsensical after a while, for me anyway.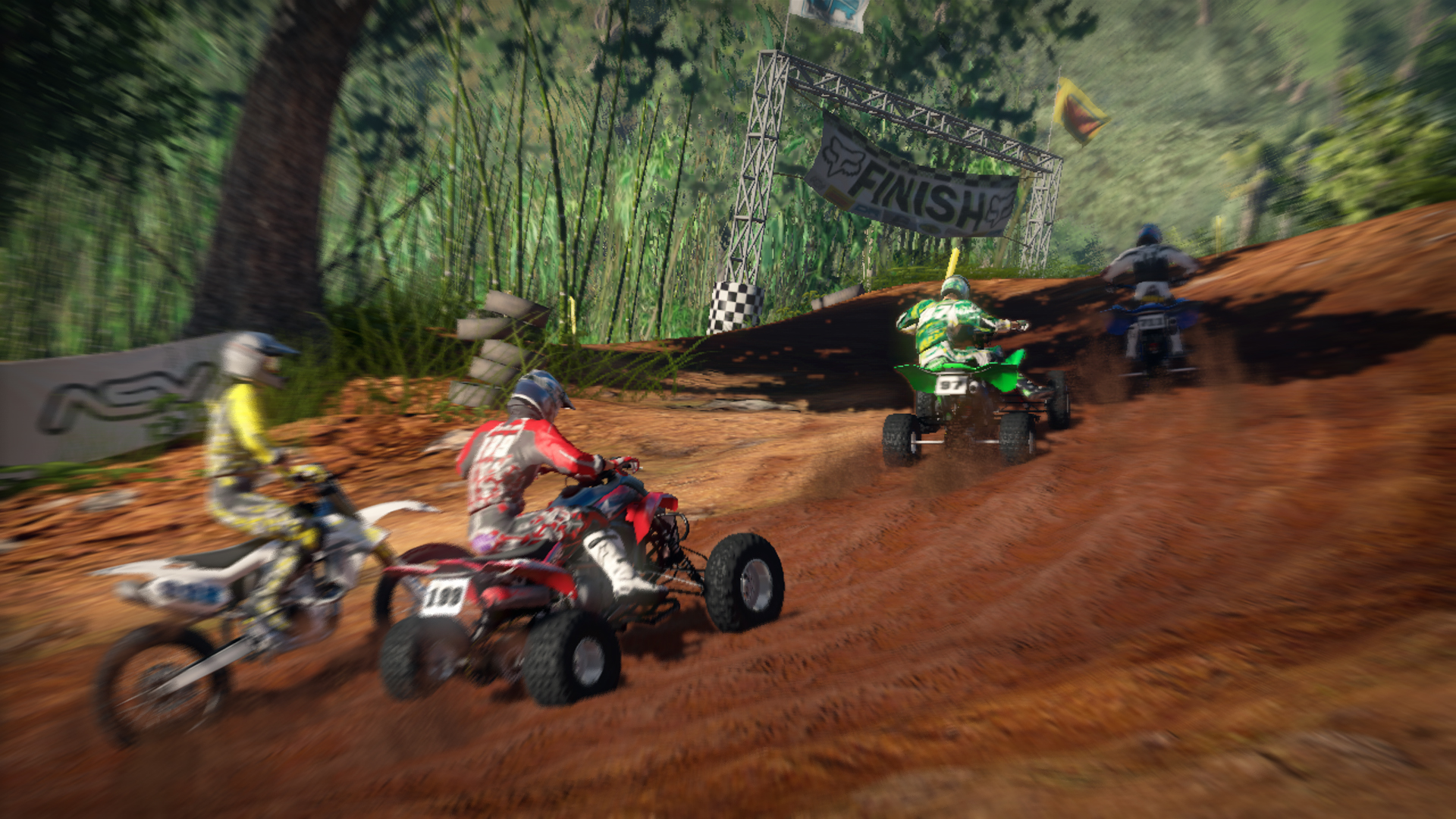 The tracks are very well thought out and even on standard difficulty will test your skills to the limit. Each track has some really cool little additions such as the really dark section on the first track that is shaded by dug out hills and trees. You can quickly learn which are the best corners to overtake your competitors and the correct line of the track to follow in order to maximise acceleration and landings. Everything from soft dirt and mud hard clay, gravel and snow are covered, giving plenty of variation of environments in which to compete. Tracks respond very well to the damage inflicted on them by the 11 other vehicles in the race. I often found myself using others or my previous tire tracks to get that perfect line through a set of bumps or corners. The tracks become harder to maintain balance the longer the race goes on, testament to the level of detail THQ have put into it. Going round a corner that has been lain bare of soft mud from 5 laps of 12 vehicles powering through it is much harder than it sounds and vastly adds to the games playability.
Each race, players have the ability to change the difficulty level as well as choose the number of laps. In addition to this you will have a limited option to choose competitors and their vehicles. It was nice to have such an easy setup configuration without having to go through extensive loading.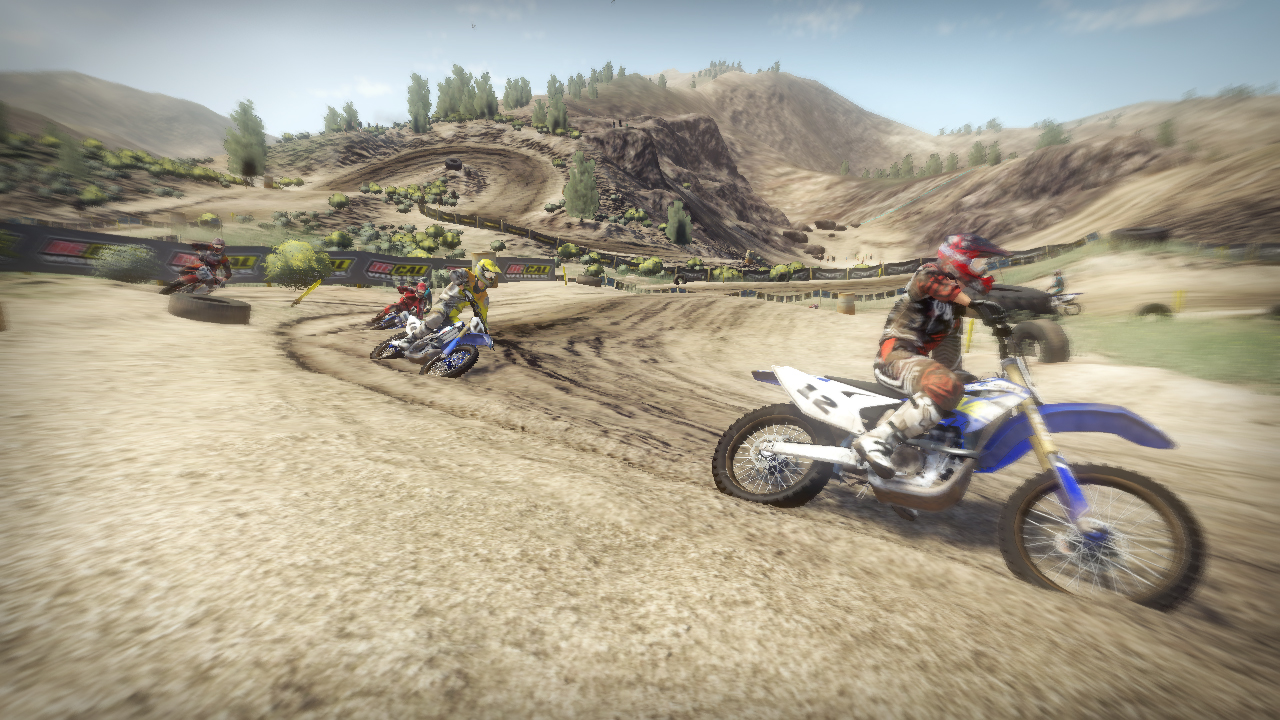 Short tracks: There's not much to say that's vastly different from the Career mode except these tracks are much shorter. So short in fact that I was actually on lap 3 of a race thinking it was the first. Some are slightly longer than others and all feature fast paced frantic racing that is a lot of fun. There are only two tracks to choose from with many more opening up after gaining sufficient experience.
Free ride: Great for practising tricks and building XP, free mode is limited again by only having 2 tracks. Players can either hoon around the beach complete with massive sand dunes and grassed areas, or play in the quarry complete with mini dams, tractors and leftover bits of metal with which to launch from. While being nice and open allowing for plenty of exploration I personally don't think they provided enough jumps of substance to be able to perform the various tricks from. It seemed like I was just short of making it and only on some occasions was able to launch high enough to pull off tricks. This seemed to be somewhat rectified when progressing through the game and unlocking the more powerful vehicles, but should have been slightly easieron the default bikes and quads. The free ride mode also provided players with the opportunity to practise cornering and how to correctly adjust for landings given the lack of any kind of tutorial within other parts of the title. It was much easier on the bikes than ATV quads to perform most moves.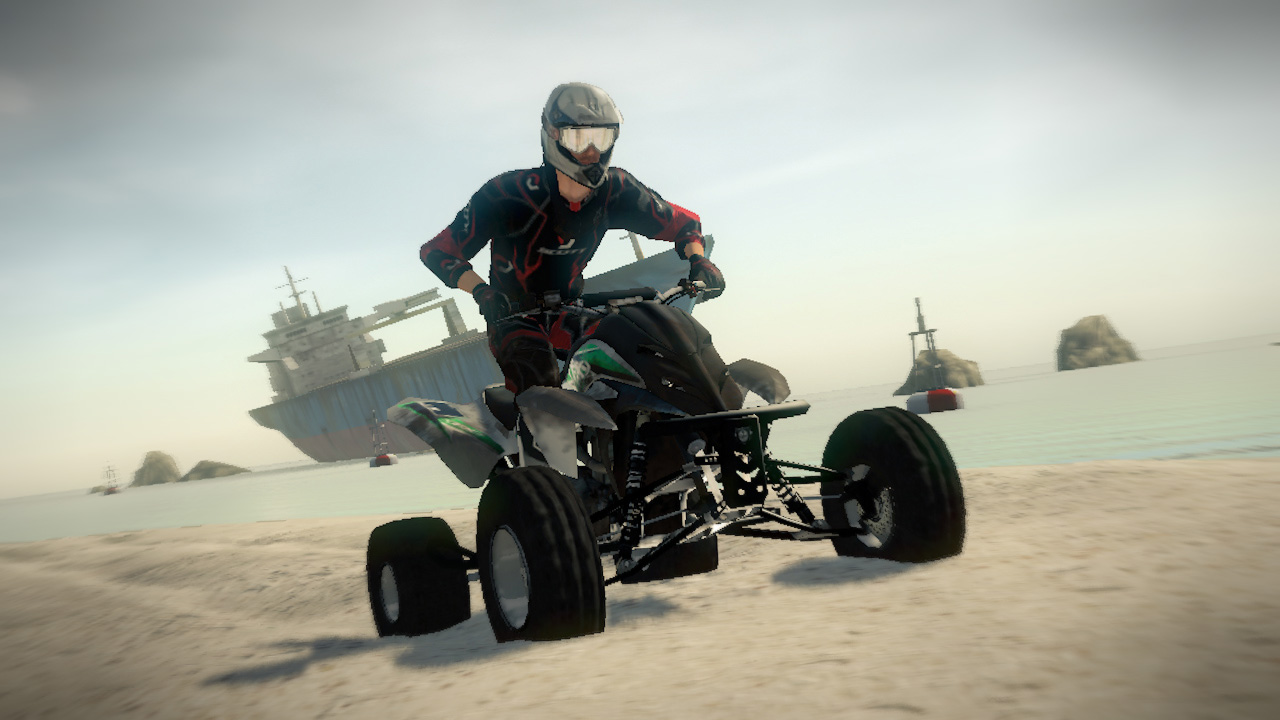 Each free ride track features tasks that players have to accomplish in order to earn XP and trophies. Players will be rewarded for the longest jump and hangtime, as well as the freejam mode where you have to score certain amounts of points from tricks in a limited time. Each free ride track also features a hidden vehicle to use within the level. The free ride tracks are vast and open and you can find yourself getting immersed in them simply having the freedom to go wherever you want. They do lack a little substance and a few more items and tasks randomly placed would have been a nice addition.
Gameplay
This is where MX Vs Atv stands out and excels. Not only do players have to control the vehicle with the left control stick but also the riders reflex or balance on the bike or quad with the right. While this may sound complicated it works very well and assists in delivering a very very realistic racing experience. When your bike or Quad takes off on a huge air, or grinds through a tight corner, THQ have done exceptionally well in representing this experience to the player. This is done mostly through the unique control system, where players have to ensure they take off at the right angle, control the vehicle and rider balance in the air and then adjust the wheels for landing. All while battling that annoying bike behind you that keeps on bashing into your crash bars.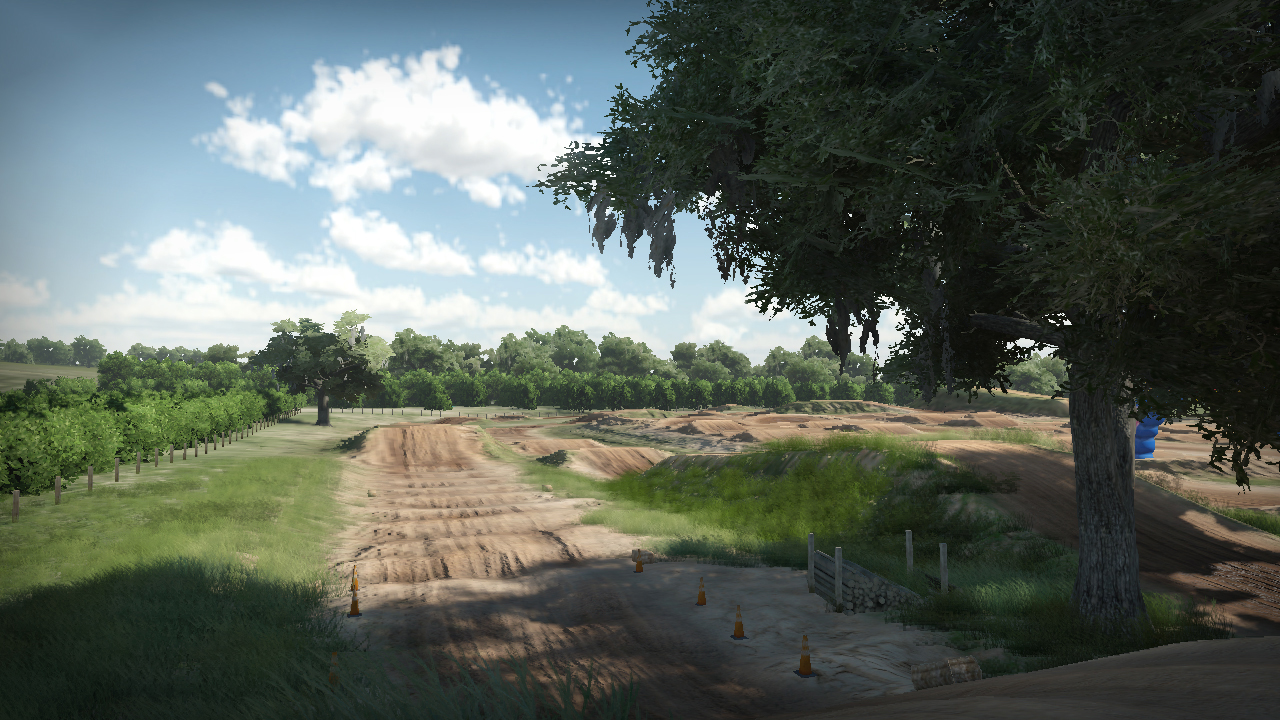 Every now and again when you run up the back of a competitor or land at an awkward angle, you will be prompted to adjust your position with the right control stick. If you do not follow the prompts in time your rider will be flung from their vehicle, losing precious time. The reset feature is a little inconsistent, sometimes allowing you to go completely off road, and at other times pulling you back and resetting your position for only minor infringements. You will know when you are being reset as the whole game turns black and white until back on track.
Not being one to read manuals I was a little confused initially with the use of the clutch, but on further investigation it seems to rev the RPM's to much higher levels. What this was useful for was passing competitors by being able to hold it down into corners and release it out of them. The boost it provided was invaluable in many hairy situations. In most other situations it didn't seem to have much of an effect at all.
A new seatbump feature has been added which takes some time to get used to but is necessary to clear certain jumps and aids in smooth travel over mogul style bumps. Like many games, it takes some time to get used to but is thoroughly rewarding once you do.
James Stewart, motocross legend is the spokesperson for the game, and players who purchase a new copy of the game will get a voucher to download his compound. Participating in the events in the compound will help to increase XP and unlock those hard to reach tracks.
Within the game options the two most important things to look out for are corner and jump assist. When these are not activated players will earn far more XP then with them on. Players getting frustrated with levelling up, I would recommend switching these off if you can.
Online
The online mode of MX Vs Atv alive can be essential for some players finding it hard to get to level 10 or for those who simply are getting bored earning XP over the same 2 tracks. Even when there are abundant players on the free ride at once there were almost no instances of lag or glitches. Races are ranked from Rookie through to Pro and both styles of vehicle can be used. Online play was both challenging and fast paced, proving useful to players finding the first unlock hurdle too much.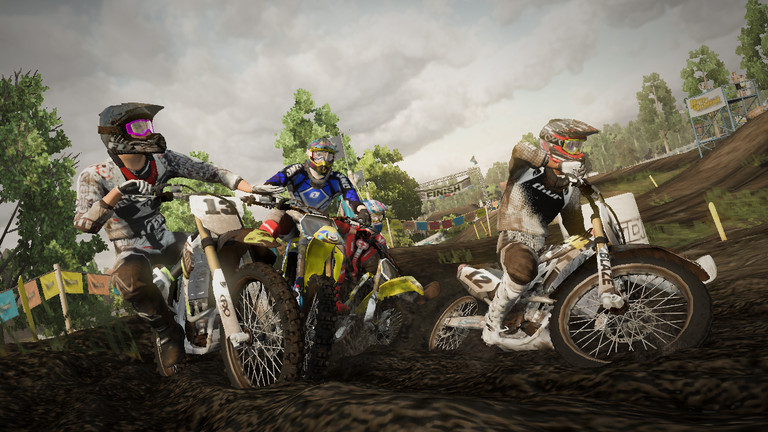 Graphics and Audio
Visually this is the best game in the series and THQ have excelled in reproducing a very immersive and texturally rich environment for players to compete amongst. Tracks visually deteriorate as the bikes and quads tear it up, leaving a vastly different track to the one you started the race on. The vehicles themselves are quite detailed, and there are a few nice touches added such as the players clothes flapping about in the wind and the spraying dirt flying off wheels. Saying this there were also a few aspects of the visuals that looked like they were unfinished for want of a better word, namely the track girls who resembled plastic mannequins with no lifelike characteristics at all. Although deafening at times the sound effect and soundtrack are highly appropriate. 125cc engines whine, and there is a noticeable difference between the bikes and the deeper sounding quads. Having that constant engine noise in the background, plus the roar of the crowd when you pass a competitor or pull off a nice air/trick really helps to immerse the player into the race.
The Soundtrack is a mixed bag featuring bands like Rise Against and Anberlin, as well as many others from the same blues/punk/rock genre. For those who don't enjoy this kind of music the mute button is not far away, but for me was a welcome addition to the game and fit in well with the overall style.
Overall
While actually being an incredible amount of fun to play, the game was simply too limited in content. People on any kind of time constraint will get too frustrated with the amount of time needed in order to level up and open anything more than the first 2 tracks. Mx Vs Atv Alive plays very much like an arcade game but with a much more advanced and realistic control system. What initially seems like a lot of work soon makes perfect sense, and once mastered really will give you the edge over your competition. If you are a fan of the franchise then you won't be disappointed as long as you can pick yourself up a cheap retail copy and are willing to pay for any DLC you want. Visually it surpasses any of the other games in the franchise, but its let down by aspects such as lack of weather interaction and an inconsistent crash/off-road system. The new reflex control system combined with the new seat and bar bump mechanics aid a very realistic control system. Best suited to those who embark on massive gaming sessions and fans of online play. I dont know else to explain it besides not being able to emphasise enough how much fun the game actually is, the control system is very responsive and the graphics are visually appeasing. Theres just not enough on offer on the retail disc and what is there is too hard to unlock for all but those with a lot of time on their hands. With more tracks and an easier unlock system i would have given this game 7.5 but…..