*Dramatic music playing*  Deep in the Carribbean…(not in a galaxy far far away, although it's still LucasArts)…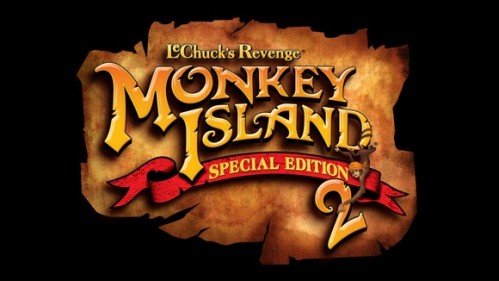 Release Date
:
July 7th, 2010
Platforms
:
Xbox360, PS3, PC, iPhone, iPad
---
Monkey Island…probably the series that stuck in our hearts from its very beggining (for most old school gamers) and all the way to today's episodic installments. But no matter how hard the developers try, nothing can top the first two games of the series, in terms of charm, dialogue, humour and amount of effort put into them. And what happens when you redesign those games with HD visuals and full voice acting? Well…miracles are bound to happen, as you've probably already seen in The Secret of Monkey Island Special Edition.

In Monkey Island 2 Special Edition, Guybrush Threepwood is back (yet again) in another shiny revamped adventure. This time, moving on with the differences he had with Elaine Marley, he embarks on an adventure to find the treasure of Big Whoop. First starting on Scabb Island, our would-be pirate has to play with some voodoo magic in order to scare away the town's bully, Largo LaGrande. *SPOILERS AHEAD* But because of Guybrush's clumsiness (or should I say "ego"), Largo leaves with his tail between his legs and a part of LeChuck's body, which he uses to reanimate the zombie pirate, once again. From that point on, Guybrush starts looking for Big Whoop, with LeChuck  watching his every move from his fortress.
As we've been acquainted, the story unfolds in the classic LucasArts humour, from spitting contests, putting rats in soups, to picking up dogs and stuffing them in your coat (that never gets old).The puzzles are pretty straightforward but require you to do a lot of exploring and careful listening to the dialogues. And that's a good thing because, pretty much all the fun lies in talking to other characters.
LucasArts seem to have listened carefully to the wishes of the community, because now there are even more features available in this second remake. Probably the most requested was having voice acting in the old pixelated version of the game and with this new installment, it is now possible. So if you're the nostalgic type, but also want to hear the awesomely made dialogue, you can always push the BACK button and and enjoy the classic game with full voice over, but  with MIDI tunes left unchanged.
Although i'm a very big fan of the classic version, I couldn't help it and played the game once in the new and improved mode. The HD graphics and artwork are brilliant and carefully drawn, adding even more charm to the world of Monkey Island, but at the same time they preserve the spirit and those little details of the environments and characters that made the original game a classic.
Every self respecting gamer hummed the theme of Monkey Island once or twice in his life, some of them even have it as a ringtone (guilty!)…so the audio of this version was not overlooked. Maybe that's also what the developers thought when they re-mastered the whole musical score of the game, thus making it richer and even more atmospheric than the original iMuse tunes.
Another new feature MI2 SE introdues is controlling Guybrush using the left analog stick, thus making the experience more enjoyable and simplistic to new players that don't like the classic point and click style of the game. Even the actions menu has been simplified in the special edition: by pressing the Right Trigger on the controller, a radial menu appears with the most appropriate actions our hero can perform. Everything has been simplified and is more accessible in terms of control. Of course, you can always change to the undying Point and Click style from the Options menu.
If you're new to this game, you're probably going to need a little help with the puzzles, so the hint system is back in action. Pressing the X button once is going to give you just a little help, but by pressing it more than three times, it's just going to tell you exactly what to do. A great option,nonetheless, but sometimes it could spoil the satisfaction of solving a puzzle, so i tried to refrain from using it. And if that's not enough for you, a new feature has been added to help the players: by pressing the Left Button, all the objects that you can interact with become highlighted.
New bonus features have been added which will appeal to the true fans of Monkey Island: a Developer's Commentary and an art viewer(you unlock concept art while playing the game). When the Developer's Commentary is turned on, the game will tell you to press the Right Button to hear the original and amusing thoughts of the creators of Monkey Island (Ron Gilbert, Tim Schafer and Dave Grossman), while visiting a new area or after solving a specific puzzle.
All things cosidered, if you're into pirating, voodoo dolls, digging up the dead or just want to have some good laughs you should definitely get  Monkey Island 2 Special Edition! It is a must-have for everybody.
LucasArts has proved once again that true Classics never die and sometimes, they top the next-generation games of today's market with style and grace.  This is how a remake should be made…that's why I give Monkey Island 2: LeChuck's Revenge Special Edition:

…Wonderful game!
Screenshots & Concept Art: