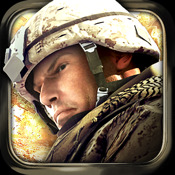 Modern Combat 2: Black Pegasus
Company: Gameloft
Release Date: October 7, 2010
Price: $6.99 USD
BUY NOW!
Video Review also included in this review at the bottom : Review completed by Philip Federico
Story:
Modern Combat 2: Black Pegasus is the long-awaited sequel to Modern Combat: Sandstorm. Modern Combat is known to be a Call of Duty-style game, featuring the best FPS for the iPhone and iPod Touch. Destroy enemies with an awesome collection of weapons and your stealth abilities. Your goal: Don't die, and make sure everyone else does.
Graphics and Audio:
Who dares even question the graphics of Modern Combat 2: Black Pegasus – sequel to an already amazing Modern Combat: Sandstorm?! This game has great graphics quality, it can even be considered AWESOME! No FPS game in the App Store comes close to the graphic qualities of Modern Combat 2: Black Pegasus. The audio is great and each gun has it's own sound scheme similar to the sound effects of the actual weapon! The entire environment and every object in it, along with the allies and enemies are greatly detailed and also look very good on older-gen iDevices as well! It has great audio and amazing graphics, compared to any other FPS available in the App Store. The graphics and sound make you want to keep playing to the end, providing hours of great entertainment. Other apps may have better graphics and/or audio, but no FPS comes close in the App Store.
Gameplay and Controls:
Living up to Modern Combat's name, this sequel is the best ever when it comes to FPS for mobile devices. This is a major upgrade from the original Modern Combat: Sandstorm. It includes more and better weapons, better environment, a better control scheme, more features, better sound and much more! That's right: It's the Super-Awesome-Fully-Loaded FPS for iPhone and iPod Touch! Whether it's shooting, knifing – yes, knifing – or exploding the enemy, this game implements it perfectly. Play as 1 of 3 different characters in 12 different battlefields set in the Middle-East, Eastern Europe and South America. Use your choice of 15 different weapons that are actually used in the military! Make use of an AK-47 or maybe an RPG. Like sniper refiles? It has those, too. Upgrade your weapon with accessories and take out your enemies with ease. The controls are simple, with an explanation of them in the beginning. Movement controls on the left, firing controls on the right, knifing and special tactics controls in the center all make this game great. A sequel to this would be crazy! Gameloft did a great job redesigning this game and don't forget about the amazing multiplayer! Play online in amazing environment and have more fun than any other online multiplayer FPS out there, and of course online multiplayer is better than the original Modern Combat: Sandstorm – by far! Play Multiplayer either online, on your local Wi-Fi or via your local Bluetooth with up to 10 players! 4 different multiplayer modes are available: Battle, Team Battle, Defuse The Bomb and Capture The Flag. Earn experience through 72 ranks, reward messages, unlockable weapons and leaderboards, all part of Gameloft LIVE! Looking for hours of awesome gameplay? Like shooting games? Consider this one first. It lives up to what every FPS should have, and then some!
Summary:
If you didn't read the review and you skipped to this section, there's one word to describe this game: Awesome! If you did take the time to read what great features this game has and how it's much better than the already-amazing Modern Combat: Sandstorm, then you already know you should consider buying this game. There is no other FPS available in the App Store at this time that even compares to the great gameplay and quality of Modern Combat 2: Black Pegasus. This game deserves an EXCELLENT rating of 9.5 capsules! Gameloft has done it once again! I can't wait to see what they have in store for the next Modern Combat, if they have one!