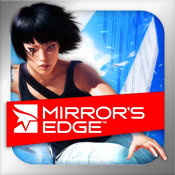 Mirror's Edge
Company: Electronic Arts
Release Date: September 2, 2010
Price: $4.99
BUY NOW
Story:
Play as Faith Connors, a "Runner"  who must run, slide, zip and jump between rooftops to stop a deadly threat in a deceived world. You're supposedly in a world where everything is perfect and the law has complete control, but you're reason for existence is to stop those that are corrupt in that world. Run and protect the world from a deadly threat brought by the bad people behind this world that's supposedly perfect.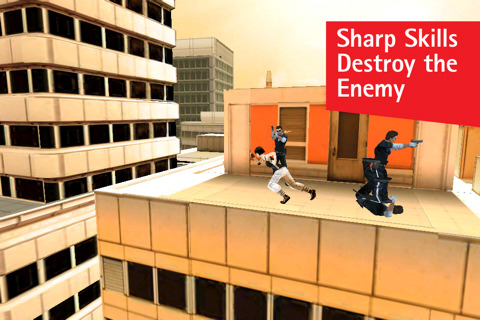 Sound and Graphics:
Further into the game, as things become intense, the sound is invigorating and has that pace that makes you keep going, which is what this game should be like. You're constantly running, jumping and sliding under things to get to the end. The music helps you along the way. The game looks better than great. This game was created to look amazing on the iPhone and iPod Touch and it definitely lives it up to it. This game has the quality of graphics that when you open it up, you get a shock and have to absorb it all in. Every angle, every object and every character looks stunning. There are very few games that have the kind of graphics to compete with this one. Those games have not even arrived in the App Store yet, so Mirror's Edge is one of the first surprisingly sharp graphics games since the App Store became available. When you're not being attacked, the background music is a simple tune that keeps you focused in the game and makes it feel like you're the only one in the world, which makes it a cool game to play. The sound effects are good and you hear Faith lose her breath when she falls or jumps too far. It really has great sound and really stunning graphics. This is overall the best-looking game available in the App Store at the time of release.
Controls and Gameplay:
The controls in this game are pretty much just flicking and sliding your finger, which makes it easy, but it also makes it easier to forget what combo of sliding does what. Because of all the elements in this game, there are a lot of different gestures to be used when playing. It does remind you once in a while what to do, so you won't forget, but sometimes it can get complicated. This game is amazing and the action packed, parkour-style game is the coolest thing ever. It is a side-scroller, but it's a great side-scroller. Running across rooftops, jumping up rafters, ricocheting off walls and so much more makes this the best action-adventure game for many different platforms. For the iPhone, it is amazing beyond belief. There is no other game in the App Store that even comes close to the gameplay in this, or the graphics for that matter. This game does get complicated further in, but that guarantees longer playtime, which give it better play value. This is one of those games that'll end up staying on your iPhone or iPod touch for a long time. You can even compete with your friends via Facebook integration! Post your scores and set fast times to show off to your friends! Maybe they'll try to be your stats, but you could always top them again. This becomes a very intense game that is just amazing. There's no competition for this game. Right now, it's the only one like it in the App Store, so enjoy the new generation of iPhone gaming. This is truly one of the best games there is. Enjoy having an alternate world in your pocket.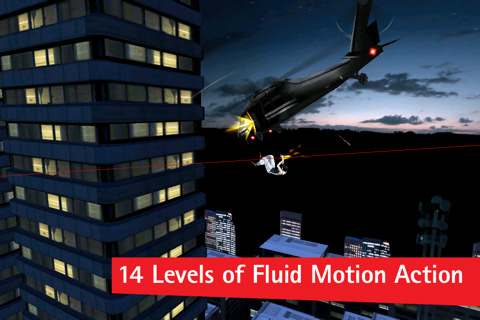 Summary:
After playing this for hours and continuing to enjoy it immensely, this game is all-in-all amazing. There is nothing that even comes to close to the storyline of this game. This is something that looks like it should be on a console, yet it can be played on an iPhone, iPad or iPod Touch. It's unbelievable how this can be played not only on iPhone 4, but on older generation iPhones as well. I give this an EXCELLENT rating of 9.5 capsules because of the stunning graphics, unbelievably intense gaming, the controls and everything else I didn't have space to write about.