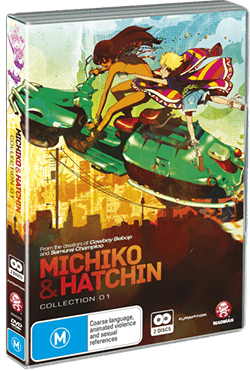 Michiko & Hatchin Collection 1
Studio: Manglobe
Publisher: Madman
Format: DVD (reviewed), Blu-ray
Release Date: December 4, 2013
Price: $59.95 – Available Here
Overview
Michiko & Hatchin was one of the shows that slipped under the radar for many, including myself. The cover is flamboyant with art that is unlike most other Japanese anime, looking almost like a Western cartoon. It's no surprise that the director has recently made Lupin the Third: The Woman Called Fujiko Mine and Manglobe studio recently produced Samurai Flamenco.
Director Sayo Yamamoto was also involved with the much-loved Samurai Champloo, and a similar art style and approach can be seen here. From the creators of that funky series plus the famed Cowboy Bebop, Madman brings the series over to Australian shores in two parts starting with Collection 1.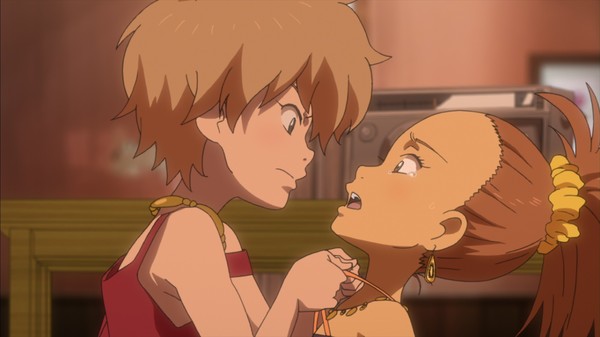 Story
This anime starts off with a bang, as the latino Michiko Malandro breaks free from a prison. Meanwhile, a little girl by the name of Hana Morenos lives as an adopted child in a wealthy, uncaring family. The first episode tries incredibly hard to portray her family as callous and downright nasty. Which they are, of course. The father is a hypocritical priest who exploits his position of authority and uses the pretext of religion as a means to gain wealth.
It's almost hard to watch Hana's daily life of misery, until Michiko breaks through the dining room window on a motorcycle and demands Hana over. At this point it's pretty clear this crazy, foul-mouthed woman is the mother of the sensible, reserved Hana. The two polar-opposites escape and hit the road in search of the other missing member of the family, the father Hiroshi Morenos. All the while they are being hunted by the police inspector and old acquaintance of Michiko, Atsuko Jackson.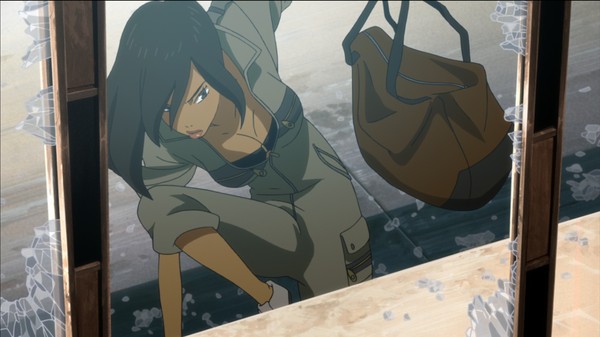 Their journey is marred by distrust, brushes with the law and armed gangs as well as stories of infidelity and other adult themes. Each of the characters are powerful in their own way, and the series puts a strong focus on women. The solid cast of female characters is largely thanks to the female director, hence why we see a very real outlook on complicated relationships and even prostitution.
While the action is few and far between, when shots are fired and kicks are landed it's intense and well-choreographed if only a little far-fetched sometimes. Considering how many times Michiko charges unarmed at a gun, it's a miracle she hasn't been shot yet! But that's probably due to the horrible aim each villain seems to have.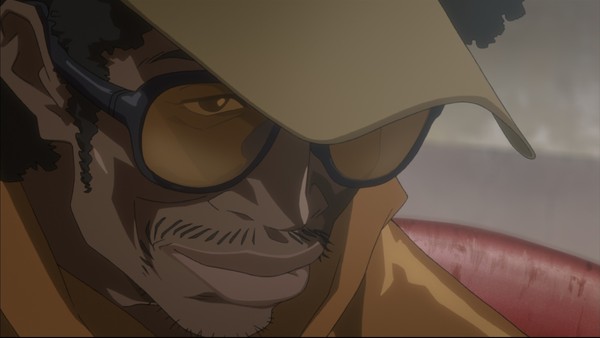 The 11 episodes in Collection 1 are broken up into various short arcs, involving new characters and their problems. The dangerous setting of South American ghettos provides a vehicle for the two main characters to grow and understand each other, leaving Collection 2 to provide a (hopefully) satisfactory ending and resolution. Michiko & Hatchin feels very much like the classic theme of the journey being more important than the destination our heroes are striving for.
Visuals
Michiko & Hatchin isn't your typical anime and that's largely thanks to the character designs and art style. The series has that familiar, dirty look from Samurai Champloo but with splashes of flamboyant colour to match the Latin American setting. Many of the characters forgo the traditional cute or attractive look and appear more realistic, while others like Michiko herself look entirely foreign rather than drawn in Japanese style.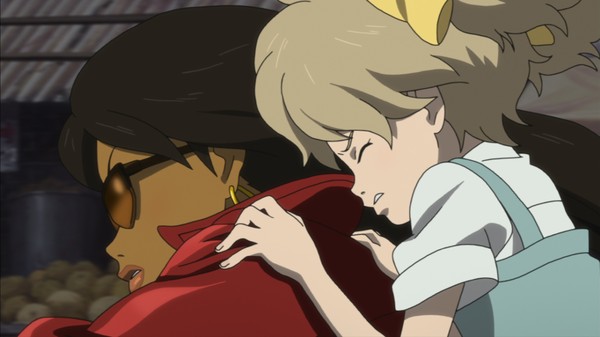 Even the dates and locations are written in Portuguese to give the anime a more authentic feel. Although not unheard of, it's fairly uncommon for an anime set outside Japan to feel this genuine. While it certainly looks different and doesn't rely on flashy animation, the visuals will do little to impress folk who are used to brighter, more "attractive" anime.
Audio
Both Japanese and English voice tracks are handled very well in Michiko & Hatchin. Those who prefer Japanese dubs will almost be tempted to leave the audio on English due to the foreign feel of the show. My only complaint is that hearing Michiko's yelling can be somewhat annoying after a while, as all she seems to do is shout and hurl abuse. Admittedly, this is inline with her character, though.
Strangely, the sound mixing for the English dub will often have you struggling to hear some of the voices while in Japanese each voice is clear and at equal volume. This can be a slight issue for those who prefer to watch with the volume down.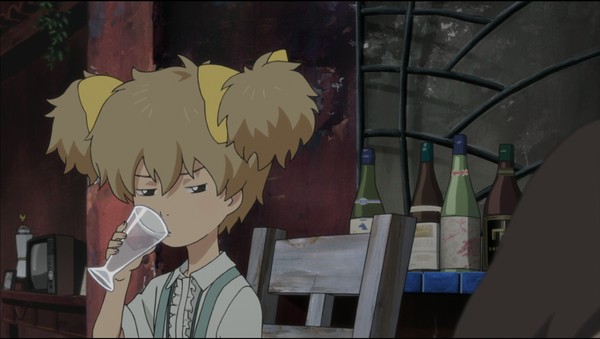 As you'd almost expect for a show of this look and feel, the sound track sounds jazzy with a South American influence. This is thanks to the recording being done by Brazilian artist Kassin and produced by Shinichiro Watanabe. The music suits every scene perfectly and there's little to complain about here. The opening theme is purely instrumental and, while groovy, it can get a bit wearisome and is hardly a tune you'd flick on in your spare time. The ending theme however is a more familiar, quiet Japanese song that suits the plot of the show.
Extras
There are a bunch of on-disc extras that come with Michiko & Hatchin Collection 1 including episode commentaries, "Michiko: The Woman Behind it All", the show's Japanese unveiling press conference, a live action promo, anime promo and textless songs, all of which give fans more insight into the anime.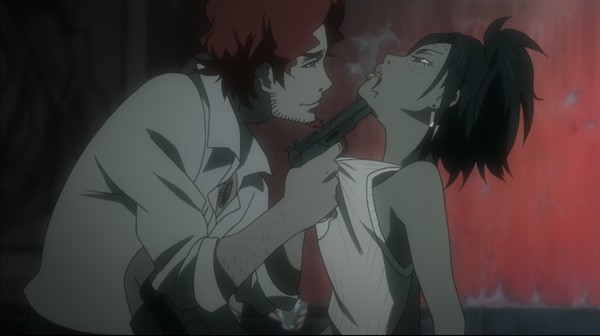 Overall
Michiko & Hatchin deals with some serious themes such as the role of family, the criminal underworld and adultery within a gritty and underused setting. Despite the dreary locations Hana, or Hatchin as Michiko calls her, is a highly likable character and watching her struggle against such a cruel world is downright inspiring.
Collection 1 deals with the pair's initial distrust despite being mother and daughter and eventual reconciliation after many trials. Their journey to find the father begins and a great deal of genuine characters are introduced, and some are subsequently killed off. The direct nature of events and the blunt character interaction has me looking forward to the second half, which is sure to include some surprises.

Capsule Computers review guidelines can be found here.