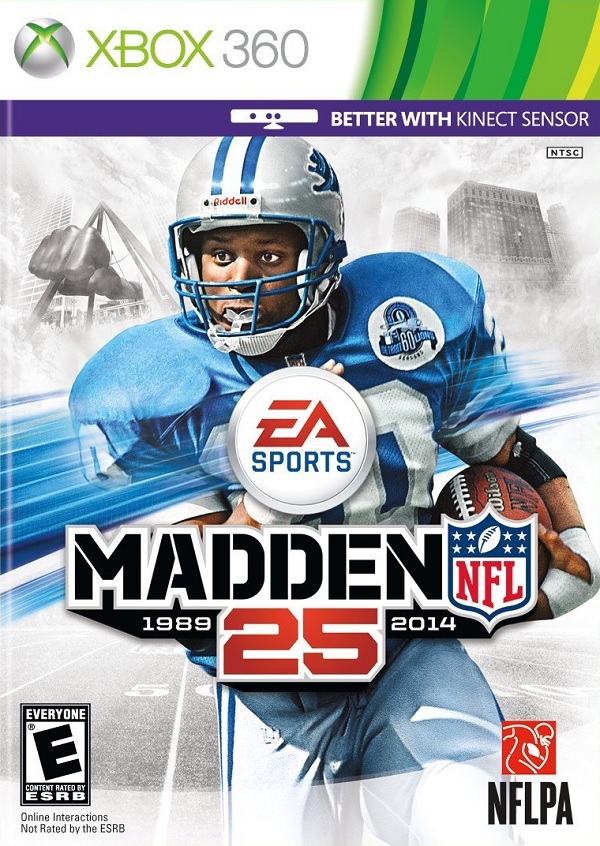 Madden NFL 25
Developer: EA Tiburon
Publisher: EA Sports
Platforms: PlayStation 3, Xbox 360 (Reviewed)
Release Date: August 27, 2013
Price: $59.99 – Available Here
Overview
It is hard to think that it has been twenty five years since John Madden Football was released back in 1988 with no licenses whatsoever. Now twenty five years later, here we are with EA celebrating the 25th anniversary of the Madden series by bringing Madden NFL 25 to the table. It has been a long ride for fans of football, but with Madden NFL 13 released a year ago, what has EA brought to the table to celebrate such a milestone in the franchise's history and will gamers enjoy what they find in this iteration of the game?
Gameplay
Well… not a whole lot actually. While there have certainly been additions to Madden NFL 25, most of what the game still plays the same as last year's iteration. Of course there has been fine-tuning to a number of mechanics, though many of these are not clearly apparent outside of new plays in the playbook and mostly fix back-end issues from last year's iteration.
As for what has been added into this version of the game, the Connected Franchise mode has been revamped with the option to play as not only a player or a coach, but also as an Owner of a team. Players can still choose to create a player of their own of course, play as a current player or select from a larger list of football legends than ever before and play as your role only or as the Coach to the team and having complete control over every aspect of the game, drafting and signing players etc. However despite being the Owner of a franchise, there really isn't a whole lot added in this mode.
Being the Owner is simply being the Coach of a team but with a few extra fringe gameplay options such as the ability to set prices for tickets and merchandise and of course, being able to move the team to an entirely new city or state, revamping your stadium or demolishing and starting from scratch and trying to balance the books so that the team stays profitable and earns cash while also being successful on the field. While a nice addition, it feels like a rather basic inclusion that likely could have been fleshed out more.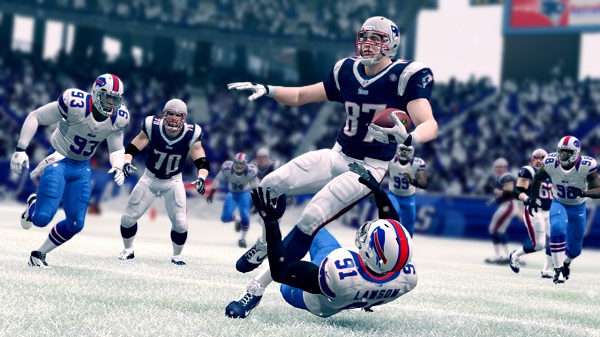 Another minor inclusion in the game is a bit of an addition to the MUT (Madden Ultimate Team) card system where players have an option to work on team chemistry to help their team's performance, adding more depth to a gameplay option that already is likely the deepest and most time consuming outside of the Connected Franchise mode.
Once the player actually gets on the field, they will find that a few more additions and a refined physics engine which will be discussed later, have made it into the game, but again nothing very groundbreaking. Gameplay remains very much the same as what was offered in Madden NFL 13 but the main revamp this time around is refined running mechanics in what is now called 'Run Free' and a precision modifier.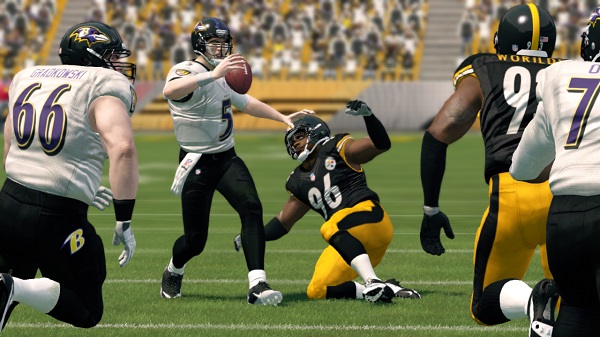 The whole run free aspect has adjusted and enhanced the various running moves that players have always had access to, such as the juke, stiff-arm, spin and more. These various techniques have been made easier to use and the aforementioned precision modifier helps make these moves more useful, as holding the precision modifier trigger will help turn some small runs into a first down or a break-away run for major yardage.
Away from the offensive side of things, the defense has been given a bit of an upgrade as well thanks to the ability to perform  quicker switching between players to take down a ball carrier or set up before the play and a 'wrap tackle' that makes it easier to take down the ball carrier with low-impact but usually effective hits against the more nimble ball-carriers. It is worth noting that it may be tricky to get used to some of these new running techniques at first, but thankfully a newly revamped 'Skills Trainer' provides a tutorial for these various new additions to the game.
Visuals
One of the major issues with the inclusion of the "Infinity Engine" in Madden NFL 13 was how after every play, the players on the field would flop all over each other like fish out of water. Often ten seconds after a play had ended and players are selecting their next play there would be people stumbling and bumbling over each other, awkwardly falling continuously like they shouldn't be allowed to drive home after the game.
Thankfully, the Infinity Engine has been refined in Madden NFL 25 and the flopping of players all over the field has been fixed. Instead it works as it should have, with almost every tackle or impact looking different from the last and the characters reacting realistically to being hit. As for the players themselves, the uniforms and everything are nicely detailed and the players look relatively similar to their real life counterparts, though it is obvious that attention to detail isn't the game's strong suit.
Despite featuring a fully working physics system when it comes to in-game contact; there still are numerous issues in Madden NFL 25's presentation. When the engine does fail, it fails badly with players twisting into inhuman positions that would result in either paralysis or fractured legs, and then springing back up like nothing happened. It is also worth noting that there are numerous canned sequences which are re-used ad nauseum. This becomes especially noticeable whenever time-outs are used, a common tactic anyone familiar with the game should know, which results in the same time-out animation sequence again and again.
Audio
Outside of the various grunts of players, collisions of bodies, crowd reactions, and the calling of various change-ups before hiking the ball, nearly everything that the player will hear as they play the game comes from the commentary of Jim Nantz and Phil Simms. While the two do a decent job introducing the games and staying on topic, there are countless times when the commentary will be completely off the mark. Commentating about how it may be a team's first first down despite gaining numerous ones already, mixing up play types and simply being off-base with the events on the field which, considering how cinematic and great looking the game can be at times, is off-putting when paired with generic poorly varied commentary.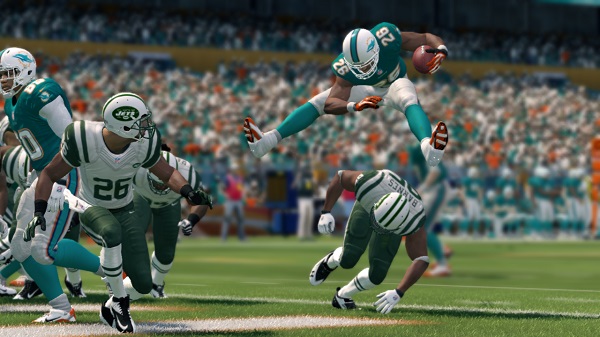 In most stadiums there are always your classic songs that are played to rev up the fans in the arena or simply are so familiar with the game that they are impossible not to include. However while there is a standard set of classic sports music found in Madden NFL 25, it is mostly run of the mill rubbish that gamers have either heard way too much in other EA Sports titles or simply don't match the feel of an NFL game and simply feel recycled.
Overall
Madden NFL 25 adds a bit more to the game than what we've had in the past and fixes up some of the issues that were previously found in last year's game, Madden NFL 25 feels like the same game we've had before. Outside of an up to date roster, revamped running game and the tacked on Owner option, Madden NFL 25 feels like less of an upgrade and more of a slightly polished title that, while still great at its core, needs to do more than simply eke by with minimal additions.
Capsule Computers review guidelines can be found here.