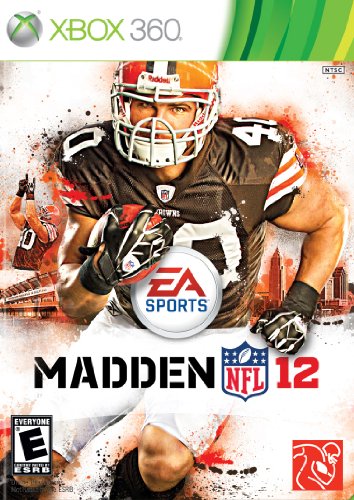 Developer: EA Tiburon
Publisher: EA Sports
Platform: Xbox 360 (reviewed), PS3, PS2, PSP, iOS, Nintendo 3DS, Wii,
Release Date: Out Now!
Apologies for the delay in review but here it is! I gotta be honest, I'm not the most avid NFL fan but this game has really impressed me. Sure it's nothing groundbreaking in the context of the Madden series but it is still an improved and welcome addition. Sports games are often criticised for re-releasing the same game with a new "hat" on so to speak, and to an extent this is probably true. But given a game like Madden, there really isn't that much room for improvement so it's understandable that it appears similar to the previous editions. That being said, there are still quite a lot of tweaks throughout the game, yet also a few areas which seem to still be needing a little bit extra.
Match physics and the player engine is awesome. I'm still not tired of the Matrix-esque frame freezes when you get a pick/interception, not to mention the precision of catching the ball right on the tip of the line for a touchdown. I'm yet to notice any considerable problems with collisions and responsiveness is as good as ever.
One key aspect of the game which Tiburon openly focused on was the AI. Like most good sport games, the Rookie (or easiest difficulty) enables to you essentially dominate your opponent whereas the All-Pro setting is ruthless and should be approached with caution. The computer controlled players are smarter than ever, not to mention players more unique and dynamic. EA has boasted much about the personality aspects of each player, and after a few matches you really do start to see it coming through. Player hot streaks and consistency ratings make it incredibly satisfying when your star is unstoppable and awfully frustrating when he's just not bringing his A-game. One thing I have to admit annoys me is the delays between plays. Whilst I realise it can be tactical to run down the clock at certain points of the match, I find the computer takes too long between each play. Obviously EA are going for realism but to me it just slows down the game too much and gets a bit frustrating at times.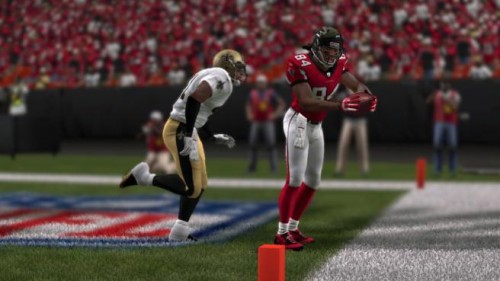 Be a Superstar mode appears to have had decent improvements however still has a fair way to go if it wants more lasting appeal. I still am quite hesitant when it comes to this game mode, maybe it's just personal preference but in a tactic-heavy sport like NFL, controlling just one player is not as fun as it feels in a game like NBA 2k11, and there still isn't enough clarity on what your player needs to be achieving in order to fully develop into a star. With no new game mode additions, this mode really needed to be a bit more fresh and deep. Don't get me wrong, it's still quite a lot of fun, but I'd like to see it get a bit more attention next time around.
The online modes have been bolstered quite nicely, with no real flaws surfacing yet. Online Franchise and "communities" are well done, with online Franchise making improvements to the nitty gritty area of contract negotiations and the draft.
Sound:
The soundtrack features many popular artists like the Foo Fighters, Tinie Tempah, and Lil Wayne, as well as some lesser known artists but still, if not even more, enjoyable. Overall it meshes well with the game and is always a useful plus for a game.
The commentary is quite good, with some nice player specific facts and descriptions. To be honest it is not much of an improvement over the last few years and gets a bit tiresome after a few matches. I'm getting technical here but some of the intonations are a bit off and make the commentary sound choppy at times. For the most part however it's still good enough and nothing to get too tied up on. The same can be said about crowd and match noises, which although don't seem to have had many overly noticeable enhancements, are still quite adequate.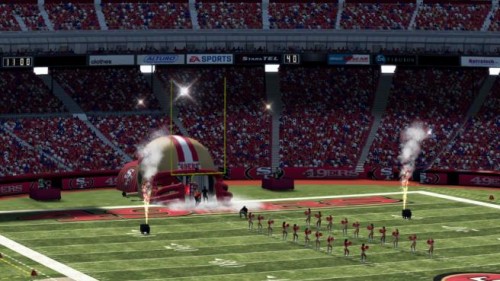 Visuals:
In regards to match presentation, Tiburion have done a really amazing job. The team entrances, cut scenes, and player and stadium graphics are all near-perfect. The graphics have always been pretty tight in the Madden series but this edition has added that little bit extra bit of attention to detail, which although may seem petty, really helps add to the overall match experiences.
The interface and menu systems of the game are quite easy to use, although I still haven't perfected the navigation in Franchise mode. Sure there are a lot of different choices in the menu to account for but I feel it is a bit convoluted for the more casual NFL fans.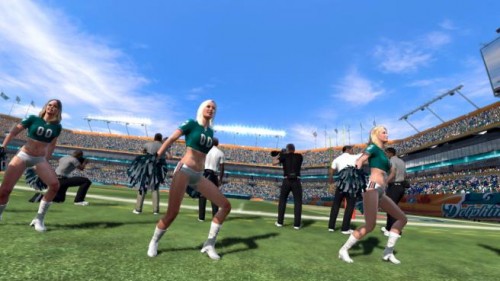 Conclusion:

Perhaps not groundbreaking, but undeniably solid with only a few disappointments lying in the Be a Superstar mode and some finicky issues within the matches. I think there are enough improvements throughout the game for Madden 11 owners to still purchase it, and for those who don't have last year's version then there is even more reason. As a standalone game, it's really impressive. Great gameplay, amazing graphics, and solid lasting appeal, all make this a better Madden game than before.