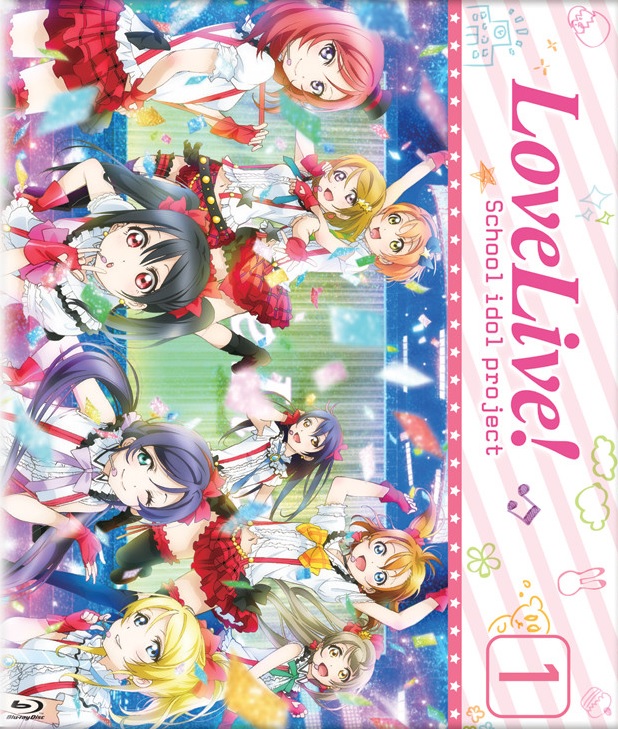 Love Live! School Idol Project Season 1 Standard Edition
Studio: Sunrise
Publisher: NIS America
Format: Blu-ray
Release Date: February 14, 2016
Price: $47.99 – Available Here
Overview
Few would have thought that back when NIS America licensed the first season of an idol anime that that series would have blown up to such a size that it has three years later. Although the Love Live! scene had been growing outside of anime since 2010, this was a fairly big risk at the time primarily due to barely any idol-oriented anime being released in the West.
Since then not only has Love Live! turned out to be quite the success, spawning a second season, a movie, and even a continuation with a new group, but NIS America has chosen to re-release the first season featuring an English dub for those who may have missed out on the original set. With this new English dub, has anything been lost in translation or does it shine a fresh light on the series?
Story
For those who haven't seen the series before the story begins with Honoka Kosaka, a girl in her second year of high school but it seems that her new year won't be all sunshine and roses. At the start of the year, Otonokizaka Academy students are informed that the school will be closing down due to the low number of students and the lack of applicants. Although this initially causes Honoka to panic, she relaxes slightly when she hears that the school will be shut down only after the entire attending class graduates, allowing her to not have to worry about taking other entrance exams.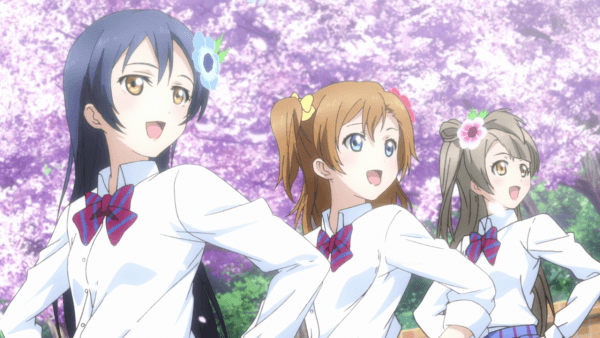 She soon realizes however that this means that the freshmen will be left with no underclassman and that the legacy of her mother's time at the school will be lost. Vowing to do anything to save the school from being shut down, she learns from her younger sister that many of the most popular schools in Japan have small groups of students that have become school idols that hold performances and act similar to professional idols.
With the help of her best friends Umi and Kotori, Honoka puts into motion her plans to start a school idol group and try to save the school by becoming popular and increasing the amount of student applications. Unfortunately this task isn't as easy as it sounds. Not only are these three amateurs unfamiliar with the idol scene, only one of them has been taking part in physical activities and none of them have experience writing lyrics or singing.
To make matters worse, the student council rejects their idea of creating an idol group as a way to save the school, refusing to give them any assistance. With the help of some fellow classmates, Honoko, Umi, and Kotori still continue to practice in an effort to save the school with their now named idol group μ's. With a song, dance choreography, new costumes, and renewed vigor, these three face utter disappointment with their first performance.
Despite this, the optimistic trio continues to work towards their dream of saving the school while gaining new members in what turns out to be a light-hearted series filled with touching moments, great comedy, a varied cast of characters that mesh together to create a lovable, albeit underdeveloped cast, and a somewhat realistic approach to the trials of becoming an idol.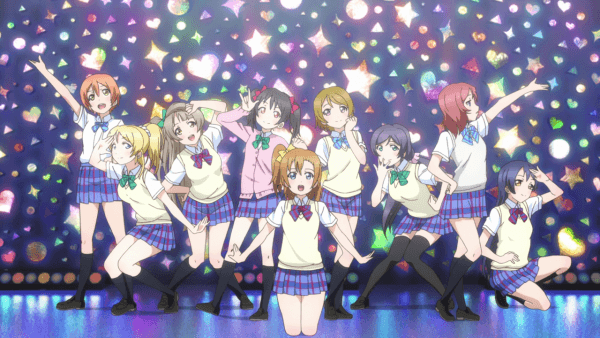 While many idol series tend to focus on an already established group or simply gloss over the amount of effort the girls need to put in and possibility of failure, most of the emotional moments within Love Live! happen because of these failures. When the original three debut only to fail right out of the gate we see just how determined they are to keep going, even if it means that they might never succeed. That being said, there is some forced drama near the end of the series to cause a disruption in the group but this is so easily resolved, albeit across a span of two episodes, that it doesn't detract much from the experience. Thanks to that Love Live! School Idol Project's first season is a series that will make you smile more often than not and a lot of the enjoyment comes from the characters.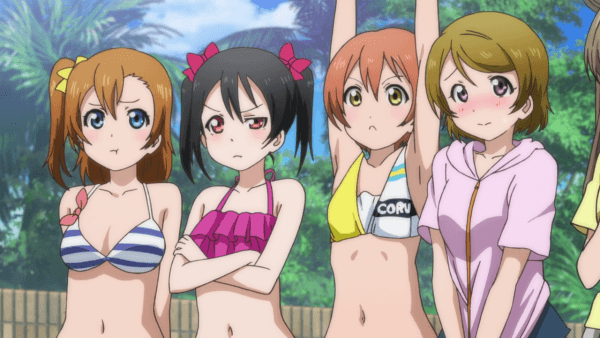 It is a bit disappointing however that, at times, a few girls join as a group and it feels like a few characters end up getting sidelined because of this. While we see Umi, Eli, and even Hanayo develop over time as they overcome some of their fears and take a step towards completing their goal, we learn only a little bit about a few of the other girls. Both Rin and Nozomi are included in a group that joins all at once and although they are given enough screen time to establish themselves, we learn very little about them other than the fact that Rin is the enthusiastic athletic one and that Nozomi uses tarot cards to predict things and punish the other girls for misbehaving, making her appear to be the most responsible member of the group.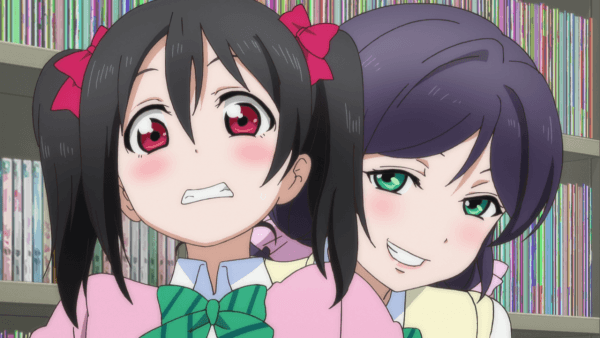 That being said, although many of the nine girls that form μ's are simply variations of character types, these girls happen to be so likable and their interactions with one another so fun that it doesn't become an issue even if they happen to be underdeveloped. With as much charm that flows out of Love Live!, the optimistic nature of Honoka, and some amazing character-based humor mixed in with plenty of well-handled musical numbers, it is easy to see why Love Live! has managed to succeed as well as it has.
Visuals
There are two separate aspects of Love Live!'s design and that is standard animation as well as 3D models. This split only appears during the colorful and vibrant performances. These are a real treat for the eyes that place every girl in a new outfit, often varied for each girl. The transition between the two styles is noticeable but not too much is lost in this shift. It is worth noting that the 3D animation can be a bit stilted at times but it does little to bring down the overall quality present throughout the dances when it shifts between close-up standard animation and group-model animation.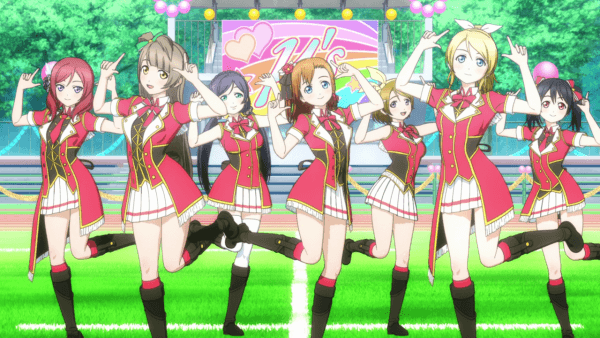 As for the basics, the characters are amazing and the humor can be golden, a large amount of this success is thanks to the amount of effort put into designing these girls. Each girl has her own unique look and style, which is essential for a series that focuses heavily on performances and features as many costume changes that appear throughout Love Live! From their school uniforms to their exercise gear and eventually to all of the outfits they wear throughout performances, each girl is charming. As for the humor, a decent amount of the humor comes from character expressions and once again, since each girl has her own personality, they tend to react differently to each situation.
Audio
The main difference between this release and the original from NIS America is that this time around the company has provided an English dub for Love Live! School Idol Project's first season. For those who simply want the original experience at a cheaper price they will be happy to hear that this release does still contain the original Japanese voice track as well. The English voice actors that NIS America have cast do handle the characters well enough and they have chosen wisely by transitioning the English voice work into the original Japanese dub when it comes to the singing. Character nick-names remain unchanged in the English voice work though it is worth noting that a few characters' verbal tics and smaller tendencies are thinned out which may be disappointing for fans of Rin and Eli specifically.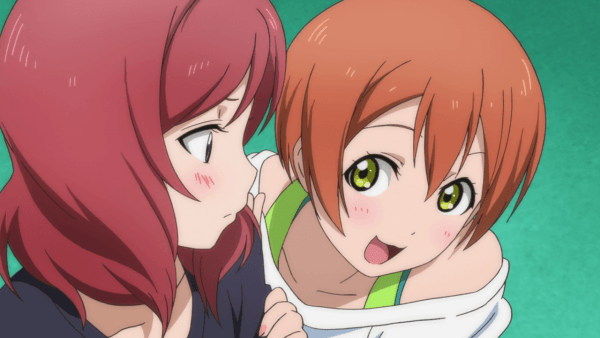 As for the quality of the songs used for the performances and all of the background music throughout the first season, they are simply superb. While the background music tends to be a little bit forgettable at times, there are numerous times that the beats for μ's songs are used which is a nice touch. The songs used in these performances are varied and will be a real treat to anyone who is a fan of J-Pop music. As for the opening theme, "Bokura wa Ima no Kanu de" is a suitable, albeit somewhat spoiler filled opening performed by μ's while the ending theme is "Kitto Seishun ga Kikoeru and while it is generally performed by all of μ's, a few episodes feature a specific character taking the lead vocals.
Extras
The other main difference found in NIS America's English dub release of the first season of Love Live! School Idol Project is the fact that it is only available as a standard edition. This means that the only real bonuses offered in this release come in the form of on-disc extras that include a clean version of the opening and ending themes, original trailers, and original TV spots from Japan.
Overall
Love Live! School Idol Project may have been a risk at first but there is a reason that the series and the characters reached such a level of popularity and this first season is a great example of that. While there might be a few problems with character development throughout this first season it is overshadowed by the fact that this is such a fun and charming series that you cannot help but smile as you watch it.
With a fresh English dub that manages to portray the characters well without thinning out too much of their original personalities, these endearing characters that mesh well together to create a great source of humor and colorful artwork and performances top off an idol series that is very accessible to those willing to give it a chance, especially now that newcomers can check it out in English.
Capsule Computers review guidelines can be found here.