Logitech G502 Proteus Core Tunable Gaming Mouse
Manufacturer: Logitech
Compatible Platforms: PC
Release Date: Out Now
Price: $89.95 – Available Here
Logitech has made a stunning return to form in the gaming peripherals market over the past year or so, and with their first Illuminated Living-Room K830 Keyboard and other products recently showcased as part of their 2014 line-up as proof, it seems reclaiming the throne is not a lofty goal, but a handily achievable one for the original innovators in the field. The crowning jewel of their resurgence at the moment is the G502 Proteus Core Tunable Gaming Mouse. The Proteus Core embodies the company's slogan "Science Wins!", with advanced features such as on-board memory holding up to 3 profiles, 11 programmable buttons, primary buttons being rated to 20 million clicks, mechanical micro-switches, the world's first 12,000 DPI setting, and the most accurate optical sensor ever made, capable of scanning and adapting to any surface material.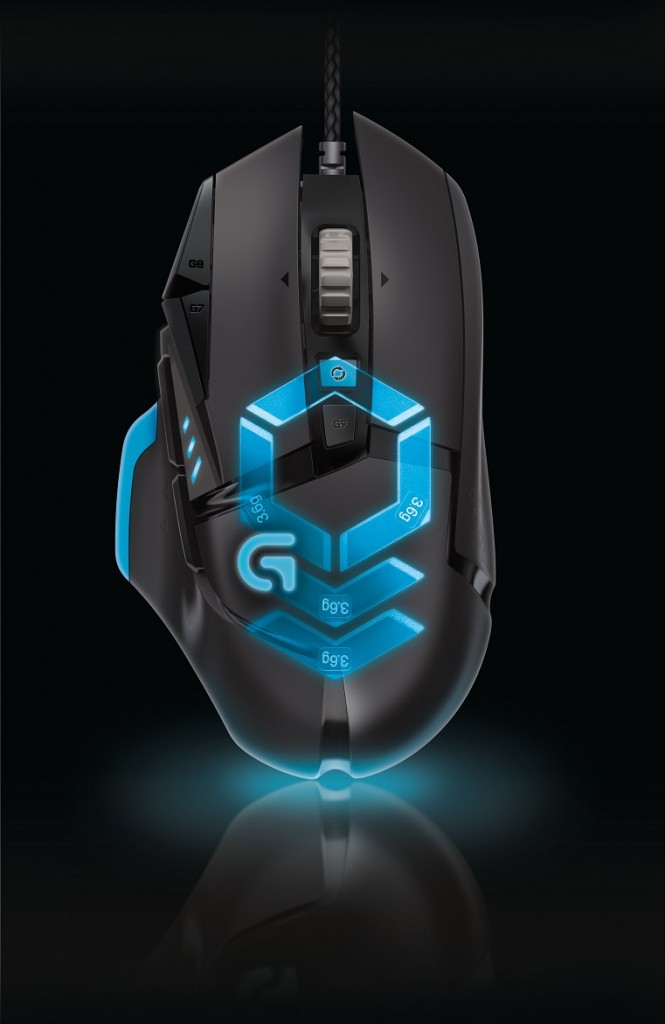 Firstly, Logitech went to great lengths to find the best, most appropriate materials and textures for the mouse, without having to hike up the RRP. We were personally witness to evidence of their exhaustive prototyping phase when representatives handed us a multitude of swatches and samples, as well as entire prototype builds to examine back at the reveal event in March. The minute differences between each graduation could barely be distinguished by the layman with their eyes closed, but the expert engineers and designers at Logitech extensively researched and tested what almost seemed like every kind of rubber, metal and plastic known to man. The result is an extremely comfortable feel, with an ergonomic form factor that fits the right hand perfectly (unfortunately, the Proteus Core was not developed for lefties). The rubber grips on the sides reduce slipping drastically, and the individual keyplates for the left and right mouse buttons mean no warping, and more tangible, precise clicking. That accuracy is more-so helped, however, by the mechanical micro-switches underneath every button.
All up, in utilising the downloadable Logitech Gaming Software, there are 11 programmable buttons on the Proteus Core. Aside from the obvious function of the scroll wheel, middle click, LMB and RMB, the default configuration has the left and right scroll buttons doing just that – scrolling left or right on a page – buttons G4 and G5 on the left hand side representing 'Back' and 'Forward' respectively, G7 and G8 next to LMB representing 'DPI Down' and 'DPI Up' respectively, G9 in the center underneath the 'Scroll Mode' button being assigned to 'Switch Profile' and the button in front of where your thumb would naturally lay as the 'DPI Shift'. All of these can be changed to your whim, incorporating keystrokes, media commands such as volume up and down, shortcuts, headphone operations (mute microphone, etc.) and even computer functions, i.e. opening E-mail. When using profiles stored on the computer, your current game will be automatically detected and its dedicated profile assigned. Literally thousands of profiles can be created when stored on the computer, although it will render the quick 'Switch Profile' button useless – that is purely meant for on-board functionality.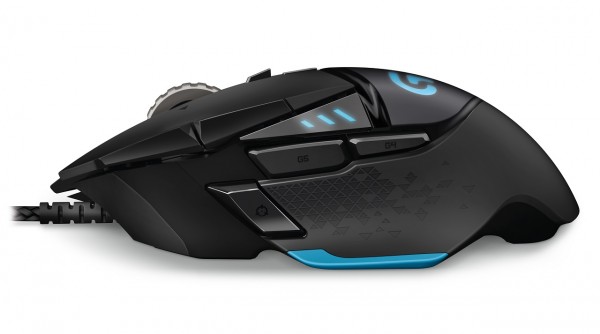 As you may be able to tell already, customisation to your exact needs is wholly enabled by the Proteus Core. If you want one profile for general use, one for hardcore gaming, and one for productivity – packed with cut, copy, paste and custom keystrokes ideal for specific programs such as Photoshop for instance – you can do that. In fact, assign 'G-Shift', hold down the button, and you'll essentially have a whole new set of functions at your fingertips. The only button that is not programmable is the 'Scroll Mode' button, which, when clicked, changes the speed of the dual-mode scroll wheel between click-to-click precision and hyper fast scroll. And, as has become a trademark of Logitech mice, the Proteus Core comes with five 3.6g weights in a hexagonal case. The weights can be added in the back of the mouse, the cavity door for which is magnetic. The weights can be added in multiple arrangements to alter not only the heft of the peripheral, but the center of balance. The mouse itself is only 121 grams to begin with, so adding all five weights brings up its total to a measly 139 grams, which is enough to significantly modify its feel, but clearly the mouse is light by comparison to some similar offerings, which is nice, especially because it is not flimsy by any means.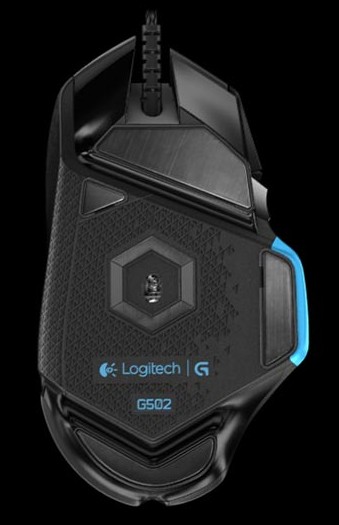 As aforementioned, Logitech allow an outrageously sensitive dots per inch, or DPI, setting of 12,000 in the Proteus Core; a world's first, this insanely fast reaction speed will aid the most deft of twitch-game players around the world, but there's very little else you'd use it for. Up to 5 DPI settings can be assigned on any given profile and modified within the Logitech Gaming Software, where users can test out what works well for them within the 200-12,000 DPI range. A 'Default' DPI can be designated, as can the 'Shift' DPI. Most people might find a DPI of 1,400, give or take a couple hundred, suitable for everyday use, but in using a shooting game as a prime example, assigning 200 DPI as the 'Shift' speed will accommodate gamers who then have the ability to hold the 'DPI Shift' button and slow their mouse sensitivity to meet the required precision aiming of a sniper. Let go and it's back to 'Default'. Otherwise, your chosen DPI settings can be alternated between using the DPI Up and Down buttons, reflected by 3 blue LED lights. There are four polling rates ranging from 125 to 1000 reports per second to select between, and when using computer stored profiles, pointer settings can be customised per profile and 'Acceleration' enabled.
Finally, the Proteus Core's ace up its sleeve – surface tuning calibration employing exclusive Delta ZeroTM technology. Via an extremely simple, easy and quick 3-step process – that basically just asks you move the mouse in a figure-eight shape for a few seconds – you're able to tune your mouse to any surface in your house for optimum control and maximum responsiveness. The mouse is corded, but if you're using it with your Windows 8 Laptop in bed, tune it to the usually troublesome surface of the sheets and away you go. I personally tested it on a wood table top and other branded mouse pad (sorry Logitech!) and it works brilliantly. Along with your custom added surfaces, there are three pre-sets to choose from: the Logitech G240 Cloth Gaming Mouse Pad, G440 Hard Gaming Mouse Pad, and Factory Default. Tracking issues should virtually be a thing of the past with the Proteus Core.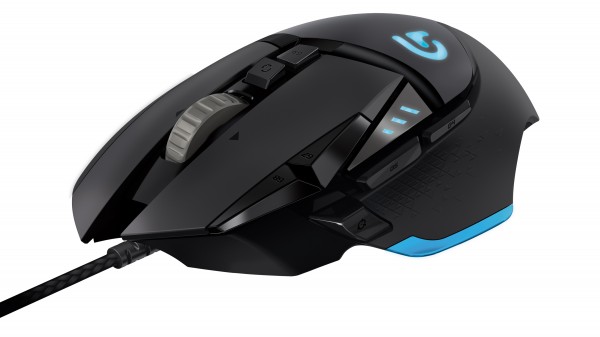 The Logitech G502 Proteus Core Tunable Gaming Mouse is the most flexible gaming mouse I've ever used that doesn't look and feel like an absolutely clunky, heavy, mechanical beast. Logitech have truly designed a comparatively sleek, light, durable mouse with a focus on quality, that can be used for all purposes. The science, as they say, is there. From tracking movements up to 300 inches per second with zero sensor acceleration, zero smoothing and filtering and zero pixel rounding, the Proteus Core backs itself as one of, if not the most, accurate mice out there. It might just be the perfect mouse, period, not even considering price ranges… and if we did, it's even more impressive at an RRP of $89.95.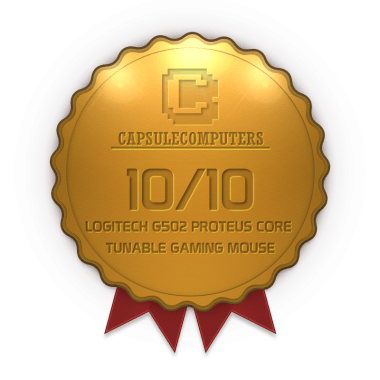 Capsule Computers review guidelines can be found here.