Little Lambs
Developer: Orca, Inc.
Publisher: Orca, Inc.
Platforms: iPad, iPod Touch, iPhone (reviewed)
Release Date: November 8th, 2011
Price: 99 cents – Available Here
Overview
When the developers of Slice It! made Com2uS a significant amount of cash with their simple yet addictive game, they decided to call it quits with regards to the iOS publisher and start their own company, Orca Incorporated.
Now, Orca's first bun out of the oven has hit the App Store. Little Lambs is an easy-to-use, one-touch puzzle game that puts you in charge of matching various animals in the confined space of a farm enclosure. Does the simple gameplay work as well as Slice It!? Or should this lamb get ready to be served up for Christmas?
Gameplay
The premise of Little Lambs is a simple one: match sheep on a grid by having all of them bordering each other in adjacent squares. Slide your finger towards the left,and all the animals on screen will move left, and so on for right, up, and down.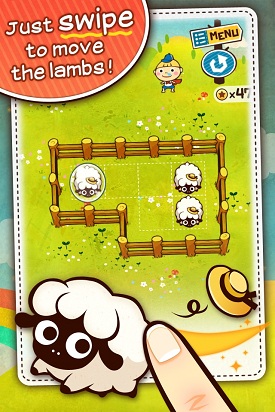 You aren't given any limit as to the amount of turns you're allowed, but the fewer moves it takes you, the more stars you'll be rewarded with (there are up to three per level). If you perform the challenge in the "Best" amount of turns, which is indicated at the top of the screen, you'll be given a "Perfect" rating when you've cleared a level, and with many Games Center achievements related to getting perfect scores, there's plenty of incentive for the completionists to go back and perfect their every move on each of the game's 90 puzzles.
For the first few levels, the game eases players in with a square grid and only one type of sheep, but the game quickly turns into an interesting puzzler that involves a lot of thinking. Different animal types are thrown into the enclosure and you'll have to contend with a grid-fence shaped in ways much stranger than a square. On top of that, some of the animals will occasionally be trapped in cages where they can't move at all, and others will be stuck in bubbles, immobile until another animal bumps into them and busts them out. An array of boxes and passage-creating or closing switches both help and hinder you on the way to achieving the perfect score.
As you progress, the game really makes you think about what your next move should be, and the overcoming challenges thrown your way is ultimately very rewarding. If you get stuck, there's a helpful shepherd boy at the top of the screen who will give you hints for a fee of in-game currency. As far as I could tell, you earn 3 coins every time you clear a level, and a hint costs 3 coins, so it's a pretty good trade-off considering you'll breeze through some levels, and spend up to ten minutes on others.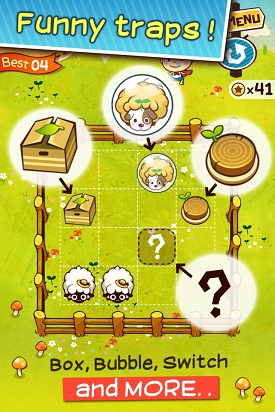 Despite its attempts at variety and challenge, however, the game does get repetitive over long bursts. It's great to pick up and play for 15 to 20 minutes at a time, but anything much longer than that and you'll find yourself leaving the game to check Facebook or listen to a podcast. But going, back after a while and playing another short burst of the game feels fresh and exciting. I can't quite put my finger on exactly why this is, maybe my brain doesn't like thinking for too long, but it is definitely an issue that the game couldn't keep me entertained for the entirety of my 40 minute morning commute.
Audio/Visual
The sound and visual design of the game are pretty standard for an iOS puzzle game. Cutesy looking cartoon animals, a bright green-hill background, and a forgettable tune that somehow makes you bob your head like a child when it's playing.
Not that this detracts from the experience (though the barking of the shepherd dog every time you swipe in a direction does get a little annoying), it's just something we've all seen and heard before, and we'll probably see and hear it a hundred times again.
Overall
For a developer to strike out from their parent company takes some guts, and for their first game to be as enjoyable as this shows that the guys over at Orca, Inc. have brains as well as bravado. The mental challenge, the sheer amount of stages, and the simple design all work together to bring a solid puzzler to iOS gamers.
However, maybe the simplicity is a little too much, as the game does become repetitive when played over larger bouts of time, and the cute style of graphics is something that is beginning to feel overused. On the other hand the game remains great fun in short bursts, and should provide hours of solid gameplay, particularly to completionists. Priced at just 99 cents, you're certainly getting good bang for your buck.