 Game: LittleBigPlanet 2
Developer/Publisher: Media Molecule/Sony
Consoles: Playstation 3
Genre: Platformer/Puzzle/Family
Release date : 20th January
LittleBigPlanet was one of Sony's greatest, exclusive hits that won over plenty of fans and earned critical fame. It spawned the tag line: Play. Create. Share. And the concept was just that simple too. You could play through the campaign. Or you could create actual "levels" in the game and share them online for others to play. Some of the people who created levels actually got hired by the developers behind the game. Now, Media Molecule is back and ready for round two. The concept has expanded. The world has grown. Did Sackboy succeed once again?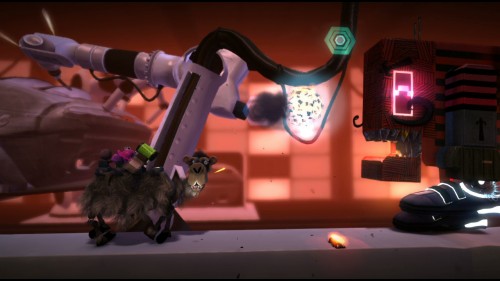 Story
The balance of the LittleBigPlanet universe is hinged upon imagination. When an evil monster starts swallowing imagination and turning it into evil, there are only a few who can oppose this monster. Enter Sackboy!
Of course, the general world in LBP 2 is quite fantastical. Each set of missions has Sackboy solving puzzles in new ways. It kept the game fresh and original.
The first few levels task you with joining the Alliance. Basically, these amount to a giant tutorial. After completing the tests though, you join the Alliance, a trio of people that includes a crazed, brilliant creator named Larry Da Vinci, a cocky, deep voiced MC called Avalon and you, Sackboy. You are then sent out to help the citizens of the world. These citizens often also have valuable assets that will help the Alliance.
The story is often hilarious. Dialogue was also extremely well written. All the characters have great lines and they complement the game well. Quite simply, you will never get bored in the campaign. The story is well written, easy to follow and will keep your attention throughout the experience.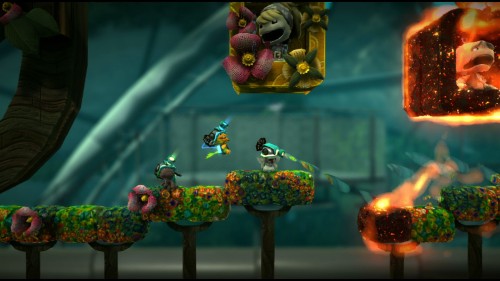 Gameplay
Level design in the game is fantastic. No matter how zany the level before was, the next world will have twice the the amount of awesome crammed in. And the insane creativity of the levels will keep you on your toes too. To illustrate, in the second world, you are tasked with stopping a train. This train is no ordinary train though. It is the train that is operated by a baker, who also happens to be cloning an army of sackbots! On your way, you will find cherry pastries. Using these pastries, Sackboy must grind the metal railings. Other areas of the game will also test your extreme platforming skills.
Whats more, the game is set up to allow you move in between the 2D backdrops. That is, the background and foreground must be navigated separately of one another. This allows for all sorts of interesting puzzles to take place. When jumping and fooling around in these levels, then you also have the opportunity to collect bubbles full of prizes. It's like an endless bubblegum machine full of awesome stuff that doesn't need quarters to operate! The prizes are pivotal to other areas of the game too. More on that later though.
When playing online, all the puzzles are heightened in excitement. Every time you enter a level, you can choose to play cooperatively with others. This is a really cool implementation of the online features. Local coop play is included as well. Hidden areas of the game can only be accessed with two players. If you are concerned about replay-ability, this game will have you covered for a long time. In addition to the coop modes, there are adversarial types of gameplay.
There are really only two quarrels I have with the game. The first is the controls. The controls always felt really clumsy, as if I was constantly fighting the controller. That is never a fun way to play the game. Maybe it was because Sackboy is made of yarn and yarn is naturally flimsy. But yarn is not an enjoyable thing to play with in a video game. Sackboy would always float out of control, or he would be impossible to manipulate because he wouldn't respond to the actions of the Dualshock. A platformer must have rock solid controls, and I found it inconceivable that this game didn't.
My final complaint against the game is the creator mode. Now, I am not saying that the creator mode is bad itself. The community is fantastic and creates some of the best games & levels ever seen. However, they must spend many hours at their task, because the menu systems in the game are convoluted as all heck. I was able to create a few things, but it took me a few hours and many minutes of tutorials to accomplish simple building. That is really a shame too, because this is where the main strength of the game comes from. All those prizes that you collect are given to you to create your masterpieces. But actually making sense of everything, finding the pieces and making them do what you want is hard to do. The satisfaction of completion does make it worthwhile though. It also made me appreciate how much game designers put into their work. All in all, the creator mode is a wonderful and terrifying thing. There are thousands of options given to you. If you have the time, it is truly crazy how much effort you could put into making an awesome game of your own. If the example of the first game is any indication, this sophomore title will also have plenty of DLC to add. Just be warned that it is not for the faint of heart. Your imagination and willpower will be strained until you get the hang of it.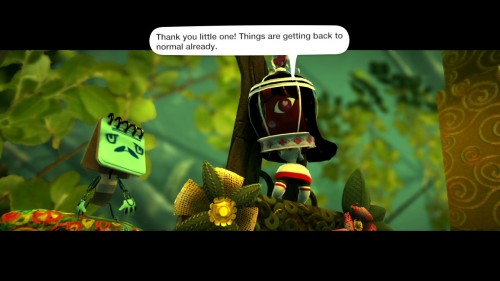 Graphics
Since the objects in the game are so varied, it is very easy to form an opinion of them. Each item is textured well and given a plethora of details. It was very easy to tell that Media Molecule did not skimp on graphical clarity. There are literally hundreds, if not thousands, of different items that enable you to create. All of these materials are well designed and polished to perfection. If the developer did not cut corners on these rather small parts of the game, then you can be sure that the rest of the game is also very easy on the eyes.
Audio
Probably one of my favourite features in the game was the soundtrack. For each world, it seemed like there was a different influence. For example, the first level has you dancing to disco. However, some jammin' hard rock is featured later, as well as many other genres. The editing process done to make each track unique is amazing. When it comes to music, LittleBigPlanet rocks with the best.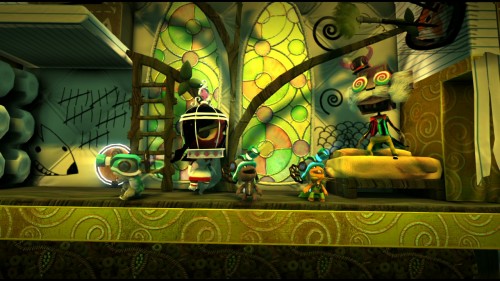 Conclusion
LittleBigPlanet 2 is a game that will delight you for hours. Level design and music score alone make it a game that any PS3 owner can be proud to own. Atrocious controls and menus are annoying though. However, if you can get through these parts of the game, Sackboy's cute face will always have you coming around for more. Extreme customization options, swell graphics and an engaging storyline make this game a joy to play.