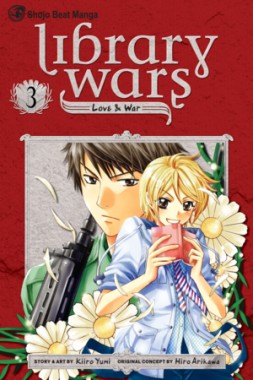 Library Wars: Love & War Volume 3
Author: Kiiro Yumi
Illustrator: Kiiro Yumi
Publisher: Viz Media/Madman
Release Date: March 10, 2013
Price: $14.95 – Available Here

Overview
Library Wars has had some teething issues with volume 1 and volume 2, but with this third volume things are beginning to click for the oddball shojo manga. The series has always been somewhat rocky in terms of balancing its high concept with its romance elements, but with this volume the balance is just right. The stakes are higher than ever and Library Wars is finally at long last kicking things into gear.
Story
One thing that has hampered the last two volumes of Library Wars was the incredibly low stakes, even when we got our first taste of the titular war there was never a sense of danger or excitement. All that changes with volume three, which is finally starting to reach its potential.
Iku and Dojo's burgeoning relationship is thrown through the ringer once more with neither being able to see the other's perspective. The romance aspect of the first volume is revisited with Dojo taking center-stage in this volume and the story is all the better for it. Of all of Iku's potential princes, Dojo is the one that she undoubtedly connects best with. He is easily the deepest male character in the series and is one that is still shrouded in a great deal of mystery.
The war over censorship takes a turn for the worse in this volume, with the violence being kicked up a notch, showing the murderous extent that the enemy will go to in order to censor these books and by extension the world. There is real stakes here and that is something the series has sorely needed. We have needed to feel for these characters and with this volume we are finally starting to have a reason to.
Kiiro Yumi is finally beginning to grasp the story she is trying to tell and this volume shows that things are finally beginning to fall into place now. With the wild cliffhanger this volume concludes with, the series is finally paying off for all its wheel-spinning in the first two volumes. Library Wars has just suddenly got a lot more intriguing and thank god for that.
Artwork
With this volume Yumi has noticably improved with her frame-work and action sequences. In the past the action and panelling of Library Wars came off as resoundingly amateurish, however that is no longer the case as they have improved wonderfully here. There is a sense of movement to the art that the series just hasn't had up until this point. Not only that but the detail in the art has remained consistent which is definitely a good thing. Yumi tries a few new techniques in this volume, breaking out of the comfort zone the series has been in and it is to great effect. Undoubtedly the art of Library Wars has increased in quality with volume 3.
Extra Content
Much like the previous two volumes, Library Wars volume 3 features an impressive amount of bonus content throughout. Included are small comedy 4koma between some chapters, author comments placed throughout and even two full fledged bonus filler chapters. This is more than the average manga offers and it does well to add more bang to your buck for Library Wars.
Overall
Library Wars takes a turn for the better with its third volume and it is a turn that has been a long time coming. The potential that the series has shown is finally close to being reached. With the cliffhanger this volumes leaves us on, volume 4 is pegged to be an interesting one to say the very least.
While the series has been a mixed bag for the early goings of its run, it is now balancing out quite nicely and finding its footing at long last. Library Wars volume 3 appears to be a turning point for the series. It is an oddball shojo series without a doubt, but it can be a lot of fun because of that. Yumi has finally found her confidence as a mangaka and this volume hints at bigger and better things to come.
Capsule Computers review guidelines can be found here.