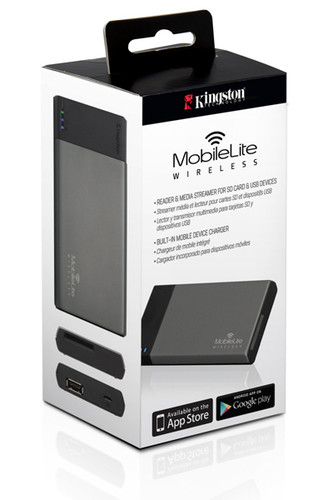 Kingston MobileLite Wireless

Manufacturer: Kingston
Compatibility: Android, iPhone, iPad (Tested with an Android Phone)
Price: $79 AU Find a Dealer Here
Kingston are one of the world leaders when it comes to data storage and one of their newest devices, the Kingston MobileLite Wireless, seeks to bring further strength to that reputation. With the space available on mobile devices still rather limited and in some cases being unexpandable such as with the iPad, this device could be the solution to your storage problems.
The MobileLite Wireless is a fairly unique and innovative device. It is essentially a wireless portable hard drive that uses a Wi-Fi connection to stream data to up to three Android and Apple devices simultaneously. While the device doesn't contain any storage within itself, the owner uses their own USB flash sticks, SD cards or hard drives (my 1TB Seagate portable hard drive worked just fine) to provide the storage and content, meaning the MobileLite Wireless serves as a link between your files and your portable devices.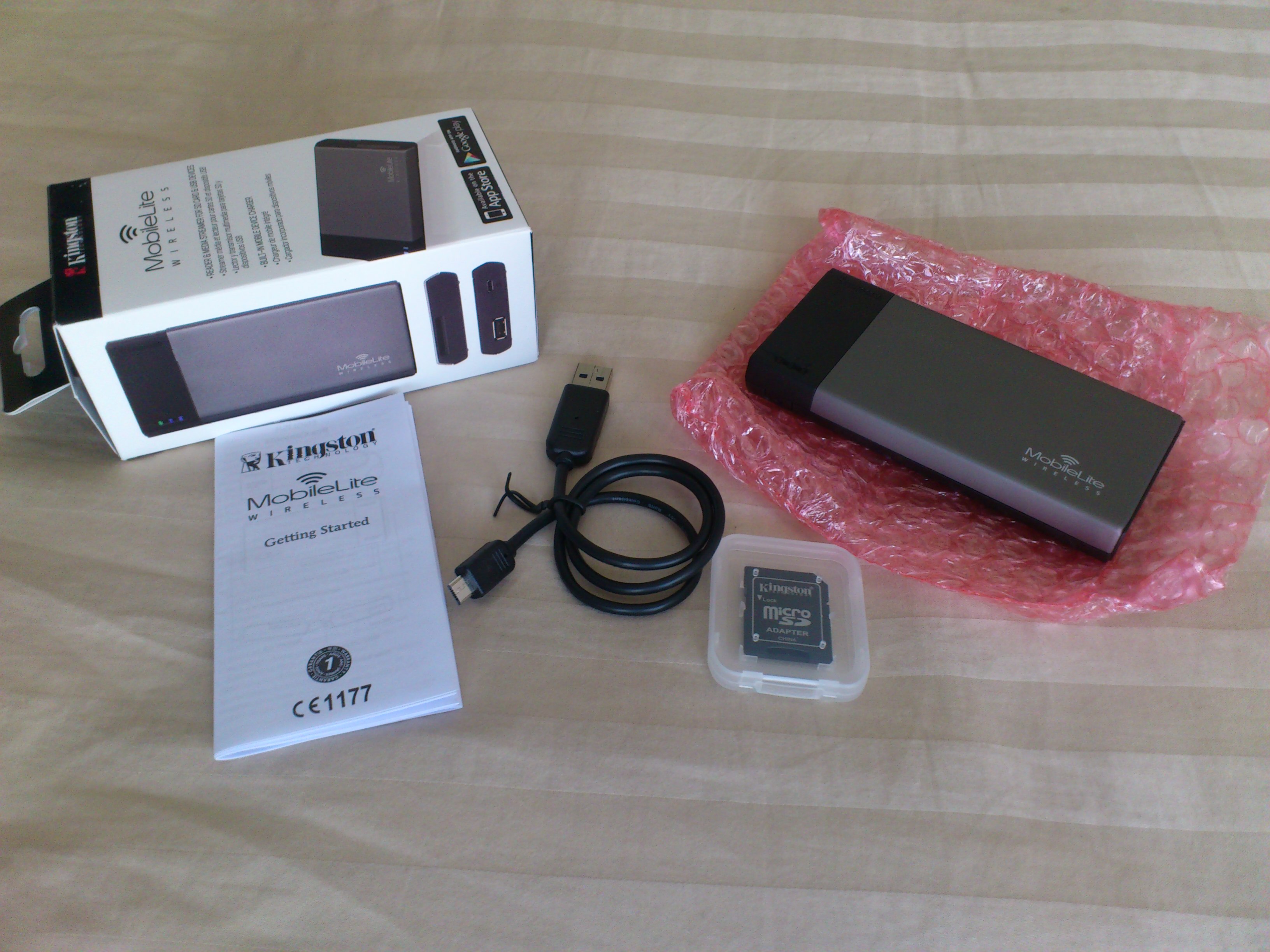 In the box you will receive a slim micro USB cable for charging the device, a micro SD card adapter and a handy starters guide as well as the device itself. The MobileLite Wireless is sleek, portable and functional, all three very important factors for a device of this nature. Weighing in at under 100 grams and being only slightly larger and more dense than an average phone, carrying the device around with you won't prove to be an annoying task. The dark grey and black colour scheme also looks great and means the MobileLite Wireless won't stick out awkwardly amongst your other devices. The fact that it doesn't need any wires to connect to your mobile devices is also a huge plus, as you don't have to worry about having the correct cables or even having them at all. The ports on the side are placed well and the three led indicators provide a simple way to let the user know the status of the device. The left most light indicates battery level by flashing in different colours depending on it's amount of charge, the blue central light indicates the wireless capabilities are on and the final blue light indicates you have a bridged connection to the Internet. Battery life comes in at just under 5 hours of continuous use but all functionality will still work when charging.
In terms of the MobileLite Wireless' most core functionality, streaming content to an Android or Apple device works very well. It handles streaming data to up to three different devices at the same time, it's fast and it feels just like those files are on your device. The MobileLite Wireless uses a Wi-Fi connection to connect, which means most devices will be capable of connecting without problem. You won't have any problems with range either as you can get around 50 feet away from the device without any connection problems and you don't have to lose your device's Internet capabilities when you are connected to the MobileLite Wireless' own network as the device can connect to a Wi-Fi network itself and serve as a bridge. Those who are security concious will be pleased to know you can place a password on the local network to stop just anyone from accessing their content.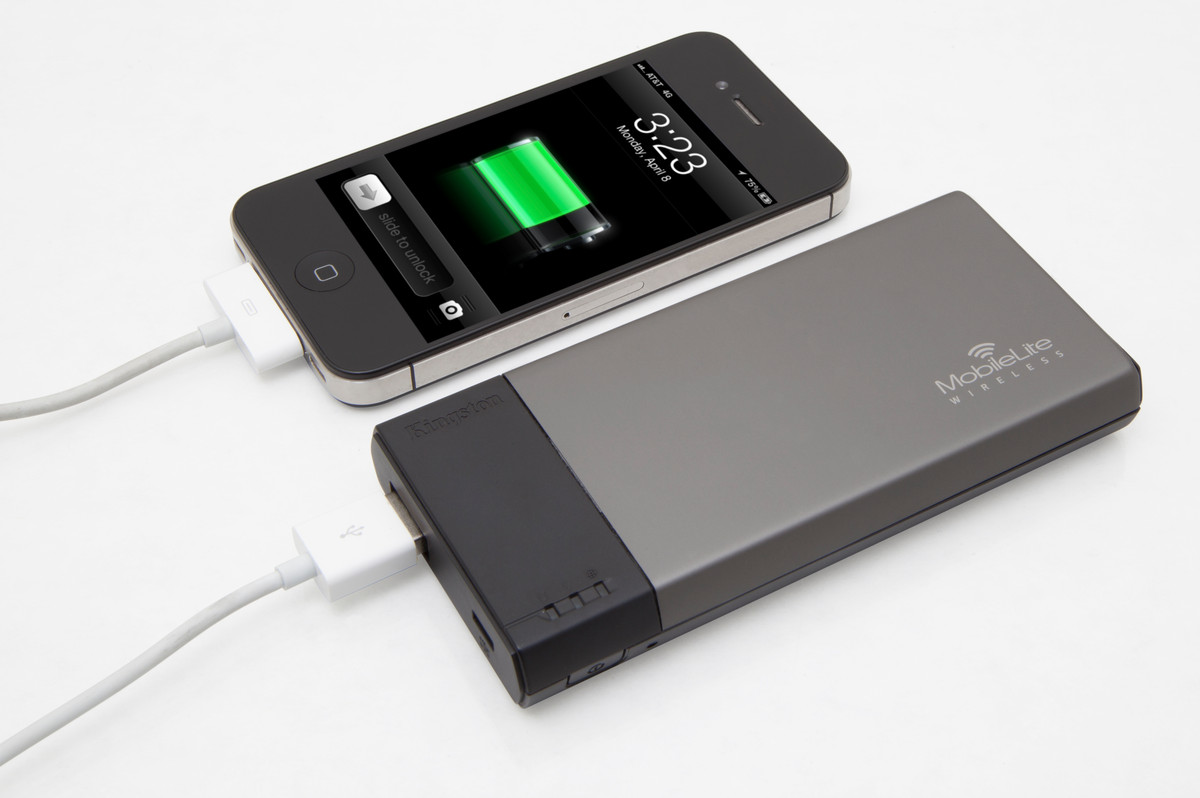 The MobileLite Wireless also has some nice additional features that deserve a mention. By pressing the power button quickly as opposed to holding it down for three seconds to turn on the wireless capabilities, the Mobilite Wireless can serve as a charger for your phone or other devices capable of being charged with a USB connection. Charging drains the life of the MobileLite Wireless pretty fast and it isn't the most efficient charger but it can save you in a jam if your phone is about to die. I got about a 40% charge to my phone on a fully charged MobileLite Wireless. It also serves as a standard card reader which will no doubt be handy for some users.
In terms of functionality with your content, one cool feature is the ability to copy your photos straight to the storage inserted into the MobileLite Wireless, which means you can instantly share that content with up to two other people and you now have a backup of those photos while clearing space on your device, all without the need of a computer. For those users of social media, you can also post photos to Twitter or Facebook directly from the device as well as e-mail them as long as you have the MobileLite Wireless connected to a network. The fact that you can stream content to three users at once with everyone having their own access to the content is perfect if for example, someone wants to watch a movie while another user listens to some music. As touched upon before about the photo sharing, you can also share other files from your mobile device simply by placing it onto the MobileLite Wireless storage.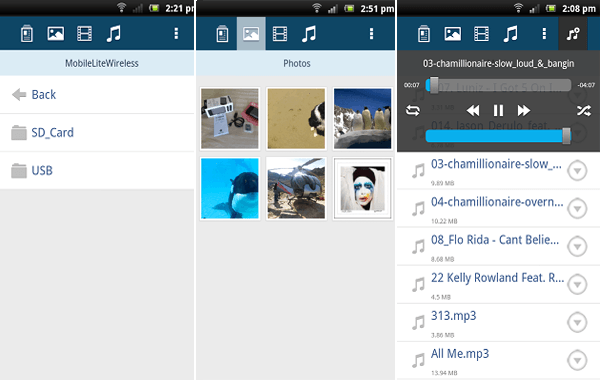 To access the content on your SD card or USB storage device you must first download the free MobileLite Wireless application which is available from the App Store and Google Play. The app itself is simple and well designed. It features a small tutorial at the start and accessing your files is as simple as folder navigation with a drop down list. Photos can be viewed as thumbnails or a file list, tapping on music begins playing it and it all works as one would expect. Both the picture viewer and music player provide all the basic neccessities, but don't expect anything extra like photo filters or music equalisers. The music player does however features repeat and shuffle functionality. Videos also work fine but will need an external app such as VLC player to play larger files due to the limitations of Androids default video player. This dependency on the app for accessing your content may be a problem for those who prefer to use thier main media player but will suit the majority just fine. I did have one small glitch where I couldn't see all my photos in portrait mode but could just fine when I flipped the phone into landscape, but this was a rare occurence.
You can also copy files between your mobile device and the SD card, however this is a fairly slow and clumsy experience when it comes to anything but small, single files. Transfer speeds are rather slow. I tried copying a 4GB file over and came back some time later to find it was only a quarter of the way complete. Functionality for copying multiple files outside of folders doesn't appear to be present and copying photos has its own problem as you can only transfer photos from the file list view, which means you only have access to the file name and not a thumbnail. You will have to click the file name and load up the photo first to see what it is you want to transfer over and then return to the list and select to transfer it from there. This missing functionality seems like an oversight as a quick tap of the screen or settings button while viewing the photo from the photo grid could have easily brought up the option. While this isn't much of an issue as the device's nature is obviously more inclined to streaming as opposed to file copying, it is an available option that doesn't work well.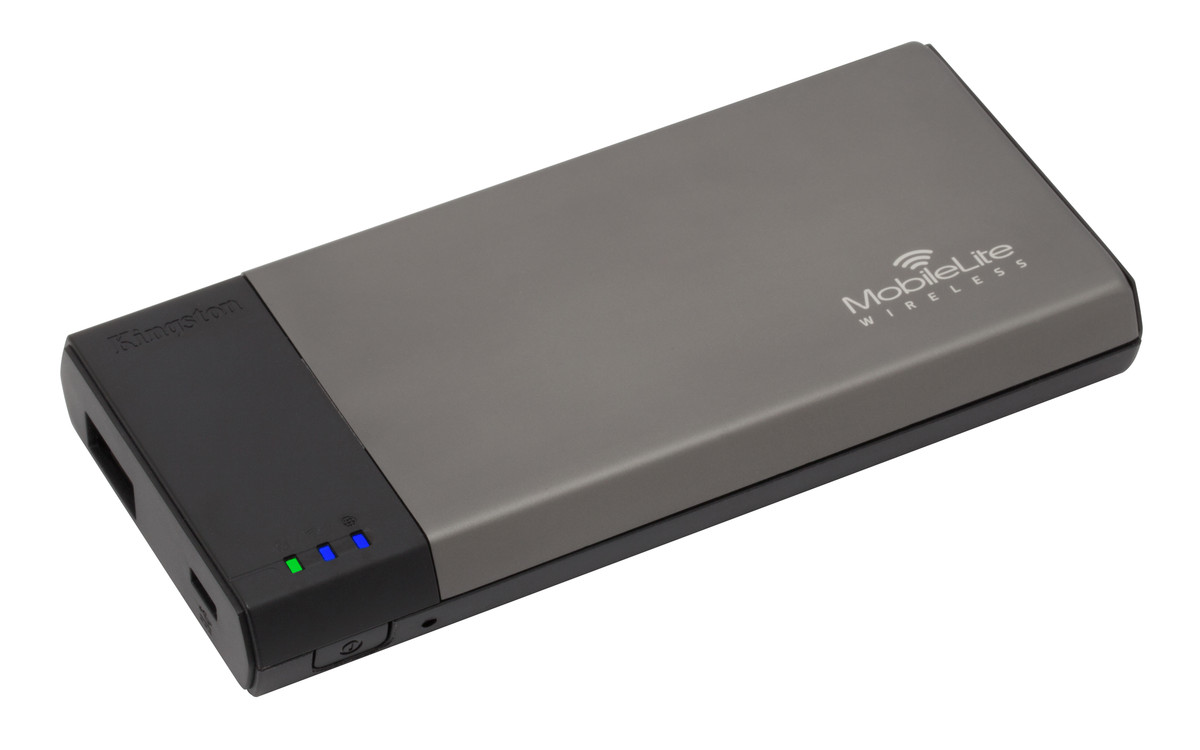 Overall, Kingston's MobileLite Wireless is a fairly unique device and performs all the tasks it claims on the box to a high standard of functionality and simplicity. It may serve a rather niche market with its feature set, but at an attractive price point and the bonus of doubling as a portable USB charger and card reader, it serves that market well. The required app works well and is easy to use but has some room for improvement in terms of functionality for transferring files from your devices back to the MobileLite Wireless. If you are aware of its capabilities beforehand, you will not be dissapointed by this nifty device.
Capsule Computers review guidelines can be found here.