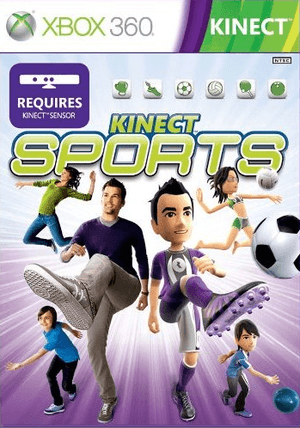 Kinect Sports
Publisher: Microsoft
Developer: Rare Ltd.
Console: Xbox 360 – Kinect (Reviewed)
Release Date: November 4 2010
Price: $49.99 US, £39.99 UK, $89.99 AUS
Overview:
A sports mini game collection is quite literally a must have for every single motion gaming system that has come out so far. The Wii was bundled with the Wii Sports when it was released initially, and even the PS Move brings with it Sports Champions. Now the Kinect has been released and it isn't ready to be left in the dark either as they also released a new collection of sports mini-games to go along with the Kinect in the form of Kinect Sports from Rare Ltd. Does the use of the Kinect for the sports mini-games truly shine a new light on the standard sports minigame collection? Because remember, you are the controller now.
Graphics:
First off it is good to take note that Kinect Sports takes your own Xbox Live avatar and places them within the game. This can more or less speak to the fact that the avatars you play as will look just as good as your avatar outside of the game. That is of course without the extra clothing as they will be wearing sports uniforms instead.
Beyond the actual avatars however Kinect Sports does kick the graphics up a notch as the stadiums and arenas that you perform are filled with randomly generated avatars and are brightly colored and textured so that everything has a nice sheen to its appearance. If there is anything to fault with the graphics beyond their relative simplicity, is the fact that in-game advertising is quite blatant as you will notice different advertisements on your sports equipment randomly show up at times.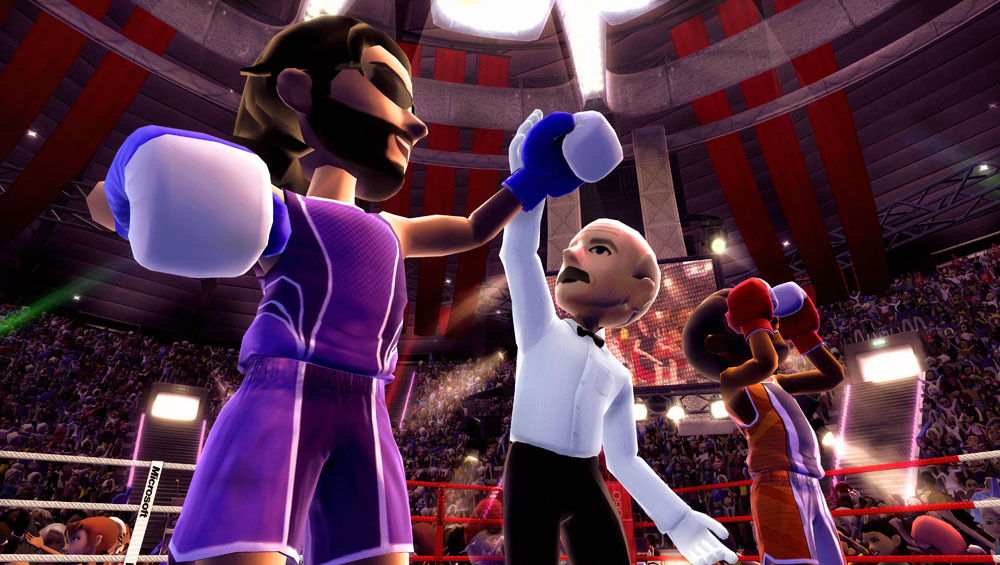 Sound:
Many of the different sports you will play will have your standard sounds to go along with them that all match well enough, this includes the way that the crowd reacts to your performance. The interesting bits are when the game rewards you for doing something extremely well with a bit of an encouraging song to boost your morale and make you feel good about what you did.
On the other hand there is also the British sounding announcers that will constantly be voicing over your performances and introducing you to each sport as you play along. The announcer may be interesting at first to listen to but he does grow tiresome after extended play. But then again you'll be just as tired physically too.
Gameplay:
Kinect Sports provides six different sporting events to be played both on your own and with your friends. Unfortunately the game is much more enjoyable with friends as there are no incentives to play on your own. The good news about this is the fact that even if you don't have siblings or a friend at hand to play with you can jump onto Xbox Live and play with others around the world at a drop of a hat.
The Kinect itself is easily recognizes player movements at the recommended distance of about six feet and suffers barely any noticeable latency issues, which is especially great during the track and field event. Kinect Sports doesn't even have much trouble recognizing two players on camera at the same time as long as you back up to around eight to ten feet.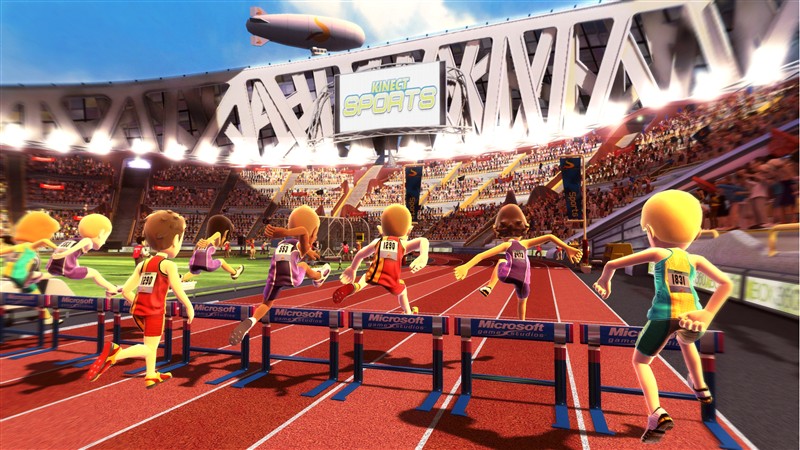 Another nice feature included is the fact that after most events you will be treated to a video of you yourself actually playing the game and performing the motions. This means you may get a bit of a laugh out of yourself if you catch yourself doing some ridiculous motions to make it through an event. There is an option to upload this footage if you so wish, but I would recommend it only for the brave or confident of their motions.
But enough about the extra little features, what about the games that you will be able to play? Do they stack up well enough to be enjoyable? With Kinect Sports we are given six different sports to choose from: bowling, volley ball, boxing, table tennis, track and field, and soccer. I've broken down each of the minigames below.
Bowling:
Bowling inside of Kinect Sports has seen a bit of a revamp as far as the actual bowling is controlled. To choose where you want your bowler to stand you step to the left or the right, and then to throw the ball you treat it as if you were actually bowling. Meaning that you will step forward and swing your arm forward in the same motion and the speed of your arm, as well as where your arm swings on your body will determine the power and spin of the ball. The bowling is extremely accurate and I experienced zero mishaps with the camera sensing my movements during this sport.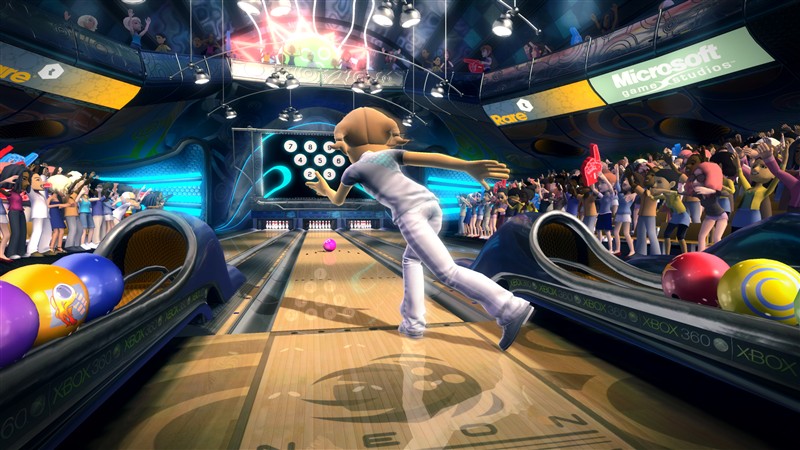 Volley Ball:
The volleyball minigame begins with a very lifelike mimicry of the real game. As you serve you must toss the imaginary ball into the air and then use one hand to hit the ball forward. Then as your opponent hits the ball back to you, you must move yourself to wherever the target shows up to hit it back. Also since the volleyball game is always with a partner whether AI or a friend you will occasionally be set up for a spike which involves a jumping motion and an overhead slam of your arm to spike the ball down. Volley ball is perhaps one of the more body intensive sports and can become tiresome quickly, but at the same time is also one of the most enjoyable thanks to its fast paced action and full body movement.
Boxing:
Ah the wonders of being able to actually throw a punch and see your avatar in game throw that same punch. Boxing is playable against a computer player or a second player (fun times to be had) and will place the fighters in three round fight. You fight as much as one would expect, by jabbing punches forward high or low will place these hits towards that part of your opponents body. You can also block incoming hits by raising your arms in front of your face, or ducking and weaving out of the way. However the ducking and weaving is not very effective compared to simply blocking.
Table Tennis:
Table Tennis (otherwise known as Ping Pong) has been around for many years and can be found inside of practically any sports fans house, and inside of Kinect Sports it does not disappoint. Serving the ball is similar to the volleyball mode such as tossing the ball into the air and hitting it, and then you can continue to swing at the ball with your own hand to simulate the table tennis paddle. It is quite enjoyable and is perhaps the simplest of all the Kinect Sports as it requires little player involvement or movement.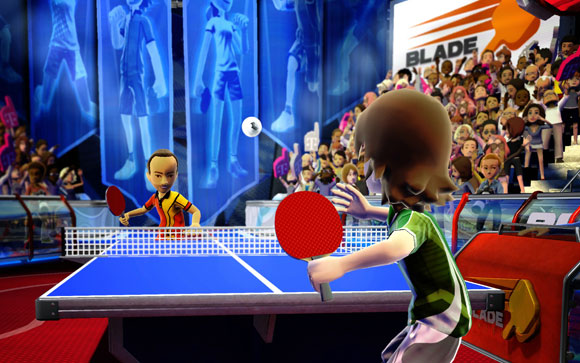 Track and Field:
Now this mode is a bit of a trick at first, as it contains a small bundle of minigames in and of itself. There are five different minigames within the Track and Field umbrella which include: Javeline, Long Jump, Hurdles, Sprint, and Discus. Each of these modes can be played together with a group and you can attempt to beat one another's scores within a sort of mini Olympics if you will. These modes are extremely high in physical movement and will definitely tire you out the fastest. One thing of note is that there is minor lag in the Hurdle Jump which requires the player to jump slightly ahead of where they would originally (shown off by a green jump area).
Soccer:
Big fans of soccer games may find themselves a bit disappointed with certain aspects of Kinect Sports' Soccer game due to the fact that it has mostly been watered down to a bare minimum. Rather than moving around and dribbling a ball with your own feet, you will be able to pass the ball between your own team mates or go for the shot then and there. The difference between the two movements is either a light kick or a pulled back kick as you smash the ball towards the net. On the defensive side of things however you will find yourself either attempting to get in the way of a pass to intercept it by sliding left and right, or if you are the goalie by jumping and trying to get your hands in the right area to block the goal. This mode is unfortunately not very enjoyable when played alone and can be disappointing when handled as such. On the other hand when played with a partner or somebody on the other team it increases the enjoy ability greatly.
Overall:
Kinect Sports brings with it some of the best motion gaming to date with full body recognition with little to no lag problems. Kinect Sports is definitely a very active game on the other hand so prepare to wear yourself out quickly if you play for extended periods of time. Another note worth mentioning is the fact that playing together with your own friends or family will definitely make for a better time as Kinect Sports doesn't do anything special as far as single player mode goes. That doesn't mean that you can not have a good time playing online or with the computer but the best experience is when played at home as a party game.
I give Kinect Sports for the Xbox 360: