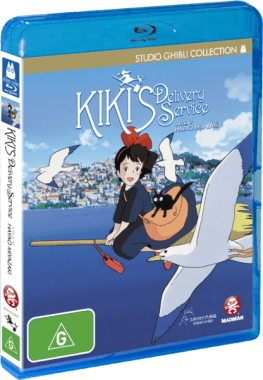 Kiki's Delivery Service
Studio: Studio Ghibli
Publisher: Madman Entertainment
Format: DVD, Blu-Ray (Reviewed)
Release Date: May 22, 2013
Price: $39.95 – Available Here
Overview:
Kiki's Delivery Service has finally received the Blu-Ray treatment, following suit of other titles in the legendary Studio Ghibli film library. Much like many of those other Studio Ghibli titles, Kiki's Delivery Service is a coming-of-age tale that can be enjoyed by people of all ages. There is a certain universality that is unique to Studio Ghibli and that is heavily present here in Kiki's Delivery Service. It's a story of the adventure of a lifetime, the search for identity and independence.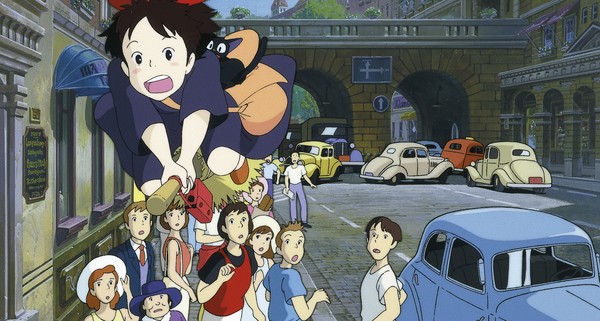 Story:
There comes a time in a young girl's life where they begin to long for independence  they want to grow up, often quicker than they really should. Kiki wants to be independent and in turn wants to grow up. It is common for young girls to feel this way. For one reason or another they are all too eager to mature often forgetting what it means to be a kid in the process.
The film revolves around young witch named Kiki as she sets on a journey of self-discovery. Over the course of the film she encounters different struggles and a colourful cast of characters all the while gaining independence, identity and a true home. It is as Ghibli a story as it gets, but it isn't without its flaws.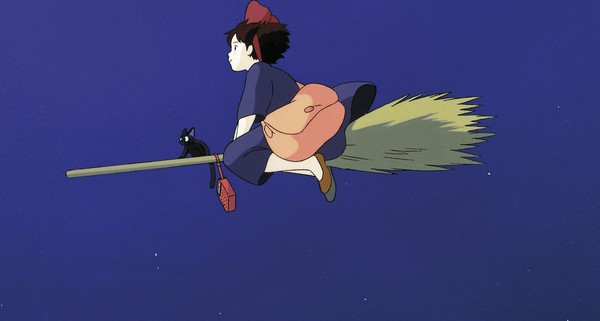 Kiki's Delivery Service is really a mixed bag for the most part, but the sum of its parts make up for the scatter-shot style of the plot. At it's core it is a very simple story about breaking free and discovering who you are, but the layers on top of that can somewhat confuse the message a little bit, making it somewhat murky in the process. Kiki seeks independence and  through that she finds her identity and through that she comes of age and through that she discovers what truly matters to her. It's too much piled on top of one another, giving less importance to each point. Thankfully Kiki is a strong enough character backed by the superb direction of Hayao Miyazaki, which ultimately gives Kiki's Delivery Service the glue to bring all of its pieces together to make a sublime film that is every bit as fun as it is touching.
The genuine sweetness at the heart of Kiki's Delivery Service is what makes it so great. It is a sweetness that even few Ghibli films accomplish, it transcends the middling issues with the film, pushing it to greater heights thematically and emotionally. It may not be the best Ghibli film, but it is an incredible anime film to say the very least. It is hard not be swept up in Kiki's journey and even harder not to fall in love with this heart-filled film.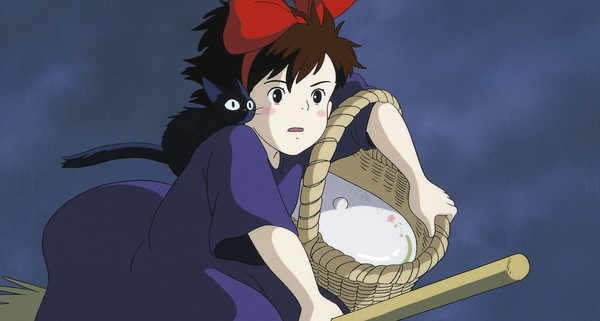 Visuals and Audio:
This is a great example of the importance of Blu-Ray to anime. Kiki's Delivery Service looks absolutely stunning on the Blu-Ray format, further amplifying the already phenomenal aesthetics of the film. Studio Ghibli are known for their gorgeous visual work in the anime medium and Kiki's Delivery Service remains one of the studio's best outings to date. The sprawling seaside landscapes paired with the classic Ghibli character designs is a winning combination to say the least. It could even be argued that if it weren't for Kiki's Delivery Service's inspired setting, we would not have gotten the seaside Ponyo film from Ghibli. This certainly feels like a precursor to that film at times.
Kiki's Delivery Service also notably features a brilliantly composed soundtrack from Joe Hisaishi, the man behind many of Ghibli's other great soundtracks. While Kiki's Delivery Service does feel rather quiet in comparison to the more grandiose Ghibli music style, it builds a slow burning atmosphere that has major dividends in regards to what it adds to the overall experience. This particular release features the English dub alongside the original Japanese audio, both of which are brilliant.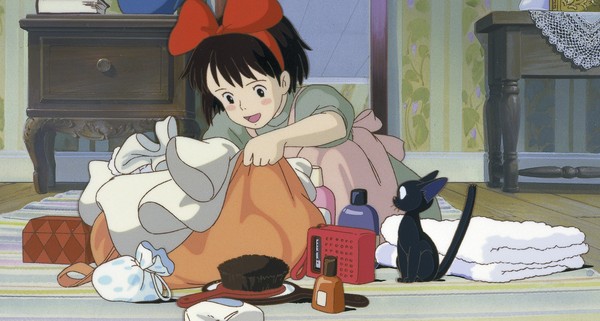 Extras:
This is without a shadow of a doubt the definitive release of Kiki's Delivery Service. Madman Entertainment have packaged more special features into this Blu-Ray than you can poke a stick at. Included in this incredible release are a plethora of featurettes, behind the scenes vignettes, storyboards, trailers, infographics and much much more. There is honestly more content than you could ever hope for in a home video release and Madman deserve all the praise they can get for making this release happen.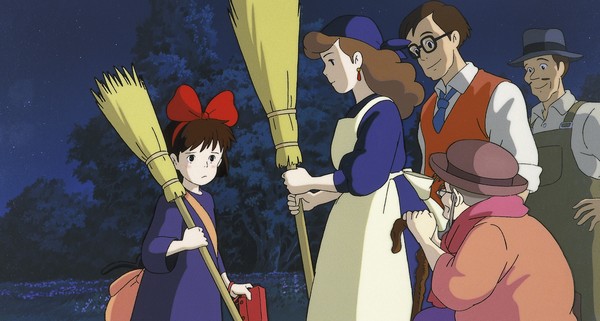 Overall:
Kiki's Delivery Service is a classic anime film by all counts. Nearing 25 years since it first premiered, this is a timeless film that is every bit as good today as it was in 1989. They say the greatest films are the ones that never grow old, Kiki's Delivery Service is young forever. There is a certain magic to this film that can only come from Studio Ghbili and it is one that has made it so that this film hasn't aged a day in all these years, it is just as moving and just as fun as it ever was.
The Blu-Ray treatment was a long-time coming for Kiki's Delivery Service and Madman Entertainment have truly crafted the definitive release of this movie. There is no better release on the market, it is that simple. If you are looking to pick up this film, look no further than this excellent Blu-Ray release. This is the release to own and for the sheer amount of content on disc, this one is a real steal.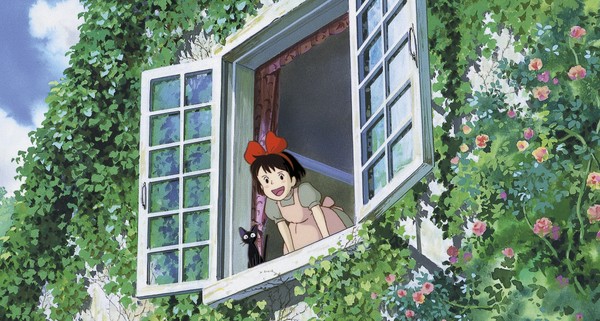 There is something so heart-warming about Kiki's Delivery Service that makes it such a great film to watch. It is that inner Ghibli sweetness that makes you feel, even just for a moment, that the magic on screen is real. Kiki's Delivery Service is a magical film that will have you utterly bewitched from start to finish.
Kiki's Delivery Service is a reminder of the magic of movies and the wonders of anime. It will cast a spell on you that you won't soon forget.
Capsule Computers review guidelines can be found here.