Kids on the Slope
Studio: Tezuka Productions and MAPPA
Publisher: Hanabee
Format: DVD, Blu-Ray (Reviewed)
Release Date: May 1st, 2013
Price: $64.99 – Available Here
Overview
Life is a mess of seemingly random yet somehow connected events. These moments and these memories, they are the music that our lives are composed of. Every action garners a reaction. A banging of the drums brings about a tapping of keys and just like that something beautiful is born. Much like jazz, life often goes in an unexpected direction – such is the case with Kids on the Slope, a reflective tale of life, love and all that jazz in between.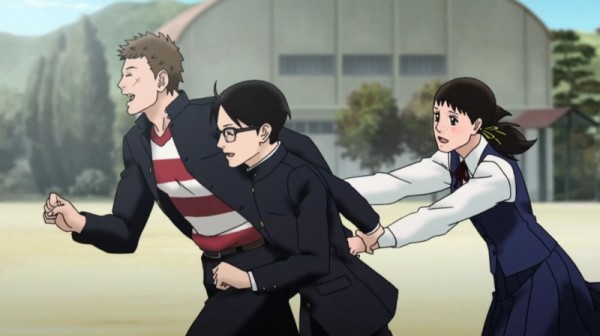 Story
With legendary anime director Shinichiro Watanabe at the helm for this series along with long-time collaborator Yoko Kanno composing the soundtrack, it was a given that Kids on the Slope was going to be something special. In the past Watanabe has worked on original works such as Cowboy Bebop and Samurai Champloo. Kids on the Slope however is his first adaptation of his fabled career. While that in itself can be approached with a measure of skepticism, I can wholeheartedly say that it feels very much in line with the themes and messages of his previous works. This is the sway of life.
Kids on the Slope is set in 1960's Japan, a time of revolutionary change. The world is changing with each passing day and so are the lives of the titular kids on that slope.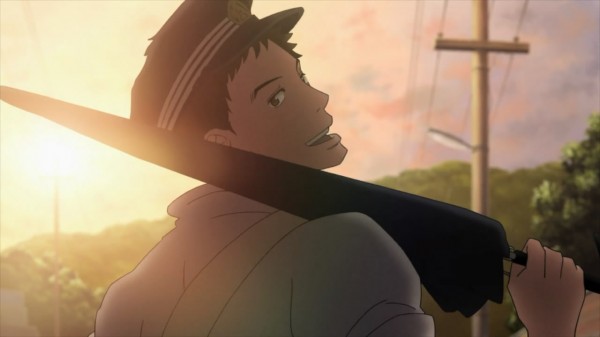 Kaoru is a quiet boy who has just moved to town at the behest of his father. He is riddled with anxiety and fears the pain that comes with closeness. He can't trust because he has been lied to too many times and no matter how many people surround him, he is more alone than anyone could know. But just like the times that change – he meets Sentaro, with a drumbeat in his heart and fire in his soul.
You get the real feeling that these two were almost fated to meet, the song played that day, reverberates long after. They find common ground in a passion for jazz and soon enough the sway of life sweeps them both up propelling them into unexpected directions. Their friendship is the center of the series and the chemistry between the two is a real delight.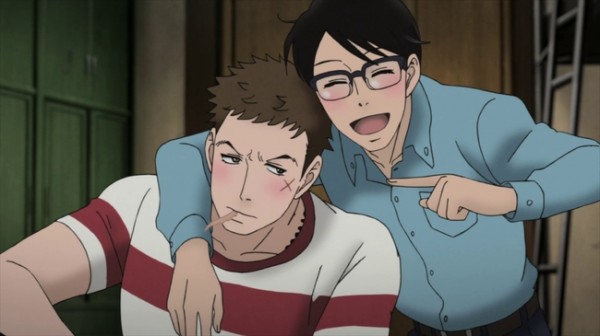 What makes Kids on the Slope so special though is not just its excellent characterization and rich setting, but the story it tells. There is a raw honesty to Kids on the Slope that transcends entertainment. Life is quite often very cruel, but it is every bit as beautiful. It is that sense of wonder at the heart of this series that makes it so remarkable. We see how these characters face the world and how the grow through it all. You can't know happiness until you know sadness, that is the notion Kids on the Slope embodies.
There is a worldly wisdom behind it all that we have come to expect from Watanabe anime and Kids on the Slope is arguably his most profound exploration of life to date. I am firmly of the belief that all good anime understand human emotion. That is Kids on the Slope's heart and soul.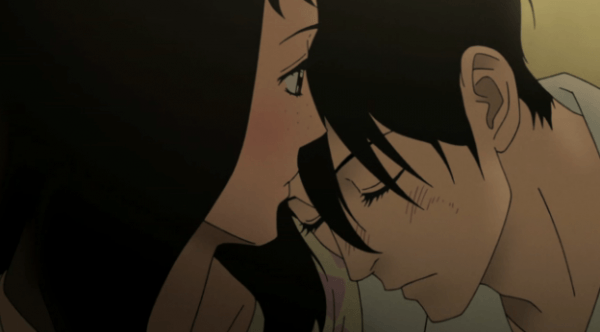 With a surprisingly fast pace, Kids on the Slope is a very reflective piece that treats youth much like a collections of memories, flashes of the past, echoes of days long lost. It feels very much like how one looks back on their youth, we remember the grand moments, the failures, the triumphs, the things that move us. Because of that, Kids on the Slope fits so much into any given episode without sacrificing any of its high notes.
Watanabe directs the series with nuance and subtlety that treats the audience with an appreciated level of intelligence and respect. Not everything needs to be spelled out and Watanabe understands that an action can say more than a thousands lines of dialogue if done right and done right it is.
It all culminates in an ending that provides genuine catharsis as an exclamation point to this series. While one song ends, another can always begins. No matter where life takes us, there is always hope that it will lead us back together. If jazz is the music of life, then life is all blues – filled with heartbreak, triumph, failure, sadness, happiness, anger, excitement, friendship and love. It is all of those feelings that make us who we are. That is what Kids on the Slope is really about, the way our youth and all that comes with it defines us. The exploration of that is what gives Kids on the Slope such an impact, anyone can relate to it – this is growing up.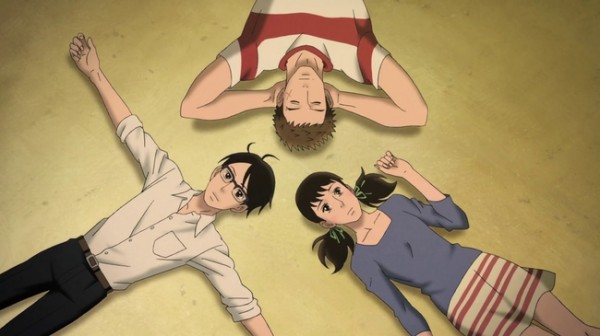 Kids on the Slope is the summation of Shinichiro Watanabe's career, poignant with a sparkle of hope that all these blues are worth it. He has done it again, Kids on the Slope is a true anime masterpiece and perhaps the anime he was always destined to make. No this may not be Cowboy Bebop, this is certainly not Samurai Champloo, but this is Kids on the Slope and that is just fine by me.
Visuals and Audio
Tezuka Productions don't work on many projects these days, so when they do you know it has to be something special. Of course that is exactly what Kids on the Slope is and Tezuka Productions along with MAPPA studio has gorgeously brought Kids on the Slope to life with a memorable art style that feels both nostalgic on anime's past all the while vibrant and fresh in ways that few are. The character designs are each unique and memorable in their own right, but the real star is the stunning Japanese landscapes that provide the anime with a sense of place and beauty that is simply breath-taking, a true sight to behold.
Of course being a series about music, the soundtrack is naturally excellent. With Yoko Kanno composing it was hard for it to be anything but excellent. The superb soundtrack features covers of jazz classics such as 'Moanin' and 'But not for me'. It also features a number of original pieces that perfectly supplement the series. Even in its quieter moments there is a slow burning revolution building underneath it all that amounts to Yoko Kanno's greatest anime soundtrack to date. Much like her work on Cowboy Bebop in the past, this isn't just a simple soundtrack, it is a truly brilliant record in and of its self.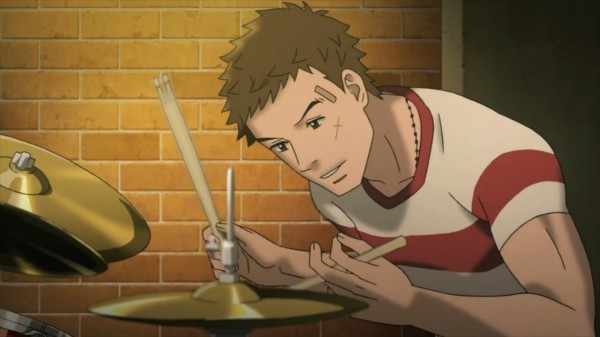 This particular release of Kids on the Slope happens to feature an English dub, which I must say does this series true justice. Chris Patton as Kaoru and Andrew Love as Sentaro are perfect in the roles and the chemistry between the two is utterly electric. This is definitely a case of an English dub that is every bit as good as the original Japanese audio.
Kids on the Slope is a delightful experience for the senses. It a pleasure of sight, sound and most of all – soul.
Extras
Hanabee's Blu-Ray release is absolutely astonishing to say the very least. The quality of the product overall is incredible and to add to that is several interviews that provide a greater level of understanding and depth of the series and its production. The two stand-out interviews were of course with director Shinichiro Watanabe and composer Yoko Kanno. There is also the usual special features to get stuck into in what is an overall perfect Blu-Ray experience.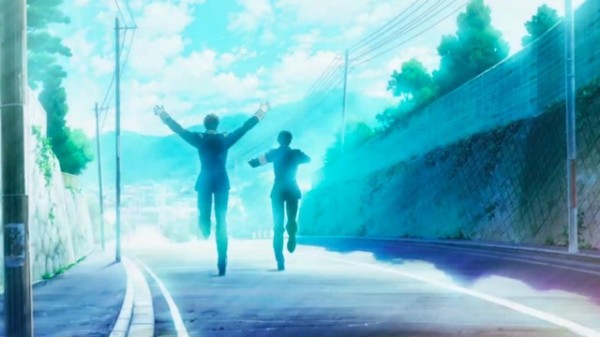 Overall
To sum up what Kids on the Slope means to me is no simple task. It is an exploration of life at its most simplest yet complex time. Growing up is never easy and getting old is not much fun, but that is what life is – unexpected, delightful, painful and sometimes even magical. Kids on the Slope much like Watanabe's previous works is an utter masterpiece. It is arguably one of the greatest anime of all time.
This isn't simply anime, this is life in moving pictures, the blues of it all – the melody of an honest heart and a warm soul. Kids on the Slope may not be perfect by design – nothing ever is – but it is a perfect experience and that is all that matters to me.

Capsule Computers review guidelines can be found here.