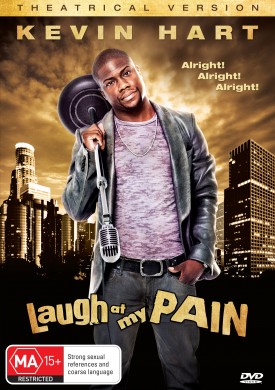 Kevin Hart: Laugh At My Pain
Studio: Codeblack Entertainment/Hartbeat Productions
Publisher: Beyond Home Entertainment
Format: DVD
Release Date: November 1, 2012
Price: $22.95 – Available Here
Overview
Kevin Hart's third stand-up special, Laugh At My Pain received a theatrical release in the U.S, garnering an estimated $15 million (although curiously, reports online state it's domestic gross as reaching approximately half of that). The comedian is one of the busiest in recent history, featuring in multiple films a year for the last half decade, and Laugh At My Pain is our first look at his childhood with it's semi-documentary style. The film will have you laughing, but will this DVD keep the laughter rolling until it hurts? Read on to find out.
Story
The first 14 minutes of the feature film takes a look at Kevin Hart's childhood neighbourhood in Philadelphia, and his origins as a stand-up comic. Kevin takes us through his days on the varsity basketball team at George Washington High School, introduces us to his family, shows us his favourite spot for world-famous Philly cheese steaks and gives us some insight on his first gigs as a comic and the advice he received. Among the speaking guests on this portion of the film are Kevin's childhood friends, the Philadelphia Department of Recreation's swim coach Jim Ellis (whom Terence Howard played in the film Pride, which was based on Kevin's swim team) and comedy pals Keith Robinson, Tu Rae Gordon and manager Dave Becky. This is a nice little spotlight on where Kevin came from and his roots as a comedian, and I always love learning of the backgrounds of these larger-than-life personalities.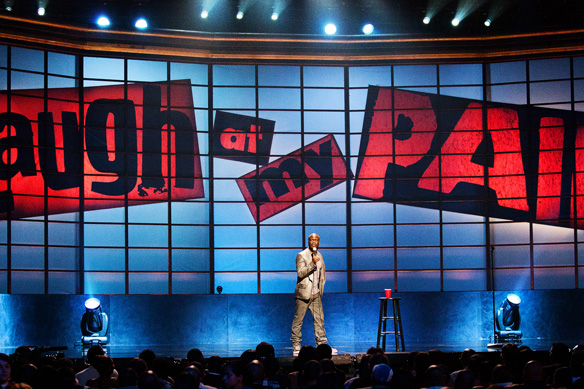 Things are on the up-and-up for Kevin Hart!
After that, the stand-up begins. Kevin's set only runs for about 49 minutes, which is surprisingly short, especially for a feature film. However, the opening and closing sequences – which I'll mention in a minute – do fill out the overall runtime. I still would have like some more time on the stage, as that really is the draw for the film. Nonetheless,  his set is very funny and deals, more than ever, with Kevin's real life family issues – notably, those with his formerly cocaine-addicted Father. After all, this is the inspiration for the title and the show; to laugh at his pain. The bits about his Father are also the best ones, with some very crude, but hilarious jokes made at his expense. As much as they are crude, they are also all based in reality; a slightly distorted retelling of stories that I did not believe upon my first viewing. But, as would later be confirmed by Kevin's Father himself in an exclusive Larry King interview, they are in fact the real deal. Henry (the Father) busting into a spelling bee "making crack-head noises", and yelling at Kevin to "spell the shit out these motherf**king words!", a perfect example of this.
As the show ends and Kevin descends from the stage, the film transitions from his stand-up to a skit that is a take on the Quentin Tarantino classic, Reservoir Dogs, called "The Plastic Cup Boyz" (don't ask why, I still don't know the answer). it's basically about an all-African American group of bank robbers, and it becomes quite apparent that they might just be the most incompetent bunch of robbers in history. The skit has it's moments, but is definitely not a home run. It also seemed weird to go from his stand-up to this…a very strange format, and unfortunately may just come across as filler, when I'm sure that a lot of effort was in fact put into it. The skit also gets intercut with a real Larry King interview with Kevin Hart's Father, of which he joins soon after. This leads into the film's credits, during which we see some extra footage of the interview, Kevin interacting with his friends and kids and him cracking jokes with his old school's staff. 
Visual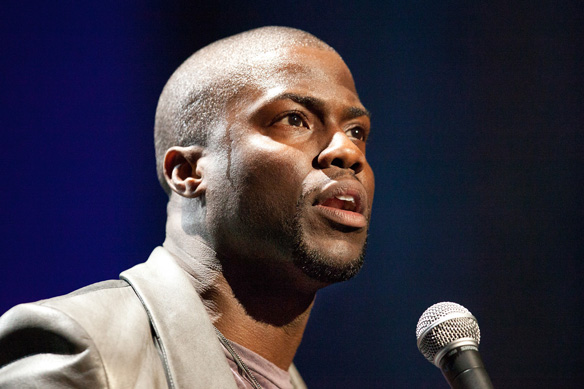 Working the room so hard, he's sweating bullets!
Now, I am not sure if the actual comedy special was originally shot in HD, but with this being a DVD, the transfer is obviously not. As far as I am aware, the Blu-Ray version of this release was cancelled, so this is as good as it gets too. The film is in a 16:9 widescreen format, but as just alluded to, the video quality can not be expected to be great. The first 15 minutes of the film is also shot in a documentary-style, using a relatively inexpensive video camera, so it is what it is. There are also these lines, or artifacts, at the very top and bottom of the picture. They reach about 40% across the screen and are fairly noticeable. All up, the video quality is a disappointment, but it is a comedy concert film, so thankfully it's not a genre of film that lives and dies by it's visual flair (like Transformers, for instance).
Audio
The audio is in 5.1 Dolby Digital, and sounds fine. Everything is clear and crisp, with the only takeaway being the actual audio capture of the stand-up event itself. The theatre that the stand-up was filmed in projects quite an echo. Of course, after a few minutes, your ears will get used to this fact, and there's not much that could have been done about the acoustics, so there's no point in dwelling on it. So, just to reiterate, this is not an issue with the DVD's audio quality, but is something worth noting. Otherwise, no complaints on the audio front.
Extras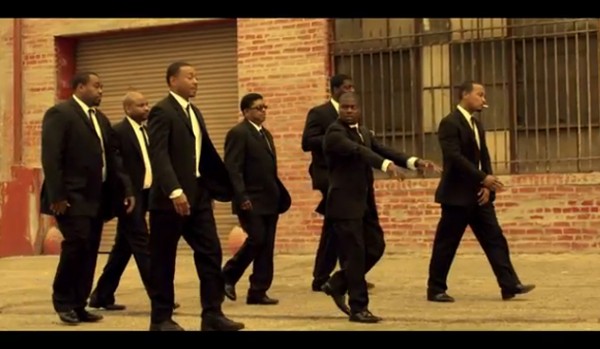 The Plastic Cup Boyz!
When I look to purchase a DVD, the special features are what hook me. I love seeing the behind-the-scenes footage, the deleted scenes, the blooper reel and listening to commentary. With a comedy concert, I don't expect nearly as much content…but, this release is extremely bare. "The Plastic Cup Boyz" is essentially the same skit that plays at the tail end of the film as it is, the uncut "Larry King Interview" expands upon the snippets that were used in the film, but don't add anything substantial to the proceedings, and the "sneak peak" – yes, peek is spelt wrong both on the box, and in the special features sub-menu – of the film "Think Like A Man", with an introduction from Kevin Hart himself, is hardly a special feature. Actually, on my copy, there was a write error and the wrong trailer was put on the disc. Upon selecting the sneak peek, I was treated to a trailer for this very DVD. I contacted Beyond Home Entertainment and alerted them to this error, to which they quickly responded that "the product manager has reviewed the item and there does appear to be an error, this will now be corrected".
Overall
The Kevin Hart: Laugh At My Pain DVD is a disappointing package overall, but for fans of his, the stand-up is what'll justify it's purchase. The full theatrical release is intact, which is what matters, but the special features are really bare-bones. Even being the only true extra on the DVD, the full Larry King interview does not add much value at all…half of it was played during the film anyway. Maybe I'm even being a little generous with my score, if only out of respect for the man who has been dubbed "the hardest working comedian today". Too bad there couldn't have been some harder work put into this DVD release.