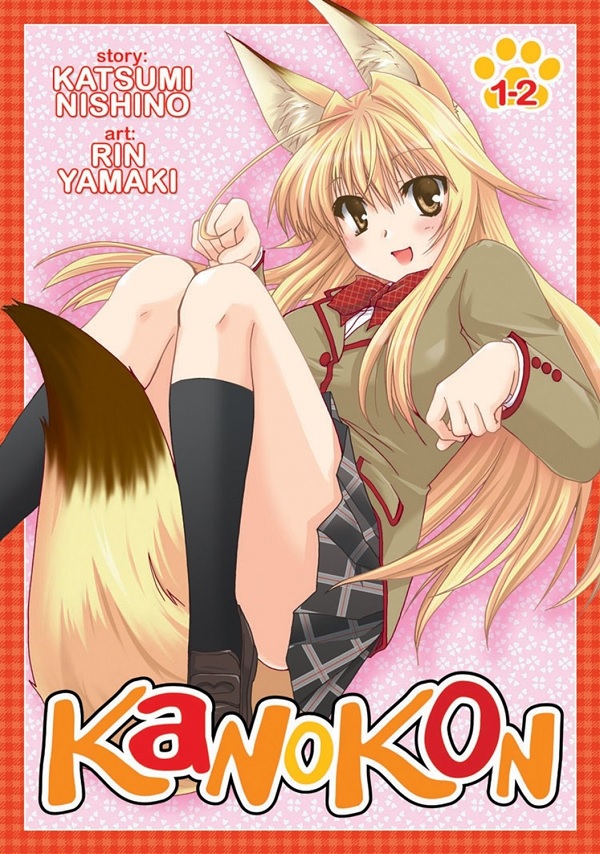 Kanokon Omnibus 1-2
Author: Katsumi Nishino
Illustrator: Rin Yamaki
Publisher: Seven Seas Entertainment
Release Date: April 16, 2013
Price: $18.99 – Available Here
Overview:
Those familiar with the Kanokon franchise may have heard of the series thanks to the anime series which was brought to North America courtesy of the now diminished anime publisher Media Blasters. However before that, Kanokon was a series of light novels published in Japan by Katsumi Nishino. Now these light novels were originally meant to be released in North America by Seven Seas Entertainment but after those plans fell through, the company has instead decided to bring the manga series over. Now with the first omnibus containing the first two volumes of the Kanokon manga hitting store shelves, is it worth your time?
Story:
The story of Kanokon follows a boy named Oyamada Kouta who has just transferred into a new school. While this is a common occurrence, Kouta has lived his entire life in the countryside where practically no one attended school. Because of this, he is initially awestruck by the amount of people that are at his new high school. Before he even has a chance to settle in, he is approached by a beautiful girl named Chizuru Minamoto who asks him to meet her in the music room after school.
Despite being warned of Chizuru's nature by his fellow classmate, Kouta meets with Chizuru at the music room where she suddenly confesses her love for him. While this would be surprising for any teenager, Kouta is even more surprised when Chizuru's hair color changes and she sprouts fox ears and a tail. When Chizuru reveals the truth behind the school and herself, Kouta chooses to accept her for who she is, but by doing so he has found himself in a new world full of dangers, including other students at the school, people from Chizuru's past and of course, Chizuru herself.
Kanokon Omnibus 1-2 contains the first two main story arcs of the series; the first mini-arc involves Kouta learning about Chizuru and becoming accepted by her "brother" and the second much larger arc dealing with an unruly group of yokai who also attend the school. A large number of characters are introduced and given a bit of development in these two arcs and it is clear that most if not all of them will be playing some role in later releases.
At first readers will likely be caught off guard by the fact that Chizuru falls head-over-heels in love with Kouta so quickly. However as the story progresses various elements of their relationship are explored slightly such as how innocent Kouta's heart can be, though it does feel as if their sudden relationship is rushed for the sake of quickly progressing the story.
Ultimately these two volumes manage to find a decent balance between plot development, action, and "lovey-dovey" romance. Not only does Kouta expand a bit as a character but the yokai world is explained a bit in these initial chapters. With the amount of characters introduced in these two volumes and obviously plenty more to work with, readers will likely be intrigued enough to see where this human and yokai pairing will go from here.
Artwork:
The artwork provided by Rin Yamaki for the characters in Kanokon ranges in quality and there are a few times throughout this release that the facial structures of the characters shift, but overall their designs remain relatively consistent. As for the characters themselves, Kouta is represented as smaller than average first-year highschooler and his reactions to the surprising events that occur around him are portrayed well on his face. Chizuru, being the main source of fan-service in the release and the main girl, is well-portrayed and designed well with clear-cut differences between her human and fox forms. As for the rest of the characters, they each have their own unique looks though it is worth noting that a few are a bit generic looking.
Outside of the characters themselves, most of the panels in the Kanokon manga are unfortunately quite empty. Even when some background art is added into a panel, it is usually very plain outside of one specific chapter in this release. This is unfortunate, though it does highlight that the characters should be the main focus of the readers' attention. As far as fan-service goes, there are a number of "panty shots" here and there but no actual nudity in the release and there is a nice balance between storytelling and fan-service.
As far as the translation of the manga and its effect on the artwork, thankfully it seems that nothing has been lost in translation. Wherever possible it seems that the Japanese sound-effect symbols were removed entirely and replaced with English sound-effects though certain ones were left in thanks to the amount of re-drawing that would be necessary if they were removed. It is also worth noting that outside of a small white border around some of the text directly overlaying a few panels of artwork, none of the manga's images have been obscured by black text bubbles or lost due to improper editing.
Extra Content:
When readers open the book up they are first presented with a color page of Chizuru wearing a yukata in her fox form followed by a two page color spread of Chizuru and Kouta that includes some of the side characters. Also included is another two page color spread of Chizuru in her fox form but in a much more provocative pose than before since she is barely clothed in this spread. Closing out the color intro pages is a simple color page of Chizuru in human form wearing a flight attendants outfit. These color pages are a nice inclusion and obviously are meant to please those who are fans of Chizuru and serve as a good introduction to the fan-service in the book itself.
Outside of the color pages there are messages from the illustrator Rin Yamaki describing the characters as well as messages of thanks for picking up the volumes in this omnibus. Closing this release out is an extra chapter involving Chizuru and a yet un-introduced character discussing her love for Kouta and a "World of Kanokon" section that explains a few of the terms used in these two manga volumes.
Overall:
Kanokon's first omnibus release helps introduce the reader to the main cast and the world of the series well enough by balancing plot progression and character interactions nicely, even if the main couple feels a rushed together. With plenty of humor and a good deal of fan-service, Kanokon introduces itself as a fun series that also has a fair share of supernatural action. While the artwork is a bit basic at times, the editing process has managed to keep all of it intact and it is nice to see a number of bonus color pages included in the release. With Seven Seas planning on releasing the Kanokon series in omnibus format such as this, readers will find themselves not only a deal, but plenty to enjoy within the pages of Kanokon Omnibus 1-2.
Capsule Computers review guidelines can be found here.