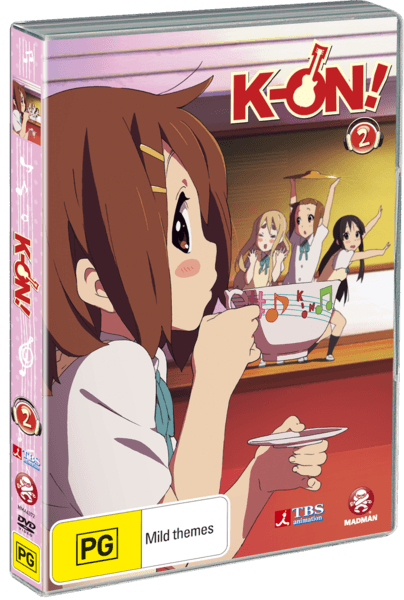 K-ON! Volume 2
Tag Line: The first performance!
Produced by: Bandai Entertainment
Run time:  100 minutes in 4 episodes
Language: English, Japanese
Genre: Slice-Of-Life, Comedy, Music
Release Date: 14/09/2011
Available for purchase at Madman Online Store ($49.95)
Overview:
K-ON! is one of those perculiar series, in which there is just something about it that you can't quite put your finger on. It's got that curious itch, that must be scratched, without any thought. It's a mystery as to what is that key factor in K-ON! that makes it so very compelling, is it the characters? Perhaps. Is it the story? Perhaps. What is it though that make's us drawn to these girls and their club?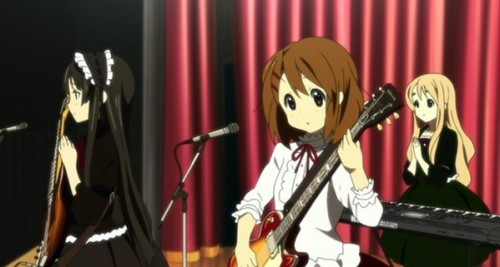 Story:
This volume of K-ON! has the girls continuing on from last volume which we reviewed, with the light music club on their way to their first performance. While this may seem like a trivial storyline, there is something underneath the story of these girls that makes it so enjoyable.
This volume in particular has excellent pacing that is both fun and relaxing. I get the feeling with K-ON! that it would be nice to watch on a rainy afternoon over a spot of tea. It's just a pleasant, relaxing series that will leave you free of all forms of tension. It is the perfect chill out show.
That is perhaps what makes this series so successful. The fact that it is just so fun and is just a good old wholesome watch. I guarantee you will leave this series happy. It's virtually impossible to finish this series without a smile upon your face.
I mentioned in the previous review of volume 1 that there is an over-arching theme behind this series, that being the theme of "belonging". That theme carries over into this volume. The light music club girls each find a place to belong in eachother and their joint venture to both learn music and well, get good at playing music, keeps them united.
There are some highlight moments such as the entire Christmas episode. An episode which would with out a doubt classify as "A Very Special Episode". It was simply the best episode thus far of K-ON! in my opinion and will be difficult to top.
All-in-all, the plot continued on at it's chilled pace that we have come to expect from K-ON! and the more power to it. It is the perfect speed for this series and would only benefit from maintaining it.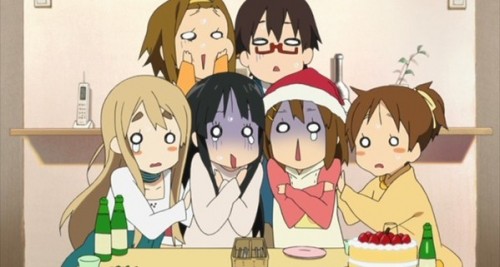 Characters:
The cast of K-ON! continue to mesh well together this time around, even more so than in the previous volume. The light music club girls are an absolutely brilliant example of character chemistry that is organic.
I personally believe the most emotionally engaging part of these characters is their connection. Music connects them and holds them together. Without their club, they have nothing. That is why they make music despite lacking skills, that is why they are drawn to one another. They need to belong. It's the heart and soul of each of these girls and that is what I feel is so relatable about their connection to one another. At some point each of us want to belong to something in our lives, these girls are in that point in their lives, that is how we relate to them.
Without it's characters, K-ON! would indeed be a baron wasteland without any semblance of a heart. Thankfully it has it's characters, the glue that holds this crazy thing called K-ON! together.
Artwork:
The art and animation is in great shape here, much like last time, with the music scenes incredibly well animated as the girls play their instruments the motion is near life-like in it's fluidity. It is sakuga anime at it's finest.
This volume does seem to have slightly more crisper visuals in comparison to the last volume but it's only a tiny slight, not really something you would catch easily.
It is a good job from the animation department in general, I look forward to seeing the music scenes each time they appear as they are so well animated it's just a joy to watch.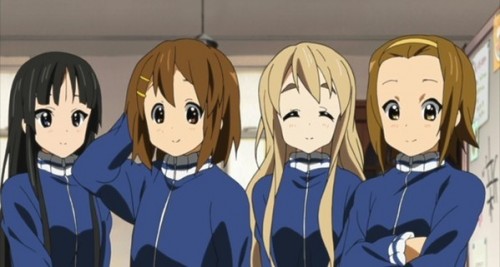 Audio:
Like the previous collection the audio is great. The songs are all fun and pleasant on the ear, not to mention catchy as hell. You will certainly find yourself humming the tunes subconsciously after watching this volume. I know I did, this time and last time.
On the other side of the coin, the voice work is another triumph in K-ON! I absolutely adore Stephanie Sheh as Yui Hirasawa, it's like a perfect match. She just portrays these sorts of characters so well (see Orihime Inoue), that I can not picture anyone else voicing her. Even listening to the Japanese audio, it just did not feel like Yui to me. It needed to be Stephanie Sheh. But that's not to say the Japanese voice actors aren't good. They are great in their own right. But I just have a certain fondness for the way Stephanie Sheh gives life to a character.
It's hard to find a series that has as good a soundtrack and voice work as K-ON! I'd go as far as to say that K-ON! is the benchmark in this field.
Special Features:
It astonishes me how much Madman manage to fit into such a small package. It is always surprising especially when compared to other anime collections out on the market that lack any sort of special features what so ever.
K-ON! is one of Madman's small packages that pack a huge punch. We have the usual trailers on disc, alongside an interview with Christina Vee (the voice of Mio), a little featurette called Fuma Fuma Time and even music videos. This volume is utterly bursting at the seams with extras, depsite being only 4 episodes in length. It's an amazing feat by Madman here.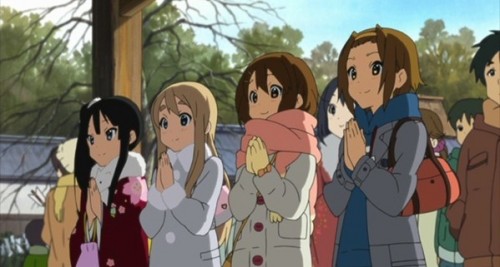 Conclusion:
K-ON! is a series that is as enigmatic as it is compelling. It's a series you will love to death, but will find difficult to pin-point why. It just has that x-factor that is so rare to come by in anime these days. To miss out on it would be to miss out on a true experience in animation. I wholeheartedly recommend the second volume of K-ON! If you have yet to purchase the first volume, do so and then purchase this one while your at it.
I give K-ON! Volume 2: