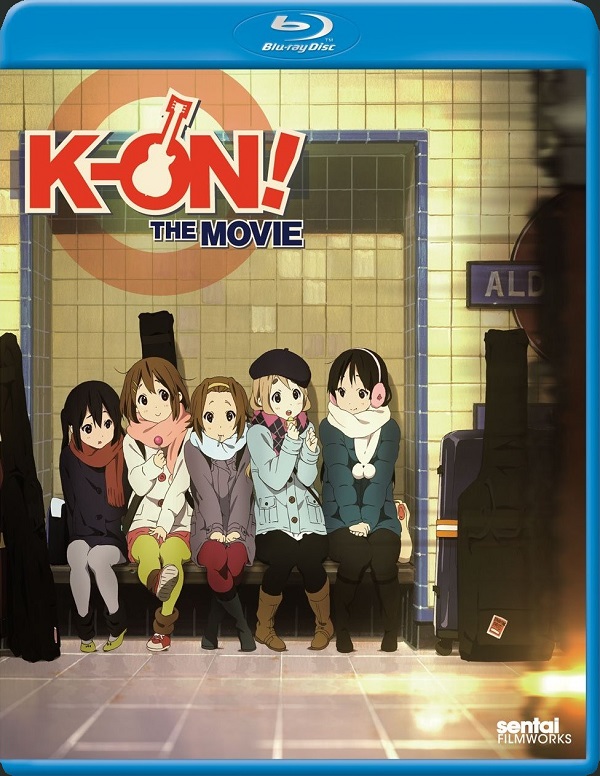 K-ON! The Movie
Studio: Kyoto Animation
Publisher: Sentai Filmworks
Format: DVD, Blu-ray (Reviewed)
Release Date: May 21, 2013
Price: $39.98 – Available Here
Overview
Every good thing must eventually come to an end and even the most popular series must come to a finish. The K-ON! anime series took the industry by storm back when the first series was released in 2009 and after releasing two successful anime series, it is time for most of the girls in After School Tea Time to graduate. However such an occasion deserves a movie of its own and now that Sentai Filmworks has brought K-ON! The Movie to North America, is this cinematic finale worth your time?
Story
The end of the school year is fast approaching and the four senior members of After School Tea Time, Yui, Mio, Tsumugi and Ritsu, have already settled into the senior slump where they are waiting for their graduation to come around. Each of them have been accepted into the college of their choice so as far as academics go, this laid back group has little to worry about.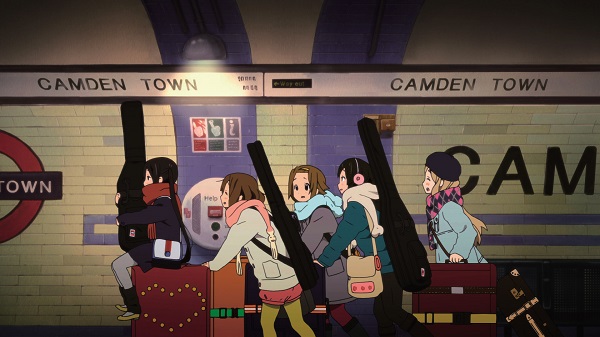 That is of course until they realize that their junior club member Azusa will be left behind in the Light Music Club by herself after they all graduate. As the four senior girls try to come up with a gift to give Azusa before they leave, they decide to go on a trip with the entire club as one final hurrah before graduation. After a bit of comedic planning, the club's pet turtle makes the choice for them and the girls are off to London for a five day vacation.
Once the girls arrive in London, they experience a number of your standard vacation antics, only made worse by the fact that barely any of the girls speak English properly (though this is an English dub so expect a bit of disconnect here) so this places them in a number of awkward situations due to the language barrier. As the girls spend time in London, the seniors continue to come up with a parting gift for Azusa and while their final decision is a bit predictable, the deliverance of said gift is a poignant bittersweet moment that ends the movie on a high note.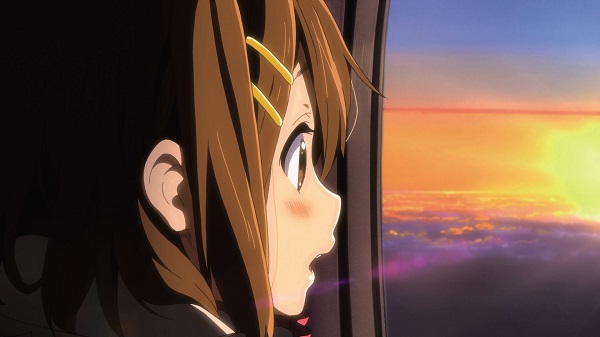 Being a movie about K-ON!, there isn't much of a plot to be concerned with here and instead the movie focuses mostly on the bonds that these girls share and London is simply a new area with new situations for them to experience. While, as I mentioned earlier, a lot of the mishaps they get into are your standard vacationing in a foreign country accidents but they still are rather humorous given the fact that these characters have been built up with fans for two whole seasons already.
All in all, this film provides a successful goodbye to a series and cast of characters that fans have enjoyed through two anime seasons already. It is light-hearted, has a number of music pieces and hits just the right emotional notes to deliver a successful farewell that feels like it goes out to not only Azusa, but fans of the franchise at the same time.
Visuals
One term that started to be tossed around a lot back when K-ON! became very popular was the term "moeblob." It likely occurred before this series, however it was the first time I witnessed it being referenced to any show and while this does mean that the characters were designed to be overly saccharine, for a show like K-ON! this isn't a bad thing. In the movie the character designs remain largely the same that we've seen throughout the anime series, just of higher quality and in new outfits.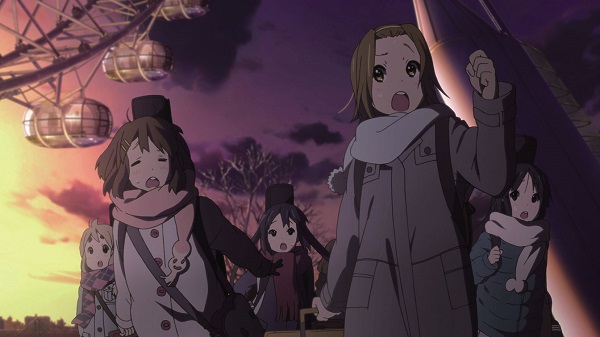 Interestingly enough, the most noteworthy part of K-ON! the movie is how detailed parts of London are. Perhaps thanks to a bonus feature I will discuss later, many of the areas in London are nicely detailed and perform a great backdrop to the girls as they explore many of the most popular and famous landmarks of London.
Audio
Sentai Filmworks provided both the original Japanese voice track as well as their own English dub to the series with this release and with how this show features the girls traveling to London, it actually warrants watching the series in both tracks for equally enjoyable experiences. The English track by Sentai is nicely handled and it is a nice touch that the girls struggle to understand the various British slang and thick British accents that the English cast has given the local London population.
As for the Japanese voice track, viewers are presented with English speaking London residents and Japanese girls struggling to understand even the smallest phrases. At their best a few of the girls can speak English well enough to be understood but a lot of the humor comes from them trying and ultimately failing miserably to get their points across the language barrier. This creates an exceptional experience that deserves to be watched twice as both the English and Japanese tracks have a unique flavor of their own.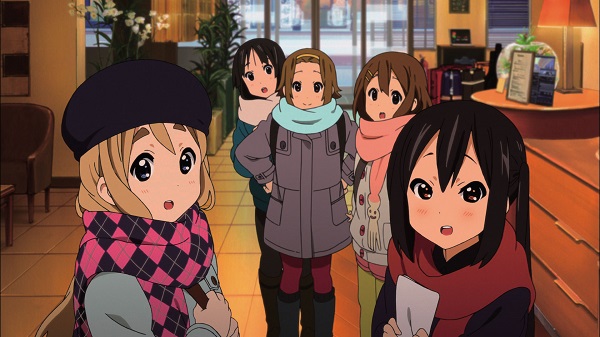 Being an anime about a music club, there are a decent number of music pieces throughout the movie and Sentai has chosen to stick with the original Japanese voice work for these songs and have provided English subtitles for them. This is probably a wise decision as these songs are nicely handled by the original cast and are enjoyable to listen to, even if they are spaced out a bit too much.
Extras
K-ON! The Movie comes with a bevy of bonus features, enough that they actually surpass the length of the movie itself. There are your standard inclusions such as a clean opening and ending theme, Japanese trailers, teasers and television spots but alongside these are some exceptional video features that have been given English subtitles.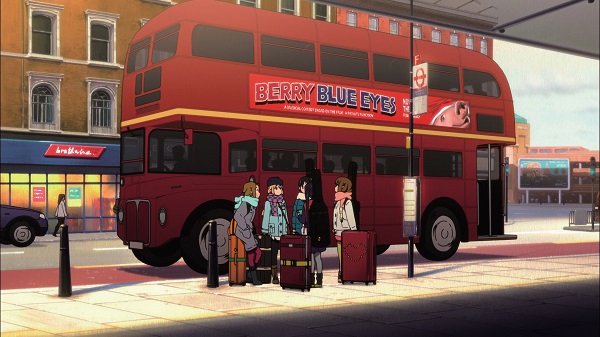 These include a Good Luck Music Hall promotion, the movie premiere event in Japan, the Japanese voice cast arriving in a double-decker bus to provide a press conference at TBS and two more bonuses. These bonuses are a dubbing investigative report which features interviews with the main voice actresses of the series just after a dubbing session and a special half hour feature that follows Director Naoko Yamada to London as she explores London and experiences the city first hand to create events for the girls to experience in their trip. This is the most noteworthy extra as it shows the amount of work the director put into making the movie authentic and it is interesting to re-watch the movie again to see how many of the events she experienced were implemented into the film.
Overall
K-ON! The Movie has everything that fans of the series could ask for. It is light-hearted and brings the girls to a new area to experience brand new things which results in a number of humorous situations and misunderstandings as they try to plan a present for Azusa and deliver a number of musical performances throughout their trip. While some of the situations they end up in are a bit stereotypical, the movie provides a great ending that will satisfy fans of this popular series.

Capsule Computers review guidelines can be found here.