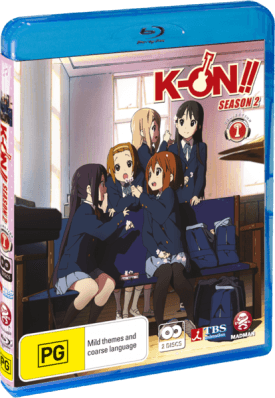 K-On!! Season 2 Collection 1
Studio: Kyoto Animation
Publisher: Madman
Format: Blu-Ray (Reviewed), DVD
Release Date: September 5, 2012
Price: $64.95 – Available Here

Overview
Season two of the slice-of-life/musical comedy anime K-On!! comes to Blu-Ray and DVD almost two whole years after it's first airing. Adapted from the original manga, written and drawn by Japanese artist Kakifly, K-On! Season 1 proved a great success, and the series' signature opening and ending themes' singles all debuted in top 5 positions in the Oricon music charts in Japan.
K-On!! Season 2 Collection 1 contains the first 13 episodes of the, long-form, 26 episode second season. Fans who caught the Season 2's TV run will undoubtedly show bias in purchasing this 2 disc blu-ray set, but is it worth it for those who are uninitiated – like myself (although I'm surely part of the wrong demographic!) – and fans who've just seen the first season? Read on to find out in my review!
Story
In this 2nd and final season, the popular and notoriously light and fluffy show continues to follow the antics of the Sakura High light music club, and while the main characters are getting older, the series still appeals to a primarily young and teen female audience. Lead guitarist and vocalist Yui Hirawasa, bass player Mio Akiyama, keyboardist Tsumugi Kotobuki and drummer Ritsu Tainaka have started their senior year at Sakura High. Although this should prove to be an exciting time for the group, the girls realise that their youngest member, rhythm guitarist Azusa Nakano – who is still a junior – will be the remaining member of the light music club should the club cease to expand before graduation, likely getting cut from the school budget.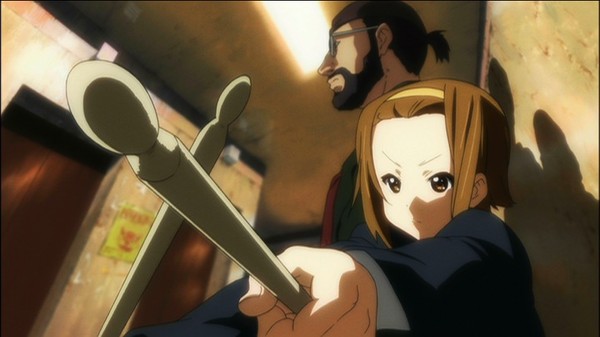 And so starts a seemingly futile campaign to entice others to join the light music club. This is the main story focus underpinning most, if not all, of these 13 episodes – some more heavily than others. The season starts off on a bad note (genius, I know) for the girls as, even after a rousing performance at the school's freshman reception, the door to the music room did not greet any new visitors or prospective band members. Fast forward after a field trip to Kyoto that we see in episode 4, episode 5 shows Azusa, who stayed behind, hanging out with Yui's sister Ui and their mutual friend Jun Suzuki. It's at this point that the seeds are undoubtedly planted for an eventual expansion of the light music club's numbers when the three Juniors have a quick jam session. Up until and including this point in the story the girls were unsuccessful in finding new members for the light music club, however it would be safe to say that the episode's events could indeed be foreshadowing the future.
Featuring only the first half of the 2nd season, Collection 1 does not portray many important developments in the overarching story, leaving the important stuff for Collection 2. Most of it is cutesy, girly, disconnected fluff, and although ultimately inconsequential, it will make you laugh and smile with a certain charm constant throughout. A nice moment involves a Summer Festival which the girls attend, that reiterates the motif of friendship and youth as the girls connect on common ground – their love of music – and enjoy and treasure their time together with graduation on the horizon. The collection does end with promise after Jun starts to sway on an earlier decision to not join the light music club.
Visuals
Kyoto Animation have done it again with their great, distinct visual style and well established and detailed characters and backdrops. They're probably one of my favourite studios for it as I just love the aesthetic. And in widescreen, 1080p high definition, the detail really shines through. The instruments featured are very accurate in their presentation, with Zildjian logo on the drum's cymbals and the flawlessly recreated guitar pickups for instance. The use of colour is also very effective, with it being drained from a character completely if they are feeling scared or worried; it really helps portray those emotions their state of mind.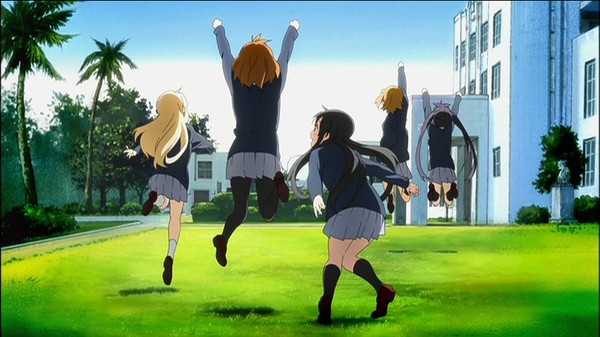 The one criticism I could levy would be of the character designs themselves. To me, there isn't much to set the characters apart from each other. Although that can be excused as being the drawback of having them all in school uniforms, which is a must for the story and setting, there still could have been a few more unique visual aspects added to their designs to further individualise them. In fairness, that's a criticism that should be placed on the original manga and not on any faithful adaptation, but it's just something I thought worth mentioning as a newcomer to the franchise.
Audio
The first thing that struck me was the silence of the main menu, which, for a series heavy on the theme of music, was quite puzzling. Regardless, there is usually some sort of background music playing in a menu for any DVD/Blu-Ray release so this was quite a strange omission. The credit roll for each episode is also silent, which I found equally weird. Of course, these aren't real issues, and barring those two instances, the audio on this collection is in the lossless DTS-HD Master Audio format, and sounds very good.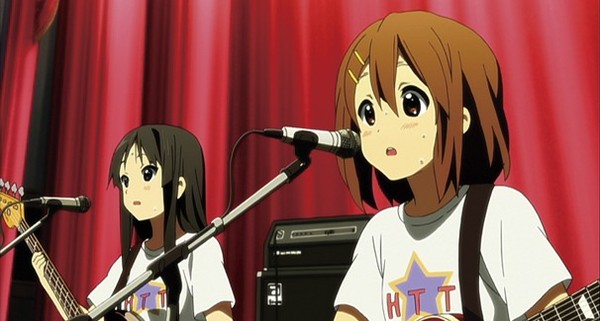 In the main menu and pop-up menus is the option to flip back and forth between the original Japanese audio track – with English subtitles in yellow – and the English dub. This swap-over even works in the middle of a sentence of dialogue, not requiring or inciting a pause or brash transition of any kind. Diehard anime fans prefer the original language track, but I have to say that the English dub is not unbearable on K-On!!. Whatever your preference, you're good to go. The music featured in the series is also produced very well, and I think that by now most will be familiar with this fact.
Extras
Now, Anime releases are, generally, not exactly chock full of special features, but this Blu-Ray is bare! There are none of the first disc, with all of them placed on the second. There are four extras, although they barely qualify to be called that. There are clean, textless videos of the opening and ending sequences, and also a video package of trailers from Sentai Filmworks releases, plus the disc credits. That's it.
Again, I didn't expect much, but most discs at the very least include commentary, even for just a single episode, and/or an interview with the project's writer/artist/voice actor…anyone! The lack of extras is very disappointing and drags down the overall rating of the release.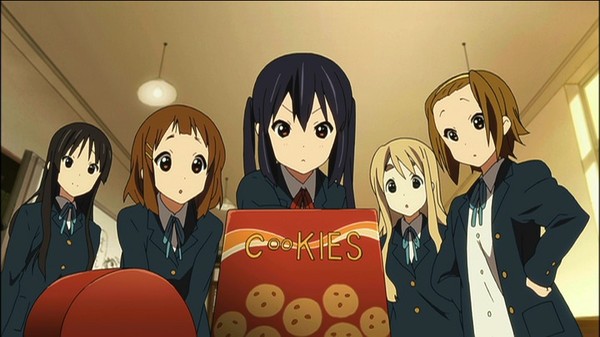 Overall
For fans of the first season in particular, these 13 episodes will satisfy them and excite them for Collection 2. For those who've seen Season 2 on tv during it's original run, they will be happy to know that the video and audio quality hasn't suffered in the transfer and is still very good, with no obvious issues. The ability to swap between Japanese and English speaking audio tracks, practically on the fly, never goes unappreciated. For the guys out there, K-On!! may not be for you, however it is still a charming, although somewhat aimless, slice-of-life story. What really brought the release down, and will do for most anime releases unfortunately, is the common void left in the special features. However, K-On!! Season 2 Collection 1 is a must have for true fans, despite the absence of any real extras.