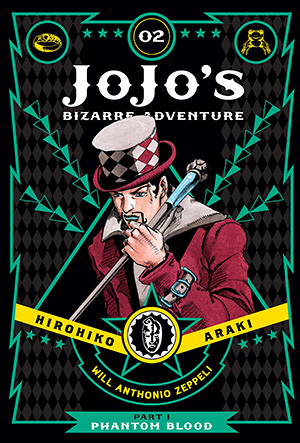 JoJo's Bizarre Adventure: Phantom Blood Volume 2
Author: Hirohiko Araki
Artist: Hirohiko Araki
Publisher: Viz Media / Madman Entertainment
Release Date: June 10, 2015
Price: $19.99 USD – Available Here / $28.95 AUD – Available Here
Overview
Last time on JoJo's Bizarre Adventure: Phantom Blood, Dio Brando was revealed for the person he really is. Jonathan Joestar is not going to let him get away with his actions. Unfortunately, although JoJo is strong, his opponent has superhuman strength. The first volume features well-written psychological elements, a lot of blood and gore, a realistic representation of Britain during the late parts of the Victorian era and engaging characters and motivations. With such a fantastic start to the series, does this volume maintain the same standard of quality, or perhaps even outdo the first volume?
Story
The police officers put several bullets into Dio's body. JoJo realises that his father has been stabbed with a knife. On his deathbed, Lord Joestar gives JoJo his mother's ring. A lot happens in just the first chapter of this volume, and there is a whole lot more to come. One of the officers reveals that he had the chance to put Dio's father in prison for the theft of the ring, but Lord Joestar did not file any charges against Mr. Brando. Lord Joestar generously confirmed Mr. Brando's false claim that he gave him the ring during the accident several years ago. The person from the bar that accompanied Mr. Brando that time confirmed that Mr. Brando stole the ring, but Lord Joestar felt sympathy towards Mr. Brando due to their both being born into poverty. He did not want to allow him to be sent to an island prison. In fact, he even adopted Dio knowing that Mr. Brando was a criminal. The officer recounting all of this knows that Lord Joestar would not have adopted Dio if his father had been sent to prison. Unfortunately, as is the case in novels set in the Victorian era that were also written during said era, hindsight is no remedy to a fatal situation. Lord Joestar finally dies after acknowledging that he was too hard on JoJo.
Dio Brando is not actually dead; he has become a vampire-zombie hybrid after putting on the ancient mask. What ensues is a violent bloodbath that results in the death of many police officers. They also come back to life. Refusing to give in, JoJo takes on the responsibility to defeat Dio himself, despite the protestations of Speedwagon. Even after JoJo sustains several serious injuries from the unnaturally powerful Dio, his resolve to kill Dio leads him to go to extreme lengths to win the fight. Risking his body and life, he sacrifices everything and emerges victorious.
JoJo is now recovering in a hospital that was run by Erina's father. As it happens, the nurse restoring JoJo back to health is none other than Erina herself. Even after several years have passed, he still cares about Erina. That fact unfortunately makes him decide to leave her behind without telling her anything when he embarks on his mission with his new ally, Will Anthonio Zeppeli. Baron Zeppeli takes on JoJo as his student and teaches him many useful techniques that will be necessary to defeat their enemies, so the time spent watching JoJo recover is a brief diversion.
Phantom Blood's setting provides the opportunity for Hirohiko Araki to portray historical figures and adapt them for his own purposes. Araki takes this opportunity and adapts the character of Jack the Ripper. He not only portrays what history recorded but also adds new elements to his life. Jack the Ripper here becomes a part of Dio's growing army, as do the merchant from London that was seen in the first volume and a couple of non-existent historical figures. These new characters, Tarakus and the Dark Knight Blueford, are interesting and powerful new enemies. The person the two protected when they were alive, Mary Stuart, Queen of Scotland, is a real historical figure, and the historical details about her are accurate. People may actually learn something from reading this volume, making this volume even better that it already is.
Artwork
Hirohiko Araki's artwork is at the same high level of quality as it was in the first volume. The characters continue to be highly detailed, as well as extremely muscular in the cases of JoJo and Dio, and the designs of the new characters are unique. Baron Zeppeli's design is rather unusual for a shounen manga, but not in a bad way. Backgrounds and outfits are still highly detailed, helping to give the sense of a real, complete world. The translation is also great. The grammatical and punctuation errors that were present in the first volume are not present here, helping to make Viz's hardcover edition worth the price. One chapter in this volume is partially presented with an orange tint, and the use of colouring helps to add some depth to the story. In particular, it gives Erina's expression when she is first reintroduced a more life-like appearance, one that a simple black-and-white drawing might not have done as effectively.
The violence and blood in this volume will undoubtedly be repelling to some readers. Dio is not violent towards girls or animals in this volume, at least, but faces can be seen melting frequently throughout the volume. For those who enjoy gruesome and bloody content, this volume is sure to please.
Extra Content
As with the first volume, two pages of extras are featured at the end of the book. The first features a black-and-white copy of the illustration of Baron Zeppeli from the front cover, along with what little details are currently known about him. The second page presents Hirohiko Araki discussing the character of Will Anthonio Zeppeli, explaining such things as how he came up with the idea for the character's name.
Overall
This volume rises above the bar of quality that Hirohiko Araki set with the first volume. With an engaging plot, interesting new characters, excellent artwork, the brief return of Erina, the presentation of both real and fictional historical figures and the unrelenting blood and gore, this volume is even more engaging than the first one is. The next volume brings with it the end of the Phantom Blood arc, and based on the way things are going, it is sure to pack at least as much of a punch as this one does.
Capsule Computers review guidelines can be found here.