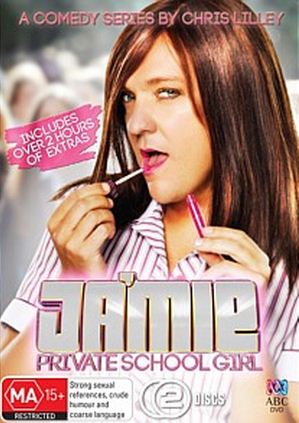 Ja'mie: Private School Girl
Studio: Princess Pictures
Publisher: ABC
Format: DVD (Reviewed)
Release Date: 26th November 2013
Price: $19.99 (Until 31st of December) – Available Here
Overview
Chris Lilley is an Australian actor, comedian, television producer and musician who, among other things, really shot to fame with his comedy/mockumentary series "We Can Be Heroes". Coming soon after the release of We Can Be Heroes, Lilley began working on another series quite similar to that titled "Summer Heights High", a great deal of Australians enjoyed that series very much with the bulk of its audience being in high school, I saw this first hand considering I was in high school at the time. Lilley's popularity and fame continued to grow and grow as he went on to make "Angry Boys" and now his latest "work"; Ja'mie: Private School Girl. I don't know exactly why people all over the country love this man, maybe it's his crazy characters, maybe it's the fact that he plays them himself, maybe it's because of the heavy stereotyping within his "comedy", whatever it is people love it and I don't think it will be coming to a close any time soon.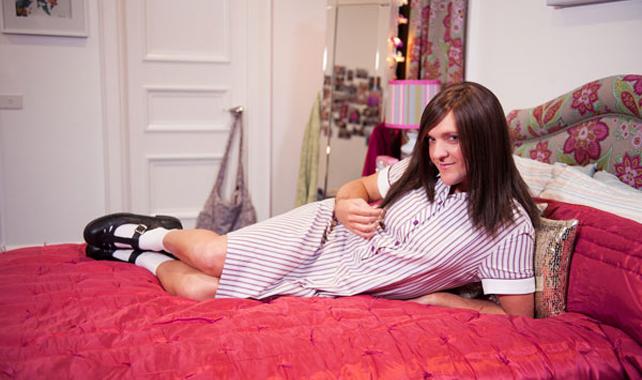 Story
As you can probably already tell by the title, the story revolves around the character of Ja'mie King, a rich, private school girl with a serious lack of respect, a bad attitude and a kind of fake demeanour you can only really see on-screen, at least, I hope you could only ever experience it on-screen. It basically follows her, her friends and her family during the last few months she has at school. We see her reign as "queen bee" come to a close as we witness her and her group of friends thrown into turmoil.
A fair bit happens within the six-episode series; high school boys are thrown into the mix, rivalries are made, friends become enemies, enemies become friends and it all ends up boiling down to the Hillford Medal, an award Ja'mie has been working towards for her entire high school life. As usual I wont get into detail about what exactly happens because, if you're interested in this release, it is one that you'll definitely have to experience first hand and, while I didn't quite enjoy it, I can imagine the comedic side of it all will come through so much better than me explaining to you here.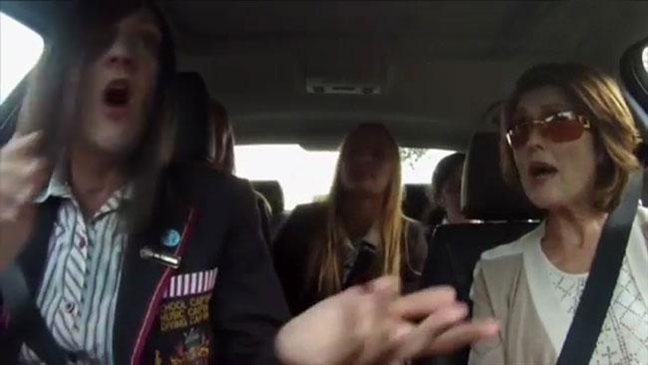 As I only just mentioned; I didn't enjoy this all that much, I found the comedy within the storyline to be extremely distasteful, racist, disrespectful and actually all around annoying, it just wasn't my "cup o' tea" to say the least. I'm not usually the type of guy to take comedy too serious and considering I'm a fan of comedy series' like South Park I still stand to that, it was just something about this series that got under my skin. It wasn't my type of comedy so most of the jokes made within it simply didn't land but I can honestly see why people would enjoy this, I couldn't at first but I took the time to sit back and just contemplate before I wrote this review. I've been told, and I can imagine, that this series is extremely popular in schools and while kids really shouldn't be watching things like this, I do see why they would and I do see what they would enjoy about it.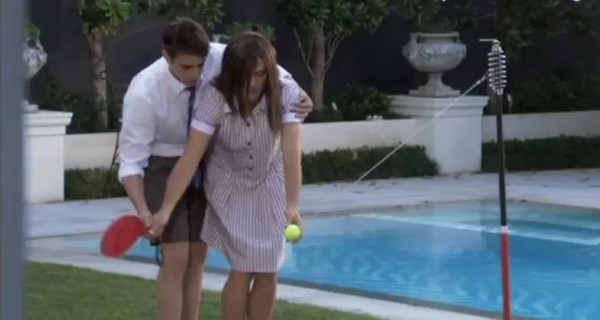 The separation of groups within a schoolground, the "bitchy" girls, the boys school down the street, it all makes sense to a teen in high school, putting myself in that situation I guess I could see myself finding some common ground with the series but having been out of school for what seems like a great deal of time now I suppose if just become to detached from the world I spent so much time in. Considering it is centred around a group of girls I can see the female audience being the more dominant one and I don't say that out of sheer speculation, that too has come up in conversation with people about this series. Despite not enjoying the characters nor the comedy I did enjoy a few little things which proved to me that Chris Lilley wasn't just this odd and quirky comedian that loves to play "dress-up", it showed me that the man is actually quite smart and that this whole series can be looked at in a second, more intelligent, light.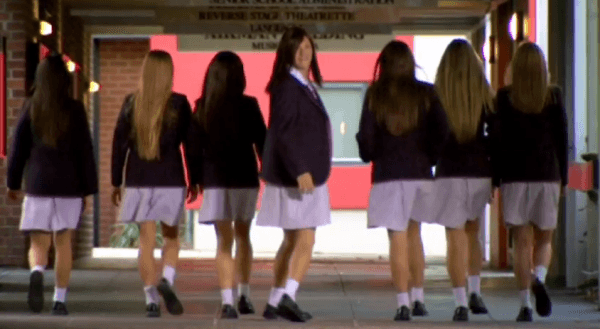 None of the more intellectual digs were at the forefront, possibly on certain occasions if you actually look and listen to what's happening in front of you, certain one-lines and scenes where you realise there's a whole other layer to what seems like an idiotic TV Series for teenagers. The greatest example would have to be when the main character Ja'mie mentions, while going through psuedo-depression; "I started taking Mum's anti-depressants…", obviously I'm paraphrasing but can you already see where I'm going with this? Despite the fact that Mrs. King lives in a beautiful mansion filled with the likes of things the rest of us could only dream of, she still has to deal with the constant fighting of her duaghters, the smart-arse and demeaning attitude of Ja'mie and the fact that her husband is always away on business trips with his incredibly attractive assistant. It's gotten too much for her and, simple put, she's depressed, whether or not Lilley intended for this to be delivered in such away is still a mystery but I'd like to believe this series is smarter than it seems.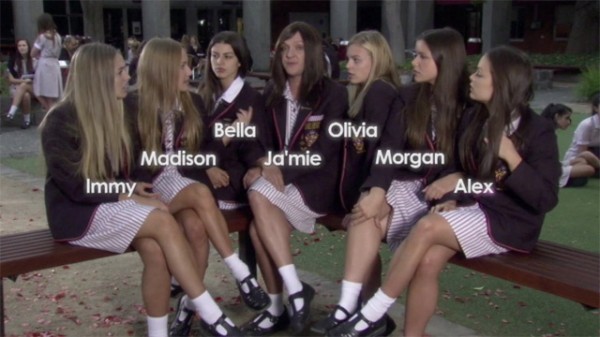 Audio and Visual
What I found to be great about Ja'mie: Private School Girl was that, not only did Lilley create the story and the characters but he also did a great deal of the music, directed a great deal of the scenes and basically overlooked the entire production to make sure he had it right, a lot of dedication goes a long way. Both the audio and the visuals were done to an incredible degree, it was all very professional and the "mockumentary" feel that the entire series had, I feel, suited it well, at least that way whether you liked it or not you realised the series didn't take itself too seriously yet still wanted to keep at least a shred of integrity as a show.
Lilley employed the use of an orchestra through a fair bit of the series that, once again, suited it to a tee. It was the life of a rich girl who was like this booming force throughout the entire school so, as you can imagine, an orchestral sound is a perfect symbol for what she is. Having is be a "mockumentary" is possibly the best decision the production team could have made, the way it felt professional in an unprofessional way made for some incredibly realist shots, having a group of students walk through a "scene" to take the focus away from the main characters only for a short seconds is a great example of how that type of camera work did well.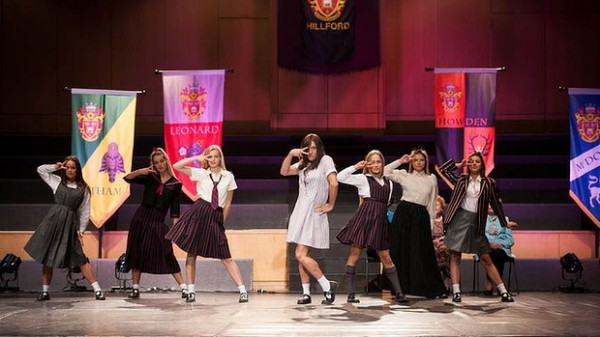 Extras
The extras came in an abundance with this release having over two hours of great behind-the-scenes footage that really gives you a greater feel for the series than first thought. With deleted scenes, bloopers and a behind-the-scenes featurette the release almost doubles in value and even if you're not a fan of the actually series like me you'll still enjoy all the extras. You realise how much time and effort was put into even the smallest aspects of the series, the music, the camera shots, everything really. It's a fantastic edition to a series like this because, considering it's only six episodes, people who purchase this release will be wanting a little more bang for their buck and, with the addition of so many extras, that really what they're going to get. I'll give props to Chris Lilley and the folks over at Princess, Pictures and ABC; the addition of so many extras really put them over the line for me.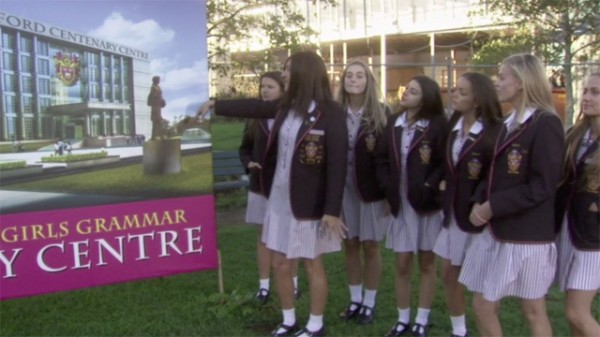 Overall
To put it as simply as possible; the series is great if you're within the obvious target audience. I can't imagine people NOT in high school to absolutely love this release but I can imagine those IN high school to be all over it. The comedy is very lewd and crude, oddly enough though I wasn't into it despite my love for such types of comedy, I felt like it wasn't relatable and the jokes could've landed a lot better but I suppose that's half my fault for really not being into it. Clearly this man and his works are much loved because he continues to make them over and over again so there's deffinitely an audience for it, I just don't suggest you pick it up for the sake of picking it up, I also suggest you don't go into it just because you like Australian Comedy, like I've mentioned; it's a great series for a specific type of person so make sure you do your research before getting into it.

Capsule Computers review guidelines can be found here.