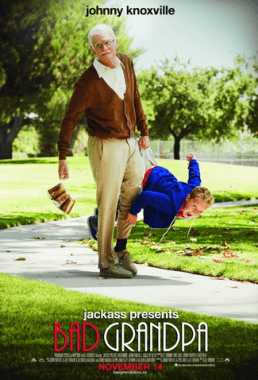 Jackass Presents: Bad Grandpa
Studio: Paramount Pictures
Publisher: Paramount Pictures
Format: Cinema (reviewed at Event Cinemas George St.)
Release Date: Out Now – Buy Tickets Here
Overview
Director, Jeff Tremaine gives viewers another mouthful of outrageous comedy and taste of real-life pranks on screen in his new release, Jackass Presents: Bad Grandpa. Only from the Jackass franchise, would you would expect that kind of absurdity in the form of hilarious and dangerous stunts. Jackass fans will notice a distinct change in direction and character for lead star, Johnny Knoxville; now an 86 year-old Irving Zisman at his prime. Although, it's never a straightforward ride with Jackass films and complications take form, each time leading towards an entirely new experience. In this film, we see two unlikely companions; Bad Grandpa and his 8-year old grandson, Billy (Jackson Nicoll) journey together from Nebraska to North Carolina in one hell of a hidden-camera road trip. However, we must determine whether the movie exceeds past shits and giggles and offer fans a new Jackass adventure?
Story
The story begins with Billy, a young boy who aspires to be a fisherman. Why? Well we find out that Billy's mother, Kimmie is struggling from breaking free of her drug addiction and has just violated her parole. Perhaps, Billy wanted to reel her in to safe waters with his fishing line. On the contrary, Irving is relieved to discover that his wife, Ellie has passed away – "I thought she'd never die". This must be because of his desperation to be a free man and celebrate with Leroy (reference to genitals). As most men know, freedom comes at a painful price if you let your penis control your actions. Irving learns this fact early on, courtesy of the vending machine.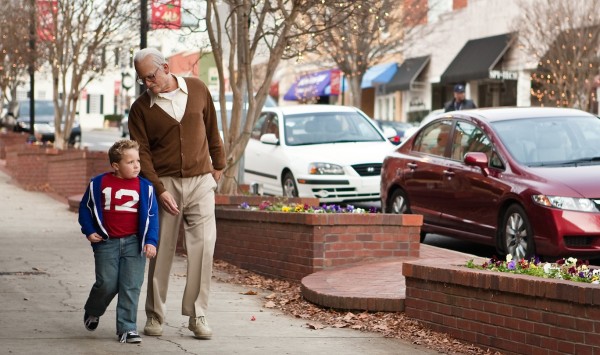 The first turning point within the film arises at Stroud Lawrence Funeral Home, where Irving's mourning speech and funeral service is rudely interrupted by Kimmie and Billy. Due to his daughter's scheduled incarceration, Irving is forced to look after Billy and return him to his "d-o-u-c-h-e" of a father in North Carolina, within the next 2 days. To make matters worse, Irving still needs to dispose of his beloved in the (unusual) burial site she wanted. Logically, Irving stashes his deceased wife's body in the boot of his car for the road trip.
Once the journey begins, we see Irving struggle with accepting the terms of transporting Bill (and his attempt to post him off as cargo to North Carolina). Despite unsuccessfully getting rid of Billy, Irving takes any and every opportunity to loosen his pants, drink excessively, stealing food in a convenience mart spree, engage in reckless driving, perform magic tricks and charm black women. As the parental guardian, Bad Grandpa influences Billy's actions and drives him towards a mischievous path.
I would have to say, the most hilarious scene involved Irving 'serving' the ladies and male strippers in the bar, when he approached the red carpet, ripped off his pants and swung his outstretched scrotum from the gap in his baggy underpants. On another level of extremity, we see Billy perform his own sexy dance routine as a female, in the Cutie Pies Young Miss Beauty Pageant. Bad Grandpa assists Billy's erotic performance by showering him in money to win over the judges and shock every parent and contestant in the audience.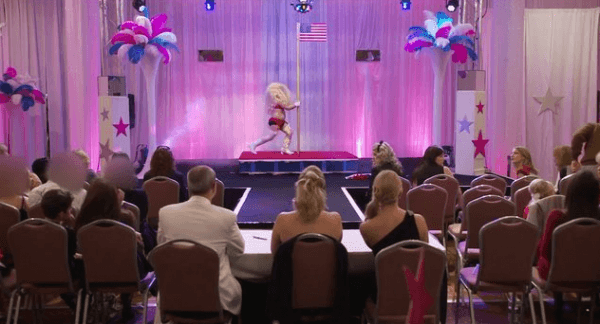 Whilst there are a lot of funny scenes, most of which already appear in the trailer, it was disappointing that these pranks did not add to story progression and character development. The comedic relief was quite short and random throughout the 92 minute film, taking the audience away from, what could have been, a well played out narrative and substantially longer movie.
Without spoiling too much of the ending, the final turning point focuses on the aftermath of reaching North Carolina and the emotional impact the young boy imparted on the grandpa during their travels together. I thought that the great casting of Johnny Knoxville and Jackson Nicoll for the roles of Irving and Billy, really contributed to the overall viewing experience of Jackass Presents: Bad Grandpa; as I am certain most audience members would agree with me.
Visuals & Audio
The film was impressively shot, considering the footage was taken with hidden cameramen, and the reactions of civilians were highlighted in the centre of the frame, along with Bad Grandpa. The only noticeable glitch and slight visual discrepancy was the transition between frames of recorded pranks. As for the scenery, the long winding roads, empty streets and small local villages created an isolated atmosphere perfect for attracting attention and causing mischief. The scene that was best captured involved Billy pushing a hung-over, Irving, to the nearest food store for replenishment, in a grocery trolley.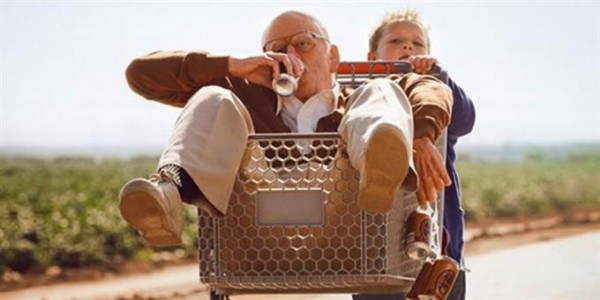 I was pleasantly surprised by the groovy  and light-hearted soundtrack featured within Jackass Presents: Bad Grandpa; from 'Dancing in the Moonlight', 'Joy Down in My Heart' to 'Cherry Pie'. The background music tracks set the scene for the real reactions, from laughter to screaming to making threats; all of which were effective in changing everyone's mood in the film. On the other hand, the sound effects were abrupt and amplified for audio definition. An example that won't be soon forgotten, revolves around flocks of farting (at one point…sharting) between Billy and Irving at a café; which was just as funny for the audience, as it was completely disturbing.
Overall
Jackass Presents: Bad Grandpa is best suited for one time shits and giggles, as it does not excel beyond Jeff Tremaine's previous Jackass films. The spin-off MTV series is more entertaining, as those earlier films focus on shooting dangerous stunts and pranks with the entire crew, rather than developing a basic story using one crew member (in the case of Bad Grandpa). Speaking from the perspective of a Jackass fan, I expected there to be more adrenaline and crazier antics for Bad Grandpa and Billy to pull off. Although that really depends on what your tolerance level is for outrageous comedies.

Capsule Computers review guidelines can be found here.