Infinity Blade 3
Developer: ChAIR Entertainment
Publisher: Epic Games
Platforms: iPhone (reviewed), iPad
Release Date: September 20th, 2013
Price: $7.49 – Available Here
Overview
The Infinity Blade series has blazed quite an impressive path on the iOS platform by repeatedly pushing the mobile platform to its utmost limits all in the name of being an epic game. With Infinity Blade 3, we once again get a game that is epic in all the right ways but one that undoubtedly feels strained by the limits of its platform.
With Infinity Blade 3, ChAIR push the iOS platform to breaking point – sometimes literally – creating what is ultimately a game that should've graduated from mobile to console long ago.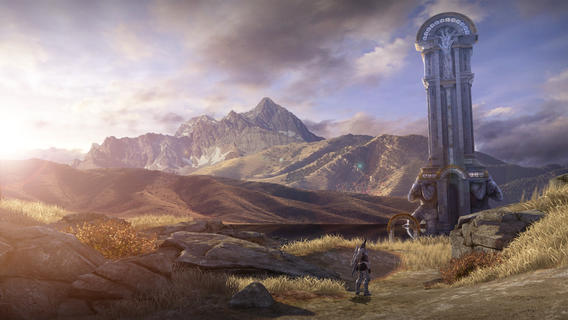 Gameplay
Infinity Blade 3 is undoubtedly the most ambitious game of the series thus far. It is really the pinnacle of the series and it is hard to imagine how it can top this if the series remains on mobile. The limitations are plain to see but regardless of all that the game plays quite well despite a few crashes here and there. It is a mighty big game weighing in at well over 1 gig in size but it is every bit as big inside as well. The world of Infinity Blade 3 is vast and deep, filled with countless adventures and battles to be undertaken.
The game requires iOS 7 to run and is optimized for iPhone 5. However the game runs well enough on older devices providing the update to iOS 7 has been done. There is times in which the game can crash in particular intense portions of the game which is of course troublesome but its not so common that it ruins the experience.
Much like its predecessors the game features a simplified touch based combat system requiring you to tap, swipe and hold in order to battle it out against some truly fearsome opponents. It is simple and easy to understand meaning that just about anyone can jump in and grasp the control scheme for the game.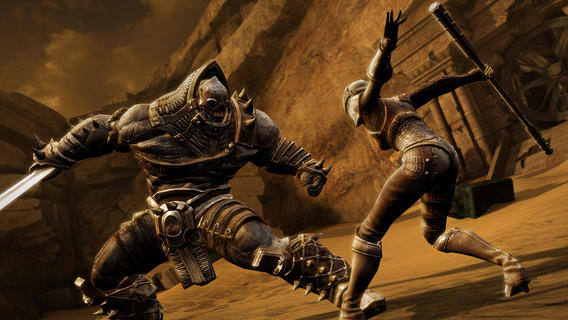 It is about as close as you can get to a console game experience on a mobile device and with the expanded world and gameplay mechanics this is definitely a good direction for the series. Unfortunately the game is beginning to show signs of finally hitting the glass cieling that is the limits of the mobile platform. It might be time to think of moving to something bigger and better for Infinity Blade.
Regardless of all that, the game is a lot of fun and features a compelling story if you are so inclined as to explore it. It is a nice game to play if you have some time to sit down and focus. It might not be the best game to play on-the-go however due to its intensity and ammount of attention it requires to play to any successful degree. If you can find the time to commit to this mobile game however you'll find yourself more than happy with the hack and slash fun it offers.
Visuals and Audio
The star of the show for Infinity Blade 3 is without a doubt it's jaw-dropping visuals. The aesthetics on display here are simultaneously gritty and beautiful, creating an appealing juxtaposition of the grimmer sides of reality with the more inspiring sides of it. The world of Infinity Blade 3 is well crafted stylistically with harsh realism in mind. This may very well be the best looking game on the iOS and ChAIR should be applauded for their excellence in aesthetic design for this game.
Infinity Blade 3 also features a suitably dark soundtrack brimming with brooding tracks that amplify the sense of despair that surrounds the game. There are several more energetic tracks that instill a feeling of victory and hope. It all comes together quite nicely in what amounts to a very well rounded soundtrack.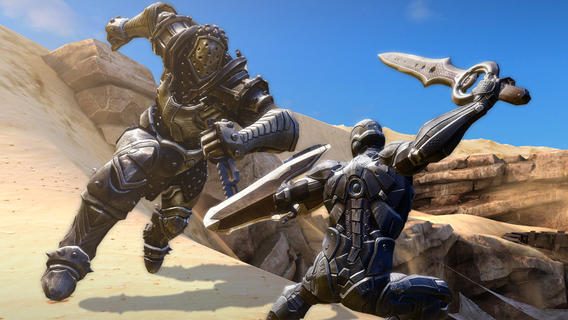 Overall
If there was any game that needed to break free from the mobile platform it was Infinity Blade 3. There is a glass ceiling hanging low over this game and it is clear that a series this epic in scale can't stay on mobile forever. This is a huge game that is every bit as fun as it's predecessors but it suffers several issues due to the limitations of the platform in which it is on.
Fans of the Infinity Blade series will surely not be disappointed with the latest chapter in the epic tale of clashing swords and the brave warriors that wield them. It is every bit as good as those that came before it and even improves upon them. It is not the best game to play on the go, but if you are serious about your gaming you will likely want to devote some serious time and attention to this epic hack and slash. The battle is on and the blades are swinging, Infinity Blade 3 is a great game that pushes the mobile platform to its limit.
Capsule Computers review guidelines can be found here.