Implode
Platform: iPhone
Developer: IUGO
Release Date: November 23, 2009
Implode by IUGO Mobile Entertainment is a Apple iPhone game which puts you in the explosion seat and lets blow up structures with the aid of dynamite and powder kegs.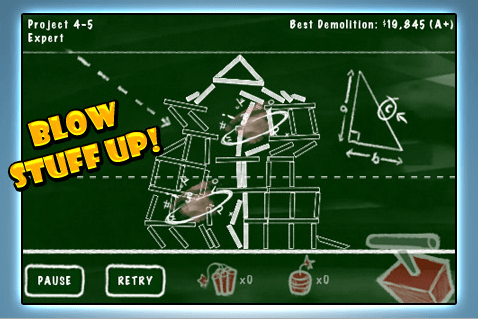 Implode has a very original feel to it, with a easy and clean display.  All the action takes place on a chalkboard where the structures are presented to you drawn in chalk, and here is where the fun begins.  Grab the dynamite stick and strategically place them on vertical or horizontal walls to collapse the structure and level it down below a certain level.  You get a limited amount of dynamite and powder kegs to do this.  And the more you use the less Rank / score you get once you complete the demolition.  (This is discussed in further detail in the video review)
There is a total of 80 levels, 10 of which are Christmas themes (blow up a Christmas Tree style structure).
Implode is great and will keep you busy, thinking and pulling your hair out for hours on end.  If you love BLOWING up things then this game is perfect for you.  You can't get any better than Implode when it comes to its building demolition style physics engine.  Structures fall and collapse the way they should.  If your a structural engineer the later levels will even have you puzzled and will push to your limits.  But don't worry Implode has 3 levels of difficulty so everyone can get stuck into exploding things.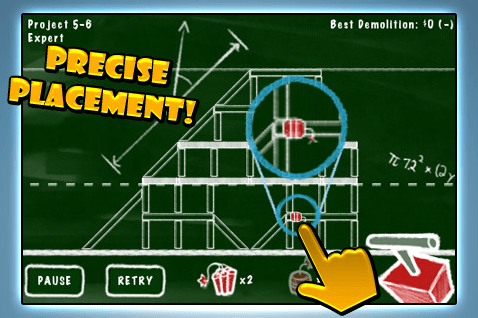 Capsule Computers gives Implode a 7.5 Caspule out of 10.
If you want Implode all you have to do is simply click on the RED BUY NOW button
Best iPhone appsat AppStoreHQ
Lets us know what you thought of the review and also what you think of the game.
MasterAbbott Capsule Computers