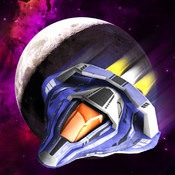 Hyper Race
Developer: KR Works
Publisher: KR Works
Platforms: iPhone (reviewed), iPad
Release Date: December 21, 2013
Price: $0.99 – Available Here
Overview
KR Works are relatively unknown in the mobile gaming marketplace, but that is something that is about to change. With the release of Hyper Race, KR Works have proven themselves to be one of the best new developers in mobile gaming. Taking inspiration from the classic F-Zero racing game, Hyper Race is addictive fun that really must be played to be believed. Get hyped for Hyper Race!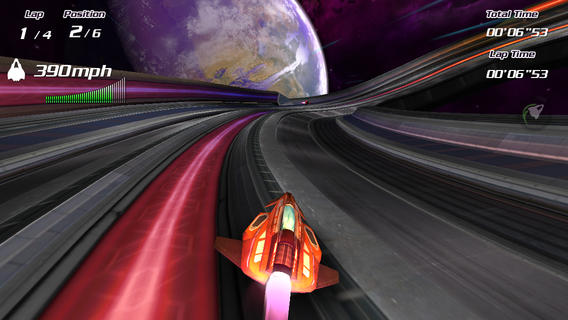 Gameplay
What makes Hyper Race so addictive is its adrenaline pumping sense of speed that really sets it apart from all other racing games on the mobile platform. You will no doubt be remind of F-Zero, but that is of course a huge complement to Hyper Race, an ode to the space racers of old, all the while etching out a new path with slick gameplay and addictive mobile gaming formula.
The game features a few gameplay modes that you can sink your teeth into. There is 'Single Race' mode which is your standard free play mode. This is where you will likely spend most of your time, it is a great casual experience that can also become a hardcore experience depending upon your style of play. In 'Single Race' mode you select your car and your track and simply get down to business, hyper racing style.
Not only that but there is 'Tournament' mode. In this mode you engage in a tournament and progress race by race. This is a more hardcore mode that is best suited for longer periods of play. It is the perfect alternative to 'Single Race' mode, giving players a real challenge with a varying amount of difficulty available.
Capping that mode off is the 'Hyper Trial' mode. This is quite similar to 'Time Trial' modes in other racing games and focuses on getting a quick lap time. There is a superb amount of variety in this gameplay experience.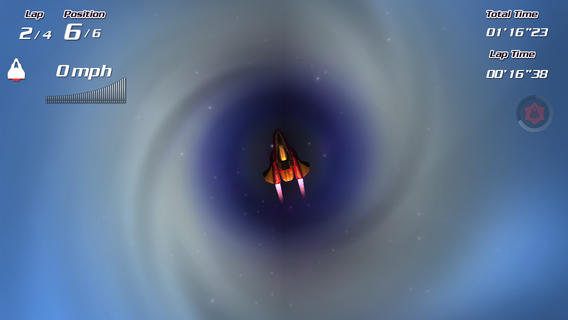 Control-wise, Hyper Race is quite well polished. It utilizes a refined tilt and touch control mechanic that makes racing feel smooth and natural. It is this core gameplay that makes or breaks the experience in a game such as this and in terms of the racing mechanics, KR Works absolute hit it out of the park. The controls work incredibly well and have a great learning curve. It bridges the gap between hardcore gamers and casual gamers in a way that few mobile games do.
The only part of Hyper Race that disappoints is the 'Multiplayer' mode. Unfortunately the 'Multiplayer' mode is locked solely to Bluetooth play, with no Online play present whatsoever. In this day and age, with the world linked online, it has become an expected part of multiplayer experiences and it was the only sore spot in an otherwise excellent game.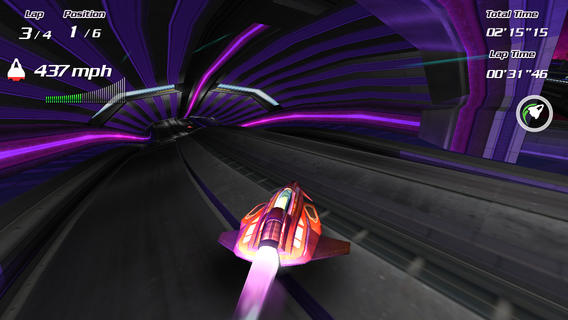 Visuals and Audio
Aesthetically Hyper Race is crisp and visually exciting. While the art style doesn't exactly innovate, it does a great job at presenting the futuristic space racer visual aesthetic, capturing the sense of speed and wonder that can only be seen in a race in space.
Perhaps the real highlight of Hyper Race is its awesome soundtrack. Featuring some chilled electronic beats, Hyper Race's soundtrack is infectious. It gets stuck in your head and makes for a truly memorable audio experience.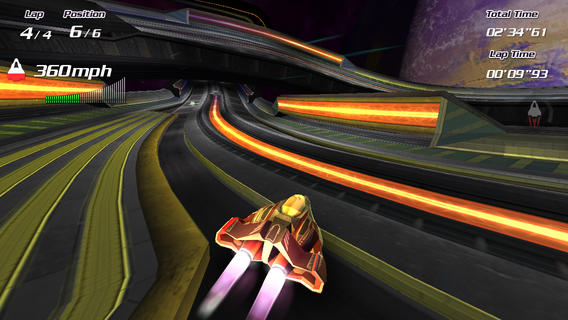 Overall
The mobile gaming medium has a new benchmark for racing games and its name is Hyper Race. With its mix of speed, adrenaline and unbridled fun, Hyper Race is a real gem of mobile gaming. This is a must-play mobile game in all regards. If you're looking for a racing game for your mobile, Hyper Race has your hook up and its ready to blow your mind.

Capsule Computers review guidelines can be found here.