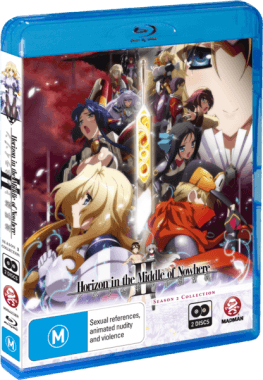 Horizon in the Middle of Nowhere Season 2
Studio: Sunrise
Publisher: Madman Entertainment
Format: DVD, Blu-Ray (Reviewed)
Release Date: October 16, 2013
Price: $59.95 – Available Here
Overview
Horizon in the Middle of Nowhere is back, bigger and more bombastic than ever before in a second season to remember. Picking up where season 1 left off, Horizon in the Middle of Nowhere season 2 effectively turns things up to 11 from the get go in this rip-roaring continuation of what is undoubtedly one of the most interesting sci-fi action anime to grace us in quite some time. With sheer energy and unstoppable momentum, Horizon in the Middle of Nowhere is a relentless thrill ride from start to finish that will have you on the edge of your seat with its thrills and in stitches on the floor with its sense of humour. Does the second season blow the first out of the water? Not exactly, but it continues this epic sci-fi tale in grand fashion all the while never missing a beat.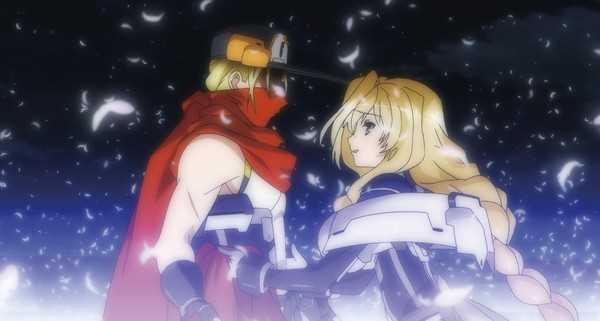 Story
If you thought the first season of Horizon in the Middle of Nowhere was absolutely balls to the wall (sometimes literally) insane fun, then you will be pleased to know that the second season follows suit with the insanity that makes Horizon in the Middle of Nowhere so special holding true.
The complex plot-line of season 1 is built upon greatly here with revelations answering questions left over from season 1 being brought to the forefront while even more questions are raised. It is the way in which Horizon in the Middle of Nowhere peels back and adds on layers to this deep narrative that makes it so very compelling. When you think you know something, something pops up that throws everything you know into disarray, its an unbelievably engaging experience all in all.
This time around the cast of Horizon in the Middle of Nowhere gets a bit of a shuffle, previously auxiliary characters become main players in season 2, revealing a depth that we did not see in season 1. The cast itself is absolutely immense and grows bigger with this season. The refocus is rather interesting as we see more personality in characters who previously had a more passive or background role in the past. This expansion on the world of Horizon is great, but it is also somewhat challenging at the same time as the universe in which the show is set is complicated enough as it is without giving the audience more information to digest in mass quantities. But at the end of the day that is the Horizon in the Middle of Nowhere way.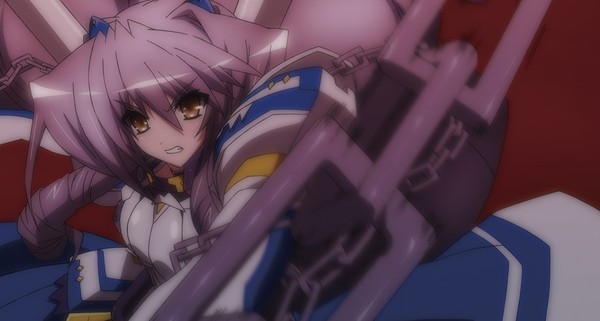 As the world expands further in this season, it must unfortunately retract as it heads into the final stretch with the story reaching its climax. What is most interesting here is that while there is a sense of real resolution to the proceedings, there is also a nagging feeling that this can't be the end. Perhaps a third season could be somewhere down the road, but for now the way this season concludes appears to be what has been waiting over the horizon all along. In spite of that however, the ending does wrap things up thematically even though it does leave some loose ends.
Horizon in the Middle of Nowhere season 2 is a satisfying continuation and climax for this wild series, despite leaving you wanting more it does serve to satisfy with grandeur and a conclusion to savour. Horizon in the Middle of Nowhere is one anime that truly deserves to be described as epic.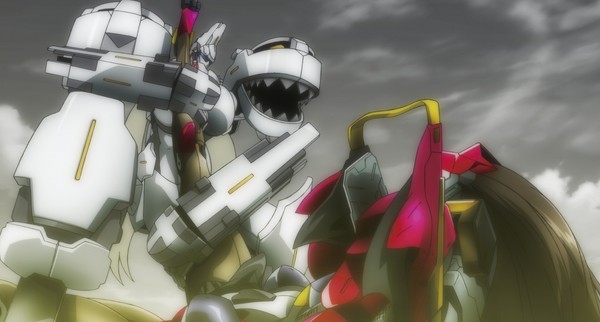 Visuals and Audio
It is hard to compare to the visual prowess of veteran studio Sunrise. They have the years of experience under their belts and they have time and time again produced some of the most incredible action series in the history of anime. With a particular special touch for sci-fi action series, Sunrise was undoubtedly the perfect fit for Horizon in the Middle of Nowhere. There are shades of other Sunrise greats in this series aesthetic style and the animation is indeed some of the best produced in quite some time. If you want to see some truly mind-blowing sakuga animation, Horizon in the Middle of Nowhere has the goods.
Much like season 1, the score is superbly composed here, even featuring several of the excellent tracks of the first season. The incidental music is timed with true precision heightening several key moments, hitting the right note atmospherically and emotionally. The opening and ending themes are both quite good and worthy of book ending a series of this caliber. On top of that this release features two excellent audio dubs in both Japanese and English language. Both are well crafted and feature some real standout performances across the board.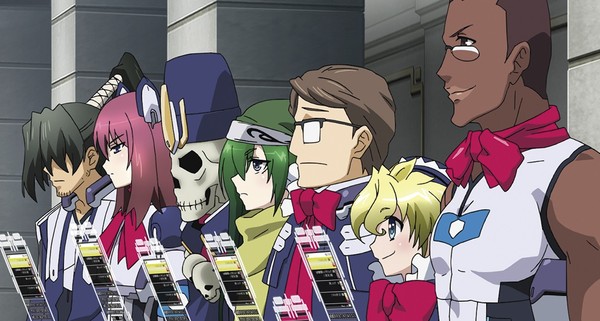 Extras
Madman Entertainment's release of the second season of Horizon in the Middle of Nowhere is an impressive one to say the least. It features the entirety of the second season and comes bundled with some lovely on disc bonus content such as trailers, commericals and the fun little featurettes called Far East Lightening Lectures. There is also a nice reversible cover if you are so inclined.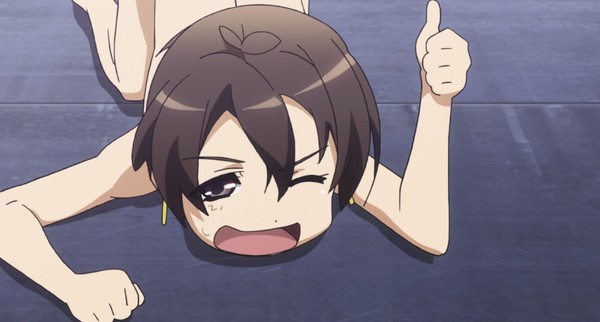 Overall
Horizon in the Middle of Nowhere season 2 continues the insane fun of season 1 with an unbridled no holds barred attitude and deep narrative that grows more intriguing with each passing episode. This is one of the more interesting sci-fi anime in quite some time and one that is well worth the watch for all action anime fans. It is both thought-provoking and fun, a combination that many struggle to pull off effectively.
What makes Horizon in the Middle of Nowhere so special though is its relentless energy and bombast. There isn't any anime series that could match with Horizon in the Middle of Nowhere in that regard. There is simply no off switch with Horizon in the Middle of Nowhere, it is crazy fun all day every day and I for one wouldn't have it any other way.

Capsule Computers review guidelines can be found here.