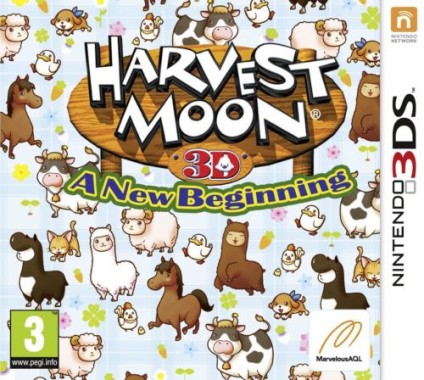 Harvest Moon 3D: A New Beginning
Developer: Marvelous AQL
Publisher: Marvelous AQL
Platform: Nintendo 3DS
Release Date: September 19, 2013
Price: $30.00 – Available Here 
Overview
It is the 15th anniversary of the Harvest Moon series of games and with it comes a release that boasts that it will be a new beginning for Harvest Moon, a series that has been defined by its simple and almost completely unchanged formula. What we have here isn't exactly a new beginning for the series, but it is a step in a new direction. The thing is, Harvest Moon 3D: A New Beginning really just takes its time in taking that much need step forward. But if you are patient enough, you'll watch this game grow into something truly special.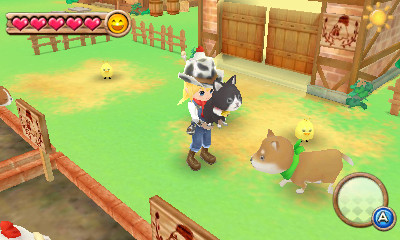 Gameplay
The core formula at the heart of the Harvest Moon franchise is one that has been largely unaltered since the series inception. With Harvest Moon 3D: A New Beginning that formula remains in tact for the most part. The difference here however is that the tried and true formula is expanded upon in subtle yet important ways that take the series forward in a way that feels natural and satisfying.
Starting off slow the game forces you through a hard slog of a tutorial followed by in-game weeks of menial tasks with very little in the way of actual progression. The early parts of the game feel painfully slow at times due to being text heavy and gameplay light. Thankfully after that difficult slog passes things begin to move forward and more options become available to you, bringing out the real Harvest Moon charm rewarding players for the slow start.
Once things kick into gear you'll be tending to crops and your animals like a true Harvest Moon veteran. The game like previous installments of course focuses on building up your farm, which requires daily attention and tending to. In the beginning this can be done a little too quickly but soon enough it becomes quite a hefty task once your farm expands exponentially.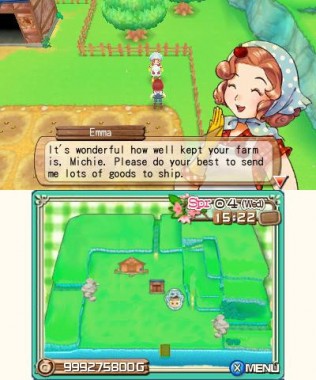 Interestingly enough, Harvest Moon 3D: A New Beginning isn't simply about building up your farm, but it also focuses on building up your town. As you progress your farm, more customization and farming options will open up to you, as you implement these features more and more people will return to your town and it will once again become a prosperous town like it once was.
It is in the journey of rebuilding the farm and town that you see where Harvest Moon 3D: A New Beginning takes a step in a new direction. While previous games focus almost exclusively on expanding your farm and ultimately finding a wife, Harvest Moon 3D: A New Beginning brings exploration into the forefront, giving new locations for the player to discover and gain resources from. It adds some extra layers to the gameplay that makes for some great fun. However what really makes Harvest Moon 3D: A New Beginning so special is the way in which it rewards players for there tiresome efforts. The more effort you put into your farm, the more you are rewarded with customization options and other abilities along the way.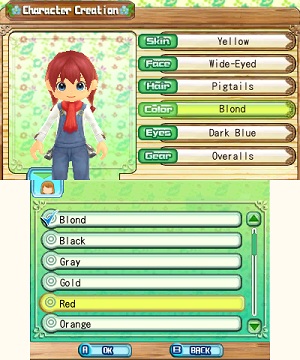 The game does struggle a little in the story department, but that has never exactly been Harvest Moon's strongest or even most important facet. The plot is simple at best and serves the purpose of setting up the game quite well, but it is nothing Harvest Moon fans haven't seen before.
What Harvest Moon 3D: A New Beginning ultimately brings to the table isn't change or a new beginning, but a nice improvement upon the basic formula that has echoed throughout each and every Harvest Moon game to date. It isn't a leap forward into new horizons but this is a nice solid step into some expanded territory for the series and in that regard it is a success.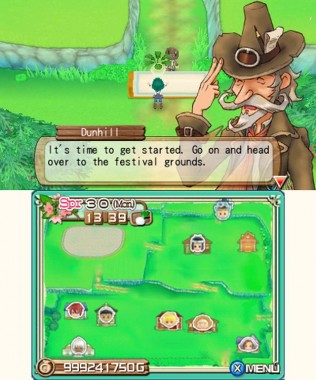 Visuals and Audio
The graphics for Harvest Moon 3D: A New Beginning are vibrant and brimming with life but at times ring a little hollow with some of the charm of previous installments being lost in this Nintendo 3DS exclusive. Some textures are simply flat with no sense of depth, which is an odd contrast given the consoles 3D feature. The palette can lean a little to much to the brighter side of the spectrum at times leaving some portions of the visuals with a plastic vibe that feels somewhat artificial. It is a mixed experience aesthetically, but still a decent first go round making it specifically for the 3DS.
As for the score, it is as fluffy as you'd expect from Harvest Moon and at times quite quaint. The musical composition are well conceived all around with some memorable tracks to boot. For the most part the soundtrack amplifies the gameplay by giving it a playful child-like wonder and an atmosphere of glee that fits Harvest Moon just right.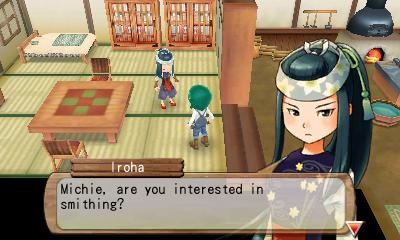 Overall
What Marvelous AQL have done with Harvest Moon 3D: A New Beginning is not exactly revolutionary but it is a pleasant enough game that builds upon the series's successful formula in logical ways opening up the series to some new ideas. Fans of the Harvest Moon series will no doubt find themselves rekindling their love affair with the series once more with Harvest Moon 3D: A New Beginning. It is without a doubt the natural progression for this series which has been defined by its insistence on staying the same.
It should be said that this is easily the biggest and best Harvest Moon title to date. It has everything you'd expect from a Harvest Moon game and even more to boot. Whether it is farming crops, tending to your silly little animals or wooing a lovely lady, Harvest Moon 3D: A New Beginning is the definitive Harvest Moon experience. This isn't really a new beginning for the series so much as it is the pinacle of it. Harvest Moon 3D: A New Beginning is Harvest Moon at its very best. Well what are you waiting for? A new moon is rising and its time for a brand new harvest.

Capsule Computers review guidelines can be found here.