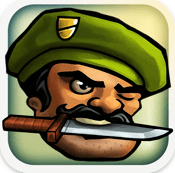 Game Name: Guerrilla BOB
Platform(s): iPhone
Publisher(s): Chillingo
Developer(s): Angry Mob Games
Genre(s): Action
Release Date: 21st December, 2010
Price: $3.99 (BUY NOW!)
Chillingo / Angry Mob Games's top down shooter for the Apple iPhone/ipod iTouch – Guerrilla BOB. 
Let me start off and say straight off the bat that Angry Mob Games have done a fantastic job with Guerrilla Bob.  It's a dual analog style shooting game where you control BOB a decorated war hero, framed by his long time friend John Gore, from the Mini Gore series also published by Chillingo.   You control Bob hell bent on getting his revenge after he finds out that that army are going to bomb the location where John Gore is located.  He sabotages their operation and goes in on his own to take down everyone in Johns army including John himself.
There are a total of 7 levels plus an extra option of survival mode thrown in which starts of quite easy but gets increasingly hard after the 1o min mark.  The gameplay is very smooth and the control system is perfect for this style of top down shooter.  All the enemies are well detailed including the end of level bosses.  There are two difficulty modes in the game.  Easy and Hard, playing through on easy is recommended for first timers new to this style of action shooter.  But if your a hardcore gamer.  I'd recommend hitting the HARD difficulty straight off as this is how the game is meant to be played.
Guerrilla Bob is non stop action.  You must use your skills and abilities to dodge, move out of the way and blast your enemies and teach them a lesson.  Bob also has a few catch phrases that he uses when he takes down his enemies which are quite amusing and fun to listen to.  To help BOB destroy John Gore's army of henchmen he's presented with three different style weapons, Machine Gun, Rocket Launcher and Flame Thrower.  All three guns have upgrades which are scattered and hidden throughout the levels.  You start off with a standard Machine gun and as you progress through the seven levels you pick up upgrades that will increase each weapons power, which will come in handy when taking on bosses.
As this is a video review i'll keep the writting to a minimum and let you watch the remainder of the review.  Less READING and more watching I say 🙂 
Enjoy the video review :
In closing.  Guerrilla Bob is a fantastic top down shooter that will keep you busy on those long trips.  With the added bonus of the online leaderboards and challengeing achievements there is a lot of replayability in the game as well.  If you love your shooters this is a must.  Great work Angry Mob Games on a job well done.  Capsule Computers gives Guerrilla Bob 9 Capsules Out Of 10.

Stay tuned we also have an interview with Angry Mob Games coming up in the next few days.
Grab your copy of Guerrilla Bob from the Apple iTunes store now :  Click on the BUY NOW button below.
Best iPhone appsat AppStoreHQ
 Screenshots :