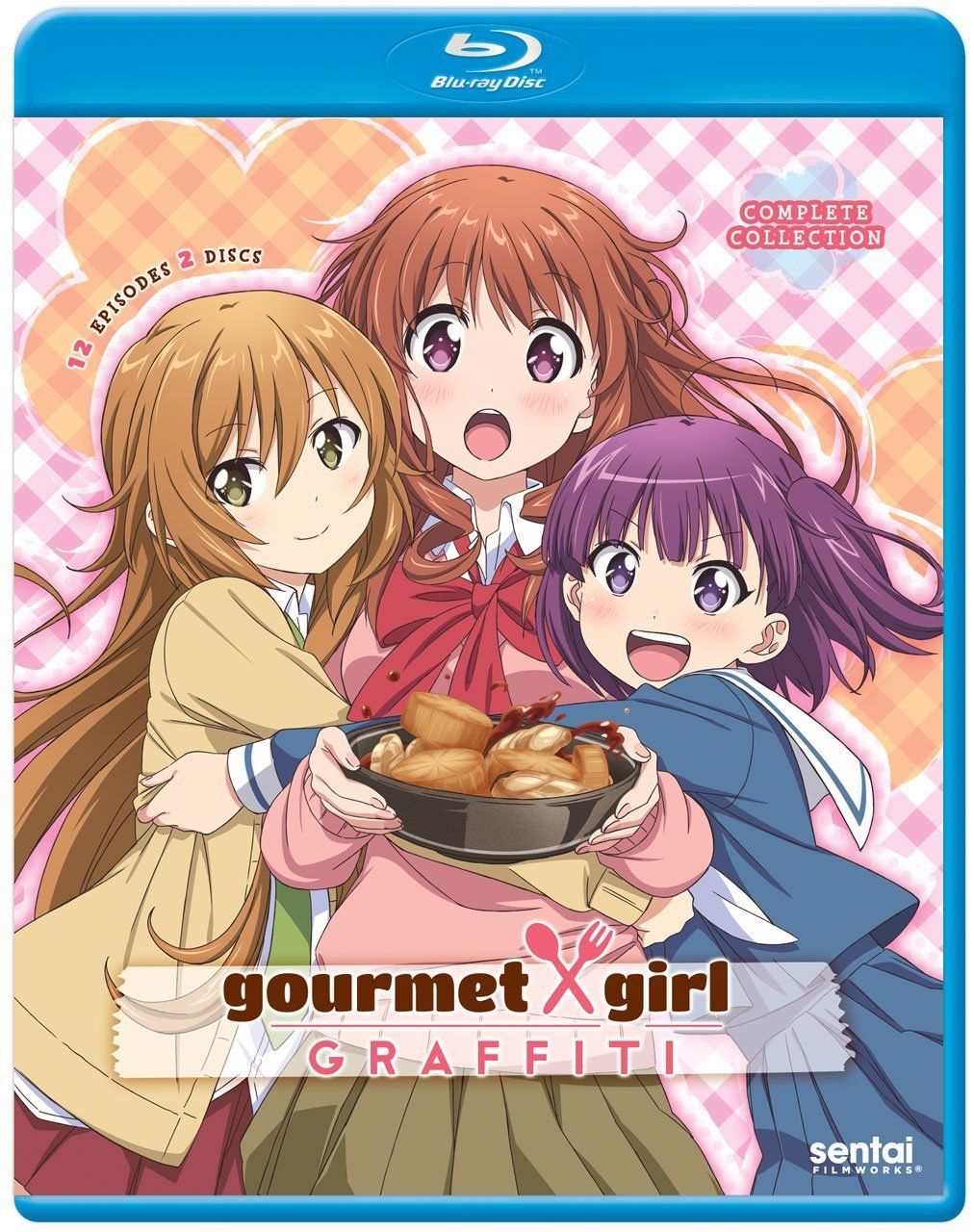 Studio: Shaft
Publisher: Sentai Filmworks
Formats: DVD, Blu-ray (Reviewed)
Release Date: August 2, 2016
Price: $59.98 USD – Available Here
Overview
Creating an anime or manga series centered around food has been done before and is going through something of a revival now. While a certain show may focus more on the high school competitive section, Sentai Filmworks has brought over another series that is a bit more fluffy and comfortable in nature. This series happens to be Gourmet Girl Graffiti and while Shaft provided their own signature touch to the manga adapted series, is it worth your time?
Story
Ryo Machiko has always enjoyed cooking and believed herself to be quite talented thanks to the teachings of her grandmother. With her parents working overseas and her aunt almost always busy with work and rarely able to check in on her, Ryo was living happily with her grandmother until she passed away nearly a year prior to the start of the series. After living alone for so long, Ryo has begun to wonder whether or not she knew how to cook at all after everything she eats turns out to be bland.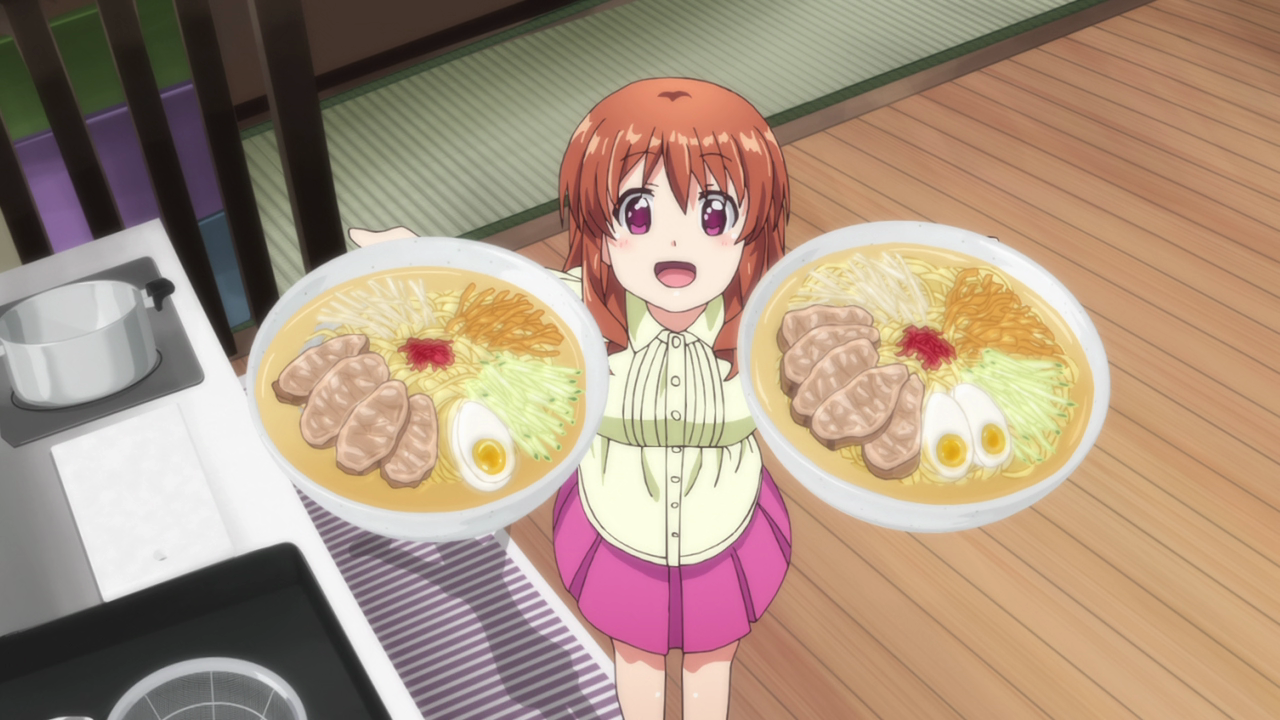 Her lonely lifestyle comes to an abrupt end when she is informed that her cousin Kirin, who despite the size difference is the same age as Ryo, wants to attend an art school in the big city in the future. With Ryo already attending cram school classes in an effort to make it into an art oriented school, it seems like a perfect fit since Kirin will be taking the same classes. While initially Ryo is a bit unsure of what to make of this arrangement, once she meets Kirin the two quickly begin to hit it off, especially when the first meal that she cooks for the two of them turns out to be the most delicious one she has tasted in a long time.
After realizing that eating with those who make you happy is the best flavoring of all, Ryo allows Kirin to visit/stay over every weekend as she travels from the countryside to the city in order to attend classes. Joining this pair of girls that slowly bond throughout the series is the occasional appearance of Shiina, an old friend of Ryo's who also attends the same prep classes and wishes to attend the same university as the other two girls.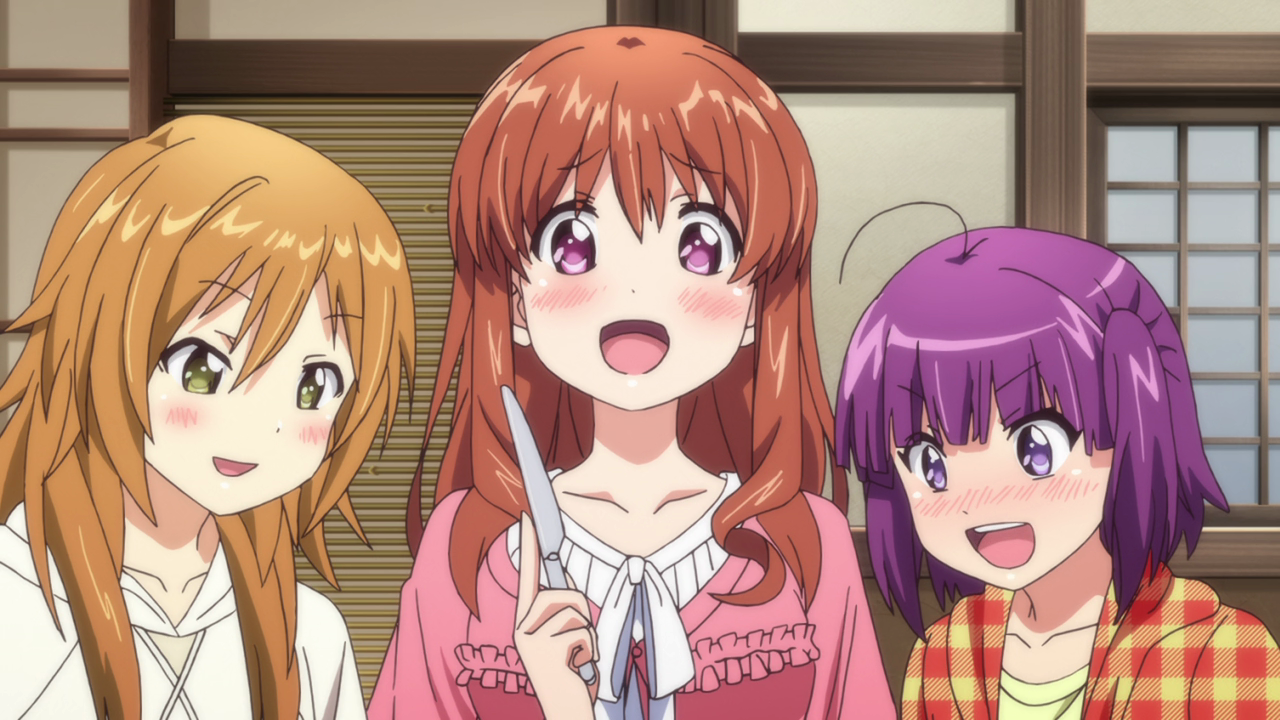 Shiina serves as a great addition to the trio by serving as something of a balancing act for Kirin. Kirin's personality is full of energy and despite being the same age as Ryo, her impulsive nature mimics her smaller stature as she often plays the role of a younger child while Ryo takes care of her. As for Shiina, she is far more reserved and laid back when it comes to everything around her and also has a few little quirks of her own such as being from an incredibly rich family and getting sick whenever she happens to get splashed by rainwater of any kind.
Gourmet Girl Graffiti brings these three girls together, and the occasional side character, in a fashion that mimics many of the standard "cute girls doing cute things" aspect of shows nowadays but thanks to the colorful personalities of the core cast meshing together well enough that watching their little routines and minor developments over the course of the season makes for a charming and enjoyable series. That being said, there are a number of episodes that do feel like they tend to drag on a bit too long which is rather unfortunate as the series itself is already slow moving, meaning that these moments can be incredibly dull.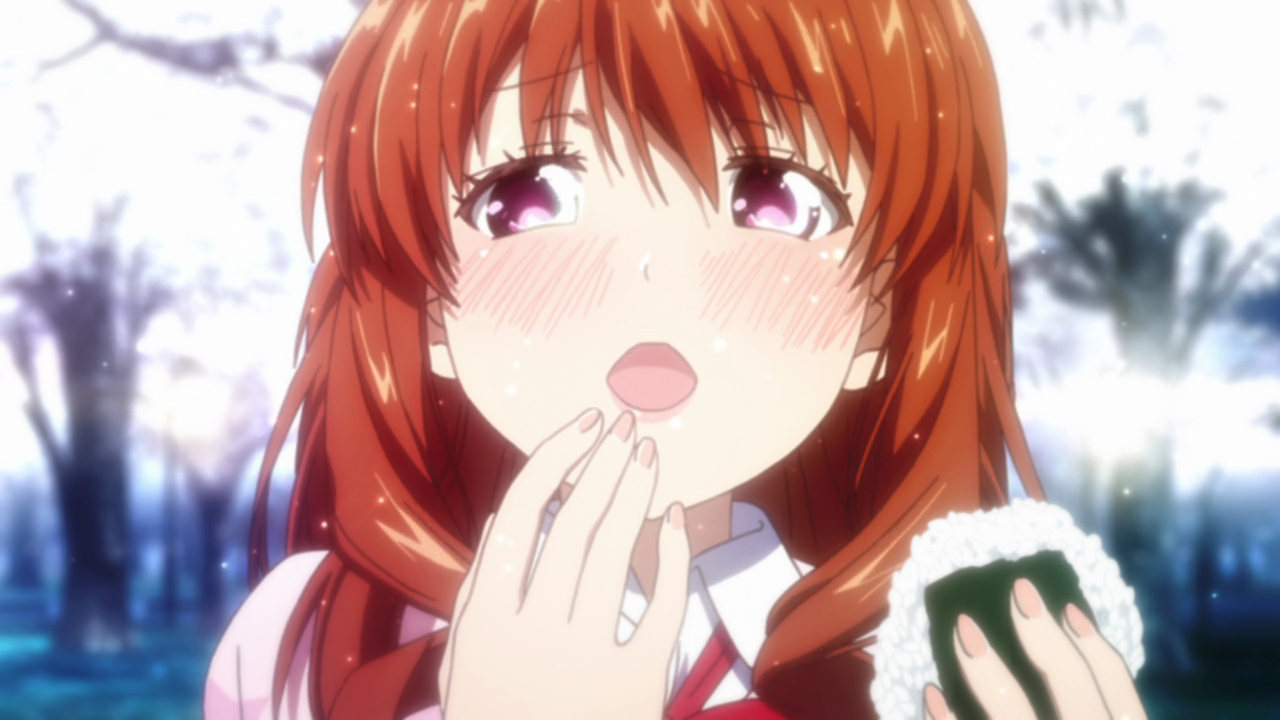 Thankfully even with this issue the show stands out from the rest thanks to a certain element. That element of course is that every episode features food of some kind that Ryo or the other girls end up cooking and eating. While this wouldn't really stand out in most other series, Gourmet Girl Graffiti sets up food as the focal point for many episodes, whether it is the girls bonding over a picnic watching the Cherry Blossoms, the three of them trying out various meals that they've seen on television, or even Kirin and Shiina stepping up to show that Ryo can rely on them in the kitchen as well, food plays a major role here.
Well, that and the fact that almost every time the characters eat Shaft goes into overdrive when it comes to explaining and animating every minor detail about the food and how the girls feel about what they are eating to the point of things being a little suggestive looking at times. These "foodgasm" scenes tend to be rather erotic appearing at times so be prepared for that to be mixed in with the standard style of the series at least once per episode.
Visuals
While it may not be apparent at the start, those who are familiar with Shaft's animation style will quickly pick up and recognize many of the elements that the company is well known for when it comes to animating a series. This includes signature head tilts, a bit of fourth wall breaking camera angles, and gorgeous character designs. Each of the three main girls feature unique enough designs and regularly are wearing new outfits and even side characters that appear from time to time are detailed well.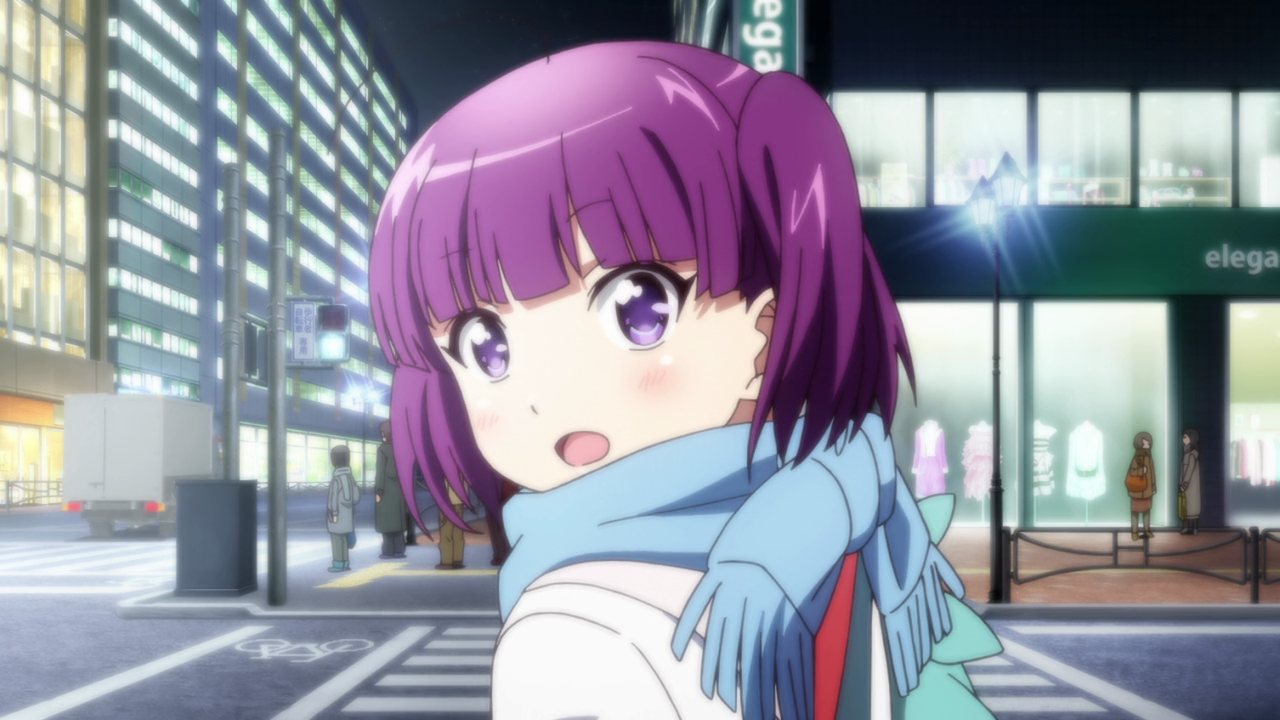 As for the aforementioned food scenes, the company has put a lot of effort into making sure any food cooked or purchased by the characters looks as delicious as possible. This includes heavily detailing the food and displaying it in a shiny environment that is then carried over to the extensively detailed animations of the girls eating food while the camera zooms in on their lips and ecstatic faces.
Audio
Sentai Filmworks has opted to release Gourmet Girl Graffiti in North America with only the original Japanese voice track. The voice actresses in this series work well together with Ryo's voice actress Rina Satou and Kirin's voice actress Asuka Oogame playing off one another perfectly.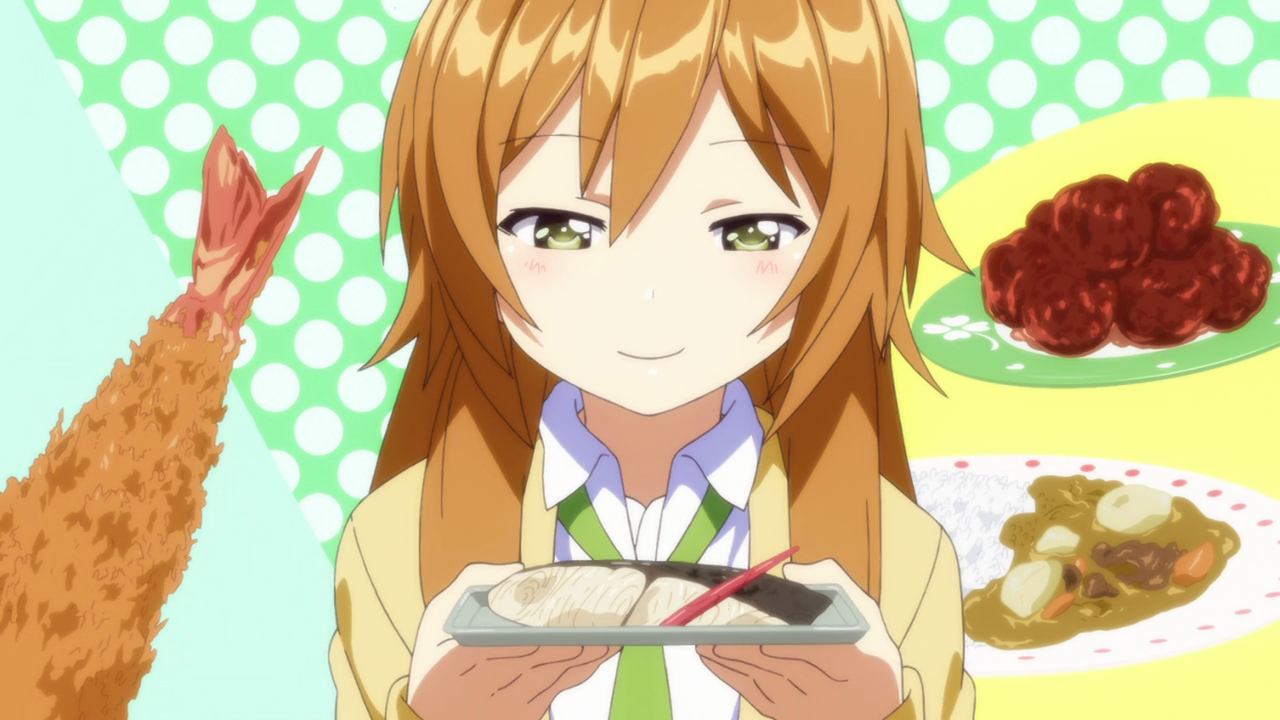 The soundtrack for the series is fairly standard for a slice of life series such as this one though it does feature a bit of unique sounding music during the eating scenes. The opening theme is light and accompanied by a Alice in Wonderland themed imagery which is a bit strange considering the theme of the series but the ending theme "Become a Smile" sung by Ryo and Kirin's voice actresses fits perfectly as the lyrics are cooking oriented and rather enjoyable to listen to.
Extras
The only bonus features offered with this release are clean versions of the opening and ending animations as well as trailers for other Sentai Filmworks releases.
Overall
Gourmet Girl Graffiti embraces the simple and enjoyable concept of following a trio of girls who become close friends throughout the series. While this is fairly standard given the concept of these types of series, the chemistry between the characters' personalities, gorgeous art style, and the unique spin of putting so much emphasis on cooking helps this series stand out. This means that Gourmet Girl Graffiti doesn't attempt to throw any huge moments or drama at viewers so don't expect anything major to happen but those looking for a delightful little series will be pleased with what the series has to offer.