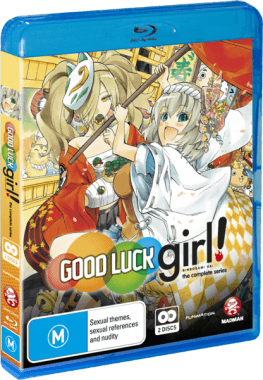 Good Luck Girl
Studio: Sunrise
Publisher: Madman Entertainment
Format: DVD, Blu-Ray (Reviewed)
Release Date: March 19, 2013
Price: $59.95 – Available Here
Overview
So tell me, are you feeling lucky, punk? Well Ichiko Sakura certainly is, in fact her entire life she has had nothing but good luck and doesn't even know the feeling of having things not go her way. That is of course until the 'Poverty God' Momoji comes along to restore the balance of luck to the world. If only Momoji wasn't so darn unlucky.
Good Luck Girl is a comedy series that pits lucky against unlucky, big breasts against flat chests and a god of misfortune against the most fortunate girl in the entire world. It is one hell of a killer hook for an anime series and Good Luck Girl squeezes out laughs with ease from this zany concept. Filled with referential humour that will delight anime fans, Good Luck Girl might just be one of the best comedy anime in quite some time.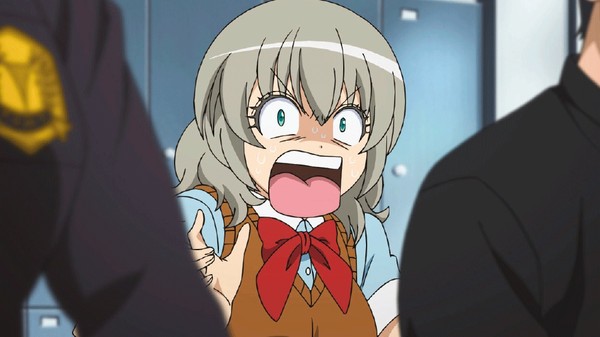 Story
Good Luck Girl has a great concept, it works well for a story-of-the-week structure and over the course of its 13 episode run it proves to be a solid foundation for superb comedy. The constant struggle between the lucky girl Ichiko Sakura and the god of misfortune Momoji is an absolute riot that will have you laughing from start to finish.
As with most comedy series it is really only as funny as its cast is and lucky for Good Luck Girl its cast of colorful characters are a deadset crack-up. The characters are all inherently funny and give a raunchy edge to the series. Standout characters such as momo the dog god with a serious BDSM fetish, the pervert black monk and of course Momoji and Ichiko themselves round out this comedic cast quite well.
Anime fans are sure to find themselves in stitches with references to other anime series present throughout, with sight gags referencing everything from Dragon Ball Z to JoJo's Bizarre Adventure. For long-time anime fans such as myself it is hard not to get a good laugh out of such referencial humour and Good Luck Girl does a great job at that meta-style of comedy.
While there isn't exactly a continuing plot other than the main through line that Momoji must try to take away some of Ichiko's good luck, the series does a great job at insular episode stories. One particularly memorable stand alone story focuses on Ichiko deciding she wants a boyfriend only to discover that unlike her he is actually poor. It is a great moment for the series and one that takes the character of Ichiko to some very interesting places, both comedically and dramatically. The episodic structure of Good Luck Girl is the perfect fit and throughout its run there are a number of ups and downs but fortunately there is more ups in the series.
Good Luck Girl is a great comedy anime, arguably the best in quite some time. While it does rely on ecchi humour for a lot of its gags, there are some killer referencial jokes that will undoubtedly crack up anime fans. It is a series that breaks down the anime medium and squeezes as much laughs as it can out of it. Good Luck Girl succeeds as a comedy in spite of its reliance on ecchi aspects.
Visuals and Audio
Sunrise are a studio known for their brilliant visual displays. Good Luck Girl is one of their more simpler works, that is not to say it isn't without its own brand of style of flair. It is just a more lax effort from the veteran studio. There isn't a great deal of sakuga animation on show and the series doesn't need it. It is a comedy and utilizes sight gag still shots to solid effect. Comedy series don't need to have sakuga animation going wild to go wild and with bombast and true flair Good Luck Girl looks great aesthetically.
In terms of audio, Good Luck Girl's soundtrack is a solid effort all round, with a few memorable tracks to boot. The opening theme is catchy as can be an the ending is quite good too. The highlight as far as the audio aspect of this release goes is the rip-roaring riot of an English dub that Funimation have put together. It is absolutely hilarious in every way and Colleen Clinkenbeard is pure brilliance in the role of Momoji arguably surpassing even the original Japanese voice actress. The jokes are great and the dub is one of the best there has been perhaps ever. If you don't laugh at this dub then you may need to see a doctor as you'd surely be missing a funny bone or two. Funimation and the entire dub cast should be applauded, this is a dub to remember.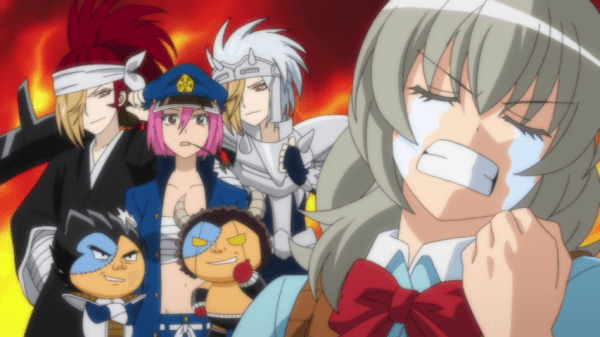 Extras
As for bonus content, this Blu-Ray release of Good Luck Girl packs quite a wallop. Included on this already great release are audio and video commentaries for the series, the English language trailer and the standard clean opening and ending themes. The real standout is of course the commentaries, which are always a delight to see and have become a staple of Funimation dubbed releases. Madman Entertainment have done a job well done with Good Luck Girl.
Overall
Good Luck Girl is an excellent comedy anime that while not being for everyone will undoubtedly have anime fans in stitches. It's referential humour is pure genius and the meta-nature of the series will surely have anime fans rethinking the medium and what it can do as far as comedy goes. It plays on all the right tropes and features a memorable cast of hilarious characters. If there is anything to unfortunate about Good Luck Girl it is its unnecessary reliance on ecchi-based humour, the show has better gags but almost feels as though it isn't confident in them enough at times to let them sit on their own. Its the one unfortunate aspect of an otherwise hilarious anime series. In spite of that, Good Luck Girl proves to be one of the most funniest anime series in years, if you're after a good laugh, look no further than Good Luck Girl.

Capsule Computers review guidelines can be found here.