Ghosts 'n Goblins Gold Knights
Platform: iPhone (reviewed)
Developer: Capcom Mobile
Release Date: November 11, 2009
Ghosts 'n Goblins is a classic side scrolling action platform game that was first released way back 1985 by Capcom, where you control the hero named Arthur, who must defeat hordes of zombies, demons and other undead creatures in order to rescue his Princess by the name of Prin Prin.  Arthur attacks by throwing different types of weapons at his enemies.  He starts off with his trusty lance and can pick up number of other ones along as well as bonuses and extra suits of armor that can help him in his journey.
Ghosts 'n Goblins in it's day in the Arcades was certainly one of the most hardest games to master and finish and was a tribute to the fantastic creative minds over at Capcom.  Since then there have been numerous versions of Ghosts 'n Goblins released on MULTIPLE platforms.  Starting on the Commodore 64 family computer all the way up to its recent release on the Apple iPhone.  Ghosts 'n Goblins shows the world that you can teach an old dog new tricks by being re-born once again on certainly the most popular next generation of mobile gaming device the Apple iPhone. 
Capcom have done a fantastic job in creating a new and fresh look to Ghosts 'n Goblins Gold Knight.  Graphically the game looks amazing with 3D style backgrounds and character models but still keeping true to side scrolling platformer that made it what it is today.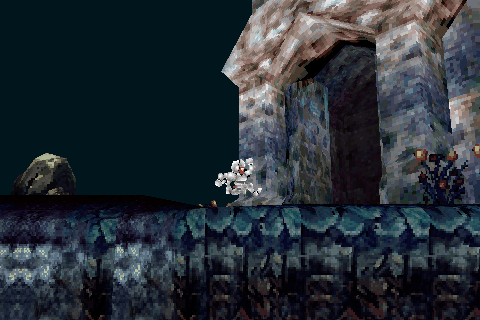 Ghosts 'n Goblins Gold Knights features 6 totally new and original levels to battle your way through, you get to meet some new monsters and some interesting end level bosses.
Now why is called Gold Knights …. well this time around Arthur is not on his own.  For the first time ever in Ghosts 'n Goblin, Capcom have introduced a new playable character and his name is Sir Lancelot, both characters have their strengths and weaknesses and also use / find different weapons and armor as shown in the screenshots below. 
Last thing I would like to mention is something new to Ghosts 'n Goblins and fairly new to the iPhone, only a few other games at the moment are providing this sort of service and thats Downloadable Content upgrades.  For a small price ($.99 US / $1.19 AU) you can unlock such extras as unlimited lives and Gold Armor upgrades just to name a few.  I run through all in the video review below.
Now sit back and watch the rest of the review of Capcom's Ghosts 'n Goblins for the Apple iPhone.
[youtube=http://www.youtube.com/watch?v=PikXhRWiSlk]
Ghosts 'n Goblins Gold Knights is easy to pick up and play but also quite challenging at certain times.  New comers might find it a little awkward at first but once they master the control system, they shouldn't have any problems what so ever getting through the game.  As for myself being a true professional (cough cough) I ran through the game in less than 30 minutes.  Don't let that you deter you as Ghosts 'n Goblins was made to be played quickly, as each level is timed and if you don't complete it before your time expires you fall to the ground magically in pile of bones.
Capsule Computers gives Ghosts 'n Goblins Gold Knights on the Apple iPhone 9 Capsules Out Of 10.  Priced at only $3.99 AU / $2.99 US it's a BARGAIN !!! Grab your copy now from the iTunes Store

CLICK ON THE RED BUY NOW BUTTON BELOW
[inline] [script src="http://www.appstorehq.com/widgets/app_badge?id=82397&h=0KwCASLakXOx0JWYCpOaVvzv%2F4jLZpYS70bTtKwjcczfmNKnCbENiNZdBru7b%0A0QQr"][/script]Best iPhone apps at AppStoreHQ[/inline]
–
Let us know what you thought of the review, leave a comment here or in the forums.
–
Best iPhone apps at AppStoreHQ
–