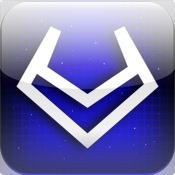 Geometry Wars: Touch
Platform(s): iPad (reviewed)/iPhone/iPod Touch
Publisher(s): Activision
Developer(s): Bizarre Creations
Genre(s): Action
Release Date: April 10, 2010
Price: $1.19 – Available here
Players first got a taste of the addictive arcade shooter 'Geometry Wars' as an Easter egg mini-game hidden within Bizarre Creations 2003's racer 'Project Gotham Racing 2'. It has since reached XBLA fame, released a sequel and many spinoffs like this one, 'Geometry Wars: Touch'. A port of 'Geometry Wars: Retro Evolved 2' for the iPad, iPhone and iPod Touch. Squeezing all the features and shooting greatness into the palm of your hands. The original game has been retained in this ambitious port even adding in an extra game mode.
Gameplay
Players control a small white ship in this arcade shoot 'em up. The goal of the game is to score points by destroying various enemy ships. The game caters for both casual and hardcore players with seven game modes – Deadline, King, Evolved, Pacifism, Waves, Sequence and the touch exclusive Titans, as well as competitive multiplayer variations on these game modes, where you and a friend team up with one another to gain the higher score. These game modes are quite varied and provide a good mix of gameplay with their own unique rules and twists on the original formula.  Perfect for casual players who just want to kill five minutes and those who want to chase their next highscore on the leaderboard.
Despite solid and well mixed gameplay, controls in this game takes a lot of time to get use to and initially feel very awkward, especially to anyone who has played the game on Xbox.  You control and fire your ship with two virtual analogue thumbsticks which are automatically placed whenever you touch the left or right hand side of the screen, ideally the best position to place your thumbs are on the bottom left and right hand corners. Otherwise you block up the screen with your hands, which I was doing when I first started playing. Controls are customizable but only to a limited degree, either movement or firing on one thumbstick or on two. Turning up the touch sensitivity does help players find their ideal playing position, but still does not fix the problem.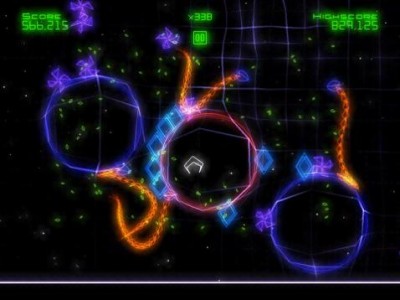 Like most arcade games, gaining a higher score and position on leaderboards is a major motivation for players to pursue in Geometry Wars: Touch. The leaderboards are automatically updated with player's scores instantly after they have finished. Players also have the option to post their score on to Facebook via the game's social media link. Strangely, offline scoring isn't stored at all. A player's score is only kept if they have an internet connection and have signed in with their Facebook account or through a Geometry Wars legacy account. This essentially means that anyone without an internet connection, their scores are going to be wiped from the game after they've finish playing. And for a game that relies so heavily on its leaderboards it's just bizarre that the developers would leave out this feature.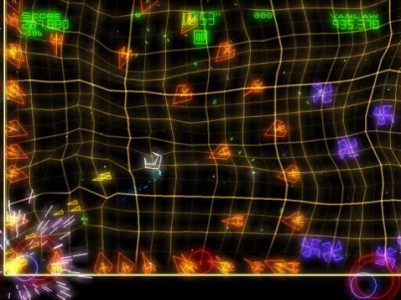 Graphics and Audio
The graphics and audio in this game are impressive, bright vivid neon light coloured enemies and explosion fit in well with the addictive gameplay. It is very thrilling to see all these lights explode around your ship as you frantically shoot off enemies. It's also a nice touch, to see the background grid morphs and change back into shape whenever you respawn, set off a bomb or destroy certain enemies. The bright vivid neon lights are also extended in the game's overall futuristic yet retro 8-bit feel and theme. The game's soundtrack also reflects this, featuring very catchy techno tunes and beats. This especially seen in game modes such as Pacifism and Evolved where the game's music complement's the rising difficulty which comes together in a very hectic yet visually stunning screen. Whist the graphics may not be on par with its Xbox counterpart, it's good to see that Bizarre Creations were able to jam in this level of quality.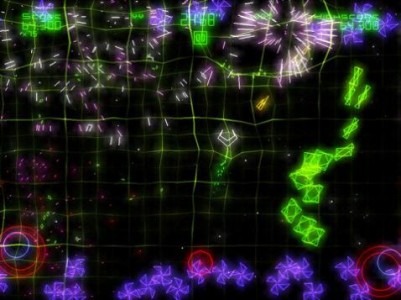 Overall
If you can pass Geometry Wars: Touch's short comings, awaked controls and no offline scoring, it is still a very fun addictive game, that features solid gameplay and unique visuals. The game is best played with an internet connection as your time and effort is rewarded with leaderboards, but still the game is great for casual players on the go who are just looking for a quick gaming hit or two. Not to mention its new low price Geometry Wars: Touch is definitely worth a go.
I give Geometry Wars: Touch for the iPad: