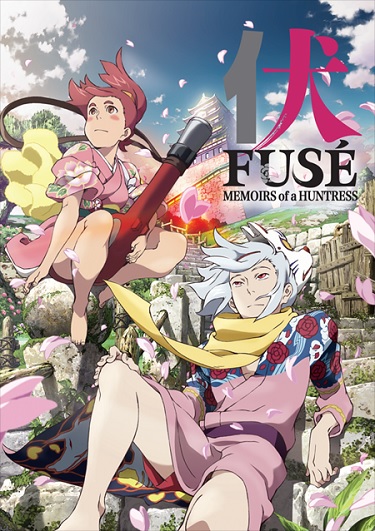 Fusé: Memoirs of a Huntress
Studio: TMS Entertainment
Publisher: NIS America
Format: Blu-ray
Release Date: May 6, 2014
Price: $49.99 – Available Here
Overview
For quite some time now a certain series of novels have been used to create various adaptations which is fitting considering the Nansō Satomi Hakkenden series spanned over a hundred novels back when it was released in the 1800s. Featuring eight samurai warriors that were part human and part dog, the series is rather unique and the latest variation of the material, Fusé: Memoirs of a Huntress, takes and spins the story in its own way. However does that make this movie worth purchasing?
Story
The young Hamaji Ooyama has spent her fourteen year life growing up in the mountains with her grandfather. Because of this lifestyle she has grown to be a skilled huntress capable of wielding a special multi-shot rifle with deadly accuracy. Unfortunately for Hamaji her life has grown lonely and empty since her grandfather passed away a year prior and now even when she kills an animal for food, she cannot share her prize with anyone.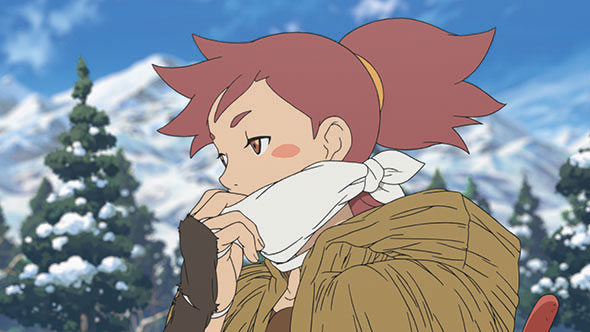 When a letter arrives from her brother Dousetsu who moved to Edo to try and become a samurai, she travels to Edo to begin living with him. When she arrives she finds that Edo is in a state of unrest due to eight human-dog hybrids called Fusé that appeared in the city and began killing people left and right. Because of this the shogun of Edo has issued an edict that all Fusé be eliminated and that anyone who is capable of slaying one of these creatures be rewarded with a small fortune and great standing.
Initially disgusted at the way the already six slain Fusé are displayed out in the open, Hamaji agrees to help her brother in the Fusé hunt because despite him spending years in Edo and making some close friends, he is far from his goal of becoming a honored samurai and lives in a small shack. This is problematic however as Hamaji already ran into one of the two remaining Fusé when she arrived in Edo. While this Fusé made use of her weapon to avoid his attackers, Shino as he is called, treated her fairly and even helped her out when she was lost.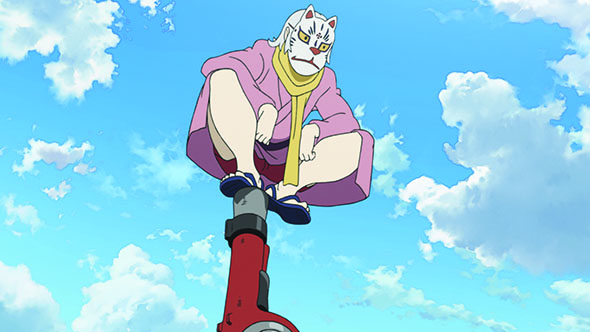 Despite his generosity towards Hamaji, which includes a few small meetings between the two that can be described as touching, it is clear to see why the people wish to kill Shino as he is regularly slaying anyone who dares come across him and eats their souls. This isn't a simple story of who is right and wrong however as Shino's race is nearing extinction the Shogun's own order is clouded by fear and isolation.
Over the course of this roughly two hour movie we see Hamaji go from a huntress in the wilderness to meeting her first love who also ends up becoming her prey, even if that infatuation seems to spring from nowhere. Along the way we are introduced to colorful cast of side-characters, an interesting play involving the history of how the Fusé might have come about, and even the author of the Hakkenden series is used in the movie sparingly.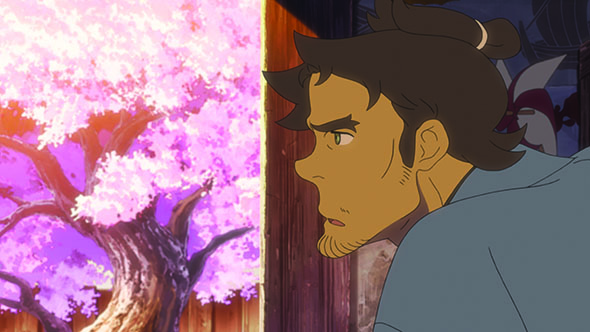 With a number of action pieces set throughout the movie and a decent story with a few touching moments, Fusé: Memoirs of a Huntress wraps things up nicely by the end, especially in regards to Dousetsu as we get to see just how his life has changed since Hamaji arrived in Edo. That being said, there are a number of oddities that appear throughout the movie that never are explained such as the Fusé's need for souls as well as the events that take place in the shogun's castle as these are simply glossed over as being part of the shows fantasy theme.
Visuals & Audio
Fusé: Memoirs of a Huntress is a gorgeous looking film thanks to the beautiful use of colors and wonderful looking backgrounds used throughout the movie that really shine thanks to the Blu-ray release. There are a number of areas visited in Edo that could easily have been passed off as simplistic given the era the movie is set, however many buildings are highly detailed with unique designs which give the movie an appealing look.
This is necessary considering the design of the characters ranges all the way from impressive to terrible looking. The main cast of Hamaji and Shino, including Shino's transformations, are handled nicely with a decent level of detail however a few of the action sequences drop in quality about halfway through which is disappointing and the side-characters are designed with strange facial structures, bland clothing, and drab coloration.
I must note that Fusé: Memoirs of a Huntress is a sub-only release but this isn't an issue as there are a surprising number of veteran Japanese voice actors providing the voice work for many of the characters in the series. It will be hard for a viewer not to pick up on Dousetsu's voice actor since he has been in numerous series over the years while Shino's and Hamaji's voice actors are equally skilled.
Extras
With the release of Fusé: Memoirs of a Huntress we have the premium edition style treatment the company is known for. While the on disc extras are only TV spots for the movie as well as trailers for other NIS America anime the release also comes with an oversized chipboard slipcase that features artwork on both sides, one featuring art similar to the anime and another featuring a darker more stylistic piece of art.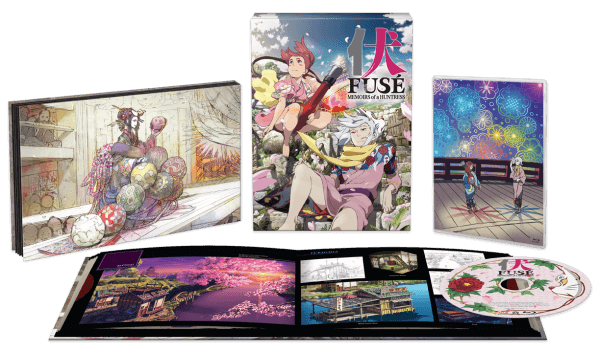 The release also comes with an art book that contains character information as well as sketches and designs for each of the main characters in the movie, numerous pages showing off artwork, both storyboard and fully colored, of the various areas and backdrops found throughout the movie. This is then followed by an interview with the director Masayuki Miyaji, additional character art, and finally a few pages featuring full color artwork.
Overall
Fusé: Memoirs of a Huntress tells a story that many of us probably have seen in some form before but puts a bit of a swing on things by having it take place in such a setting based loosely on the Hakkenden series. There are issues with the movie in regards to the character art as well as Hamaji's bond with Shino, but it is still a fairly enjoyable film with a number of standout segments, especially near the end, though it isn't something that will stick with you for long after the credits play.


Capsule Computers review guidelines can be found here.