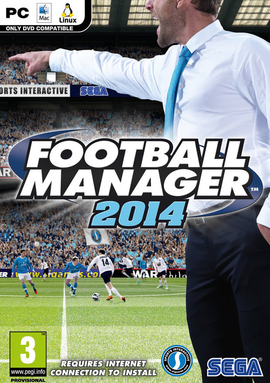 Football Manager 2014
Developer: Sports Interactive
Publisher: SEGA
Platforms: PC, Mac, Linux
Release Date: 30th October 2013
Price: US$49.99, AUS$69.95, £34.99, €49.99 – Available Here
Overview
Ever since Rooney was being beaten around the school yard as an acne ridden teenager and Gary Linker achieved the highest accolade of his career when Walkers released Salt and Lineker crisps, I have had a secret love affair with management simulation games. Nowadays though I am always plagued by a slightly pessimistic optimism. Much like any yearly franchise there is always the worry that year on year despite a few new features and fixes it will just be the same game as before. Call of Duty suffers from this problem, FIFA is much the same, but will this fall prey to the same issues?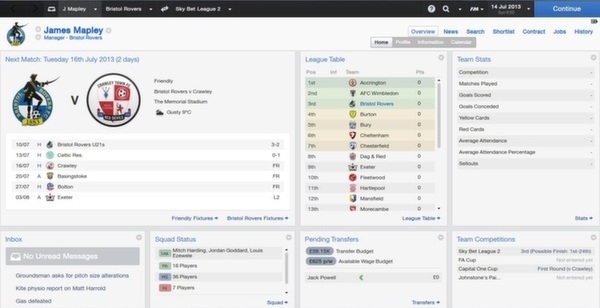 Being a game that is at least 90% text based, it is hard to come up with new ways to revolutionise gameplay. Generally, the most notable changes are simple UI fixes, and slight alterations to how you implement tactics and issue player instructions. Occasionally though we see features crop up that make the game feel a lot more like real life and in the end that is the main goal of any simulation, be it flight or football. Sports Interactive have certainly not been quiet about just how many shiny new things they have thrown at FM 2014, going as far as to announce a new feature every day for a week in August over Twitter. But have they really made a difference on a franchise that I believe is quickly turning stale?
Gameplay 

How Sports Interactive manage to make a game that faces you with more stats than the London Stock Exchange entertaining is beyond me. However, they have made it simpler than ever before to deal with these stats and even things like on-the-fly tactical changes have been made easier with the addition of boxes that appear during matches, letting you know how players are doing and other pieces of valuable advice. This has never been more useful considering how the AI has been improved to the point where the opposing manager will change his tactics to counteract your line-up. Just one of several new elements of the game that makes you feel like you're really on the touchline.
Before any of that match day action though comes the planning and here is where you will spend countless hours. FM 2014 has been given a tactical overhaul and the depth with which you can go into setting up player roles is really quite staggering. You can instruct players to play deep, run with the ball whenever they get the chance, play through balls to split open the opposition's defence or a dizzying amount of other options. In the hours that I have sunk into this game so far I haven't even begun to touch upon the sheer level of depth with which you can control your team. I wouldn't ever like to say that there is too much detail, but for someone like myself who follows football, but isn't the next Alex Ferguson by any stretch of the imagination, it can be a bit daunting.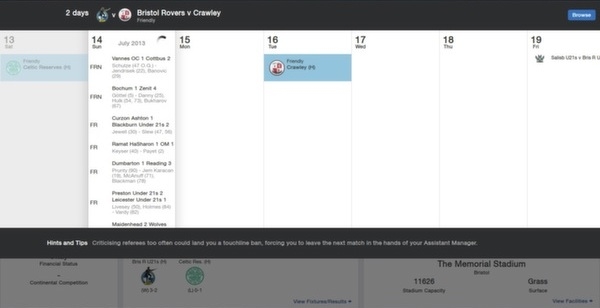 When you bring it back to basics though Football Manager 2014 is still at its core a soul-consumingly addictive game. If Candy Crush were a football sim, and not crap, it would be this game. If crack cocaine were made into a football sim it wouldn't even be able to scratch upon to the amount of rehab you'll need after exposing yourself to this game. Unless you suck like me and can't hold down a manager position for longer than a season to save your life, you will be entranced by Football Manager 2014 and that is the strength of this franchise. I could spend all day picking at the fine details regarding graphics and statistical overload, but at its core this game represents infinite replayability and endless fun.
Visuals
Above all else the most noticeable feature is the new UI which is an absolute pleasure to look at. While I hesitate to compare it to the new iOS, that is what it reminds me of. Everything is flatter and the transitions between screens are smooth and fluid, much more visually pleasing than the clunky, bulgy interfaces of old. There is also a whole new emphasis on letting you know information in ways that are simple and easy to understand through the use of pie charts, percentages and graphs. It may come as overwhelming when you see just how much is available to you and most of it you probably won't even think twice about, but it just being there really gives you a sense of immersion.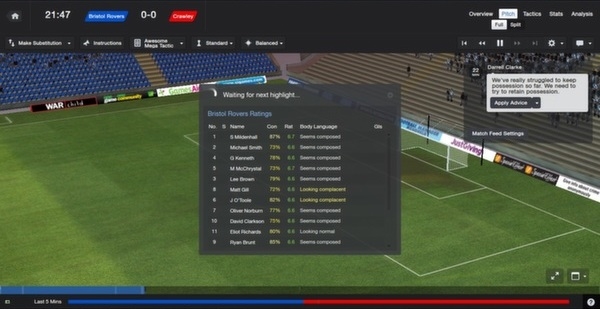 What I was less impressed by were the "improvements to the 3D match engine". I can appreciate the new camera angles, even if they are a bit disorientating at times, but in this day and age I should not be seeing my keeper posing like someone just told him it was Hammer time and then holding that position as he levitates back about 5 meters into his net. I don't know when Chelsea enlisted the help of MC Hammer in goal, nor do I know when he learned to break the bonds of gravity, but clearly Sports Interactive got the idea from somewhere… In all seriousness though, the 3D engine needs some work. The player models move a lot more like actual people than before, but the poor animations in places ruin the experience very quickly.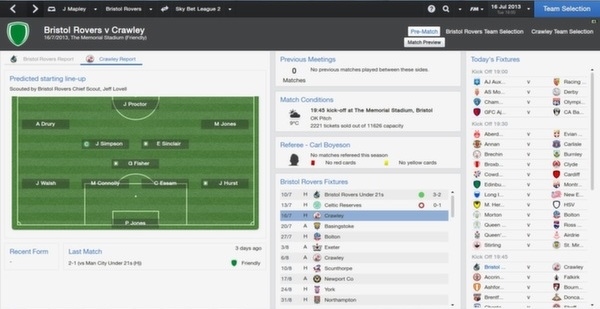 Overall
At the end of the day, Football Manager 2014 still only does what you expect of it, but it is a solid and hugely entertaining game. If you own a PS Vita to take it on the go, run Linux, or it has been a couple of years since you last played a Football Manager game then it might be worth picking up, but if you're like me and are waiting for something new to really revamp the series then FM 2014 is not for you. It has come a long way in trying to make the game feel realistic and you can tell that Sports Interactive are beginning to address a lot of the issues that previous iterations had, but it is only really beginning to gain steam and avoid stagnation. In a couple of years I expect big things from the Football Manager franchise, but for now the game is like Arsenal… Still good and packing a lot of promise, but they won't be winning any trophies any time soon.

Capsule Computers review guidelines can be found here.