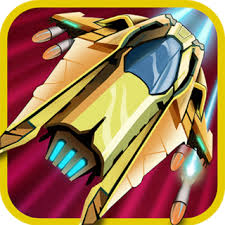 Flashout 2
Developer: JujuBee
Publisher: JujuBee
Platforms: iPhone (reviewed), iPad
Release Date:  March 31st, 2014
Price: $0.99 – Available Here
Overview
There have been a number of F-Zero styled space racers on the mobile platform, so what makes Flashout 2 stand out among them? Well at its core there isn't anything about Flashout 2 that is exactly innovative, there isn't really much about Flashout 2 that we haven't seen a dozen iterations of before. What makes Flashout 2 stand out is its execution. It is a damn fine game that wears a coat of polish that you just don't see on mobile games. Flashout 2 looks great and plays great, you can tell that JujuBee put a great deal of effort into fine tuning the space racer experience and the result is probably the best incarnation of the formula on mobile to date.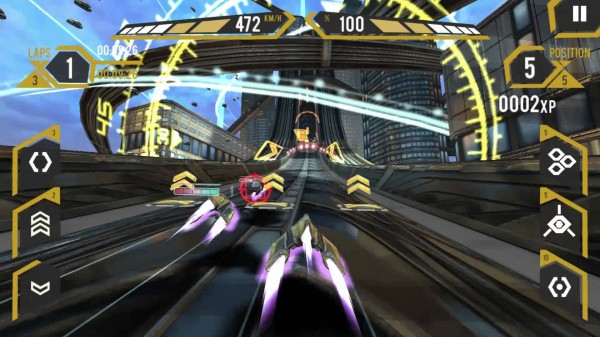 Gameplay
Much like other space racers on the market, Flashout 2 appears to be heavily influenced by the Nintendo racing classic F-Zero. It wears that influence on its sleeve for better or worse. Thankfully the game plays quite differently to F-Zero despite being bred from the same formula. Flashout 2 doesn't focus so much on speed as F-Zero does, rather there is a focus on power-ups and obstacles.
When racing you'll encounter a number of obstacles, which you either avoid of shoot down. Some alternate pathways can be opened up by activating them, there is also the traditional speed boosts and other items. As you race you accumulate in game cash which can be spent on customization and other vehicles.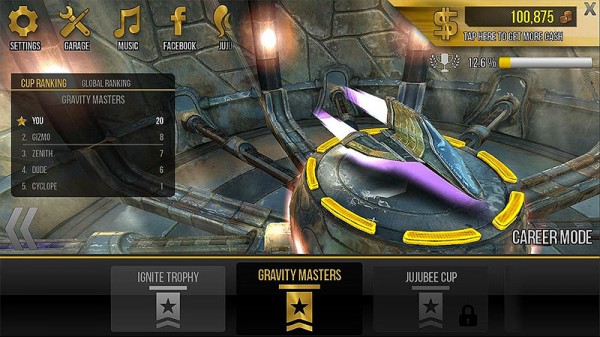 The game features a number of gameplay modes, branched between Single Player and Multiplayer. There is the standard free race mode which allows you to jump straight in and just race it out on a track of your choosing. There is also a time trial mode and a detailed career mode. Through these modes you can progress, unlock vehicles and ultimately move through the game and become better at it. It is a simple method, but it is a proven one and it works spectacularly. The tutorial at the beginning of the game is quick enough that it doesn't overstay its welcome and the game kicks into gear with ease.
As for controls, the game plays really simple, you steer your vehicle with gyro control by moving your device as if it were a steering wheel. There are on screen buttons that can be pressed to activate weapons and boosts. It is all very simple and gets the job done well enough.
Ultimately the game is well polished and is quite a bit of fun to play. It doesn't really bring anything new to the table but its a solid game all round and there isn't really much more you could ask for from Flashout 2.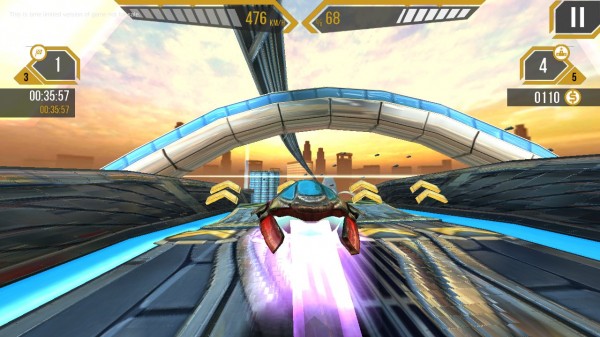 Visuals and Audio
As for Flashout 2's visuals, the game is aesthetically impressive and features some graphics that could pass on consoles even. There isn't really anything memorable about Flashout 2 visually but the graphics are quite nice and give the game a decent level of immersion.
The soundtrack for the game is probably one of its better points. Featured are a number of techno beats coupled with some dubstep tunes. The dubstep tracks may be off-putting to some but it does generally fit the action of the game.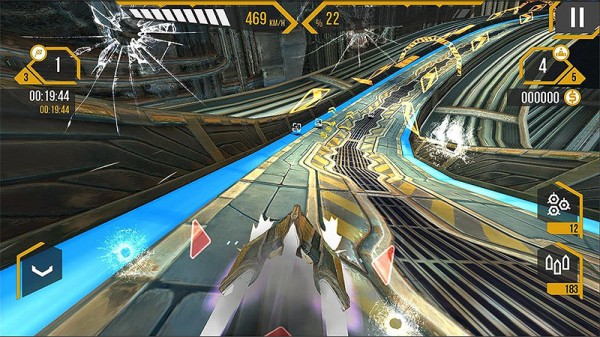 Overall
If you're looking for a well made space racer in the same vein as F-Zero, then Flashout 2 is just the game you're after. It is polished and plays quite nicely. JujuBee have crafted a good game that will satisfy the needs of racing game fans and serve as a nice casual game for mobile devices. Newsflash people, Flashout 2 is a spot of fun that is well worth the price of admission. Get ready to start your engines, Flashout 2 is ready to roll.

Capsule Computers review guidelines can be found here.