Publisher: EA Sports 
Developer: EA Canada 
Platforms: Xbox 360 (reviewed), PS3
Release Date:Out now! 
Price: $89.00
Overview:
After putting the series on hiatus for four years, EA Sports decided to revive the FIFA Street franchise and having been a fan of the previous releases (more so FIFA Street 2 than it's successor), I was pretty excited to get my hands on this one.  With 6 complete leagues included, in addition to 20 national teams and a whole bunch of Street teams and special "All Star" teams, FIFA Street was on it's way to living up to the EA Sports standard.  There has however been some criticism about the release of the game, in that many people feel it should just be incorporated into the FIFA games  rather than existing as a separate entity, much like the 2k NBA series has done.  So is FIFA Street good enough to warrant it's own retail release? Let's find out.
The FIFA Street match engine is heavily adapted from FIFA 12, and given the success of the latter, that's definitely not something to complain about.  The match engine runs smoothly, and for the majority of the time it is pretty responsive.  But this isn't just FIFA 12 on a smaller pitch, the passing is not as precise and as a result you will need to use your dribbling skills and tricks to beat defenders and sink the ball into the back of the net.  This does vary however depending on which match type you are playing, as they have included a futsal style match as well as other variants such as 6 vs. 6.  These are played on much bigger pitches and require you to change your tactics and style when compared to how you approach a 2 vs. 2 match type.  It's a really  great way  of spicing things up and works really well throughout the game.
However that being said there are a few flaws which pop up as you play.  There seem to be a few glitches and collision issues that occur sometimes, similar to that which we experienced quite frequently in the FIFA 12 demo and which still occasionally appear in the full game, however these seem to be rare enough to not detriment the game much.  A more annoying issue is that the defensive abilities are limited to just a standing tackle and a pretty weak attempt at that.  Obviously street football favours attacking players and the more goals the better, but it can be incredibly frustrating at times.  Although logical to omit a slide tackle given the surfaces you're playing on, it feels much tamer than the old street games.  I was  pretty surprised they didn't even allow the shirt pulling or bumping that you can pull off in FIFA 12, a simple yet effective way of giving the defence a bit of power.  Rushing your keeper generally seems to be an effective way of shutting down an attack as they seem to tackle much  more aggressively, although obviously risking an open goal.  On top of that, AI can be a bit suspect at times, especially when using the "dynamic" formation or playing in a match type without a keeper, however on the most part it's still pretty good.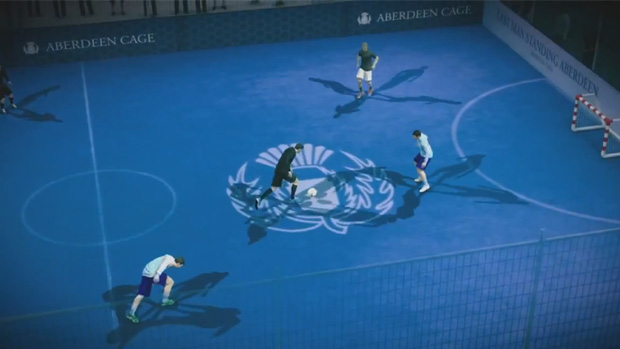 Don't let these flaws deter you too much as the majority of the game plays really well and is quite  a lot of fun.  World Tour Mode is done pretty well, with you starting off by creating a player (or importing one from FIFA 12), and then selecting a group of pre-created players to join you as you take on some local teams.  You can edit all of these players to your liking as well, although the customisation options are almost identical to that of FIFA 12 besides a few hairstyles, but there's a pretty hefty amount of clothing choices (which you progressively unlock).  I would've liked  some more bold customisation options, like crazier hairstyles, tattoos and bigger variations in body types, which would've given the game a more "street" feel, but for the most part there is still enough in there to make your players unique.
You then play some matches and tournaments to improve your squad and move up to the bigger stages, starting with local, national and then onto Europe and finally international.  As you progress you sometimes will be able to recruit  some newer players, however mind you this does not mean real FIFA players until you get to the international stage, and by then the mode is almost completed.  In a way this is good because you have to really develop your squad and it allows you to build the players up exactly how you'd like, but on the other hand I personally prefer to have real FIFA players in  my squad.  In the older FIFA Street games you'd start out by recruiting lower rated real life stars, and slowly move on to the superstars, which I felt was a much better system.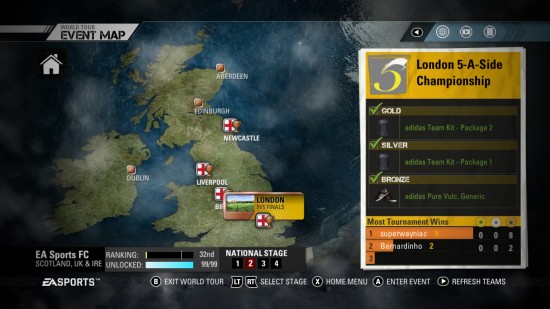 The difficulty settings for the matches are quite good, simply just easy, medium, and hard, or even play online, with each allowing you to unlock different items.   The match type variations keep things fresh, as does unlocking new tricks and improving your player's skills.  At times however World Tour Mode does feel a bit dry and repetitive and doesn't have the same level of replay-ability that Career Mode in FIFA 12 does, but overall it still is quite fun and will entertain you for hours.  Of course once you're done with World Tour Mode there's always online to keep you going which is a lot of fun, although you will need to get an online pass.
Visual:
This time round FIFA Street decided to take a much more realistic approach which their players as opposed to the characterised style of FIFA Street 3, and for the most part the players are very well animated, albeit similar to their FIFA 12 counterparts.  The venues are also relatively well crafted, with some aesthetically amazing locations such as right in front of the Notre Dame in Paris as well as a floating pitch in the Venetian canals, remembering that this is a sports game so you can't expect the architecture to compete with the Venice of Assassin's Creed.  The animations are  pretty standard, and EA haven't really stretched themselves too much in terms of player personalities which is a bit disappointing.  The game's interface is easy enough to navigate through and there's not much to complain about there.
The soundtrack for FIFA Street is not bad, featuring some tunes from the likes of Fatboy Slim and the Hilltop Hoods, but it still seems to be lacking that edge that we normally get from FIFA soundtracks.  What's more is that the matches feel pretty empty in terms of audio, despite the soundtrack playing in the background.  There is no commentary as such and it doesn't need any, but there's just not much going on at all.  Some of the matches you'll get a announcer getting a bit excited and making some comments or saying the score, as well as some multilingual chatter coming from the players, but it just needs something more to boost the match atmosphere and improve the overall experience.  For the most part the audio is still adequate, but nothing more.
Overall:
It's not going to keep your FIFA addiction at bay for more than a month or two but that doesn't mean it's not a great sports game.  Sure it's lacking depth and there are a few persistent issues that should have been resolved, but there's still a lot of fun to be had with FIFA Street and it definitely brings some freshness onto the scene.  The online gameplay will extend the game's sustainability and it's a useful game to have in your collection when you're in the mood for some easy going entertainment.  Could EA Sports have just made this an expansion pack for FIFA 12? There's far too much content not to mention a lot of uniqueness about FIFA Street to not warrant it's own release.  Despite it's flaws, it's still a well rounded game that just needs a bit of polishing.  It's a good improvement from FIFA Street 3 and will hopefully put the series back on track.