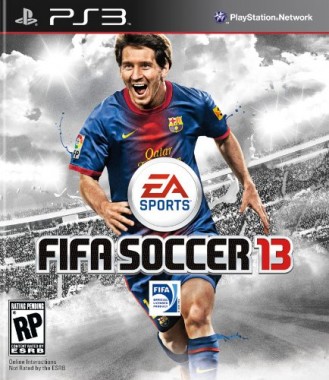 FIFA 13
Developers: EA Canada
Publishers: EA Sports
Platforms: PlayStation 3 (reviewed), Xbox 360, PC, PlayStation 2, PlayStation Vita, PlayStation Portable, Wii U, Wii, Nintendo 3DS, iOS, Mac OS X
Release Date: 25/09/2012
Price: $50.46 (PS3/Xbox 360, Available Here)
Overview
Another year, another season of football is upon us. It also means another iteration of FIFA. FIFA 13 on the console and PC is quite beautiful like a Christiano Ronaldo free kick when it hits the back of the net. Changes on the pitch, including Attacking Intelligence and the Physical Impact Engine, brings the realism of football a little closer to the virtual space. Career Mode is better than ever, with changes coming for Ultimate Team and Football Club. The addition of Skill Games is also welcomed. But is this enough to lift this year's cup or will FIFA 13 suffer a heartbreaking defeat?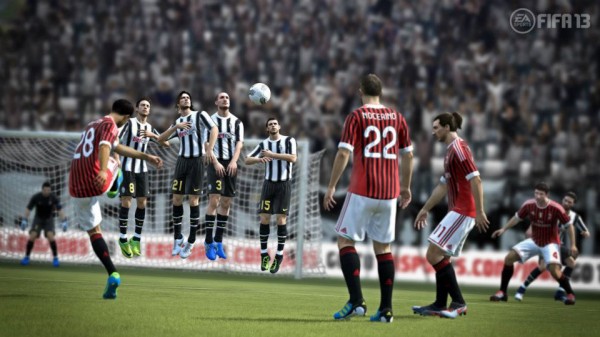 Gameplay
While it isn't truly groundbreaking, EA has improved significantly with the additions in gameplay on the pitch. I have already touched on these elements when I did try out the game before release. Not much has changed since then, but I am still impressed with the changes. First Touch Control helps recreates the realism of a real football match by adding a sense of unpredictability into a player's first touch with the ball. Instead of the football acting like a magnet as it touches the feet of a player, the player will try their best to bring the ball under their control. Whether it is successful or not is determined by various factors, such as pressure from opposition and the pass itself, as well as the skill level of the player in question.  Complete Dribbling is one of my favourite additions to FIFA 13. It truly brings 360O dribbling to the virtual space. I loved it when my player would move to the side, looking for an opening to burst past the defender. It added unpredictability to the game. Would I pass this player or not? There was only one way to find out.
The Player Impact engine brings in an added physical element. The animations with the struggle for the ball were well executed. The updated engine includes situations off the ball. As in real football, defenders would only need to put attackers under pressure to force a poor touch. The same thing happens in FIFA 13 and it is great to see that. Attacking Intelligence provides the player various options in attack, allowing more creative attacking plays to fool your opposing defence. Then there are the new Tactical Free Kicks, which allow up to three players over the ball. Execute this right and watch the ball fly towards goal and hit the back of the net. I was able to execute this as Robin Van Persie in his brand new Manchester United uniform.
Career Mode is the gem in FIFA 13. The player can only choose between a player and a manager, so the player manager is scrapped, but who plays as a player manager? The reason this was scrapped has to be a feature fans have been longing for, like Arsenal fans and trophies. International duty has been added to Career Mode and it is excellent to see that. As a player, you are consigned to one international team (if the international team is available in the game) which makes sense. The manager can choose any international team so long they put forward an offer. Competitions, like the World Cup, are featured in Career Mode (unlicensed, which is strange). This doesn't just include the main competition. It also includes the qualifiers. But international duty doesn't come by so easily. Reputation must be built up before being considered, which is sensible as, in real life, it is rare to see an unproven manager suddenly take the reigns of an international team.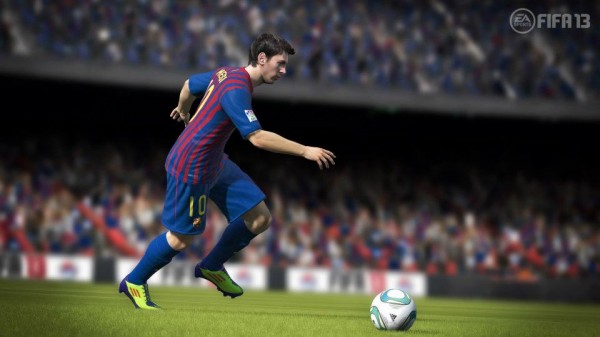 But international duty isn't the only headlining act of Career Mode. The transfer market has been revamped. Managers can now negotiate a deal through perceived value rather than a fixed value like FIFA 12. Counteroffers can be made and the manager could also offload a player to sweeten the deal, just like the trade between Zlatan Ibrahimović (Internazionale to Barcelona) and Samuel Eto'o (Barcelona to Internazionale) back in 2009. This makes the market a lot more competitive and unpredictable. Some minor additions, such as the ability to accept a job in the middle of the season (manager) and the ability to have European club competitions in the first season, have been added. Players also have personal and club objectives to achieve each season. These will differ based on the position of the player. All in all, Career Mode is robust, executed with excellence and one of the best EA have ever implemented.
Ultimate Team, Football Club – Of course, FIFA 13 is more than Career Mode and quick play. Ultimate Team is back this year and this time it is about getting more people involved. A neat feature within Ultimate Team is Icebreaker Flow. This feature allows players to ease into Ultimate Team and really give it a go. For veterans, it's business as usual. EA Football Club, introduced last year, also returns. For those with FIFA 12, your level does transfer over and you get a bonus as well. New to the Football Club is the catalogue, where one can purchase items that affect their Career Mode, their created player or even classic kits, going way back to the late 1800's. Another neat addition is Match Day, where, during exhibition, one can play as the teams in their current form, reflecting the real world. Teams will go up and down based on current form and this is an excellent addition. It is easy to implement as well. Just hit a button on the team select screen to turn it on.
Then there are the Skill Games. These are available from the menu or while a match is loading. Skill Games are basically FIFA 13's competitive tutorial. They will make you go through the basics of football, such as shooting, passing and crossing into the box.  Players will perform tasks and will be rewarded with points. There are four levels for each Skill Game: bronze, silver, gold and a special challenge where the player will bring in the skills they have learned and try to obtain a high score. They are surprisingly fun. It also helps that it brings a new level of accessibility for new players.  I will also recommend it to veterans of the FIFA game. They help bring a certain finesse to their game. An excellent addition to the franchise and I hope it makes a return next year.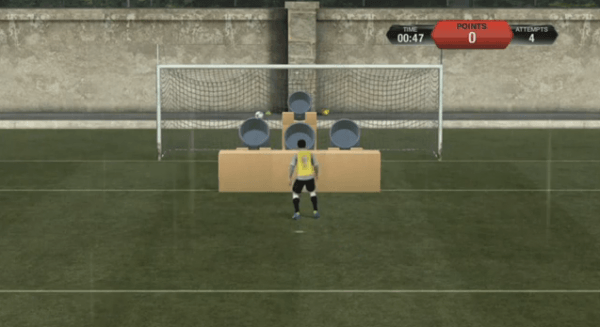 Visuals
The visuals are clean, slick and nice, which is what one would expect from a console/PC FIFA game. Character models have the likeness of the player they are representing (most of the time). The new additions to gameplay bring in more animations and they are quite smooth when they are executed. The menus received a nice change and they look good. Stadiums are always as impressive as well as the new kits. Career Mode received a bit of a facelift too. It's presented in a slick way and not as cluttered.
Audio
FIFA 13 features roughly 50 tracks from around the world. As with all music, what one likes another would prefer to listen to something completely different. Nonetheless, this year's soundtrack is pretty good. EA chose some good tracks for the game. More importantly, the team of Martin Tyler and Alan Smith bring the best in terms of commentary. They are joined by Clive Tyldesley and Andy Townsend as a selectable team. In addition to the match commentary, one will receive commentary based on upcoming fixtures and results, draws for cups and even injuries, both out of and in the game. This is an excellent addition, but goal news can be vague if involving some of the lesser teams. The crowds bring the atmosphere of a real football match.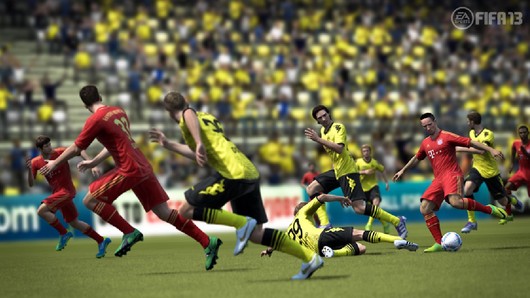 Overall
FIFA 13 outdoes its predecessor in several fields of gameplay, visuals and audio. The new additions to gameplay, such as Attacking Intelligence and Complete Dribbling, brings the FIFA franchise closer than ever to realistic football in the virtual space. The plethora of game modes means that there is a lot to do in the game, including challenges, an excellent Career Mode and accessibility to both Ultimate Team and the game in general through Skill Games. Even Football Club was given more features to contend with.  Add in slick visuals and excellent audio and FIFA 13 should be considered the champion of the virtual football arena for 2012.