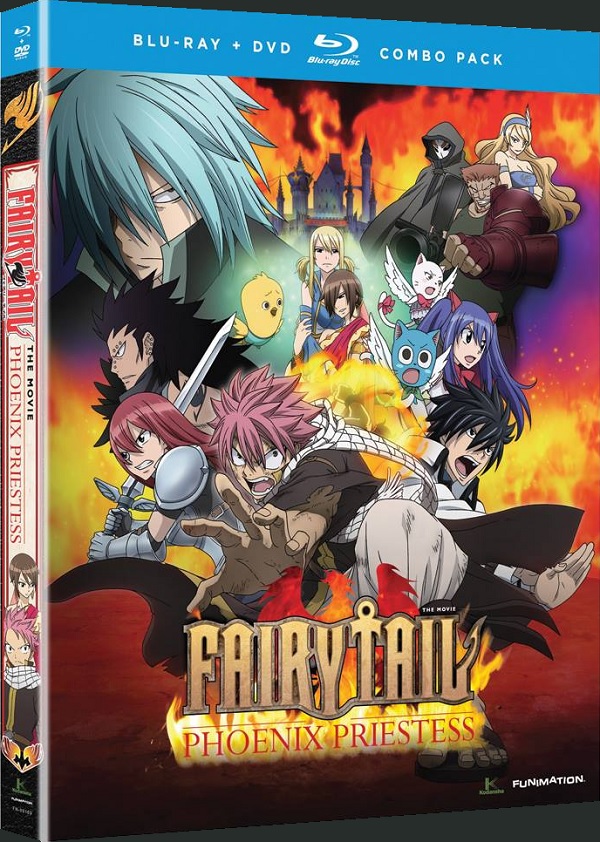 Fairy Tail the Movie: Phoenix Priestess
Studio: A-1 Pictures
Publisher: FUNimation
Format: Blu-ray/DVD Combo Pack
Release Date: December 10, 2013
Price: $34.98 – Available Here
Overview
Usually six years after their creation most shōnen series would have already spawned a few movies during that time frame. However unlike other titles, Fairy Tail has only been given one anime movie at the moment, with even Toriko featuring more movie releases. However quantity rarely equals quality and now that the first and currently only Fairy Tail movie, Phoenix Priestess, is coming to North America, is it worth picking up?
Story
Fairy Tail: Phoenix Priestess begins with a ritual being held at a place called the Fire Village where two halves of a powerful magic relic called the Phoenix Stone is being protected. During the course of the ritual the village comes under attack by an unknown force of soldiers who annihilate nearly everyone in the village with only a priestess managing to escape with half of the Phoenix Stone after the village chief sacrificed himself for her.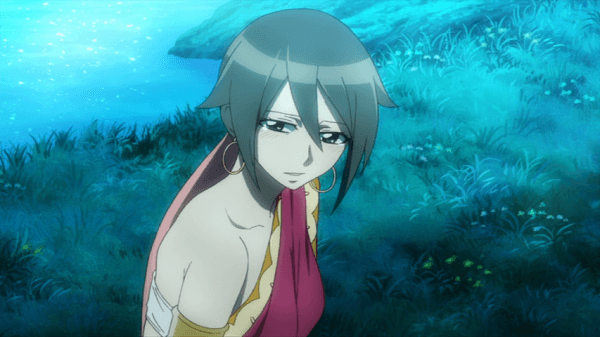 We then join the signature Fairy Tail team: Natsu, Gray, Erza, Lucy, Wendy, and the cats, as they are attempting to catch the leader of a bandit group. After failing to do so and preparing to get a scolding from the guild master, Lucy encounters a woman with a strange bird that suddenly passes out near her. The woman's name is Éclair and she has been suffering from a case of amnesia as long as she can remember, with only her Momon, the odd looking bird, to keep her company and take care of her.
After listening to her story, the Fairy Tail guild offers to help her in any way possible, which she reluctantly agrees to since she has a disdain for all mages and magic. After part of her amnesia clears, she realizes her purpose and that she still carries one half of the Phoenix Stone and as she slowly begins to reveal the purpose behind the stone and her past, the small nation of Veronica has hired a dark guiled named Carbuncle to take the stone from her at any cost.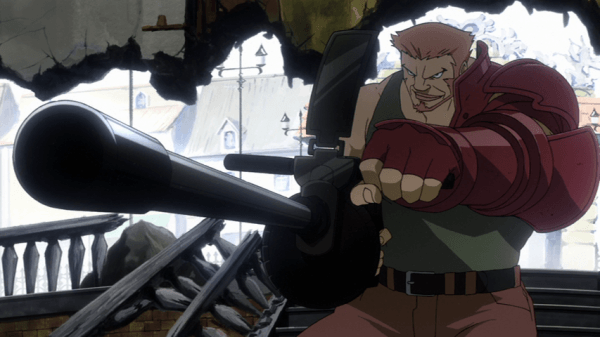 With Éclair's past coming into focus and the true meaning of the Phoenix Stone revealed, the Fairy Tail members must travel to Veronica to save their friend and also put a stop to a force capable of eliminating all life on the planet, whatever the cost.
Many shōnen movie plots either involve poorly developed villains or a story that barely is worth paying attention to, leaving only the most die-hard fans wanting to see their favorite characters in action. Thankfully Fairy Tail: Phoenix Priestess doesn't suffer either of these problems. While there is indeed an enemy force to be taken down, the enemy is far from a mastermind but the eventual force that springs up from his plans serves as a suitable creature that needs everyone to band together and take it down and the emotional outcome from its defeat is certainly memorable.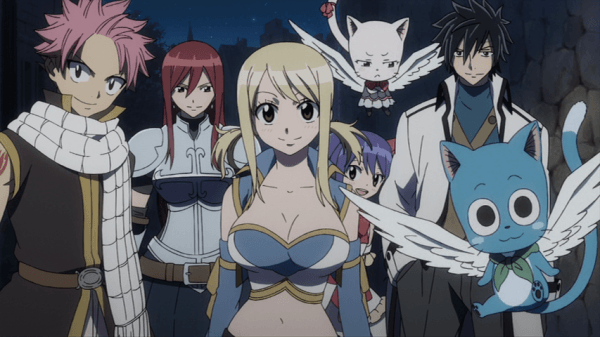 It also helps that while this tale involves most of the Fairy Tail guild, members of a new guild called Carbuncle, Éclair, and the land of Veronica, the character development focuses entirely on Éclair and Lucy. The two become friends and Éclair learns to trust mages even while Lucy does everything she can to protect her which leaves most of the cast as minor side-characters that help drive the action along.
Continuity can be a difficult thing with anime movies based off of long running series. However that isn't an issue as far as Fairy Tail: Phoenix Priestess goes. Instead it features another issue that people only following the English release of the anime and not the English manga or legal streams will experience. You see, Phoenix Priestess takes place after a number of significant events take place in the main Fairy Tail storyline which not only sees a few characters, such as Lisanna and Gajeel's partner Panther Lily introduced to fans ahead of time and the return of Laxus to the Fairy Tail guild.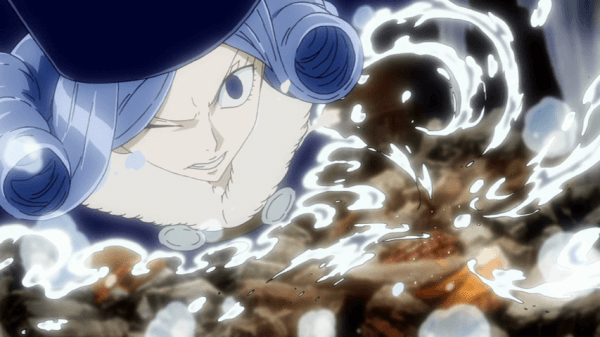 Despite the time-line issue, Fairy Tail: Phoenix Priestess has everything a fan of the series would want from a movie storyline. Not only is Lucy given more emotional development from her interactions with Éclair but many members of the cast also receive their time in the spotlight. Erza faces off against an opponent with similar skills, Natsu and Gajeel take on powerful opponents, though Gajeel's opponent immediately feels mismatched, and Gray and Juvia work together to take down an enemy all while numerous pieces of comedy drop here and there to break up the action and drama of the story.
Visuals
While I've never been one to complain about the magic circles that appear during the normal Fairy Tail anime, this movie has probably spoiled that for me. Throughout the entirety of the film all of the magic being performed, both by new wizards and old, is done without the use of the CG magic circle and it actually helps make the fights flow better and all of the action appear more fast paced since there no longer is a pause between moves.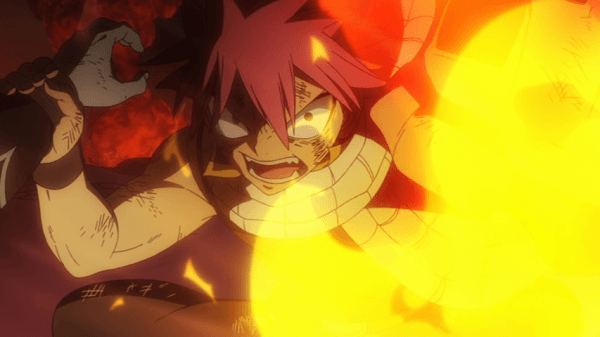 The overall artwork in the movie appears a little bit better than your standard anime episode, with a softer color palette this time, a few sequences which look amazing, and even a fair amount of blood shed, but there are a number of times that the animation quality nosedives in mid-distance shots. It is also worth noting that since the movie also takes place post time-skip, a few character designs have been changed and the newly introduced Panther Lily also makes an appearance in both his standard and combat forms.
Audio
As is standard with a release from FUNimation, both the original Japanese voice track as well as the newly recorded English dub are available in the release of Fairy Tail: Phoenix Priestess. Considering the time-line from the movie, this is the first time that viewers will hear the English voice of Panther Lily which is handled by Rick Keeling. Rick handles the voice well and although Lisanna also appears in the movie, she only has one line.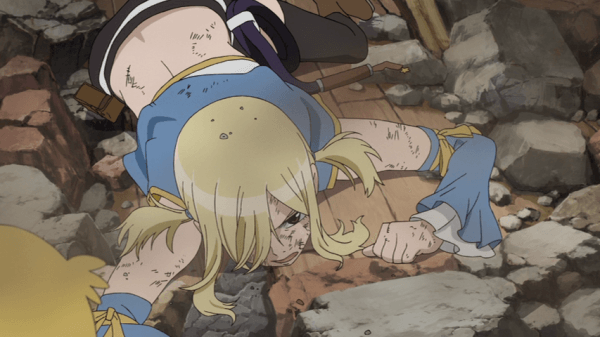 The rest of the English cast has retained their roles and provide an admirable job with their voice work while Éclair's voice is handled wonderfully by Jessica Calvello. The basic background music in the movie uses a number of standard themes that Fairy Tail fans have come to know and love and as for the opening and ending theme, we have "200 Miles" by Jang Keun-suk and "Zutto Kitto" by Aya Hirano, the Japanese voice actress of Lucy.
Extras
For Fairy Tail: Phoenix Priestess we have a standard set of bonus features which include a textless opening theme and closing theme, with the closing theme being the end of the movie, the original trailer for the movie, the US trailer, and trailers for other FUNimation anime.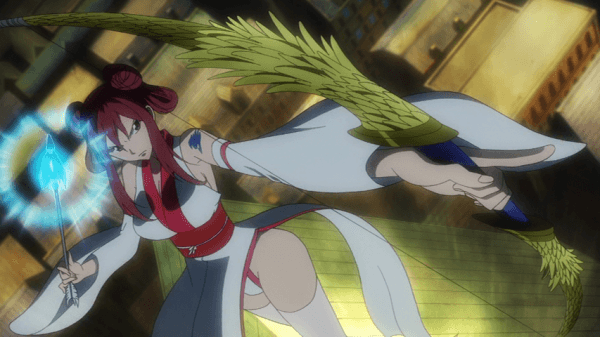 The only other bonus feature happens to be Fairy Tail the Movie, Prologue: "The First Morning" which is a twelve minute long episode that explains how Éclair and her bird companion Momon met. Sadly this bonus feature is provided with Japanese voice work only as an English dub was not recorded, which is an odd decision.
Overall
Despite the issues of introducing characters out of sequence, Fairy Tail: Phoenix Priestess offers an enjoyable side-story with everyone's favorite cast of characters that not only sees them facing off against some new opponents but also provides an emotional final battle to close out the film. Thanks to the removal of the magic circles, the combat has never looked better and any fan of Fairy Tail would be doing themselves a disservice if they choose to pass this up.

Capsule Computers review guidelines can be found here.